Remembering Peterloo: 200 years on
"The Yeomanry Cavalry were seen advancing in a rapid trot to the area: their ranks were in disorder, and on arriving within it, they halted to breathe their horses, and to recover their ranks. A panic seemed to strike the persons at the outskirts of the meeting, who immediately began to scamper in every direction."
This evocative scene opened The Times' report on the events of 16 August 1819 at St Peter's Field in Manchester, when a 60,000 strong crowd rallied to demand political change. The report grew chilling as it described the cavalry riding into the mass of people.
"A man within five yards of us in another direction had his nose completely taken off by a blow of a sabre; whilst another was laid prostrate, but whether he was dead or had merely thrown himself down to obtain protection we cannot say."
When troops, including local yeomanry, charged the crowds, the tragic result saw 18 people lose their lives and around 700 injured. The Times' report and others like it spread across the country, causing revulsion at the authorities' heavy-handed response to a peaceful gathering.
Everyone should have that right to be heard, and that's what these people were protesting for.
This blood-stained blot in the nation's history books has come to be known as the Peterloo Massacre.
Part of a campaign for expanding suffrage as the industrial revolution transformed Britain (booming but poverty-stricken Manchester did not have a single Member of Parliament in 1819), the bloody massacre in St Peter's Field did not change politics overnight. Though progress was slow – it took another 13 years before Manchester elected its first MPs – Peterloo is now widely seen as a pivotal event in the long journey towards democracy in Britain.
Two centuries on, Manchester Metropolitan University is part of Peterloo 2019, the city-wide commemoration of the tragedy.
Led by Manchester Histories and supported by The National Lottery Heritage Fund, it includes a series of public events, exhibitions and learning opportunities developed in partnership with cultural organisations and communities across Greater Manchester.
Marketing Manchester and Manchester Histories jointly commissioned a video, starring Peterloo film star Neil Bell, to mark the bicentennial of the masscare and explore 200 years of democracy in the city:
Artist Jeremy Deller is creating Manchester's first-ever permanent memorial to Peterloo, outside the Manchester Central Convention Complex, just metres from St Peter's Field (now the area around St Peter's Square).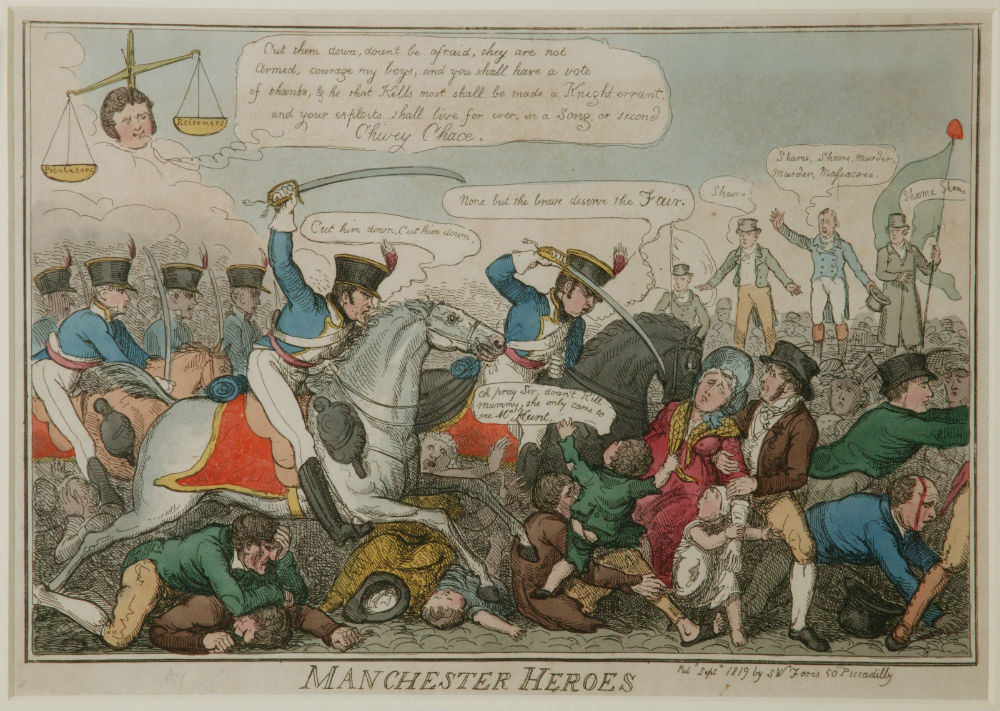 But why is this dark day in our nation's history so worthy of commemoration? Dr Shirin Hirsch, Lecturer in History at Manchester Metropolitan University, has been researching Peterloo as part of her role as a Researcher at the People's History Museum (PHM) in Manchester – the national museum of democracy.
For her, Peterloo's significance goes far beyond the awful events that took place on a sunny August day 200 years ago. She said: "It is important to keep the memory of Peterloo alive. It is contrary to what we often think of as British history. British history isn't peaceful and tranquil. A number of our rights have had to be fought for under quite violent circumstances."
PHM's main galleries use Peterloo as the starting point for telling the story of the development of democracy in Britain – through the birth of the trade union movement, women's suffrage and the fight for LGBT+ rights.
"It's a turning point. It felt like everything stemmed from there," explained Jenny Mabbott, Head of Collections and Engagement.
For Michala Hulme, another Manchester Metropolitan historian working on the commemorations, the anniversary offers a chance to reflect on how the rights we now take for granted were won by people like those who lost their lives in 1819. At that time, less than three per cent of the population were able to vote.
She said: "These meetings were organised by working people who did not have any representation. Now we have people who represent us in our area, we vote for them, but that was not the case 200 years ago. You had to have a certain amount of money and be of a certain social standing, and the parliamentary system was heavily weighted towards the south.
"Everyone should have that right to be heard, and that's what these people were protesting for."
The Peterloo 2019 commemorations are focused on bringing the protest to life for a modern audience. The Descendants project is searching for the relatives of those who were present at Peterloo. Genealogist Hulme will lead the research, which will create a documentary film that interviews the living descendants – both those already aware of a link and those who had no idea their ancestors were involved.
One of our main aims was to think about the relevance of Peterloo today. We wanted to draw the parallels and not see it as a dead history or something that wasn't still relevant.
For Hulme, who has researched thousands of family trees, there is something uniquely exciting about this project. "Most family trees you read about are because the person had a relative on the Titanic, or they're about who celebrities are related to.
"This is different. This is about real, working-class people – 60,000 of them who went to petition because they wanted the right to be heard. It's unique."
Hulme has a tricky task – the national census wasn't introduced until 1841, and there is no comprehensive list of Peterloo protestors. Many working people at the time were unable to read and write, so there is little chance of unearthing any previously undiscovered letters or diaries.
So, she's scouring through parish records, casualty lists, and asking people who believe their ancestor was present to come forward. She said: "This is probably going to be the hardest challenge that I've ever faced."
Meanwhile, Dr Hirsch has been working with PHM staff to bring the Peterloo bicentenary to life for their Disrupt? Peterloo and Protest exhibition, which runs until 23 February 2020.
She has been tasked with unearthing the hidden histories of Peterloo. This has involved investigating newspapers held in the museum's archive, and researching the history of their newly acquired Peterloo artefacts that will be displayed together for the first time.
The PHM exhibition will also feature a 'Protest Lab', a creative space for individuals, communities and organisations to use and develop their views and ideas for collective action. The museum is asking people to add their own objects to the exhibition, ranging from placards and badges to everyday objects that tell a personal story of a protest. Visitors can use the hashtag #MyProtestPHM to share campaigning stories.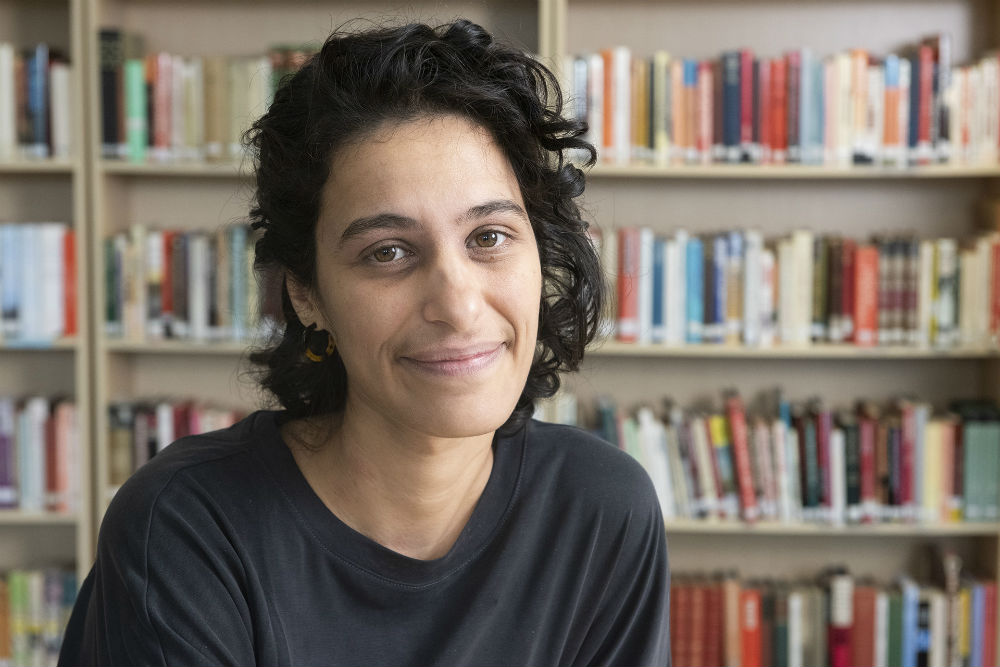 Dr Hirsch said: "One of our main aims was to think about the relevance of Peterloo today. We wanted to draw the parallels and not see it as a dead history or something that wasn't still relevant."
The Peterloo 2019 commemorations also include a school and public learning programme created by a partnership between Manchester Histories and PHM. Those working on the project agreed that despite its huge significance in Manchester and British history – that Peterloo is not common knowledge. Mike Leigh's 2018 film brought it before mass audiences in a way it had not been for generations.
PHM's exhibition assumes no prior knowledge of Peterloo, and Mabbott is clear about why it may not have become an accepted part of Britain's national history. "The loudest voices often get heard. When you read many of the reports about Peterloo from the time, the yeomanry who perpetrated the violence were actually celebrated in the media and given awards for bravery. That's why uncovering those hidden stories is so interesting to us."
Cultural and community partners in the Peterloo 2019 commemorations are clear that working with Manchester Metropolitan can have huge benefits.
Karen Shannon, Chief Executive of Manchester Histories, said: "Understanding the legacy of the Peterloo Massacre helps us understand the city and world that we live in today.
"It's a history and legacy that belongs to us all, which is why we've been working collaboratively with educational and cultural partners as well as community groups across Greater Manchester to look at the way in which the commemorations unfold.
"From debates to research, events to expertise; the universities have played a vital role in this process and we value their input enormously."