MetNews
Top Government figures praise University initiatives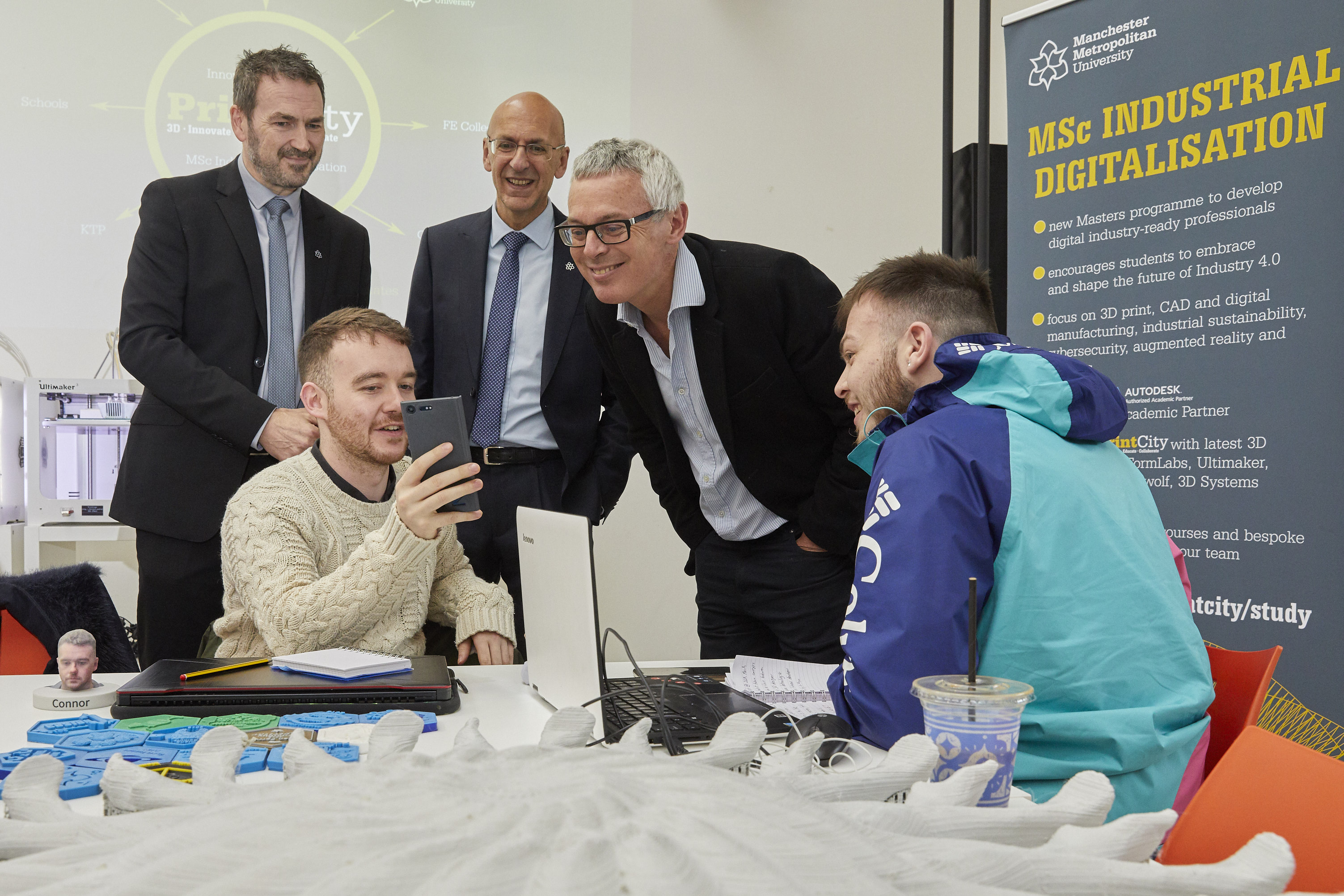 The University has received praise for its work from both the Universities Minister, and from the most senior civil servant in the Department for Education.
Chris Skidmore MP, and Jonathan Slater (pictured above), the Permanent Secretary, made separate visits to the University over the last few months.
Both tours took in our sector-leading degree apprenticeship programmes, our cultural offering and the pioneering work we are doing around Industry 4.0.
Mr Skidmore and Mr Slater met with staff and businesses involved in our degree apprenticeship programmes and also visited the Faculty of Science and Engineering to learn more about the advanced 3D printing research and training centre that drives industrial digitalisation. They also learned how the University has earned a top five ranking for delivering Knowledge Transfer Partnerships (KTP) with industry.
Mr Skidmore said: "Manchester is full of incredible talent and is at the forefront of developing the innovations of the future. Manchester's universities play a key role in this by developing the skills of tomorrow.
"We want to boost high skilled jobs across the country which is why through the modern Industrial Strategy, we are giving research and development the biggest boost in UK history."
Mr Slater said: "I was delighted to visit Manchester Metropolitan and learn about the excellent work taking place there, especially the delivery of degree apprenticeships.
"Degree apprenticeships mean students can bring their valuable skills to the workforce sooner than a traditional degree and universities like Manchester Metropolitan are having a real impact in the UK and globally."
Office for Students director highlights University's "distinctive" approach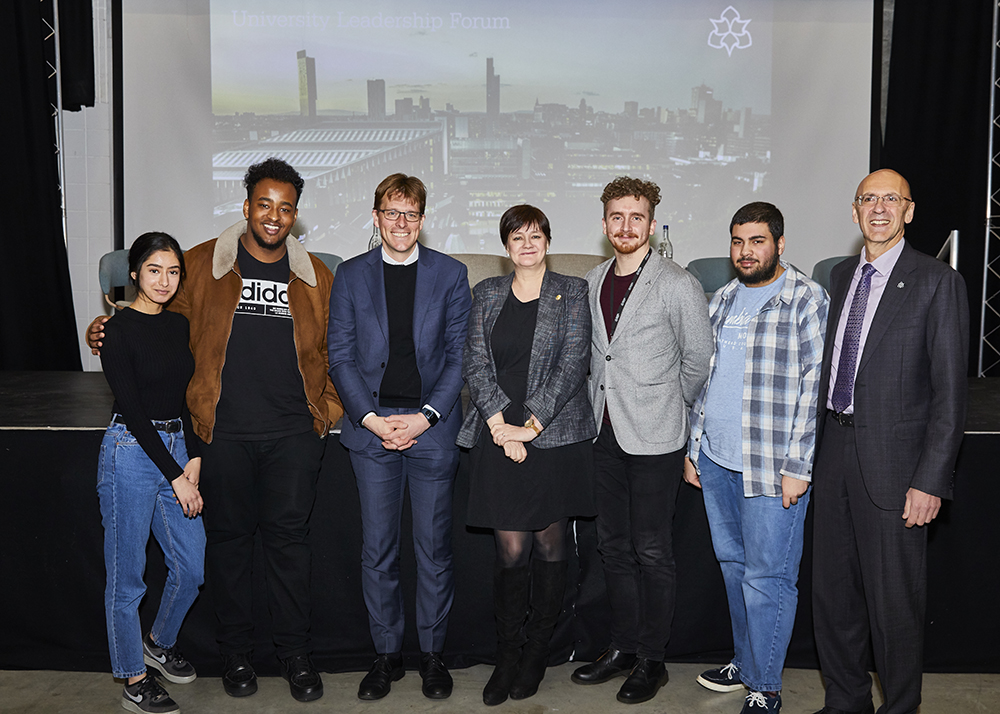 Manchester Metropolitan's 'whole institution' approach to improving fair access and widening participation has received praise from the Office for Students, the universities regulator.
Chris Millward (pictured above third from left, meeting the Vice-Chancellor, staff and students), Director for Fair Access and Participation at the Office for Students, spent time at the University and its Students' Union in March learning more about various practices and projects that support learners before, during and after their study.
He gained insight into degree apprenticeships, the University's outreach work and its Education Strategy, its partnership with other Greater Manchester universities and the NHS to deliver a student mental health service, and the First Generation social mobility programme.
Mr Millward shared a panel debate with a student inclusion ambassador and students who are part of the First Generation scheme helping sixth formers and college pupils become the first in their family to enter higher education.
He learned about and discussed various projects and schemes designed to improve students' skills and boost their employability when they graduate.
Mr Millward highlighted the Student Centred Curriculum project where before the close of the academic year students can undertake accredited extra work related to employment or language learning.
He said: "It's building social capital and the kind of attributes that would be important in employment in particular.
"That seems to be a really distinctive model to test and we're interested in the effect it has over time."
Mr Millward said the Office for Students had identified degree apprenticeships as being potentially a powerful means of promoting access and participation into higher education and could be an appealing route for under-represented demographics in particular.
He said: "This University is at the forefront of the degree apprenticeships agenda in terms of the ambition and scale of what it is delivering. "The University is distinctive in the scale of the activity and the expertise you are bringing to bear."
Nanotechnology could create 'perfect' heirloom watch that never loses time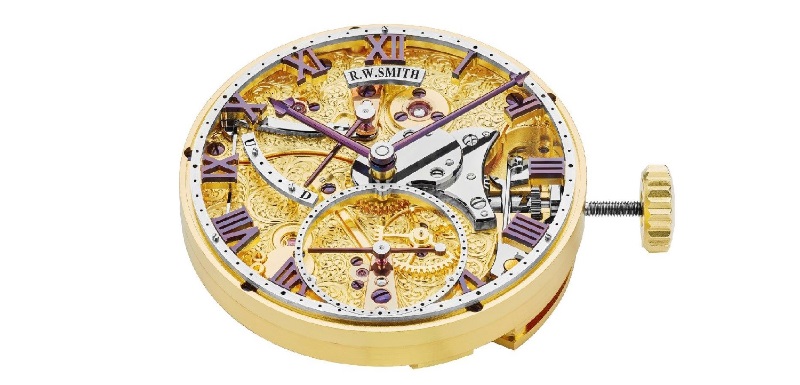 The 'perfect watch' that never loses time thanks to nanotechnology is being explored in a new partnership between university researchers and the world's leading independent watchmaker, Roger W Smith.
Researchers from Manchester Metropolitan University and British horologist Smith are looking at how to create a timepiece that never needs servicing and will always keep time through the use of next-generation materials.
It would be one of the first practical applications of 2D nanomaterials and could revolutionise commercial watchmaking.
Dr Samuel Rowley-Neale, Research Associate, and Dr Michael Down, Senior Research Associate, joined Smith to unveil their project at the UK's Department for International Trade's Designing Our Future event in New York City in the United States in April.
Manchester Metropolitan's Dr Rowley-Neale said: "The main points of failure within a watch's micromechanical mechanism are components such as pivots that use oil-based liquid lubricant to lower the amount of friction.
"This in turn increases the efficiency of the timepiece and so in many ways designing a watch mechanism can be considered a fight against friction. "Over time the liquid lubricant dries out and crumbles away and the mechanism begins to seize up and lose time, and then the owner will have the watch serviced at regular intervals.
"What we're proposing is to use advanced 2D nanomaterials to create a dry lubricated surface that will prevent the requirement for a watch to be serviced. "We aim to help create an heirloom timepiece that can be genuinely passed from generation to generation safe in the knowledge it does not require maintenance."
The Manchester Metropolitan team will experiment in the University's Manchester Fuel Cell Innovation Centre using different nanomaterials in conjunction with Smith's hand-made watch components including the escapements, which provide the energy or impulse for the watches' hands.
Smith, who is based in the Isle of Man, said: "The purpose of our collaboration is to see if we can do without lubricants altogether by rendering the mechanical watch components virtually frictionless. "The potential is quite staggering and it's actually about lubrication rather than mechanics."
If successful, the application could have a trickle-down effect for nanotechnology into more commonly used day-to-day applications.
School of Digital Arts building gets planning go-ahead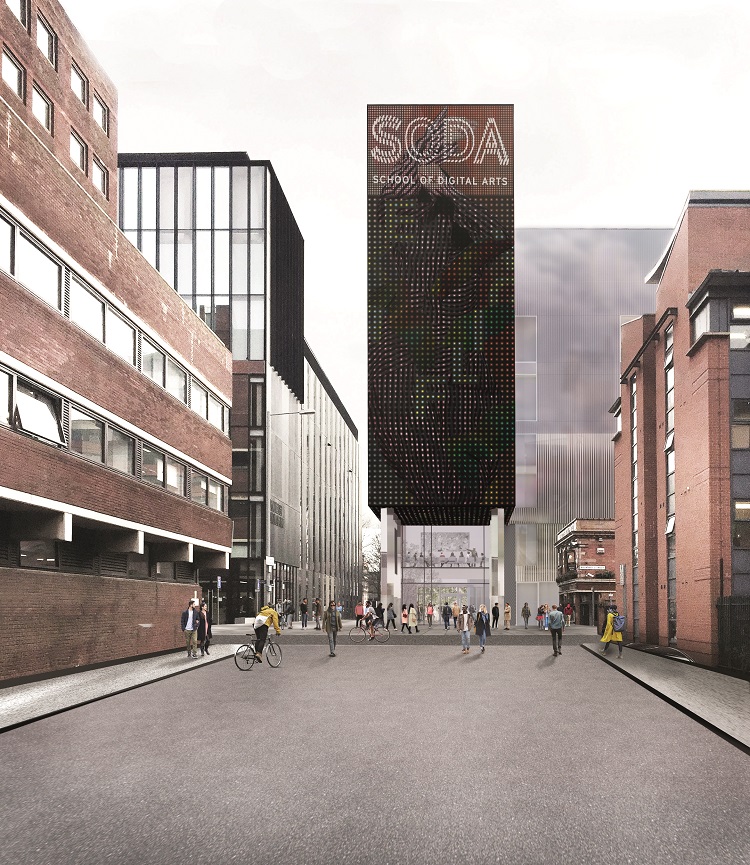 Plans for the new School of Digital Arts (SODA) building have been given the green light by Manchester City Council.
The Planning and Highways Committee approved development of Manchester Metropolitan's groundbreaking new interdisciplinary school for creative digital storytelling in December.
Opening in 2021, SODA is a £35m investment into workspaces, networks, teaching and research that will support the urgent and growing demand for skilled workers in the region's creative and digital industries.
The five-storey SODA building will be located on Higher Chatham Street, adjacent to Manchester School of Art in the Benzie Building, the Students' Union and Salutation pub.
It will provide space for a digital innovation lab, green screens, edit suites, screening space, a media gallery, sound and music studios and production studios.
The front of the building will feature an integrated LED light wall, which could illuminate static images, videos, and digital work produced by students.
Architects Feilden Clegg Bradley Studios (FCBStudios) – the same practice behind the award-winning Benzie Building – have drawn up designs for the building.
From 2021, SODA will produce over 1000 graduates annually with expertise in disciplines that span film, animation, UX design, photography, games design, AI and more, often working on live projects with industry partners.
Students will choose from a flexible mix of courses designed with those partners: undergraduate, postgraduate and research degrees that run alongside degree apprenticeships, summer schools and short courses.
Greater Manchester's digital and creative sector is growing faster than anywhere else in the UK outside London, employing more than 82,000 people and generating over £4.1bn per annum.
Before 2024, it is estimated that an additional 12,000 jobs will be created in this sector, despite a recognised skills gap in specialist digital roles.
The development of SODA will secure the University's role in helping plug that gap, ensuring that Greater Manchester becomes one of the world's most competitive digital cities.
Green project with Siemens wins award
A project partnership demonstrating how technology can improve sustainable mobility, energy, IT and business won Public Building Energy Project of the Year at the 2018 Energy Awards.
Manchester Metropolitan University partnered with Siemens UK and Manchester City Council for Triangulum, a fiveyear €25 million project funded by the EU's research and innovation programme, Horizon 2020.
Smart city green initiatives are being demonstrated by partnerships in the Oxford Road district in Manchester, Eindhoven in The Netherlands and Stavanger in Norway. This trio are collectively known as Lighthouse Cities – technological testbeds leading the way for the rest of Europe.
Nearly 600 solar panels have been installed on the roof of the Brooks Building to provide low carbon energy on campus. A Siemens Lithium Ion battery has also been installed to reduce demand on the energy network at peak times, all controlled by intelligent technology.
Helena Tinker, Head of Environmental Sustainability at the University, said: "Being part of the Triangulum project allows us to support the whole of Manchester to become a smart city. We're excited to see what the next few years of the project brings."
Bamidele Adebisi, Professor in Intelligent Infrastructure Systems, was principal investigator and project lead for Triangulum at Manchester Metropolitan.
He said: "Because of the success of Triangulum and other projects such as CityVerve we are seen as a leader in smart cities and smart buildings and there have been many other people who have contacted us to discuss projects."
Triangulum marries the University's green credentials – it was ranked number one in the People and Planet Green University League 2017 – with its research prowess.
Carl Ennis, Managing Director at Siemens Energy Management, said: "Siemens are proud to be the technical partner on this project working alongside Manchester City Council, Manchester Metropolitan and The University of Manchester to develop smart energy systems in the Oxford Road Corridor – helping to realise the smart city vision."
Ashwin Kumar joins University as Professor of Social Policy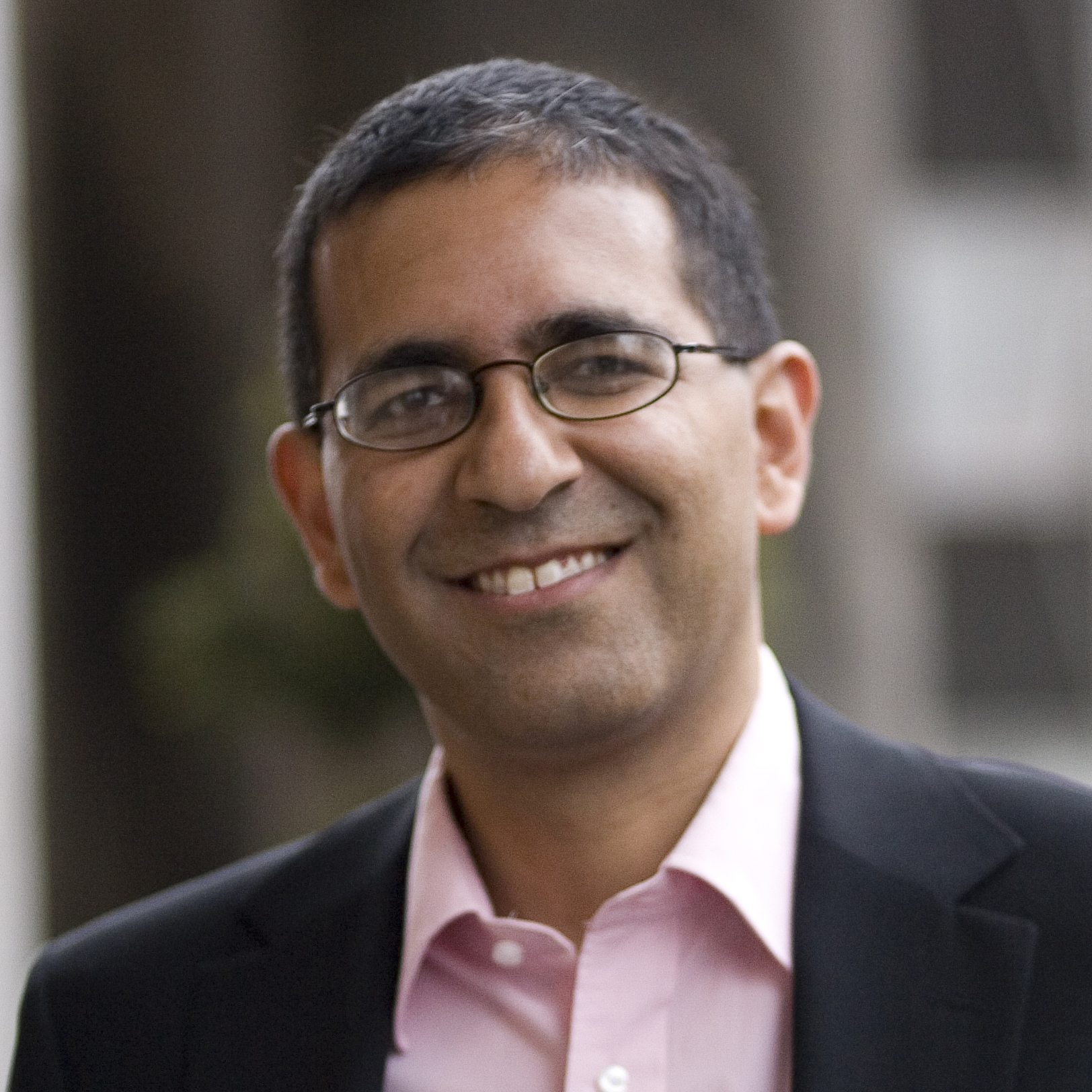 Ashwin Kumar, currently Chief Economist at the Joseph Rowntree Foundation (JRF), is joining Manchester Metropolitan as its new Professor of Social Policy.
Kumar is a respected commentator on social policy and appears regularly on TV and in print discussing productivity, poverty, working conditions for people on low wages, housing and household incomes.
Previously he has worked as a senior civil servant at the Department for Work and Pensions (DWP), Rail Director of the consumer watchdog Passenger Focus and a senior advisor to former Prime Minister Gordon Brown. He has also been a board member of the National Housing Federation.
Kumar will be based in the Policy Evaluation and Research Unit, part of the Sociology Department.
He said: "I'm really looking forward to being in a place that has a commitment to methodological rigour as a core part of its purpose, but which also wants to get out into the wider world and have a real influence, make change happen in national and city region governments. I think we have the opportunity to do work of the highest quality, but if we do the right work that people pay attention to, we can have real impact."
Professor Sharon Handley, Pro-Vice Chancellor for Arts and Humanities said: "I am delighted that Ashwin Kumar is joining Manchester Metropolitan University. His external profile and expertise will be a game-changer in our social policy work."
Manchester Metropolitan leads on widening access to university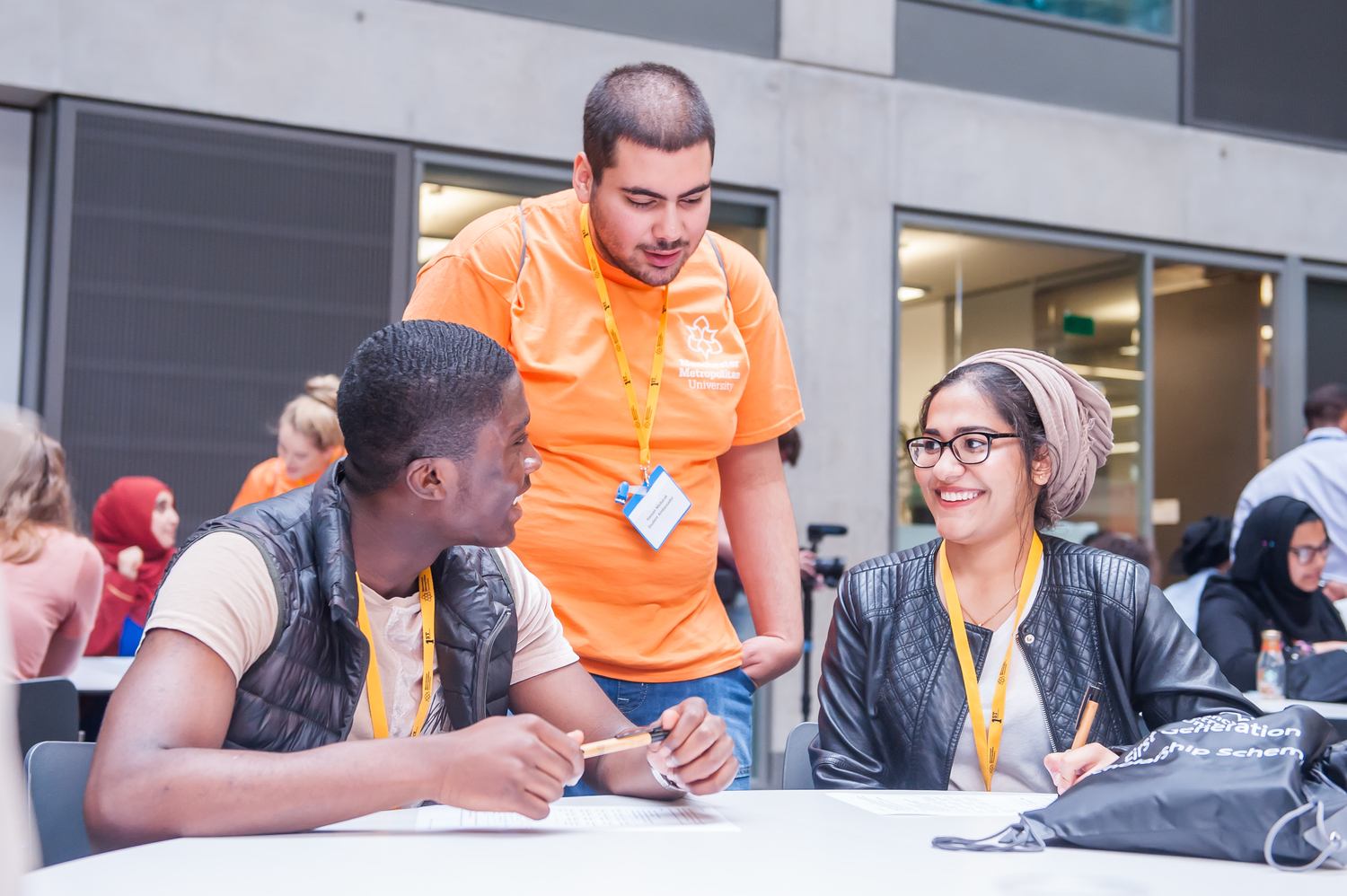 Manchester Metropolitan has been named as one of the leading universities for the inclusivity of disadvantaged students.
According to recent data published by the Higher Education Statistics Agency (HESA), the University is exceeding the benchmark for the number of pupils that come to the University from state schools and the lowest university participation postcodes.
The University provides many schemes to support and encourage those from backgrounds who do not usually enter higher education.
This includes the First Generation programme that provides students studying and living in Greater Manchester (pictured above), who are the first in their family to go to university, with continued financial, professional and personal support throughout studies and into employment.
In 2017/18, more than 1,000 full time undergraduate students at the University (15.8 per cent) came from a fifth of the lowest participation postcodes. This is against a benchmark of 13.2 per cent and makes Manchester Metropolitan the second highest in the country.
The Widening Participation team at the University also delivers a wide range of outreach programmes for primary and secondary schools, designed to raise aspirations and awareness of higher education opportunities, such as campus visit and summer schools.
More than 6,000 of home undergraduate students under 21 years old came from state schools (97.2 per cent) in 2017/18 against a benchmark of 94.1 per cent. This is also the second highest in the country and an increase from 96.9 per cent in 2016/17. In addition, 16.3 per cent of the University's UK-based mature full-time undergraduate entrants had no experience of higher education and came from low participation areas.
Peter Riley, Head of Widening Participation at Manchester Metropolitan, said: "We will continue to support all of our students, while improving on our ways to widen participation at Manchester Metropolitan.
"We want to make sure there are no barriers to studying in higher education."
Find out more about our First Generation scheme.
Universities have key role to play in responding to skills shortage
Employer-focused programmes addressing skills shortages in UK industries will provide a sustainable future for degree apprenticeships, according to Manchester Metropolitan University's Vice-Chancellor, Professor Malcolm Press.
Professor Press outlined his thoughts on the future of technical, vocational and professional training during a keynote speech at the annual University Vocational Awards Council (UVAC) Conference in Manchester.
Delivering his keynote speech, Professor Press said: "Universities have a key role to play in responding to skills shortages and providing the skills that are needed for business and the economy.
"At Manchester Metropolitan, we have always worked with employers and place a great deal of importance in building these relationships. We now have employer partnerships with more than 220 employers on our apprenticeship programmes alone. This helps us to develop and refine new programmes addressing specific employer needs.
"Degree apprenticeships offer a new route for those who want to start working and living independently after school and college to still achieve a degree and not be disadvantaged later in their career."
UVAC is an expert body in policy and operational aspects of degree and higher-level apprenticeships. The Council currently has over 60 Higher Education Institution members and produces the academic journal Higher Education, Skills and Work-based Learning.
In addition to the Vice- Chancellor's speech, academics from the University hosted a breakout session to examine collaboration with businesses in the development of degree apprenticeships.
Read more about our degree apprenticeship programmes.
Linguists to create permanent archive of Greater Manchester's accents and dialects
Linguists at Manchester Metropolitan University are going back on the road as part of the Manchester Voices project to interview people across the region about the way they speak.
The project, funded by the Arts and Humanities Research Council, will culminate with a permanent Manchester Central Library installation and archive celebrating the area's rich tapestry of voices, and a public resource that will be stored in the new Manchester Poetry Library, opening at Manchester Metropolitan in 2020.
The installation and resource will feature audio and video interviews with people from each of Greater Manchester's ten boroughs, an interactive dialect map and an archive of regional poetry that features many of the area's diverse dialects.
Researchers hope that the project will celebrate the region's "rich linguistic and cultural heritage" in order to "promote linguistic equality and diversity, and to nurture a sense of social and regional pride".
Dr Erin Carrie, Senior Lecturer in Linguistics at Manchester Metropolitan University, and researcher on Manchester Voices, said: "The way we speak is an important aspect of who we are and where we're from – it links us to people and to places. Through our research, we want to represent all voices from Manchester and to celebrate the similarities which give us a sense of belonging and the differences which make us unique."
Dr Carrie and Dr Rob Drummond ran a pilot Manchester Voices project in 2017, which led to a temporary exhibition on their findings.
They revealed the huge linguistic diversity in Greater Manchester. For instance, whether someone would order a 'barm', 'barmcake', 'teacake' or 'muffin' can vary over just a few miles.
Participants will be quizzed on how they interpret the way they and their neighbours speak, revealing the deeply embedded beliefs regarding the status and value of different regional accents and dialects.
Arts and wellbeing expertise leads global healthcare event
The compelling link between arts and improved health and wellbeing has been brought before clinicians, academics and policymakers from across the world, by a Manchester Metropolitan academic.
Dr Clive Parkinson, Director of Arts for Health at the University, brought experts to Manchester to hear about new approaches to health and social care delivery at the inaugural World Healthcare Congress Europe.
The Congress also saw Dr Parkinson launch the 'Manchester Declaration' – a vision statement for how Greater Manchester becomes a "city region where arts and culture are seen as central to the wellbeing of its diverse residents and workforce, a global leader exemplifying the very best in arts, health and social change".
Arts for Health is the longest established unit of its type internationally, with Greater Manchester described as the "wellspring" of the arts and health movement in a national 2017 report into how arts can keep us well, aid recovery and support longer lives better lived.
Dr Parkinson said: "This was a wonderful opportunity for Greater Manchester to shine a light on the incredible work taking place across its ten districts and where the city region is leading the agenda in reimagining 21st century health and social care.
"We are beginning to better understand some of the factors that underpin people's health across the life course. Culture and the arts have a very real part to play in assets-based healthcare. The Manchester Declaration offers us a collective voice to really begin to understand the impact and reach of the arts in everyone's lives."
Arts for Health works closely with national and regional partners to deliver research and support arts and health projects, and to influence policy in the field.
MBE for masters degree student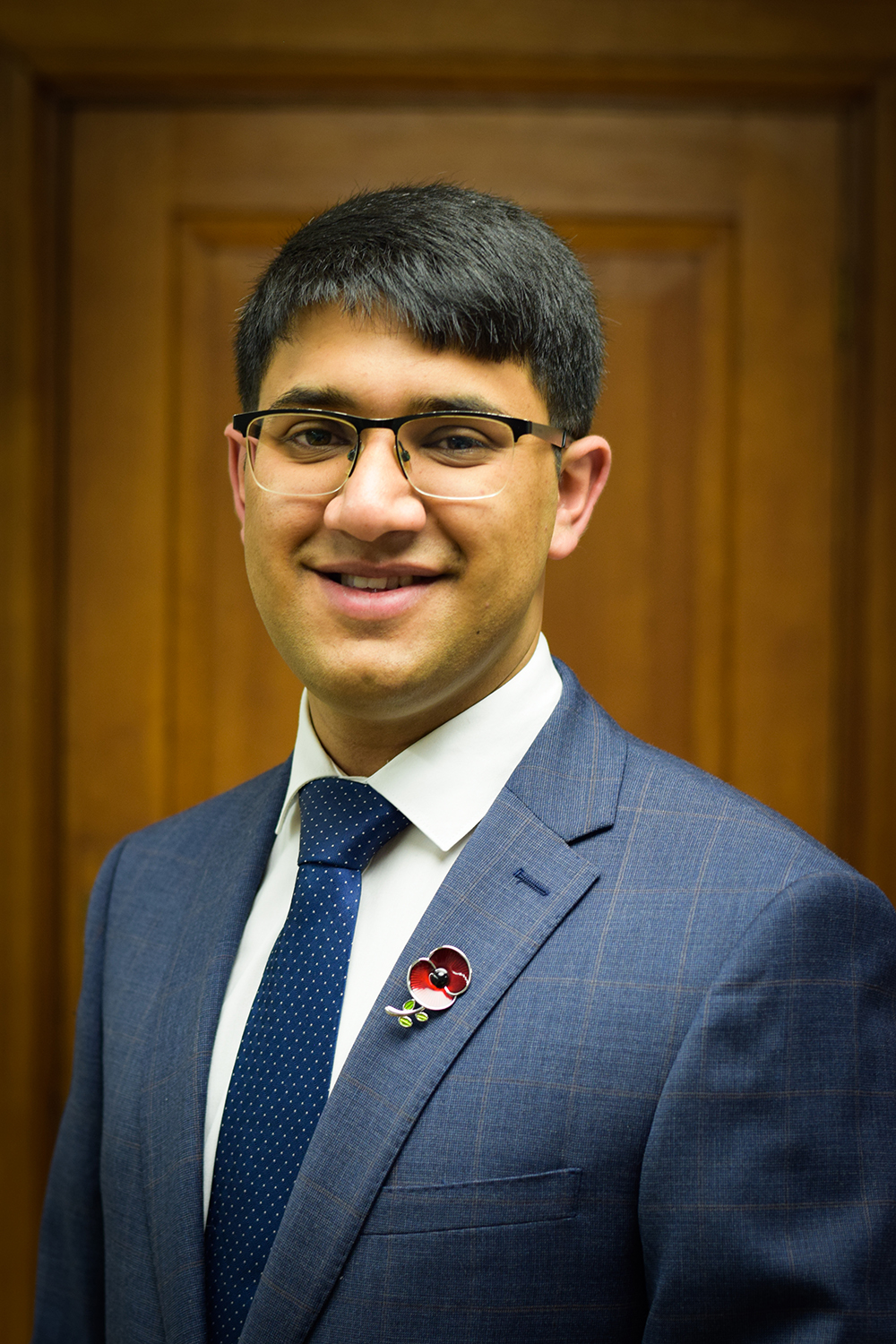 A masters degree student has been appointed by Her Majesty The Queen as a Member of the Order of the British Empire (MBE) for services to young people and the community in Greater Manchester.
Student Saeed Atcha is the founder and CEO of the magazine and charity Xplode Magazine, which was set up to showcase all the great things young people are doing and challenge the negative stereotypes seen in the media.
From a group of seven friends at the start-up when Atcha was just 15 years old, the charity now has around 40 volunteers and 50,000 readers across the region and is solely led by young people.
He first came to the University in 2014 as an undergraduate student and returned in September to start the MSc Public Relations programme.
At the same time as completing his full-time PR and Marketing undergraduate degree, Atcha was influencing national change through the charity and became an expert advisor on the Government's Full-Time Social Action Review.
As well as his own charity, Atcha is a trustee of Young Manchester and has served HRH the Prince of Wales as a Trustee of Step up to Serve, both promoting social action. In 2016, he was honoured with the Queen's Award for Voluntary Service – the highest award a voluntary group can receive in the UK.
Atcha said: "When I got the letter through the door saying that the Prime Minister has recommended to appoint me as an MBE I couldn't believe it – I felt emotional and shocked. I don't always take the time to reflect on what I do day-to-day but this really serves as a tap on the shoulder to say 'well done'."
Atcha was also recently appointed Social Mobility Commissioner to support the new Chair of the commission Dame Martina Milburn to 'make England a fairer society'.