Changing the game
The value of sport goes beyond performance and fitness. It can play a huge part in building life skills, bringing communities together, having a social and cultural impact, enhancing self-esteem and reducing crime and anti-social behaviour.
The Department for Culture, Media and Sport has reported that young people's participation in sport improves their numeracy scores by 8% on average above non-participants.
Independent research by the Strategic Planning team at Manchester Metropolitan shows that students who regularly participate in physical activity at the University are 56% more likely to attain a good honours degree and 54% more likely for it to be first-class.
At Manchester Metropolitan, whether it's sharing our facilities and knowledge with the community, or leading ground-breaking research, we aim to enrich lives and shape a better world through sport.
But when we think about sport, whether in our communities or on the international stage, the volunteers often don't come to mind. They play a critical role and, through opportunities given by the University, students can engage with our community, whether internally or externally, paving the way to amazing career prospects in the sports industry.
Sport is the single biggest sector of volunteering in the UK. Every year 15 million people do voluntary work, and more than one fifth of those are in sport – that's 3.2 million people in total.
Many teams, services and events wouldn't exist without an army of volunteers, and there are many passionate students at Manchester Metropolitan that volunteer to provide services at local level, inspiring the next generation of sports stars, or at international level, helping to host events as big as Wimbledon.
Volunteering in sport can really enhance the student experience
MMU Sport helps students, whether they want to gain a coaching qualification, volunteer at a major event, or are looking for paid work to help kick start sporting careers and provide valuable experience working in the sports industry.
One of those helping students to follow their dream, and offer experience is Gareth Smith, MMU Sport's Coach Education and Football Development Officer.
He said: "Volunteering in sport can really enhance the student experience here at Manchester Met, but also equip them with the necessary skills to succeed in their future careers whether on or off the pitch.
"One way we achieve this is through our community engagement, working with key partners such as Manchester FA and Manchester Mystics Basketball. These opportunities enable students to gain hands on real world experience of the sports industry whilst working alongside and receiving mentoring support from industry experts.
"It's incredibly rewarding to see the development of students, and their success is a fantastic example of the long-term impact volunteering can have. It's great to see more young people are getting involved with regular volunteering in Manchester and there seems to be a real appetite for those wanting to make a difference in their communities."
Making changes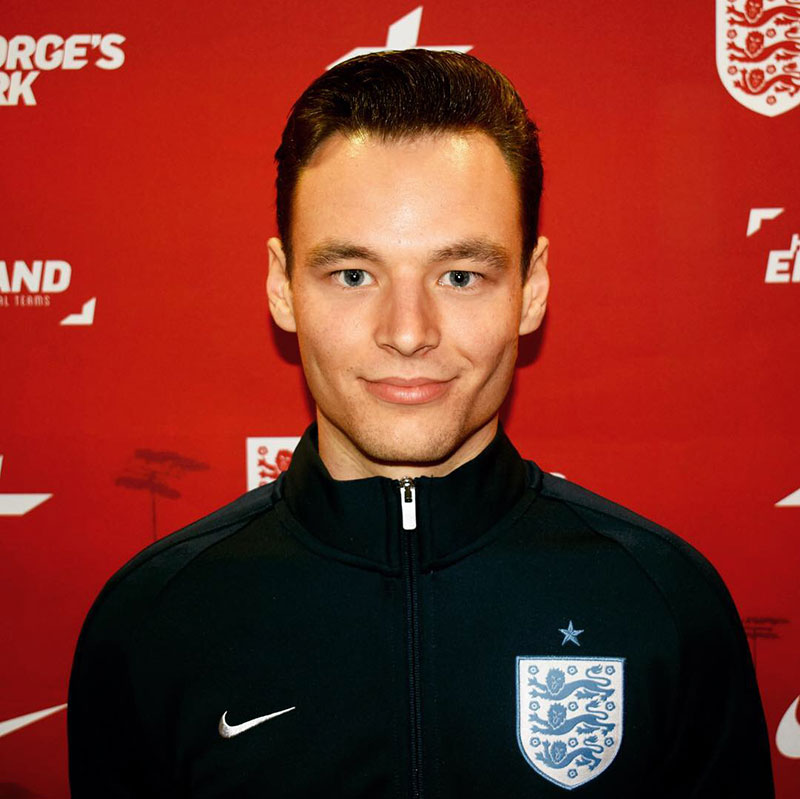 Few can claim to know more about the positive impact of volunteering than recent graduate Chris Berrevoets.
Like many young boys, growing up his dream was to play football for England in the European Championships, but as for many as reality sets in, the benchmark changes.
But now, decades later he's on his way there – but instead of playing on the pitch he's leading hundreds of young volunteers to the 2020 tournament as chair of the FA Youth Council.
Berrevoets joined the University in 2015 having never done any volunteering, but instantly took to the role of captain for a team in the University's student halls campus football league; co-ordinating the sessions, getting people to turn up and keeping on top of admin work and fees.
He was employed by MMU Sport to become the league coordinator, where he took on that role for not only his own team, but the rest of the football teams at the University. He found himself co-ordinating the matches for 200 footballers every week.
To be a volunteer you need to be passionate, reliable and a team player. Berrevoets showed these qualities to secure a place on countless volunteering projects, whether supporting the University to develop its Active Campus programme and getting more staff members and students active; giving students a voice as part of the BUCS (British Universities and Colleges Sport) student management group; organising a football tournament for the homeless; or helping to host the People's Cup – a national tournament for grassroots football, organised by the national Football Association (FA).
And his efforts didn't go unnoticed.
Berrevoets was nominated by BUCS to be part of the FA Leadership Academy, a four-day residential held at St George's Park in London with young leaders from across the country.
It hosts a number of workshops and seminars led by the National Youth Council members and FA staff and aims to develop leadership skills to allow young people to make an impact on the organisation of football.
The opportunity allowed him to join Manchester's FA Youth Council and he was later selected to become a Leadership Development Project Officer for the FA National Youth Council. In this new role he returned to St George's Park to help successfully organise and deliver the Leadership Academy for other young people and share his stories.
And clearly he made an impact because he has now been selected to become the new Chair of the FA National Youth Council The role involves providing a voice for all children and young people, to influence change, shape FA policies and help build partnerships and projects to broaden the experience of other youth leaders.
Berrevoets said: "Before I came to University I didn't even realise that football development was a career and now I'm chair of the FA Youth Council, leading the way to develop football for young people.
"My role as Chair means I have a seat at the FA Council meetings, which is the highest decision making body for football in England.
"I'm the youngest there by many years but that makes me so proud to be able to know that I can add value and my opinion, and inform and educate those at the top of the game to respect young voices.
"I'm really keen to show what football can offer outside of the performance side and I've joined at a really exciting time with the Euro 2020 coming up. It's a key time to get young people engaged in volunteering and change people's perceptions of what volunteering means in football."
One of the host stadiums of the UEFA Euro 2020 is Wembley stadium in London. The FA needs 1,300 volunteers to help make the matches at Wembley special and it hopes that young people will fill plenty of those vacancies.
Berrevoets added: "It's just so important to get into your community and recognise the impact that you can have in it by volunteering. Whether you're just collecting balls or actually coaching a team, you're adding value. "You've just got to grab every opportunity you can. It's crazy how much one thing leads into another and I really believe that university opens that first door – my opportunities have been endless."
The perfect job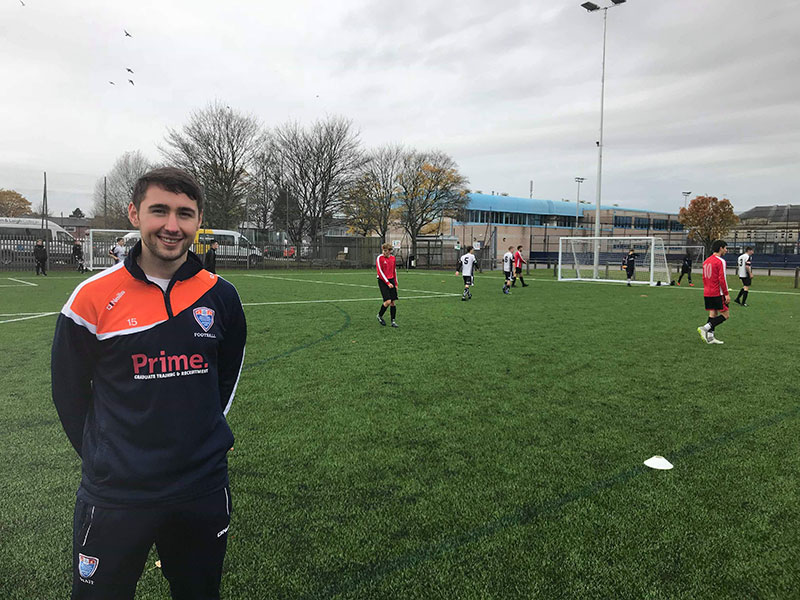 Growing up in a small village in Wales, Dan Roberts couldn't wait to get to Manchester to see what the city had to offer. The only thing on his mind was football, but when he arrived at Manchester Metropolitan in September 2015 he had no idea of the amount of opportunities that would open up for him.
By the end of his first year at the University, Roberts had volunteered across a range of national and international tournaments, including the National Squash Championships, the Dodgeball World Cup and the AEGON Tennis Championships.
It really opened my eyes to see the different ways people can get value from sport
His first task at the University was part of the Football Association's grassroots hub programme through MMU Sport.
The hub is a partnership with the FA and British Universities and Colleges Sport (BUCS) that offers funds to universities to support the development of grassroots football across England.
Manchester Metropolitan has been a grassroots hub since 2015, building partnerships with the local football community, offering access to our playing facilities and creating greater opportunities to play whilst boosting and maintaining participation numbers.
Roberts started with six weeks of football coaching in schools across the region, inspiring more young children to enjoy the sport. He managed to rack up more than 100 hours of volunteering and the University also gave him the chance to complete his level one and level two coaching badge.
This led to a Sport Activator role – a part time job with MMU Sport – to deliver sessions for schools and young people at Platt Lane, and staff members and students as part of the university's Active Campus programme.
His experience has led to him getting his "perfect job", working as a Workforce Development Officer for GreaterSport in Manchester – a company that aims to get more people across the city region active.
"My role is to build the knowledge, skills and understanding about sport to the least active groups and places in the region and make sure that the offer of sport meets the needs of different people," said Roberts.
"Through all of my volunteer work at University, working with people of different ages, skill levels, genders and ethnicities, it really opened my eyes to see the different ways people can get value from sport, how people respond differently to different ways of teaching and how sport and roles within sport can't always be delivered the same way for everyone.
"A big part of my role is to grow the workforce and get more people involved in the volunteering behind sport and a big driver for my passion in this came from my time at university.
"One of the main reasons I started volunteering was because I had no idea what I wanted to do, but I absolutely loved everything I tried and really surprised myself."
A stand-out event for Roberts was the Street to Feet football competition for the homeless. The event is held annually at Platt Lane and works with housing associations to hold a 5-a-side football competition with, music, food and drinks and raises money to help the homeless.
The project is led by a group of students from start to finish and in 2019, more than 100 participants came along from different homeless charities across the North West to take part.
"This project was my favourite one because it was just another way that showed me how different people can benefit from sport and volunteering. "These people have had a tough ride, got their own troubles and addictions but once they got playing football, they just had the same fun, enjoyment and qualities as everyone else – they played football just the same way we as students would do.
"My advice is just to try everything. Even if you think you won't like it, give it a go because I proved myself wrong so many times."
Enriching lives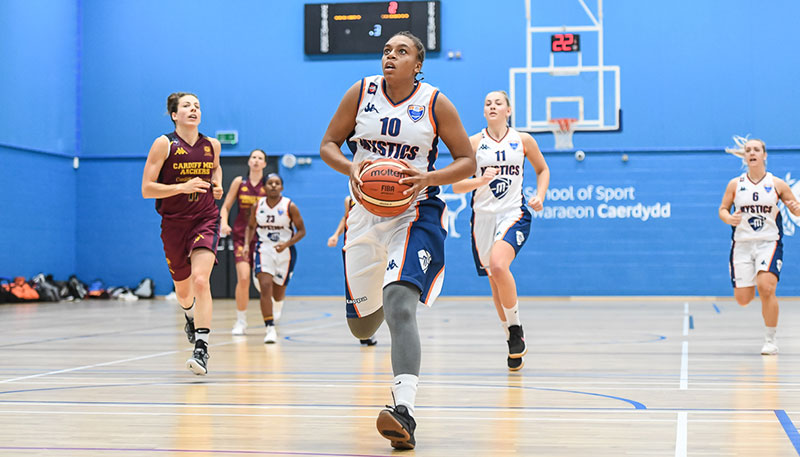 When Rheanne Bailey arrived in Manchester in September 2016, she had a firm idea of the goal she wanted to achieve – to transform the world of basketball in Manchester, grow the existing talent and get more of the population engaged.
She joined Manchester Metropolitan in January 2017 on the sports scholarship scheme to take on a masters degree in Physiotherapy. Having already made her mark on Manchester's flagship basketball team, Manchester Mystics, Bailey decided to undertake the role of coach and player of MMU Sport's women's team.
Three years' later, she's MMU Sport's basketball development officer, leading the development of the sport at the University.
But it's not only elite success on her agenda. Bailey has always been keen to inspire people of all ages, abilities and backgrounds to get involved in basketball.
"I only started playing basketball in my teenage years and I wish I could have started sooner, so I'm keen to get as many young girls as I can engaged and enjoying basketball," said Bailey.
"With all that's going on in the world, basketball gives younger people something to do outside of school, it keeps them off the streets, gives them a sense of belonging and self-worth and even teaches them valuable leadership and team building skills."
She's part of Basketball England's Aspire programme, a new regional development competition aimed at aspiring basketball players between the ages of 11 to 15, and this year Bailey was head coach of the Aspire North West under 13s team.
The programme involves monthly training sessions and ends with a weekend tournament at the National Basketball Performance Centre – part of Belle Vue Sports Village in Manchester.
She also hosts after-school sessions with the University as well as 'Shoot Some Hoops' at Belle Vue, which is a non-coached session that allows young people just to have fun playing basketball.
Sport enriches people's lives and sometimes those with disabilities often get left out and don't get the opportunity
But if that wasn't enough, Bailey is also keen to get more Sport enriches people's lives and sometimes those with disabilities often get left out and don't get the opportunity to give it a go of the LGBTQ+ community and those with disabilities involved.
She's been working alongside Manchester City community coaches to deliver basketball on their Play Unified initiative, which aims to get children with disabilities playing sports with children in mainstream education.
"It's so important," she said.
"Sport enriches people's lives and sometimes those with disabilities often get left out and don't get the opportunity to give it a go.
"It's also been really important to mix different people together to learn more about one another and educate people on different ways of life.
"I have also held a sports day for the LGBTQ+ community in Manchester because I do think we could be more inclusive, and events and programmes like these offer an opening channel for people who feel that they don't ordinarily fit in with mainstream sports teams."
The next dream for Bailey is to create a permanent and sustainable programme in Manchester and then deliver it around the country, with the next stop back home in Birmingham.