MetNews
University officially opens China office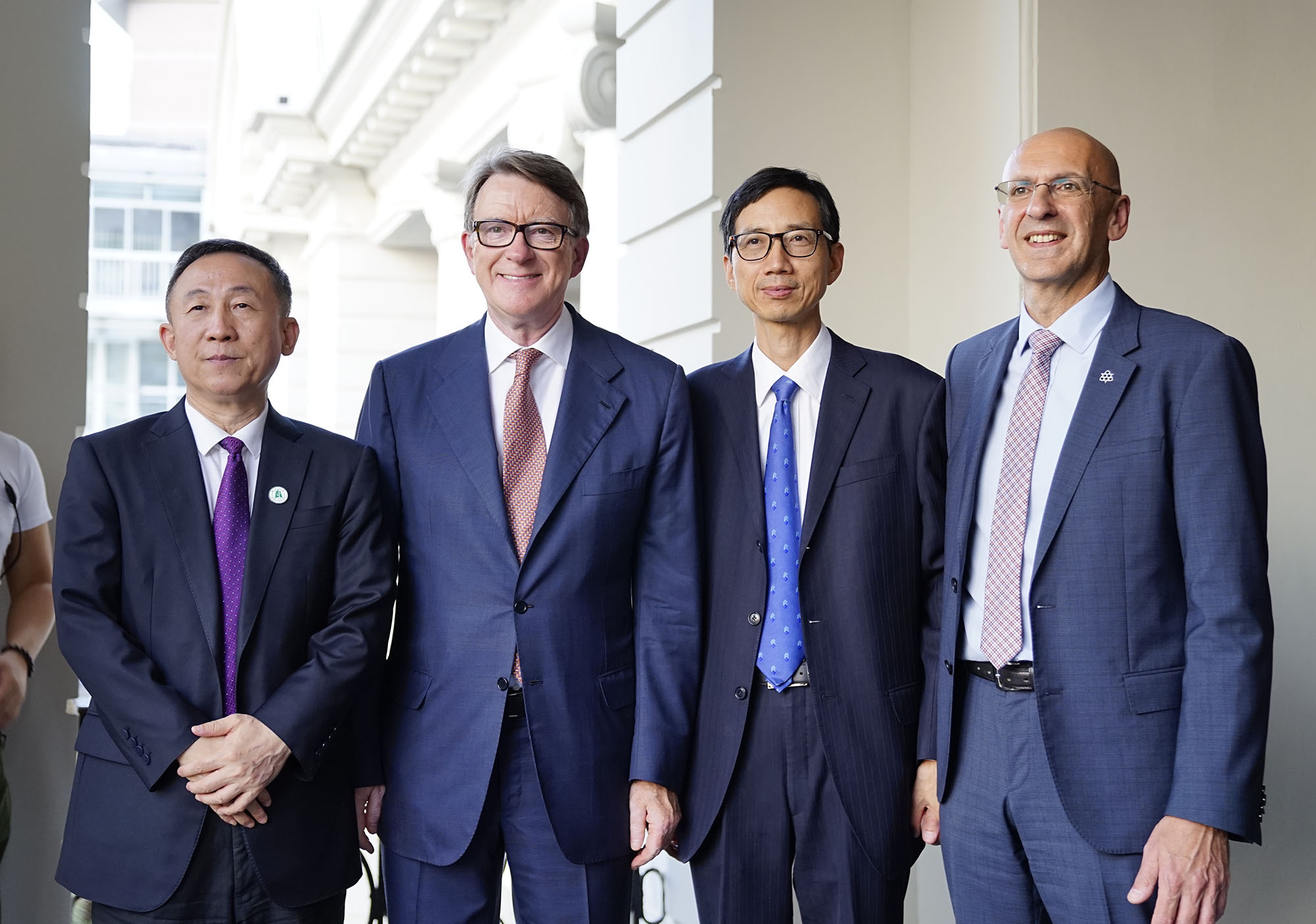 Manchester Metropolitan University has opened a new office in Wuhan to further develop its ties with China.
The new office was declared open for business at a ceremony on Monday, September 23, involving the University's Chancellor, Lord Mandelson, Vice- Chancellor Professor Malcolm Press, local dignitaries, plus representatives from Manchester City Council and the UK Foreign and Commonwealth Office.
The office is part of a long-term plan to build the University's reputation and profile in China and promote study opportunities in Manchester.
Manchester Metropolitan is a partner institution of the British Council Generation UK-China programme and already has a number of ongoing research collaborations with local universities such as Hubei University, Wuhan Institute of Technology and Wuhan Textile University.
Lord Mandelson said: "The opening of Manchester Metropolitan University's office here in Wuhan is a significant milestone for us as an institution. There are already strong links between our University and institutions here in Wuhan, and we share broad and deep cultural ties through the sister city connection between our two cities.
"Manchester Metropolitan's China Office in Wuhan will reaffirm and acknowledge the importance of a strong and effective relationship with China, particularly in the education, research and trade sectors. This will help reinforce relations between our two countries, and Manchester Metropolitan is proud to be contributing to that through its presence in China."
Vice-Chancellor Malcolm Press said: "A new era awaits for Manchester Metropolitan University here in China. We have a strong and growing relationship with China and it is a key country for collaborations across our institution. Our objective is to further strengthen our academic relationships in China and we look forward to the further opportunities that will blossom from having an office here in Wuhan."
New Provost and Deputy Vice-Chancellor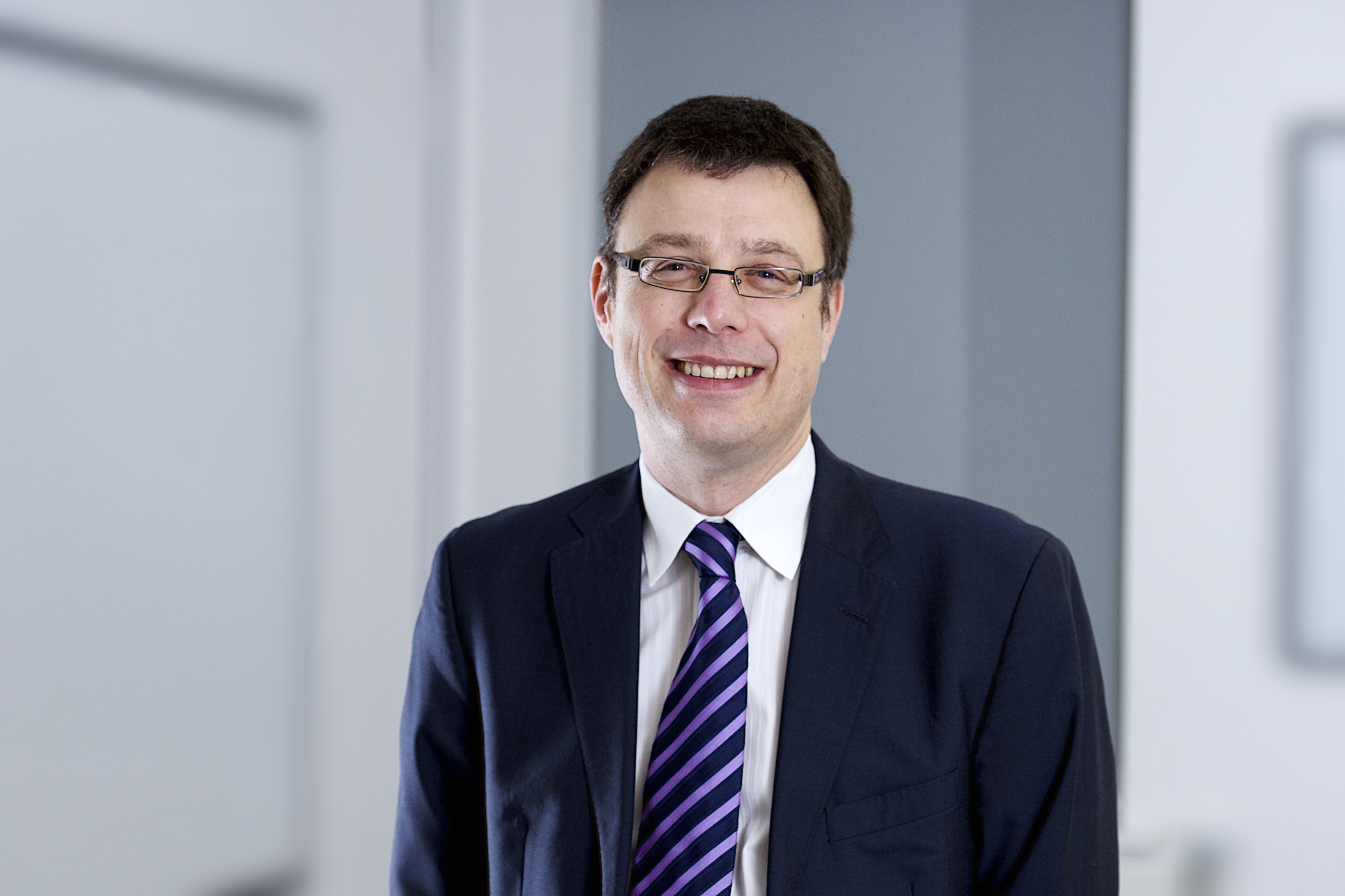 Professor Stephen Decent has been appointed as Provost and Deputy Vice-Chancellor at Manchester Metropolitan University.
Professor Decent is currently a Pro-Vice-Chancellor at the University of Lancaster, where he has worked since 2014.
He initially held the Research and Enterprise brief, latterly taking over responsibility for Academic Development, where he leads on strategy, planning, budgets and performance.
He has executive oversight of Lancaster's Health Innovation Campus and was recently appointed onto the Board of their partnership with Trafford-based UA92.
At Manchester Metropolitan, Professor Decent will work closely with the Vice-Chancellor, Professor Malcolm Press, on strategy and delivery, playing a key role in ensuring that the University builds on recent successes and continues to thrive.
Professor Decent will also work in partnership with Professor Karen Moore, Chief Operating Officer, and will be a key member of the University Executive Group. He will play an important role in representing the University regionally, nationally and internationally.
He will be responsible for the planning and the distribution of academic resources, line manage the Faculty Pro-Vice-Chancellors and work collaboratively with the Thematic Pro-Vice-Chancellors Research, Education, and International).
Speaking of the appointment, Vice-Chancellor Professor Malcolm Press said: "I am absolutely delighted that we have appointed Steve. He brings a tremendous wealth of knowledge and experience and I am confident that he will make an enormously positive impact as the quality and reputation of our University strengthens further."
Professor Decent said: "I am delighted to be joining Manchester Metropolitan University as Provost and Deputy Vice-Chancellor. The quality, ambition and confidence of the University is impressive, as is its commitment to an outstanding student experience and to delivering excellent research with impact. I look forward to working with staff and students at the University."
Professor Decent joins Manchester Metropolitan on the 2 December 2019.
Danny Boyle delivers first SODA talk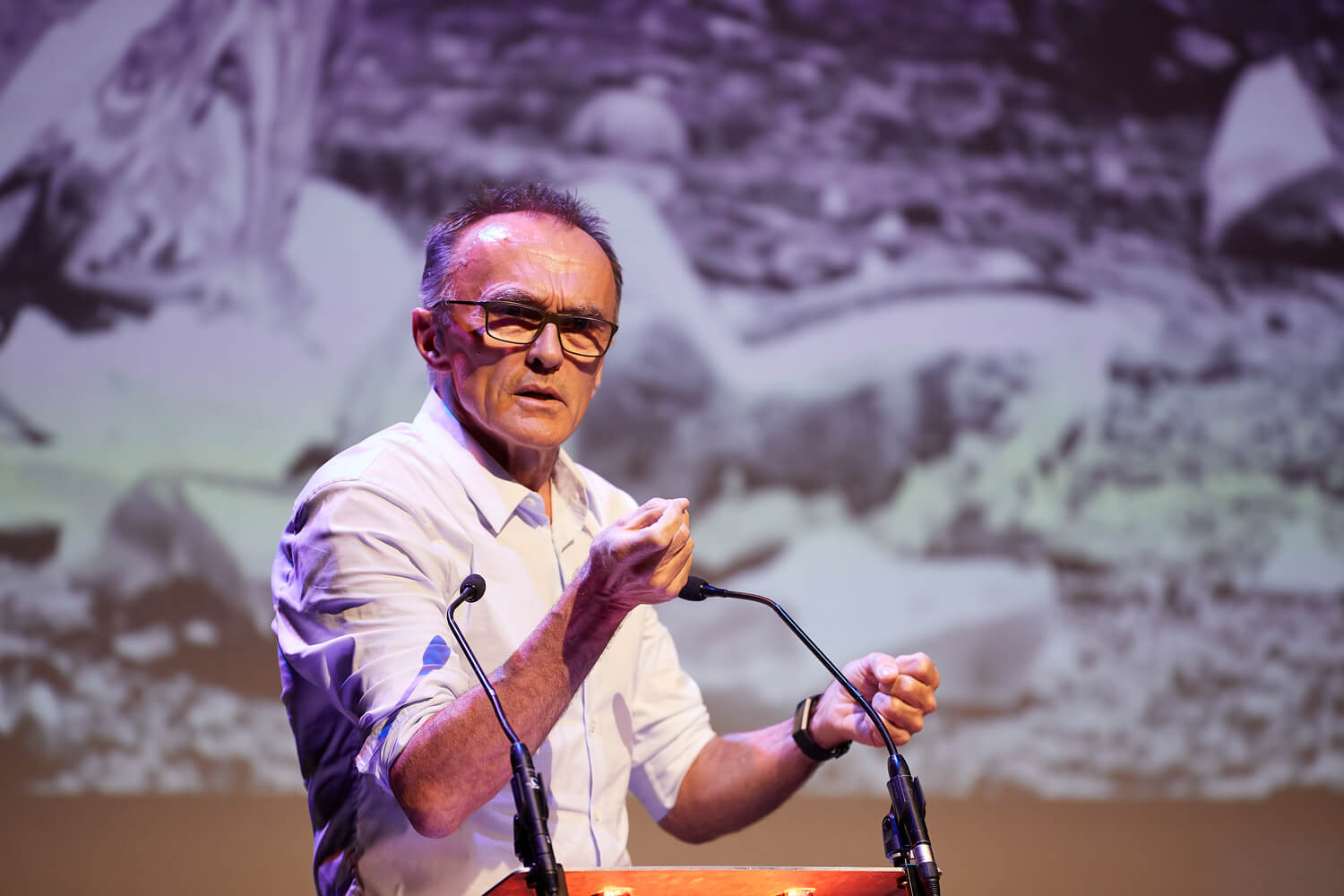 Oscar-winning film director Danny Boyle delivered a thought-provoking talk on the Future of Storytelling as part of the inaugural School of Digital Arts (SODA) industry event series.
His talk, Will Robots Love Jesus?, was the first of a series of industry-focused talks that will promote debate and conversation in the run up to SODA opening in 2021, facilitating insights and conversations with some of the leading voices in digital storytelling.
Boyle, director of hit films such as Trainspotting and Slumdog Millionaire, is co-chair of the industry advisory group for SODA alongside Nicola Shindler, Executive Producer of RED Production Company and CEO of StudioCanal UK.
Boyle delved into the world of technology, looking at the explosion of computing, data and machine learning – both now and in the future – to interrogate what it means for humans, society and culture.
Bury-born Boyle, who also directed the opening ceremony of the London 2012 Olympics, was joined on a Q&A panel by leaders from film, TV and immersive storytelling.
These included: Shindler; Rose Kay, CEO and Immersive Filmmaker at Immersive Storylab; Saz Vora, Short Film Coordinator at the UK Asian Film Festival; Stefani Bardin, Artist/ Entrepreneur and NEW INC Professor at New York University; and Jason Wood (panel chair) Creative Director of Film and Culture at HOME and Professor of Film at Manchester Metropolitan University.
The panel reflected on the impact of technology on storytelling – whether in film, online or in computer games – and how this can be harnessed to produce great stories.
Boyle said: "I'm not a future storyteller because that's what the School of Digital Arts is about – it is about creating the space where future storytellers can begin to find their footing. When I heard about the School of Digital Arts, I thought what a wonderful thing."
Opening in 2021, SODA is a £35m investment by Manchester Metropolitan University and the Greater Manchester Combined Authority into state-of-the-art lab spaces, workshops, and networks, underpinned by a unique teaching and research environment that will support the urgent and growing demand for skilled workers in the region's creative, digital and tech sectors.
Construction of the School of Digital Arts begins on site in November.
Read an interview with Danny Boyle in this issue of Met Magazine.
University named as one of the UK's greenest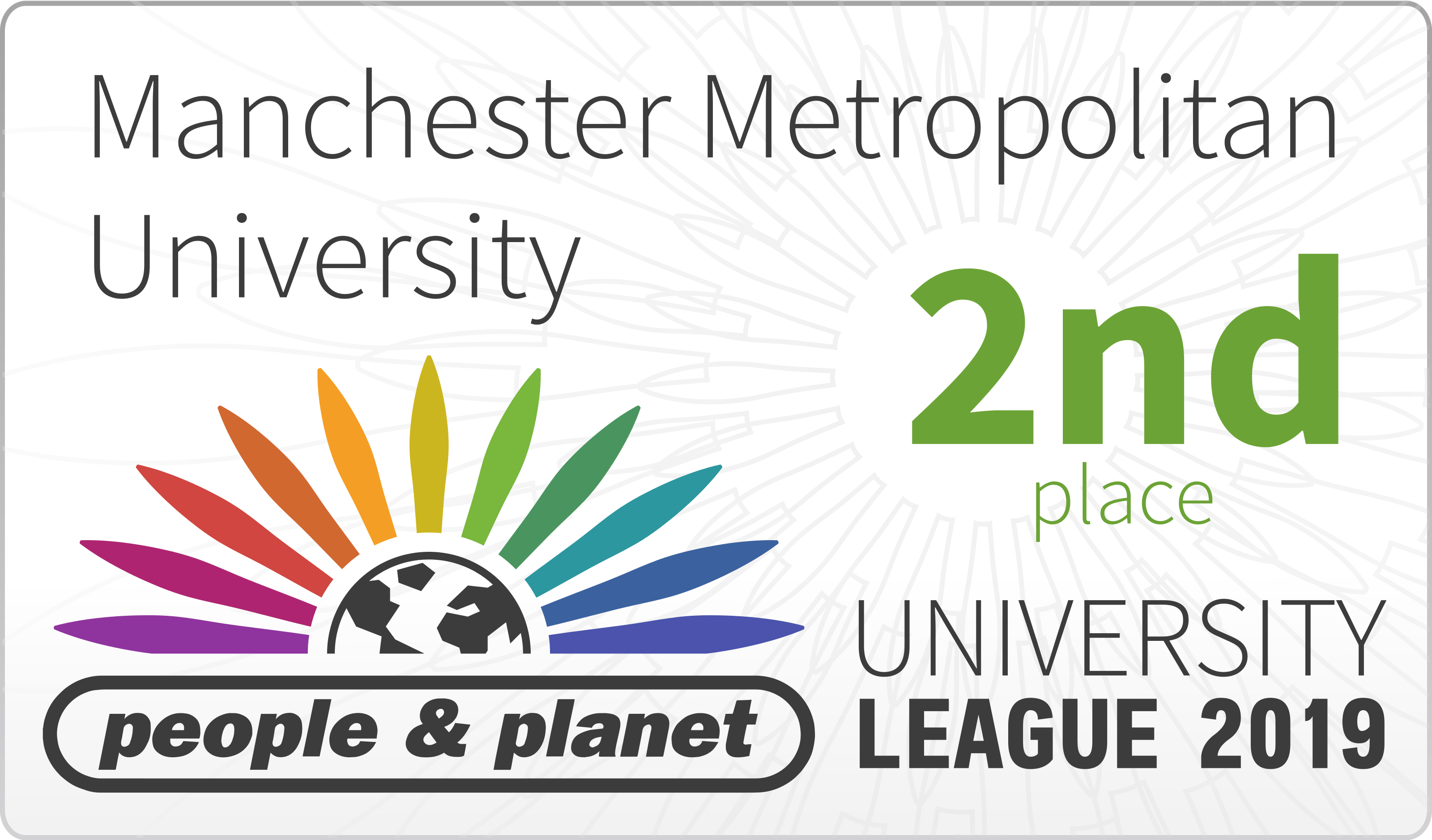 Manchester Metropolitan has once again been named as one of the UK's greenest universities, ranked second in this year's People and Planet university league table.
It continues the University's recent success and is recognition of the ongoing work to cut carbon emissions, increase recycling and embed carbon literacy in the curriculum.
Manchester Metropolitan has now maintained a top three position for the past six league tables.
The People and Planet university league, published today in The Guardian, is the only comprehensive and independent league table of all UK universities ranked by environmental and ethical performance.
Manchester Metropolitan Vice-Chancellor Professor Malcolm Press said: "Climate change is one of the greatest challenges faced by the world and we as a University recognise the importance of creating a sustainable society.
"Manchester Metropolitan is working to tackle the issues, whether it is developing next generation green energy in our Manchester Fuel Cell Innovation Centre, providing students with the skills and knowledge to rise up to climate challenges, or creating a zero-carbon campus."
Helena Tinker, Head of Environmental Sustainability at Manchester Metropolitan, added: "I am thrilled that we've improved our performance over the last two years. It is our students and the young people of Manchester who are currently leading the debate on climate change, challenging the University to continue to reduce our carbon emissions. The University's staff and students have played a huge part in supporting this journey so far. However, there is still a lot to do as we transition to zero carbon."
Five pick up honorary degrees
A comedian, landscape architect, business leader, poet and academic have received honorary degrees from Manchester Metropolitan.
Comedian John Bishop was awarded an Honorary Doctor of Arts degree for his significant contribution to comedy, arts and charitable work.
Bishop, who first performed stand-up comedy in Manchester and won the Best Male Comedy Breakthrough Artist award at the British Comedy Awards in 2010, now performs sell-out shows at arenas across the country.
Bishop is also known for his philanthropic work, including a five-day triathlon from Paris to London which raised millions of pounds for BBC charity Sport Relief.
Juergen Maier CBE, the chief executive of Siemens UK, received an honorary doctorate in Business Administration in recognition of his significant contribution to business and the manufacturing sector.
Speaking about the University, Maier said: "There's a real community and team spirit at Manchester Metropolitan. I look forward to our ongoing relationship with Siemens and Manchester Metropolitan University: at the forefront of sustainable development and both doing great work around the hydrogen economy, sustainable infrastructure and the fourth industrial revolution."
Innovative landscape architect James Corner received an honorary Doctor of Design for advancing the fields of landscape architecture and urbanism and commitment to urban green spaces and regeneration projects.
A first-class BA (Hons) Landscape Design graduate from Manchester Polytechnic in 1983, Corner's complex urban projects are renowned for their bold contemporary design.
International contemporary artist, academic and author Professor Bashir Makhoul received an honorary Doctorate of Arts.
Professor Makhoul, who became the first academic from a Palestinian background to hold the top position at a British university when appointed Vice- Chancellor of the University of the Creative Arts, has enjoyed an outstanding career as a fine artist, academic and editor.
Performance poet and librettist SuAndi OBE was awarded an honorary Doctorate of Arts (DArt) for her significant contribution to art and culture, in particular to the black arts sector and within the North West.
Born in Hulme in Manchester, SuAndi has written and performed her poetry internationally for over 30 years, alongside a role as the freelance Cultural Director of the National Black Arts Alliance.
Manchester Poetry Library appoints new Director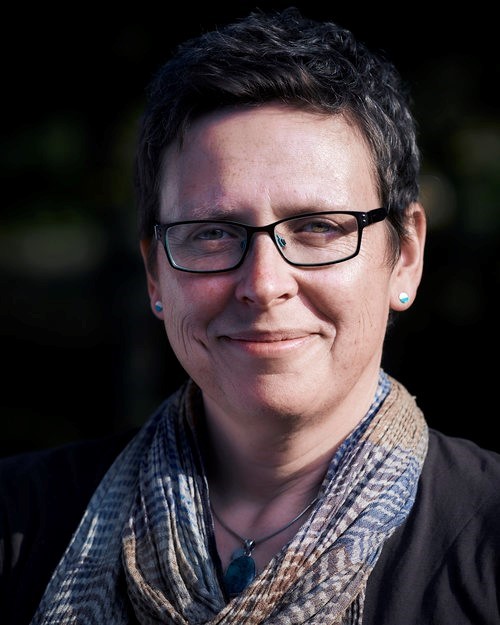 Becky Swain has been appointed as the new Director of the Manchester Poetry Library – opening in spring 2020 at Manchester Metropolitan.
Swain, a vastly experienced arts and learning professional, joins the University from her current role as Head of Learning for the Arvon Foundation, the UK's national organisation for residential writing centres.
The Manchester Poetry Library will be the first of its kind in the region, and just the fourth in the country, demonstrating the University's commitment to widening access to poetry and supporting the creation and performance of new writing.
It opens next year in the new £46m Arts and Humanities building, which will also be home to the acclaimed Manchester Writing School and Manchester School of Theatre.
Swain said: "I am delighted to be joining Manchester Metropolitan to lead the creation of a poetry meeting place for students, researchers, writers, and anyone interested, curious about, or simply inspired by poetry. My experience of working with talented writers and communities has shown me that poetry has a special place in the hearts of so many living in this city."
Government awards £8.6 million to consortium led by Manchester Metropolitan
The regeneration of high streets in England has received a boost with the creation of a new government task force led by experts at Manchester Metropolitan University.
The University's Institute of Place Management (IPM) has been awarded an £8.6 million contract by the government to lead its High Streets Task Force and deliver support to local authorities and communities who want to transform their high streets.
The IPM will head up a consortium of professional bodies, experts, data providers and community networks, who will provide expertise, knowledge, training and support to those involved in helping to regenerate town and city centres across the country.
The High Streets Task Force will also help to reinvent town centres as community hubs, while supporting local authorities applying to the government's £675 million Future High Street Fund.
Professor Cathy Parker, Co- Chair of the IPM at Manchester Metropolitan University, said: "Many of England's high streets are at crisis point and are not the bustling hearts of their communities that they once were. Action needs to be taken locally and the Task Force will help councils, businesses and communities to make this happen.
"We are looking forward to working with our partners through the High Streets Task Force. With support and investment from the government and professionals across the country, we have a fantastic opportunity to develop places that are really valued by the local communities they serve."
The Task Force is a key part of the government's "Plan for the High Street", which includes the Future High Street Fund. The recent Ministry of Housing, Communities and Local Government's review of the UK's high streets, chaired by Sir John Timpson, identified the need for hands-on support to help plan for future town centres.
The IPM is already an authoritative voice for the high street and, with over 500 professional members and representing close to 100 Business Improvement Districts through The BID Foundation, will be building on existing expertise and data to add intelligence and insight around the needs of England's town centre communities.
First degree apprentices celebrate graduation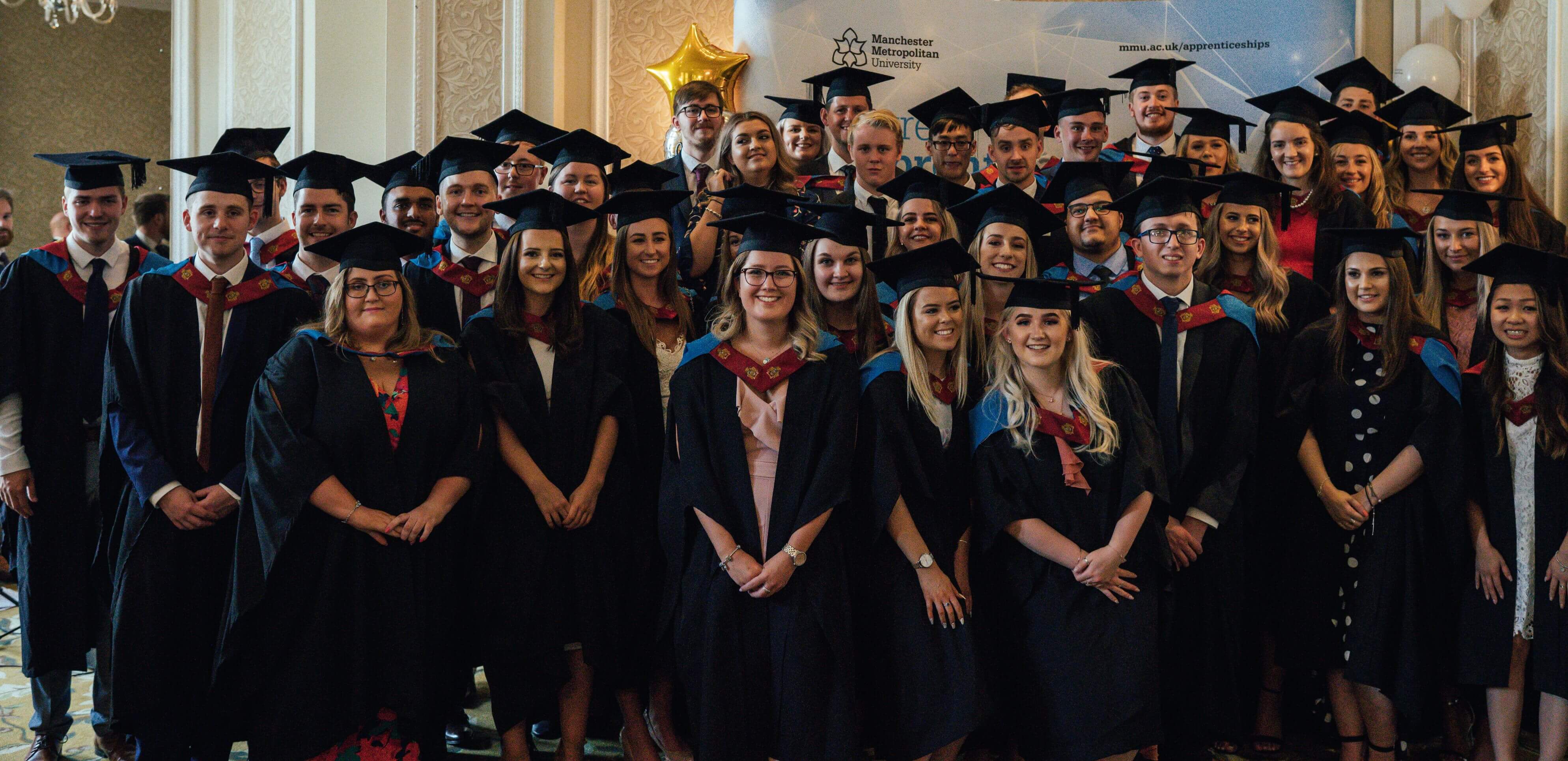 A group of students from Manchester Metropolitan University have become the first degree apprentices in the North West of England to graduate, in a programme designed to help employers meet the skills gap in IT professions.
The pioneering cohort joined Manchester Metropolitan in 2015 following the launch of the government's innovative degree apprenticeship programmes, which combine university study and workplace learning to enable apprentices to achieve a full bachelors or masters degree.
Representing 14 employers from a range of business sectors – including Thales UK, Bentley Motors and Barclays – 48 graduates from Manchester Metropolitan were awarded their degrees at The Bridgewater Hall in Manchester in July.
Since the first cohort began studying at Manchester Metropolitan in 2015, over 1,100 more degree apprentices have joined the University from more than 220 employer partners.
For employers, the degree apprenticeship programmes have driven the development of specialist workplace skills and behaviours demanded by the UK's business community.
With the launch of nine new programmes over the past four years, including the MBA Degree Apprenticeship and the Advanced Clinical Practitioner masters programme, Manchester Metropolitan is set to continue to bridge the skills gap across a range of industries.
Manchester Metropolitan becomes a Basketball England Talent Hub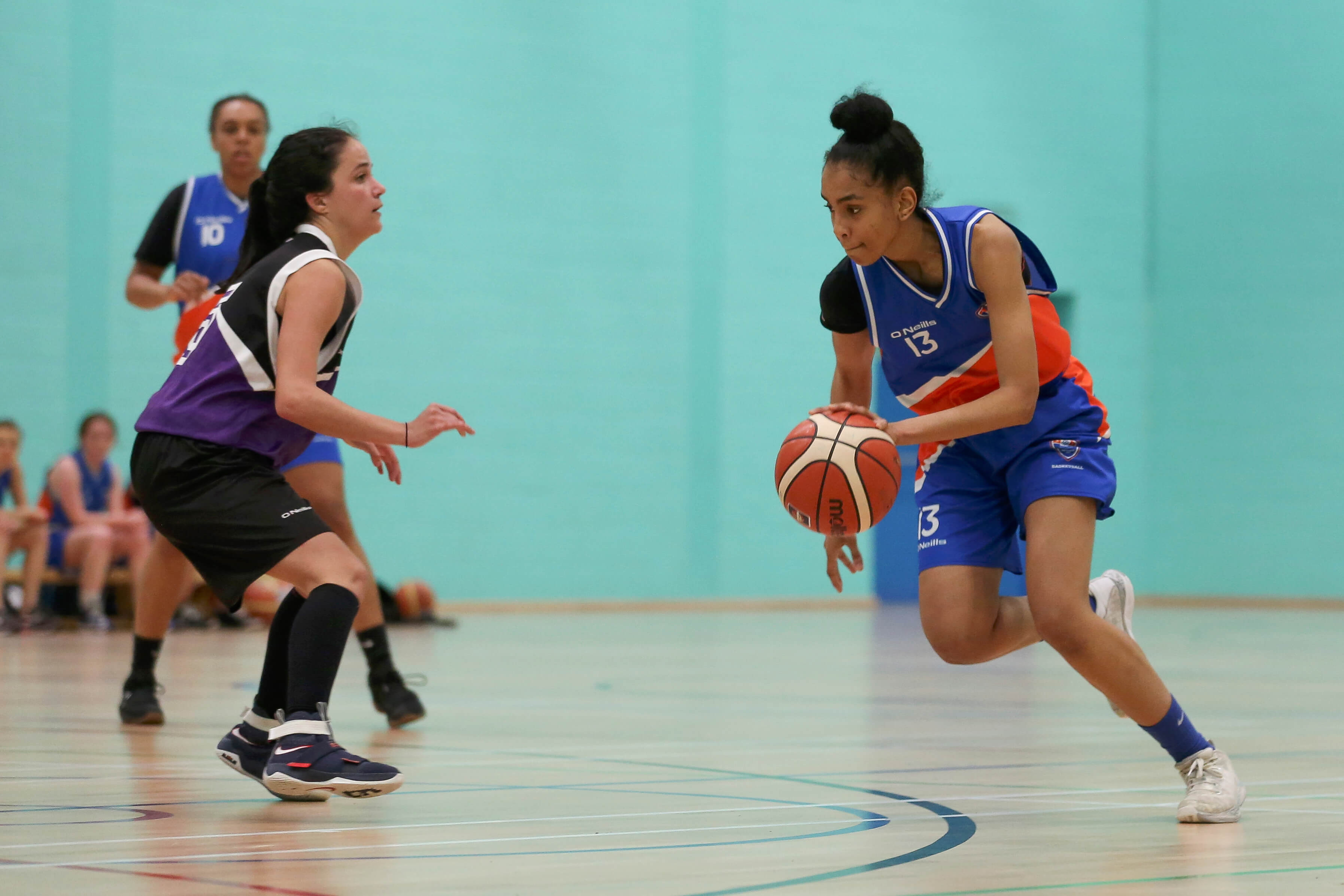 Manchester Metropolitan University has been appointed one of Basketball England's Talent Hubs to help the North West of England to get the most from basketball.
The initiative aims to reform the sport's Talent Pathway so it is more inclusive and player-led.
Manchester Metropolitan will host the hub for the North West, providing support to clubs and local leagues, as well as hosting workshops on coaching, officiating and sports science.
The University will also host Basketball England's Aspire Programme, which is aimed at basketball players between the ages of 11 to 15 who have been part of the Basketball England Talent pathway and provide them with quality coaching.
Callum Jones, High Performance Sport Officer for MMU Sport, said: "Manchester Metropolitan University's offer for basketball has progressed massively in recent years and we are very proud to be partnering with Basketball England in delivering the Regional Hub programme.
"In partnership with Manchester City Council, GLL and Manchester Magic basketball club, the University has also taken on operational control of the only Women's British Basketball League team in the region, the Manchester Mystics.
"Working with local professional clubs, the University has extended its student coaching provision to school outreach programmes and community sessions, as well as continuing its support for Manchester Magic basketball academy.
"The Hub for basketball will include opportunities for students from courses such as: Physiotherapy, Nutrition, Event Management, Sport Journalism, Sport Science, among many others, and having them gain these invaluable practical skills and experience in a performance sport environment will have significant impact."
As well as benefitting young players within the Talent system, the initiative will also help clubs, players, coaches, officials, volunteers and partners, and will host development sessions to offer chances for others to participate in the sport.
Stewart Kellett, CEO at Basketball England, said: "This is a top priority in our strategic plan, 'Growing Basketball Together'. This is a fundamental building block for our Talent system to support young people as well as clubs and coaches to achieve their dreams through basketball with the creation of Regional Talent Hubs.
"In addition, the students within each hub team will get the opportunity and benefit from work experiences that will increase their employability upon graduation."
Global success for swimmers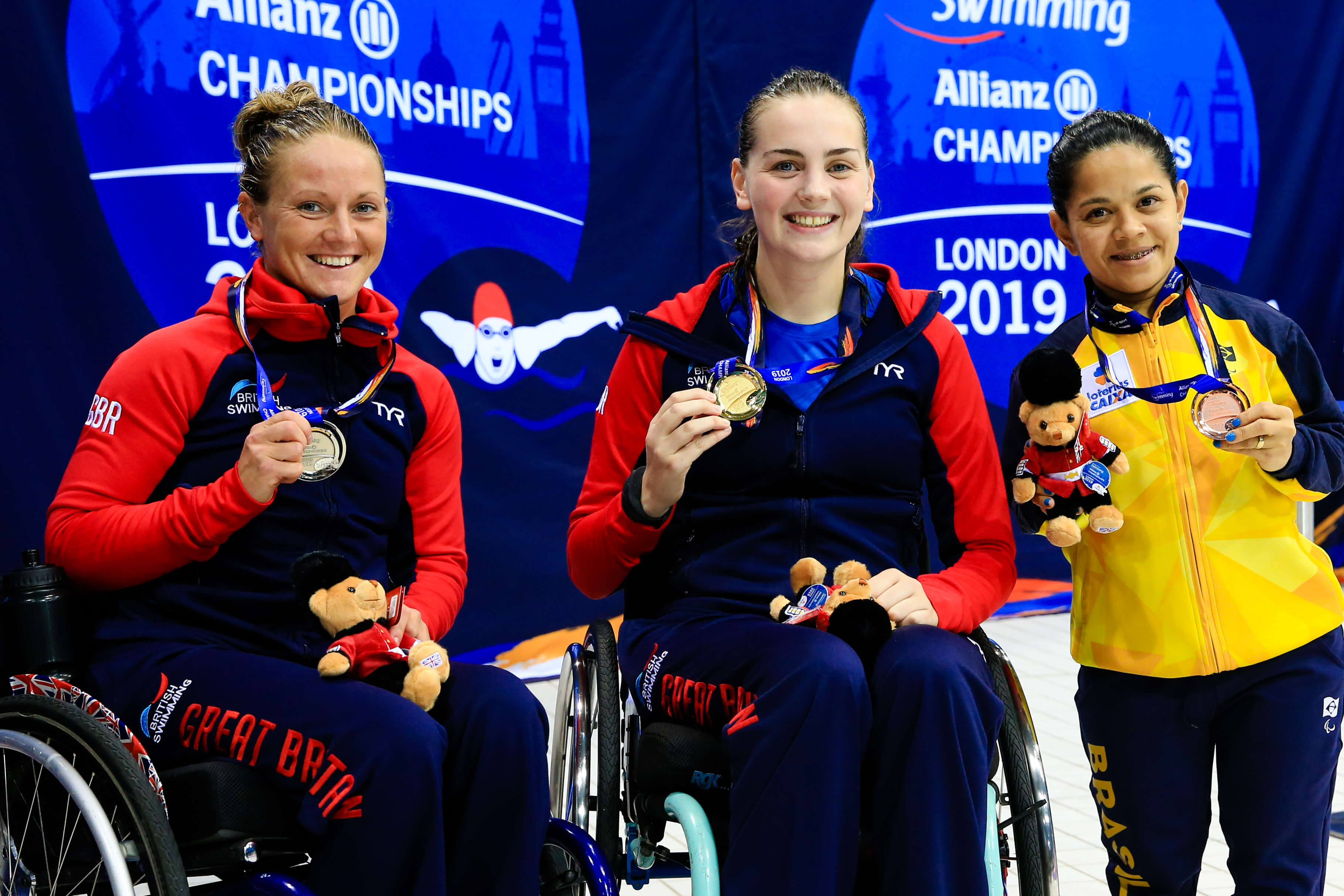 The University's sports scholars have enjoyed a summer of success in the swimming pool.
The medal-winning run began with Chloe Golding (pictured centre) winning a bronze medal at the World University Games in Naples, Italy. Golding's time of 2:09:57 in the 200m backstroke placed her fourth in Europe and 12th in the world for the event this year. Golding also represented England in the 2018 Commonwealth Games on Australia's Gold Coast.
This was followed by Emma Day securing a brilliant third place in one of the world's toughest swim challenges.
Day competed in the international Yangtze River Swimming Festival in China, which is renowned as one of the toughest tests for swimmers anywhere in the world. The race takes place annually in Manchester's sister city Wuhan and athletes must swim 1,800 metres against a strong current.
Katie Matts and Lewis White then won medals at the British Swimming Summer Championships which were held at Tollcross International Swimming Centre in Glasgow.
Matts, who has just finished her first year as a sport science student and swimmer at Stockport Metro Swimming Club, finished the competition with a gold medal in the 100m and 200m breaststroke.
White, who is a first year criminology student and City of Manchester Para Swimmer, won gold in the S9 category of the 50m and 100m freestyle, and a silver medal in the 400m freestyle.
And the summer finished in style with Tully Kearney winning a clean sweep of gold medals at the 2019 Para Swimming World Championships, held at the London Aquatics Centre.
Despite spending time in hospital only a month ago, the physiology graduate and masters degree student won gold in the C5 200m, 100m and 50m freestyle races, securing a championship record in both the 200m and 100m.
Kearney, who trains at Manchester Aquatics Centre opposite the University's city centre campus, was born with cerebral palsy and when she was 13 developed generalised dystonia, a progressive neurological condition.