Becoming young citizens
It may seem strange in post-referendum Britain, but before the 2016 vote on EU membership the government was able to devote its energy to more familiar matters: health, social care, environment, local government – and education.
Under the coalition government of 2010 to 2015, then Education Secretary Michael Gove oversaw the introduction of several new initiatives.
One of his flagship policies was the concept of British values. For the first time, schools in England would be required to teach British values to pupils. In November 2014, the Department for Education published official guidance on how schools should promote this.
Although not directly related, it took the values and principles that had been previously outlined under the Prevent duty, which was part of the government's counter-terrorism strategy. British values were defined as fundamental values.
Speaking at the time, Lord Nash who was the Parliamentary Under Secretary of State for Schools, said: "A key part of our plan for education is to ensure children become valuable and fully rounded members of society who treat others with respect and tolerance, regardless of background.
"We want every school to promote the basic British values of democracy, the rule of law, individual liberty, and mutual respect and tolerance for those of different faiths and beliefs.
"This ensures young people understand the importance of respect and leave school fully prepared for life in modern Britain."
Schools, teachers and trainee teachers would be judged against this as part of the Teaching Standards, the professional practice requirements for the profession. This guidance is typically more open to interpretation at a local school level than, for example, more clearly defined protocols around behaviour management.
Across England, schools began to think how they could deliver this – what format would it take, how could they communicate and teach it?
One Manchester school took the lead, developing an innovative approach that gained plaudits and has become a shared model of best practice.
Abraham Moss Community School, in north Manchester, is an 'all-through' school that includes both primary and secondary schooling. It is incredibly diverse with more than 62 languages spoken.
A long-time partner of Manchester Metropolitan's Faculty of Education, word quickly spread that it was coming up with interesting ideas around the teaching of British values, particularly to such a diverse school population.
"There was lots of confusion at the time because there wasn't initially a clear definition of what 'British values' meant," said Karen Meanwell, Associate Head of the School of Teacher Education and Professional Development at Manchester Metropolitan.
"As you can imagine, you could ask 100 people in the street and they would all say something different. A short while later, a definition was produced and we recognised that we needed to address it with the trainee teachers."
It's always very difficult to address those kinds of concepts like British values in the classroom because they're very much about opinion and interpretation
At Abraham Moss, the teachers realised it was a difficult concept for them to define and communicate to their varied student body, which includes recent refugee arrivals to the UK who may only just be starting to understand the culture and language.
Reihana Aitken, Assistant Headteacher at Abraham Moss, said: "We absolutely, wholeheartedly believe in the British values, but obviously working in a school that is so multicultural we have pupils and staff from so many diverse backgrounds – the potential is that you feel excluded.
"Everything we do with our pupils is about trying to make them positive and active citizens. My colleague Lucy Tasker worked on the idea that people only become disenfranchised or become isolated if they don't feel connected to things. Our approach was to connect with each other, our community and the wider world so prevention becomes unnecessary.
"So how can we get pupils to buy into it and feel, actually, they are people who support those values?
"Maybe we would talk about them more as human values or fundamental human values. We also recognised British values are shared by a whole host of other countries, communities and cultures."
Once the school got to grips with the concept, they began formulating ideas on how to communicate to their pupils and across the variety of languages spoken, and the different cultures represented, in its classrooms.
The school already had a well-structured 'pupil-voice system' such as their Pupil Voice Parliament, in which the children would be active members in developing ideas. This includes the school's citizenship classes which are part of its Personal Development Curriculum, sometimes known as personal and social education.
Citizenship teachers worked with energetic pupils to shape the British values lessons, challenging pupils: what are the values? How can they be a good citizen? How can they promote equality and support democracy?
Jointly shaping and teaching the British values with the pupils made the classes relevant. They were meeting the aims of the British values initiative while making it tangible, which included pupils creating a rap for their ideas in a fun and engaging way.
Quick off the block, the school's approach allowed it to cut across cultural boundaries and others began to take notice.
Beneficially, there was a well-established partnership with Manchester Metropolitan. The University supports the ongoing personal development of the school's teachers and the school is a prominent host of Manchester Metropolitan trainee teachers, helping them to develop their classroom expertise as part of students' Postgraduate Certificate in Education (PGCE).
"It's always very difficult to address those kinds of concepts like British values in the classroom because they're very much about opinion and interpretation," added Meanwell.
"It's really hard in terms of how to teach your trainee teachers to instil those concepts in children. It's much easier to say 'how do you teach a trainee teacher to deliver biology or history content?'.
"We tried various methods but what we discovered quite quickly was that Abraham Moss were doing something quite interesting with it."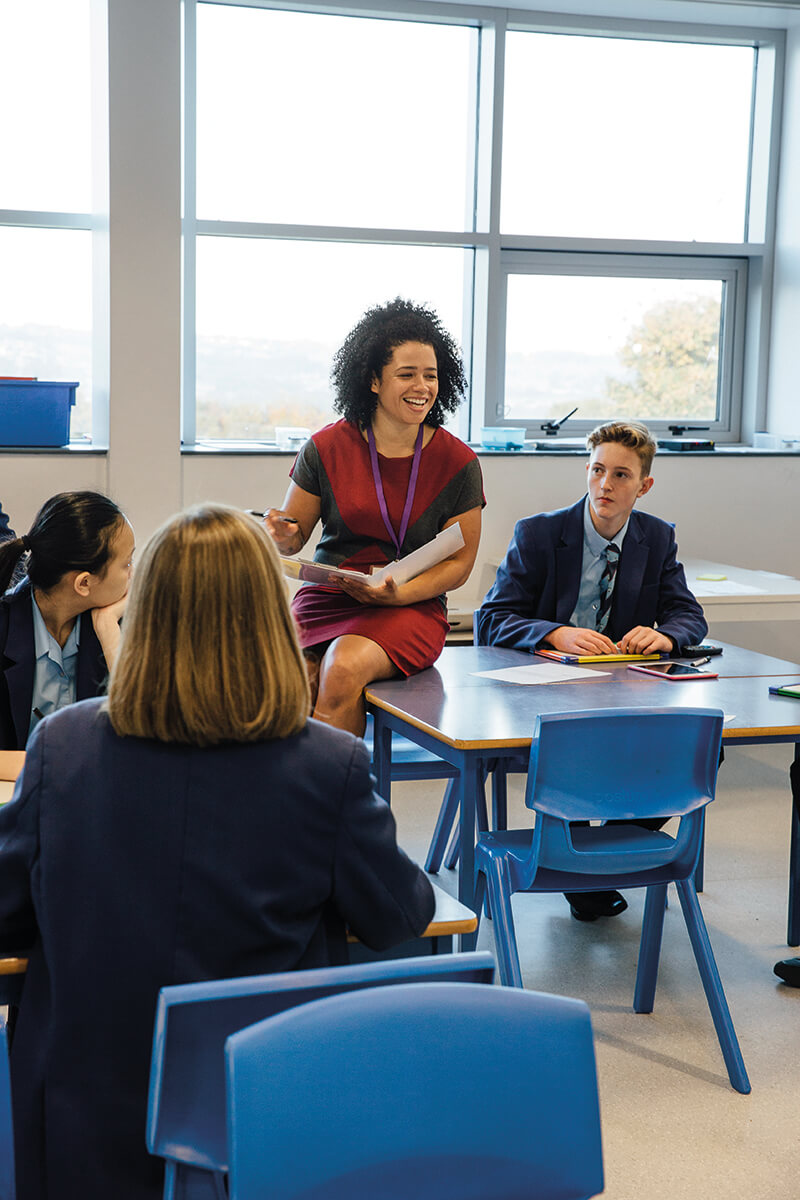 The Faculty of Education decided to use Abraham Moss's method to teach it to all of the trainee teachers – both primary and secondary – through a big conference at the University, covering varied education topics. Rather than your run-of-the-mill talk complete with PowerPoint slides, the pupils themselves came and delivered the sessions to the trainee teachers.
The impact was immediate.
The pupils – from years nine, 10 and 11 – organised the sessions and, supported by their teachers, shared their knowledge. The format continues now, with a new generation of Abraham Moss pupils coming to Manchester Metropolitan to teach the trainee teachers. Pupils even visited the University to deliver the British values session to attendees at the Faculty's first Equality and Diversity Conference, in July 2019.
One pupil who has first-hand experience is Adonis Zejnullahu who has helped to deliver the British values sessions. He said: "We went to Manchester Met and presented about British values to teachers and it was really fun.
"British values are important so people know they have rights and freedom of speech – they know what they have and they can respect other people.
"After doing the British values training, I have become more confident in front of a large crowd."
Meanwell added: "Abraham Moss are innovative, but they're also very open to new ideas and very open to working collaboratively.
"At the first conference, pupils delivered it in the sports hall to an enormous audience of trainee teachers, three times across the day.
"It was brilliant because they talked about what it means to them as individuals, which showed trainee teachers that it means different things to different people.
"But what they also did was they put trainee teachers on the spot and highlighted: 'what does it mean to you and how might that impact how would you teach it?'.
"There were moral dilemmas and lots of things about character and interpretation of character, behaviour and so on. It was amazing to watch.
"As they repeated it across the day, the number of people in the room grew because everyone was saying: 'oh, you need to go watch this'."
The pupils who deliver the training wholeheartedly feel these British values
This new approach was built on an existing framework Abraham Moss has with the University. The school already takes its expertise in teaching English as an Additional Language – an important discipline in a school where 62 languages are spoken – to share their insight and enhance the learning of all trainee teachers at Manchester Metropolitan.
Aitken added: "We don't work with any other universities for taking PGCE trainees because the partnership is so effective and has been so positive for so long.
"The pupils who deliver the training wholeheartedly feel these British values. If we can teach British values well here, it can be done anywhere. We have some pupils who come from very difficult circumstances, we have international new arrivals, we have pupils with refugee status alongside pupils who have lived here all their lives, we have pupils who come and they have very different perspectives and experiences.
"We felt that if we could do it here then surely that would be really valuable for other people. If the trainee teachers can go into their careers with that perspective – and if they see how positively pupils can engage in those sorts of ideas and discussions – they might carry that forward into whichever schools they work in."
And, of course, as a hot topic across the education sector, Ofsted were keen to see how schools and universities were tackling the challenge of effectively promoting British values.
Who was doing it well and what were they doing?
Not long after the first trainee teacher conference in 2014 when Abraham Moss pupils presented in front of hundreds of trainee teachers, Ofsted visited the University's Faculty of Education as part of its routine assessment of teacher training providers.
Inspectors learned of the inventive approach of the British values classes and highlighted the conference sessions led by pupils as one of the Faculty's inspection highlights.
And the impact of the approach continues to reverberate throughout the region, and further afield, as trainee teachers take the learning into their new schools.
Top marks all round, you might say.