Channels of communication
For many people, the ability to communicate is taken as a given. Getting on the bus in the morning, ordering food for lunch or asking for directions – simple conversations that help us to get by.
But for lots of people this seemingly simple task can be complicated, hard and maybe even impossible.
A communication disability can affect a person's ability to understand what others say or to speak, and sometimes they may need to rely on communicating by other means, with signs or symbols. Communication disabilities can range from relatively mild difficulties in pronouncing sounds to the inability to understand or use spoken language.
In the UK, services to support people with communication disabilities are provided by a well-developed network of professionals: speech and language therapists and others in the health, education and social care sectors.
However, for thousands of people in places around the world, particularly in low and middle-income countries, services are extremely limited or even non-existent. This can affect not only a person's ability to communicate with their family, friends and members of their community, but also their ability to access education or get a job. It is a vital key.
One group who may face such difficulties are street-connected children, a term used to describe young people who depend on the streets for their survival – whether they live, work or study on them.
Street-connected children can face harm on a daily basis. They are often denied access to education and healthcare, and can face jail when trying to survive poverty and hunger. Manchester Metropolitan researchers are working in Kenya to help street-connected children experiencing barriers related to communication disabilities.
Refugees are another vulnerable group, known to be at higher risk of violence, particularly sexual and gender-based violence. For those with communication disabilities, the vulnerability is even higher – and the ability to report these crimes can be challenging or even impossible.
Dr Julie Marshall (pictured below), Reader in Communication Disability and Development at Manchester Metropolitan, is exploring the experiences of both these underserved groups, understanding their lives and experiences to improve the services available to them.
Her research has taken her across Africa. Rwanda, in East Africa, is host to nearly 150,000 refugees, mainly from the Democratic Republic of Congo and Burundi, including people with disabilities.
The United Nations High Commissioner for Refugees (UNHCR) in Rwanda has recognised that refugees with communication disabilities may be at greater risk and there is needed to ensure that they receive equitable services. UNHCR Rwanda have been working closely with researchers at the University.
Led by Dr Marshall (pictured above), the team, including Helen Barret from Communicability Global, Sidra Anwar from UNHCR Rwanda, and Lise Capet from the Institute for Human Centered Design, set out to understand the challenges experienced by refugee survivors of sexual and gender-based violence who have a communication disability, and the views and experiences of workers who support them.
The project revealed a grim reality.
"People talked to us about how survivors of sexual and gender-based violence with communication disabilities could struggle to report crimes, receive services or would not be considered to be a credible witness to a crime," said Dr Marshall.
Individuals with communication disabilities, who do try to report sexual and gender-based crimes, or seek medical help, may struggle at every step.
Finding, getting and explaining to a healthcare provider what has happened can be difficult with limited language – and so can going to the police to report the crime.
We know in conflict and humanitarian situations that abuse, in all forms, is more common, and that is exacerbated further for those with a communication disability
People with communication disabilities have been described by perpetrators as the 'perfect target', due to their reduced ability to report abuse.
Dr Marshall said: "We know from our work that people's reports may be discredited if they have a communication disability.
"We're beginning to understand now that refugees with communication disabilities are more vulnerable to sexual and gender-based violence for a number of reasons. They are less likely to have been to school or have received other forms of education that teaches about healthy relationships and what is acceptable and unacceptable behaviour from others."
This need to understand more about the prevention of sexual and gender-based violence is the focus of a second project, looking at understanding the need for accessible sexual and reproductive health education, and sexual and gender-based violence services for refugees with communication disabilities, again in Rwanda.
Dr Marshall added: "We know in conflict and humanitarian situations that abuse, in all forms, is more common, and that is exacerbated further for those with a communication disability."
The findings from both the projects in Rwanda will be used to design improvements to sexual and gender-based violence, and sexual and reproductive health education services.
This project has led to more work, trying to understand more generally how refugees with communication disabilities and their families access all kinds of services.
Dr Marshall said: "We have talked to stakeholders and asked about their challenges in relation to supporting people with communication disabilities and what they need. We are now working closely with the refugee community and UNHCR Rwanda in one camp to develop and try out some simple ways to try and improve things. This may include some training and work on community awareness."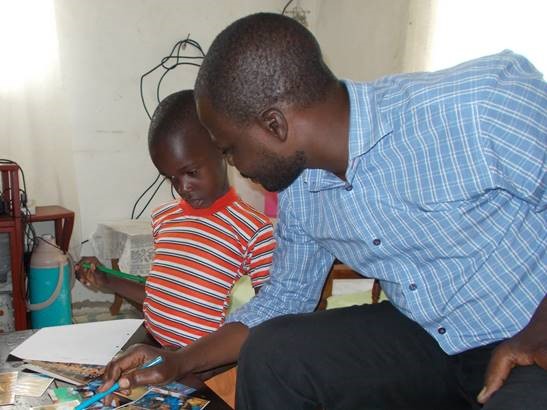 In Kisumu in Western Kenya, Dr Marshall has been leading a team – including Dr Carol Taylor, David Rochus and colleagues in Kenya – involving street-connected children and funded by charity Chance for Childhood, via Comic Relief (pictured above).
Researchers are working to understand the experiences, attitudes, beliefs and wishes of street-connected children with communication disabilities, their carers and their learning support assistants who help them in school.
The research team from Manchester Metropolitan has trained local staff to conduct interviews, focus groups and interactive data collection sessions.
Dr Marshall said: "One of the most important outcomes of the project is that we're raising awareness about communication disabilities: what it is, how it might impact on people's lives in all kinds of different ways, and also that there are ways in which people with communication disabilities can be supported to communicate to their best potential – and this includes in ways other than talking."
Katie Fowler, Co-CEO at Chance for Childhood, added. "Our partnership with Manchester Metropolitan is of strategic importance to enhancing Chance for Childhood and the wider development community's awareness and understanding of the issues facing street-connected children with communication disabilities.
"Critically, our Learning, Educating and Protecting (LEAP) project has aimed to go beyond traditional safeguarding interventions for street-connected children – LEAP addresses the root cause of poor school retention and the challenges facing so many organisations supporting street-connected children in successfully integrating them back into their family and education settings, where they are safe and protected.
"We are eagerly anticipating using the findings to learn and adjust our approach to finding sustainable solutions to reducing street-connectivity for vulnerable children."