The daily sketch
One day in June 2013, illustrator Dr W John Hewitt quickly sketched some cows he had seen from a train window. Conceived as a means of keeping himself drawing while he was away from home, he soon found it was a welcome distraction from his usual practice of producing highly technical images over many months. So when he was back home, he started capturing daily scenes he witnessed while out on his travels or walking his dog. And he hasn't stopped since.
"I've now done about 2,600 drawings and I've never missed a day since I started," said Hewitt, a Senior Lecturer in Illustration with Animation at Manchester School of Art. In fact, the daily illustrations have become more detailed and are now his main practice, uploading each image to Instagram where he has built a loyal following.
His intricate sketches capture busy urban scenes in central Manchester – the city's visible homelessness crisis has become a recurrent theme – as well as landscapes near his home on Saddleworth Moor, where he captures nature in all its beauty and occasional devastation – his drawings recorded the huge recent wildfires over the moors.
He also draws still subjects, including animals, statues and buildings with historical significance, often with a link to the region's radical history, such as locations relating to the bicentenary of the Peterloo Massacre. "A lot of it is stuff that is slightly damaged, that's the common thread," he said.
He never pre-determines what he will draw, each day waiting until something catches his eye. "I often wake up thinking 'what am I going to draw today?' And then something presents itself," he said.
The form itself has become interesting to Hewitt, uploading each sketch to Instagram with a description of its content and why he was inspired to capture it. Over 8,000 people follow his page, including many current and former School of Art students.
"Before Instagram, when you put your work out in the world, it had to be through an exhibition or a publication. And that depended very much on the footfall through a bookshop or a gallery.
"Instagram gives artists a strand of independence that they didn't have before. My work in sketchbooks would never be shown because you can't really sell a sketchbook. Through Instagram, you can show this different kind of work that people are really very generous in their responses to."
Hewitt has no immediate plans to hang up his pencil and paper, having filled 66 sketchbooks with his drawings thus far. His ambition is to reach 100 books, "a complete body of work", which would take him another three years. Until then, he is content observing and recording the world seen through his daily walks.
"It's just drawing in a very simple form and there's something very meditative about that," he said. "As long as I'm seeing it [I'll draw it]. I would never do anything from a secondary image. It has to be seen."
Cast your eye over some of Dr W John Hewitt's
sketches. Follow him on Instagram: @_w_john_hewitt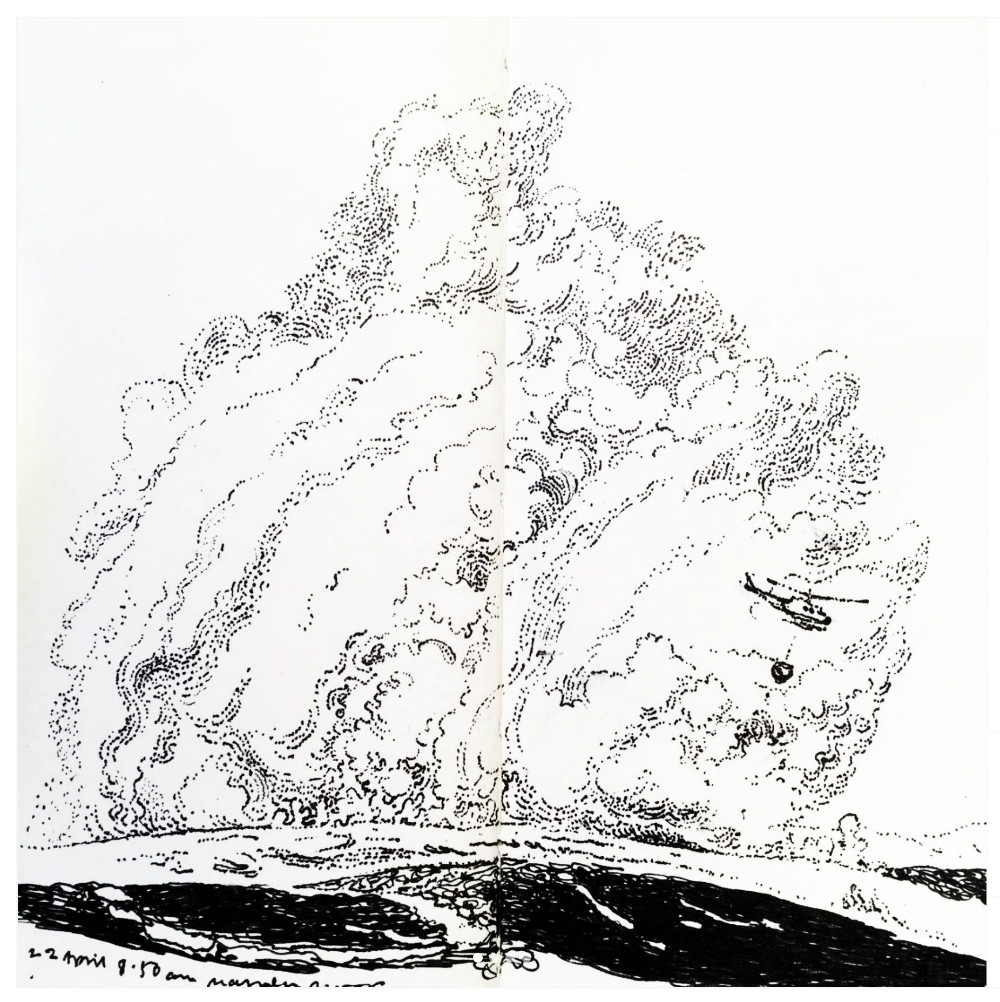 22 April [2019], 9.50am. A helicopter attempts to douse the flames of a massive wildfire on Marsden Moor, using water scooped from nearby Redbrook Reservoir. The fire was started last night at Eastergate, by someone who was using a disposable foil barbecue. It has burned for 24 hours and had engulfed miles of moorland.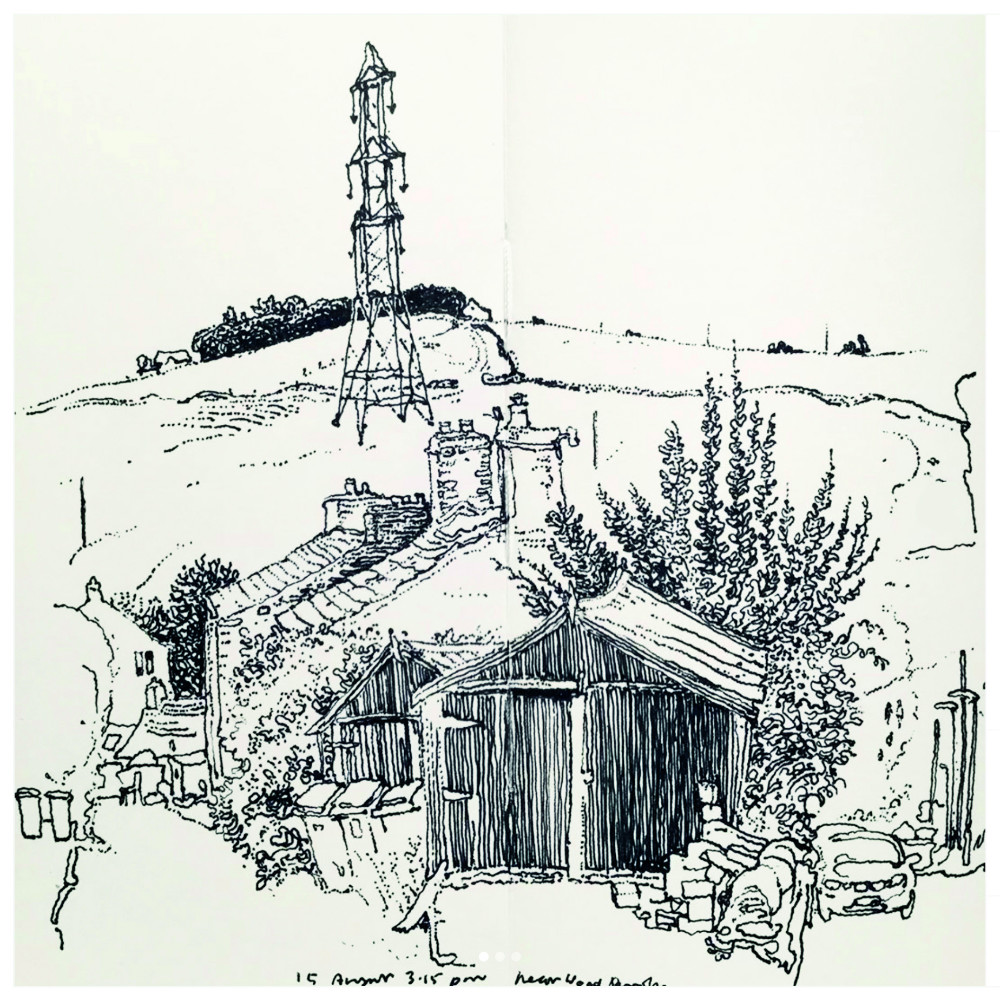 15 August [2019], 3.15pm. Old houses and dog walkers at Wood Brook near Grotton. Today is the 200th anniversary of the Peterloo Massacre, when 18 peaceful pro democracy demonstrators were killed by troops in Manchester's St Peter's Square. Yesterday I set out to draw the possible site of the birthplace of John Knight, one of the organisers of the Manchester demonstration. Some historians believe he was born at Knight, or Neet, Mill situated on Wood Brook at Stone Breaks, a hundred yards down the valley to the right of this cluster of houses. Others have his birthplace in humbler surroundings in Quickwood near Mossley. Knight Mill is long gone but I was thwarted in my efforts to find its footprint by barbed wire, shrubbery, indistinct footpaths and timidity in the face of hooved creatures.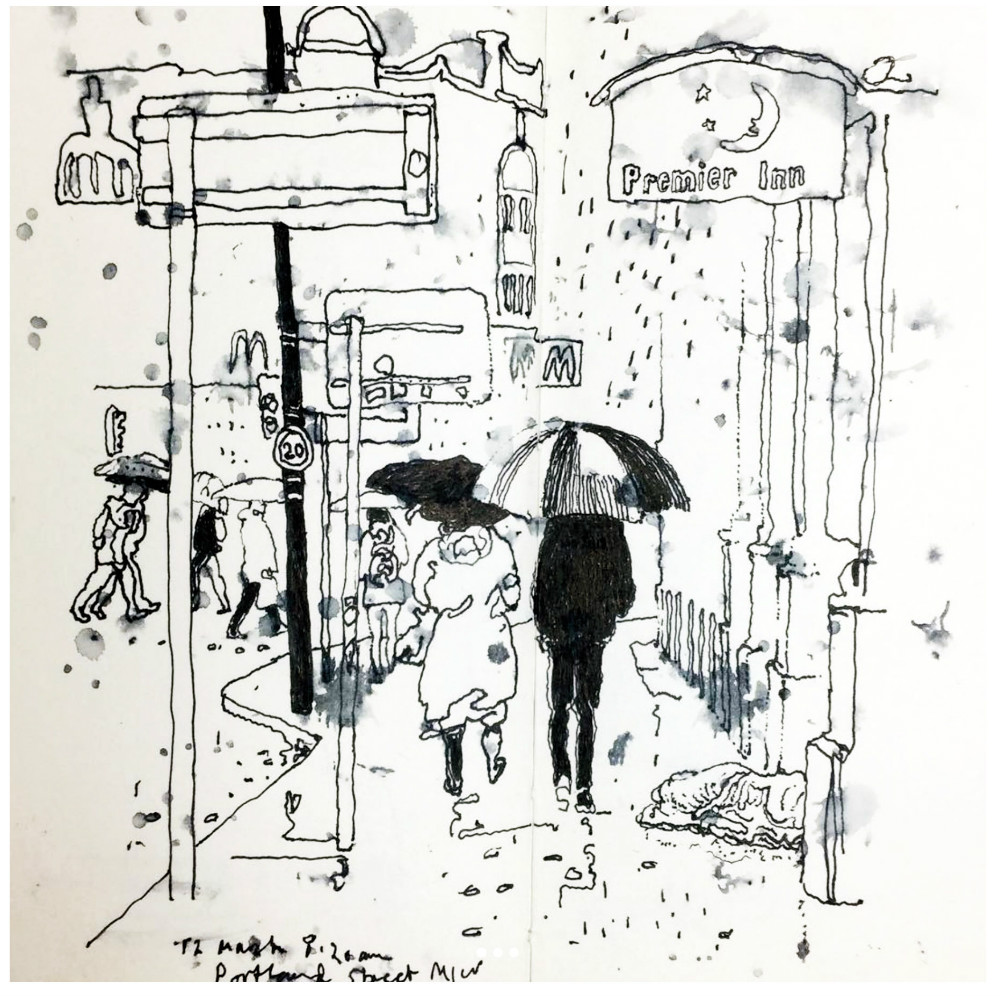 12 March [2019], 8.20pm. The rains of Storm Gareth were particularly cruel to Manchester's rough sleepers yesterday. Here is a man under saturated sheets on Portland Street.
4 August [2017], 4.44pm. Target practice on the A62. Other than shotgun-blasted road signs a long standing feature of this moorland road is the number of sheep who graze their way along the verges between Diggle and Marsden. They seem totally oblivious to hazards of all kinds.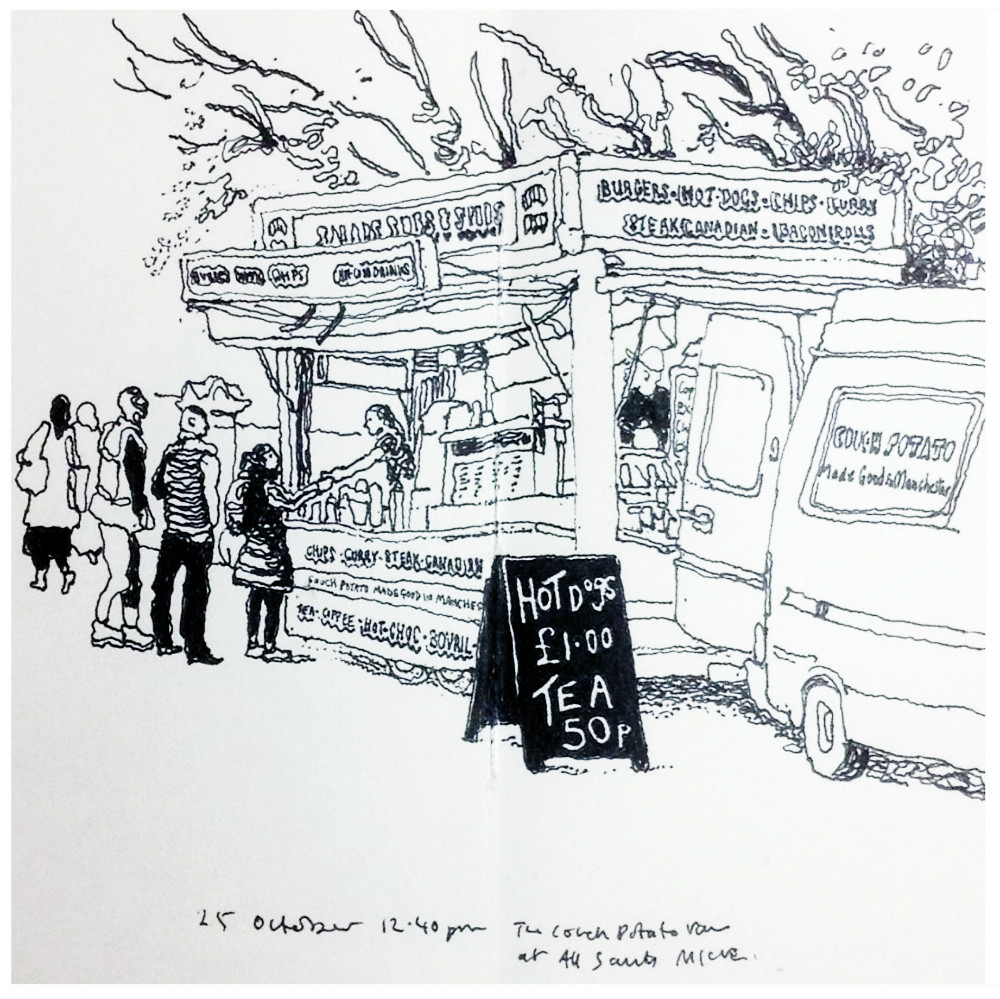 5 October [2018], 12.40pm. The best value cup of tea in town! Terry Hulston and his team at the Couch Potato van have been serving hot food and beverages to cohorts of art students and others from this spot for 18 years.