Sustainable fashion
Fast fashion. It is often seen as disposable, cheap and providing avenues for exploitation. The stereotypical negative image is of imitation designer brands produced in back-street sweat shops, treating workers badly, exploiting communities for quick profit.
But one Manchester Metropolitan alumna has developed a business as an antidote to 'fast fashion'. Ibukun Jesusanmi Baldwin has built a business from the ground up, working collaboratively with local communities, with each garment hand-made for the person who buys it.
Ethical fashion and textiles business Bukky Baldwin opened in March, selling beautiful, handmade clothing and other goods, with profits ploughed back into providing training and language workshops for people in marginalised communities.
Baldwin, a multidisciplinary artist and social practitioner, developed the concept after graduating from Manchester School of Art at Manchester Metropolitan, and being given business support and studio space by the University's Marketplace Studios.
She is now the first creative resident of the Work Shop at The Whitworth, selling original, handmade ceramics, jewellery and embroidered goods. They are produced in weekly workshops with refugees referred via Manchester City of Sanctuary, a charity that seeks to make the city a welcoming place for asylum seekers and refugees through a range of social, educational and cultural activities.
The residency is called the Bukky Baldwin Universe and will be at the Whitworth's Work Shop until summer 2020.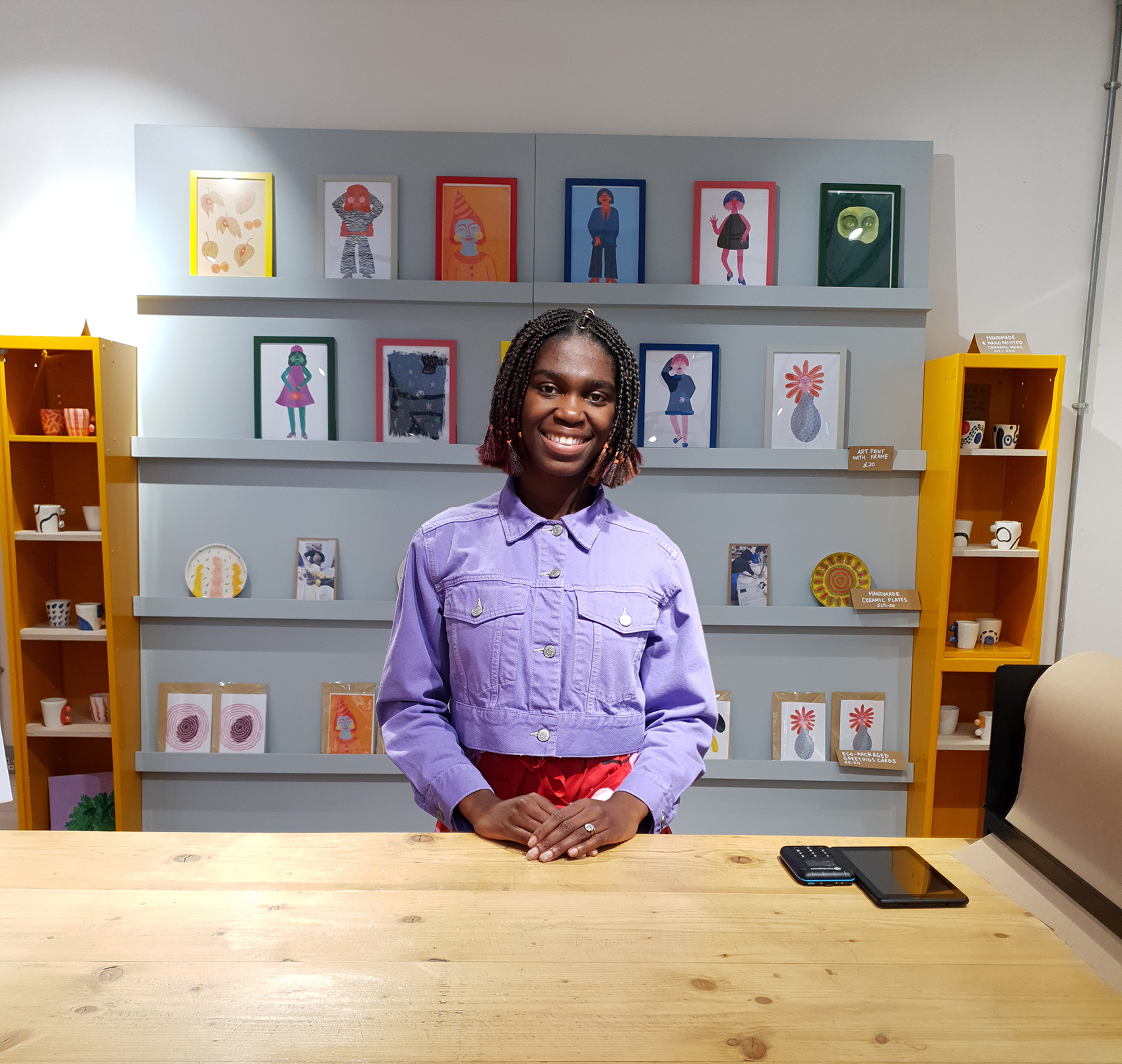 The three-month programme of training helps participants learn design and craft skills and develop their language skills.
Bukky Baldwin was also recently granted £5,000 of business support from the Deutsche Bank Award for Creative Entrepreneurs to take the business to the next level, from a scheme which "supports young UK-based entrepreneurs driven by a mission to build and sustain social value through enterprise".
Baldwin said: "I want to show that you can create a successful fashion business that is sustainable, ethical and treats people fairly.
"After I graduated in 2017, I took a year out to do volunteer work, working with homelessness charities.
"I saw the great need for people in Manchester, and that you can make a big difference in people's lives by giving up your time.
"Through my background in textiles and design, I also understood some of the problems within the fashion industry, but also its amazing potential to help people. I am determined to use Bukky Baldwin as a way to champion positive social and economic change."
Baldwin graduated with a BA (Hons) in Textiles in Practice, before returning to Manchester Metropolitan in 2018 for the inaugural Kraft/Work project, a week-long programme aimed at supporting creative students to develop their post-study careers.
Recognising that most new enterprises fail in their early years, Kraft/Work provides both creative and business support for third-year students. Successful graduate practitioners are brought in to share what worked for them, before two days dedicated to enterprise and business training, skills workshops and training to help devise an 'elevator pitch'.
Following this, Baldwin began working at Marketplace Studios, a Manchester School of Art initiative in Stockport that provides studio space for the University's graduate practitioners, whose residents also receive business support tailored towards the creative industries to help them succeed in their new enterprises.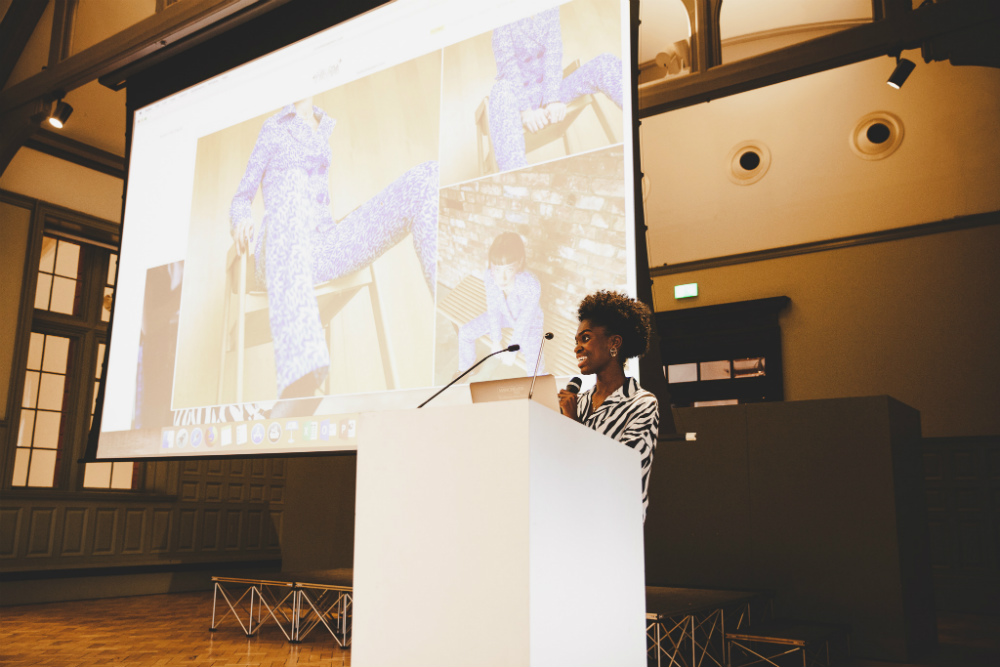 Set in a three-storey building in the heart of Stockport's Market Square in the historic Old Town, Marketplace Studios also provides a shop, gallery and exhibition space which allows early career artists and creative practitioners the opportunity to display their work.
Baldwin said: "All of this made a big difference in creating the business and getting it up and running. I'm so grateful for what my course gave me. I was taught not to be afraid, to be unique and develop my own ideas. I learned how to be an intuitive and contemporary designer." She returned to speak to the 2019 cohort of Kraft/Work students about her success to date.
Despite still being in its infancy, Bukky Baldwin is already selling items on its website and in the Work Shop, from ceramics to home furnishings and a colourful fashion range of jackets, jumpsuits, skirts and trousers, and has launched a footwear collaboration with Portuguese designer Josefinas.
Baldwin's ambition for the brand is in keeping with the core mission of the business – to grow in a sustainable way throughout the country, opening small studios which reflect the communities that they serve.
She would also like to develop an employment scheme, providing further training and more long-term support to work with homeless charities and other groups.
This outward focus has already resulted in the 'School of Sustainability', a collaboration between Bukky Baldwin and other artists offering workshops for people to come and learn handcrafting design techniques from crochet to natural fabric dyeing using materials that are sustainably sourced.
I am determined to use Bukky Baldwin as a way to champion positive social and economic change
Kate Egan, Programme Leader for Textiles in Practice at Manchester Metropolitan said: "I'm delighted that Bukky has won such a prestigious award and is doing so well since graduating from the Textiles in Practice degree at Manchester School of Art.
"As Bukky's tutor I supported her creative individualism and self-belief – she produced really interesting work in her specialist area of embroidery/mixed media.
"Bukky possesses an entrepreneurial spirit and has boundless energy. She was destined to run her own creative business."
Clare Knox Bentham, Outreach Manager at Manchester School of Art, Manchester Metropolitan, said: "When Bukky came to us through the Kraft/Work project she was fizzing with ideas and energy, which we helped her to channel into a sustainable business idea. Throughout the project and during her time with us at Marketplace Studios she's worked so hard so we're thrilled she's starting to get the recognition she deserves."
Liz Hibberd, Volunteer & Partnerships Coordinator from Manchester City of Sanctuary said: "We have developed a really great relationship with Bukky over the last 12 months or so. She has been involved in forming positive interactions with our Sanctuary Seekers who have relished the opportunity to learn new and creative skills.
"Learning the language of art and design as well as providing ways in which people experiencing quite specific challenges can create, has allowed a therapeutic and practical outlet for them. Expressing yourself in this way doesn't necessarily require a high level of English, so collaborating with Bukky has been exceptionally accessible for all the people we work with.
"We were thrilled to see Bukky going from strength to strength and for focusing her work to support and enhance the lives of those who are less fortunate."