Ahead of the game
Home to two of the biggest English football teams, boasting the highest concentration of sporting venues in Europe and host of the 2002 Commonwealth Games, Manchester is already a city of sporting excellence. It is a reputation that will be further enhanced by the city's plans to develop the Etihad Campus in East Manchester into a sporting capital, housing a host of national governing bodies – and Manchester Metropolitan University's Institute of Sport (MMIoS).
The transformation of East Manchester from a home for the traditional manufacturing industries to a world-class sporting hub is nothing short of remarkable. It all began with the 2002 Commonwealth Games – a huge turning point in Manchester's sporting history.
The competition saw the establishment of new stadia and sporting facilities around the city and was the catalyst for Manchester's reputation as one of the world's leading cities for sport. Sixteen years later, its great legacy lives on, not only in the facilities, but in the city's agenda around sporting excellence. The city's latest statement of sporting intent is the development of the Etihad Campus.
"It will be a cuttingedge educational facility providing the latest classroom and laboratory teaching innovations for our sport science students to master their trade."
Manchester City Council, in partnership with the Abu Dhabi United Group (ADUG) has had a shared commitment to the regeneration of the Eastlands area since 2008 in order to accelerate the area's economic contribution, driving further employment and economic growth throughout the city and beyond. Manchester Metropolitan plans to join the partnership to guide recommendations for future regeneration activities and to support the ambition to develop sport, physical activity, health, and social care across the Greater Manchester region.
As part of the redevelopment, Manchester Metropolitan has launched plans for a new Institute of Sport at the Etihad Campus. The planned institute will be a major UK urban centre of excellence for sport.
Listen to the latest episode of our MetCast podcast: Sports scholarships and a brighter sporting future
Sir Richard Leese, Leader of Manchester City Council, said: "The 2017 Eastlands Regeneration Framework set out a vision for a sports and leisure cluster centred around the Etihad Campus that will create a globally competitive sporting ecosystem in Manchester.
"The Etihad Campus is already the home of British Cycling and English Squash as well as Manchester City FC, the City Football Academy, and a host of world-class sports facilities and governing bodies for elite and community use.
"We are working closely with Manchester Metropolitan University to drive the delivery of the new facility at the Etihad Campus that will create a worldleading, sports-focused academic centre in the heart of East Manchester."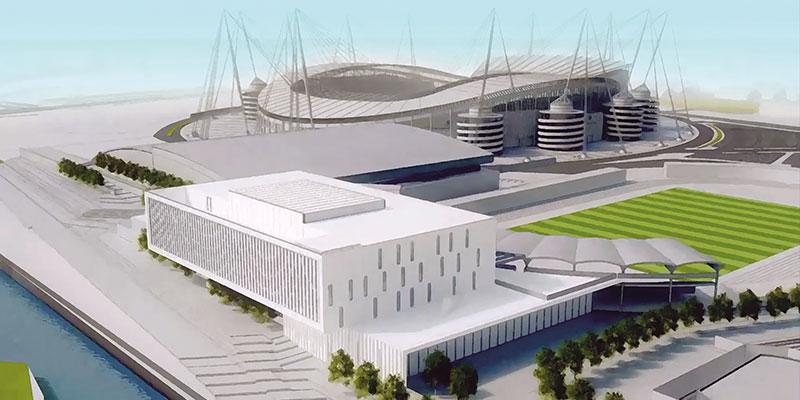 The initiative aims to enable new opportunities in education, research, social, community, commercial and development initiatives. At the heart will be the University's established research strengths – the science, business, policy and culture of sport.
In issue five of Met Magazine, Sir Howard Bernstein, the former Chief Executive of Manchester City Council who is now working with Deloitte and the Manchester Life project to link the city centre to the Etihad Campus, spoke about the Institute of Sport plans. "We've always seen the opportunity to build an economic profile for that area, a centre of learning and research that can really take off now. We already have sports federations, governing bodies in the area, the Manchester Metropolitan Institute of Sport (MMIoS) should be driving significant innovation in that broader space," he said.
"It's taken a long time, but the business case for Manchester Metropolitan to expand sports provision started to stack up. It was important to find a better way for the University to achieve what it wants from sport. The answer to both of those questions is both the city and the University doing a lot more. So now we're developing an investment case for a global platform for a sports university, not only in sports degrees, but in postgraduate qualifications too and what this could mean for Manchester Metropolitan University and collaboration with other great sports universities around the world."
All bases covered
Manchester Metropolitan already has an international reputation for its work in the sport and exercise sciences, with a particular strength in the science of human movement. The expertise from the Department of Sport and Exercise Sciences has come together with colleagues in Healthcare Science to create the new Musculoskeletal Science and Sports Medicine (MSSM) Research Centre.
To further understanding of the contribution that sport can make to global economies, the Institute of Sport will draw on the University's research in sport policy and business located in Future Economies Research Centre in the Faculty of Business and Law.
Central to the new initiative will be Manchester Metropolitan's rich portfolio of undergraduate and postgraduate provision in sport and exercise science, coaching and sports development, sports engineering, sports management, sports marketing, and fashion design and technology. It is expected that there will be over 2,500 Manchester Metropolitan students based at the Etihad Campus by 2025/2026 and nearly 1,000 Distance Learning students across a range of programmes.
Professor Jamie McPhee, Head of the Department of Sport and Exercise Sciences, said: "We're really excited about the Institute of Sport. It will be a cutting-edge educational facility providing the latest classroom and laboratory teaching innovations for our sport science students to master their trade.
"We are working with sports organisations, governing bodies and other employers to make sure our graduates are equipped with the skills and knowledge needed in the workplace. Our world-leading researchers in the Musculoskeletal Science and Sports Medicine Research Centre will be co-located on site undertaking innovative clinical and elite sports research and teaching undergraduate students studying on one of the five undergraduate degrees we offer. All of this is happening in the very heart of the Etihad Campus in Manchester, providing a real sense of character, place and purpose."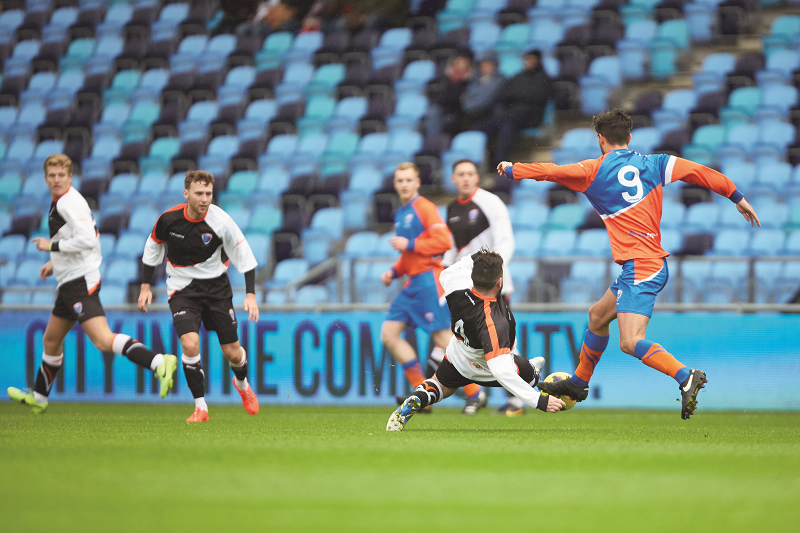 Healthy living
Professor Richard Greene, Pro-Vice-Chancellor Research and Knowledge Exchange, said: "MMIoS will benefit from, contribute to, and enhance the University's international networks for research and knowledge exchange. Research from the Centres will lead and inform students' learning, lead knowledge generation, and have significant impact on society, health, the economy and quality of life.
"Students, graduate apprentices and executive learners will be embedded at the centre of this environment to receive the very best available research and practice-informed education. Those who wish to continue their careers in elite sport will have the use of worldclass facilities with our partners at the Etihad Campus and benefit from educational programmes that can accommodate their training and competition schedules."
Professor Paul Holmes, Academic Lead for the MMIoS project, added: "Co-locating world-class research, high quality teaching, and significant health and social care initiatives alongside elite sport partners on the Etihad Campus will present an outstanding opportunity for Greater Manchester to consolidate its reputation as a global city of sport. It will also show the important role that sport can play in societal health, wellbeing, business, leisure, and culture.
"The University has an established reputation for highquality academic provision across a wide range of sport-based programmes. MMIoS will focus on the central tenet of academic quality; excellence in research, learning and teaching, knowledge exchange and enterprise will all contribute to the success of the institute."
"The University has an established reputation for high-quality academic provision across a wide range of sport-based programmes."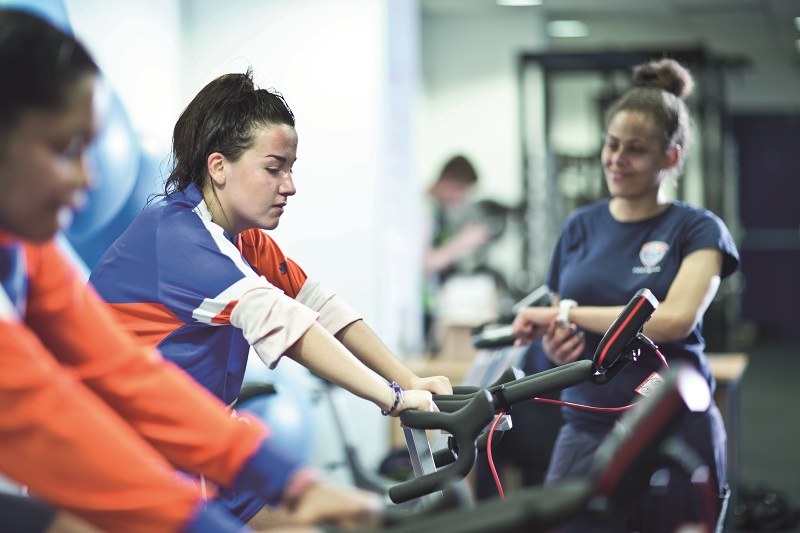 Nurturing future talent
Combining higher education and the pursuit of the Olympic dream may seem impossible – how can you compete against the world's best and break records at the same time as studying for a university degree? But Manchester Metropolitan has always been a university that recognises the importance of the dual career for students who are also highachieving athletes.
To contribute to Manchester's elite athlete community, sports scholarships are offered each year at the University, with many of the recipients going on to conquer the international sporting stage, creating a new generation of champions.
In 2018, around 60 national and international athletes walked through Manchester Metropolitan's doors to receive a bespoke financial and sporting support package, giving them the chance to be at the top of their game in sport and achieve success in their academic life.
In the last year, sport scholars represented their countries on the global stage, won a host of medals and were part of seven club promotions and two premier teams. Scholars achieving international success included Exercise and Sports Science student Helen Scott. She travelled to the Gold Coast in April to compete at her second Commonwealth Games as part of England's Cycling Team, acting as a pilot in the tandem event with visually-impaired teammate Sophie Thornhill. The pair won two gold medals in the Blind and Visually Impaired (B&VI) 100m time trial and the B&VI sprint, setting two world records in the process.
In addition, Tully Kearney, para-swimmer and Physiology student represented Great Britain at the Para European Championships in Dublin in August and brought home a gold medal in the S5 100m freestyle and bronze in the S5 50m freestyle.
The University's sport scholarship offers a range of advice, lifestyle education and support, including: nutritional advice; physiotherapy; sport science and strength and conditioning support services; and financial support and contributions towards academic fees.
The scholars also have access to top class sporting facilities such as the Manchester Aquatics Centre, right on our doorstep. The Platt Lane Complex, a former training centre of Manchester City and now owned by the University, provides top-quality pitches and a range of recently refurbished fitness suites and informal learning areas. The complex hosts training sessions and matches for many university and local clubs; it is the venue for England Lacrosse and Toronto Wolfpack, a Canadian rugby league team who now considers Manchester their 'home-from-home'.
What do our current scholars have to say about the scheme?
Tully Kearney, swimming scholar and physiology student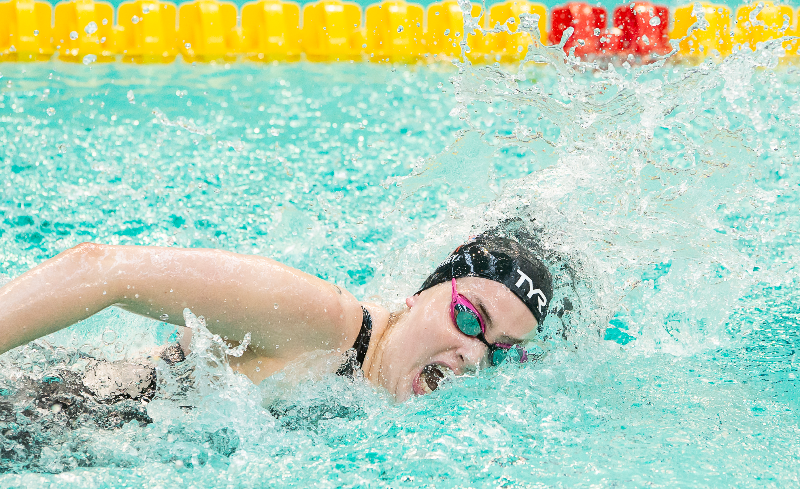 "If it wasn't for the University I couldn't have got to where I am now," said Tully Kearney as she prepared for this year's Para-swimming European Championships.
Kearney was born with cerebral palsy (spastic diplegia), and when she was 13-years-old developed generalised dystonia – a progressive neurological condition. In 2016 Tully suffered significant progression in dystonia and had to withdraw from the Paralympic Games in Rio de Janeiro.
But since then, with the help of the staff at the University, Kearney has continued to work hard and in June obtained two qualifying times for the 2018 Para European Championships in Dublin. She went on to win a gold and a bronze medal at the competition.
"In my year out of the pool, I lost everything – all my funding and places to train, but the scholarship give me all of that back and I'd have never got back to where I am now without it," Kearney said.
"The strength and conditioning coach and physio were so patient with me and adapted sessions to suit my condition.
"After the progression in my condition, I didn't think I was going to get back in the pool again, never mind get back to this level. But with so much hard work and time between me and the staff at the University, I did it. I'm really excited to be back and I really hope this shows people with dystonia that it is possible."
Kearney added: "If you're an elite athlete and want to study and train, the scholarship at Manchester Metropolitan is so important – it's impossible without it. I'm so grateful for the team – they've never given up on me.
"I've really enjoyed studying Physiology alongside my swimming career – it's helped me understand my condition more and why my body does certain things. The academic staff on the course have also been really understanding and accommodating."
Kearney has also been a part of two World Championships, and in the latest won several bronze, silver and gold medals. She was also Great Britain's highest medal earner at the competition and in 2015 won BBC's Young Sports Personality of the Year.
Will Baxter, lacrosse scholar and human geography student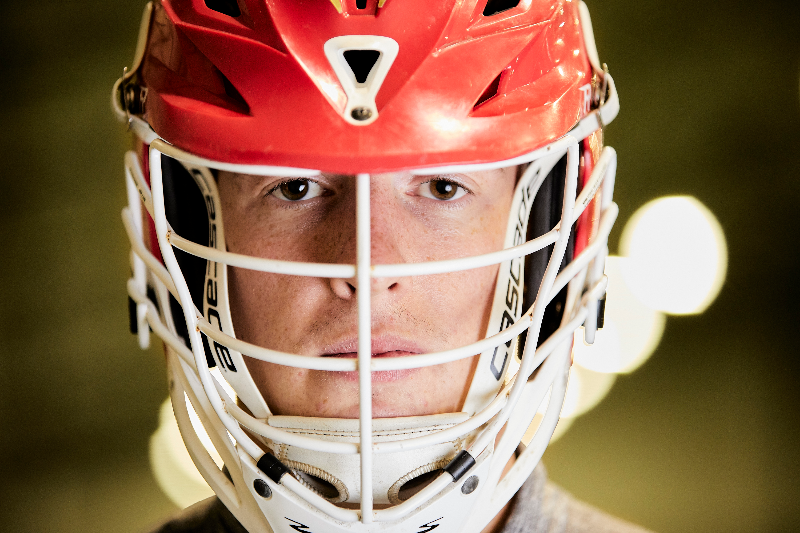 Having spent his life playing lacrosse, Will Baxter faced the dilemma of living out his dream to pursue his athletic career with England or coming to university. But, considering England Lacrosse share the same training facilities as Manchester Metropolitan, his decision was made much easier.
The final year Human Geography student plays locally for Poynton as well as the University team. In his first year at the University he has helped Manchester Metropolitan win promotion into the Premiership.
This summer, Will travelled to Israel with the England Lacrosse team for the World Lacrosse Championships where they were the top European team.
"It was important for me to come to Manchester Met to continue playing with my local team of Poynton. Since being here I have had the chance to play for England, who also use the University's Platt Lane site to train.
"The facilities at the University are amazing.
"I feel lucky to have been given a place on the scholarship and I couldn't have progressed in Lacrosse or my education without it.
"It's not always easy – when you're training six days a week and coming to university three days, something is going to suffer. The staff at the University have supported me fully, and when I took the decision to split my final year to go part time, they couldn't have been more accommodating. Doing this allowed me to follow the dream and train for the World Championships whilst continuing to give me the best chance at getting a good degree."
Honor Grimes, water polo scholar, and speech and language therapy student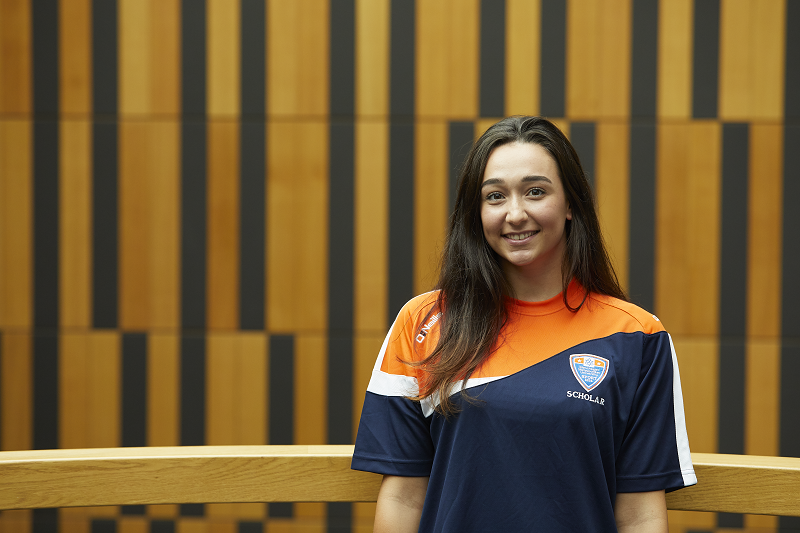 British Gold Medallist in the 2014 Commonwealth Games, highest goal scorer in the European Championships 2015, ASA Water Polo Athlete of the year 2015, British Champion 2018 – her list of achievements goes on. But even with her sporting success, Honor Grimes still believes education is important.
"I think it's really important that universities offer sports scholarship programmes. Throughout school and college, teachers never really understood my sport, which made doing both difficult. Being part of the sports scholarship you receive amazing support from academic and sport staff to encourage my development in both.
"My first year at university was quite a year – I was in university five days a week and training every day, I also broke my knee in January which meant I was out of sport and lectures for around three months – that's when I really started to appreciate the scholarship.
"Tutors recorded lectures for me and, if it wasn't for the physio, I wouldn't have ever got back to full strength like I am now and play in the British Championships this summer.
"When anything ever gets too much – which is inevitable with such a hectic lifestyle – there's always someone on hand to help and give advice. I could keep going on about it all day but the support I've had is just amazing.
"This year my focus with the GB senior water polo squad is the European Championships in 2020 and the World University Games next year in Italy.
"I'm so grateful to be given the chance to have a dual career."
Loick Pouale, basketball scholar and design engineering student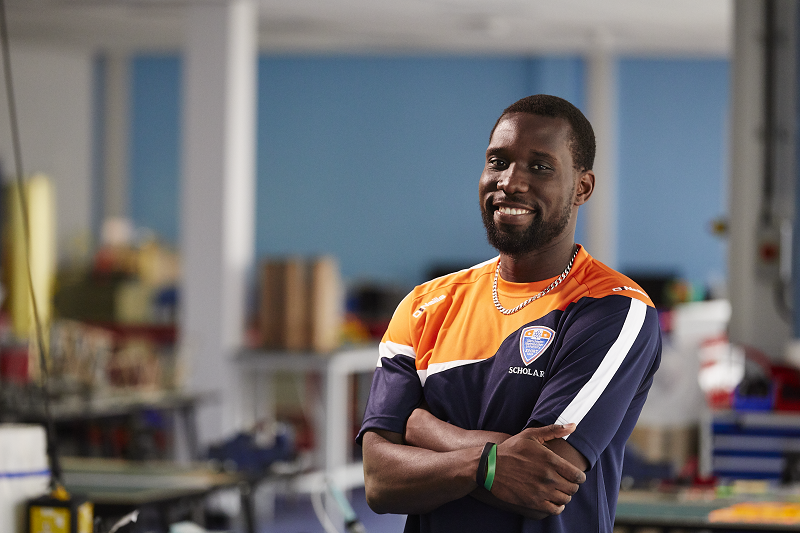 "I really love technology and wanted to be able to put my own stamp on innovation to find ways to make the everyday tasks and objectives of society easier, all while being able to work on my transition into being a professional basketball player.
"Callum Jones, the Basketball Coach and Performance Sport Officer at Manchester Metropolitan, had a major influence on my decision to come to this University – he's been a professional basketball player himself and who better to coach me than someone who has played for the British team.
"I think the scholarship is a really good incentive for athletes to come to university – some may not intend on coming to university because they want to follow their sport career and don't think it's possible to do both, but having the scholarship gives them a good reason to come and learn other skills.
"In my first year here I have really learnt a lot – the sports team has provided really useful classes, the most useful [for me] being on nutrition and sleep – I didn't realise how important each of these aspects were to my general health and I now apply all of these lessons to my everyday life.
"My academic side has taught me that it's not just about basketball, success comes from working effectively with others off the court as well."
Hallam Chapman, rugby union scholar and product design student
From the day he was born, his dad handed him a rugby ball and as the old saying goes, the rest is history.
"My biggest achievement came this summer when I travelled with England Counties to Georgia – not only was it a good experience, we beat the team twice.
"In my first year with Manchester Metropolitan, the team won a promotion and I'm hoping this year we can do the same – I'm also working on another promotion this season with Sedgley Park, which is a national League Two team.
"Although the dream is to be able to play rugby full-time, I think it's really important to come to university. You never know when you might need the extra skills or in the event of an injury, you never know when your sporting career could come to an end.
"It is tough managing a dual career but on arrival at the University you receive a scholarship tutor who you meet up with regularly to help with your schedule and make sure you're getting the best out of everything.
"The facilities on offer at Manchester Metropolitan are the best we could ask for, not only do we have a new 4G pitch and refurbished gym at Platt Lane the extra support such as the physio is essential. I got injured during pre-season last year and was out of the game for eight weeks but without the physio it could have been a lot longer.
"I'm so grateful to be receiving the scholarship at the University. It really is essential and I would really struggle without it."
Kevin Metzger, athletics scholar and sports and exercise sciences student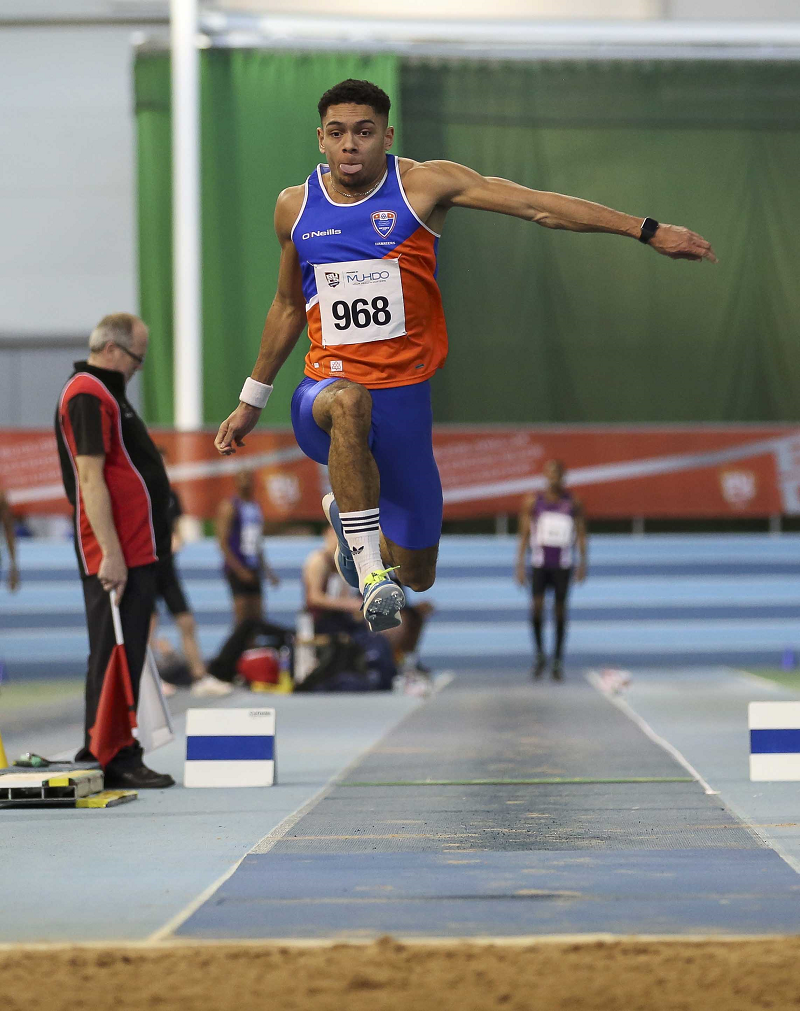 "I think it's important to come to university to give yourself some balance and provide a break from either constantly training or studying.
"I chose to do Sports and Exercise Sciences as I like to be able to relate and apply what I'm learning back to my sport. I chose to do my degree as a distance-learning course and although I'm not on campus all the time, I know the sports and academic staff will always be on hand if I ever needed them.
"It's not enough just to have talent in sports these days, it's really important to have a good network of people around you to support you and maximise your potential – the scholarship staff do an amazing job at this – just knowing that they're there puts me at ease.
"The best thing about the scholarship is all of the positivity – anything we do or achieve we're always congratulated and praised.
"It's quite intense being an athlete at university. Balance is hard and switching your focus from sport to study can be a challenge, but the University offers as much support as possible and routine is really important."
Metzger trains with Sale Harriers and the Manchester Met athletics team and specialises in triple jump. Last season, he won a bronze medal at the BUCS championships – a competition run by the national governing body for higher education sport in the UK.
This year, Metzger aims to improve on his performance and hopes to beat his personal best. He will also be attending the British Athletics trials.
What do the experts say?
"Athletes come in all different shapes and sizes and all have different interests and at Manchester Metropolitan the scholarship scheme is fantastic. The University supports a wide range of athletes, some that go on to represent the country and all that go away with a fantastic degree. Being able to do both alongside each other is crucial. It's not easy to do but all of the scholars are doing the right thing and it's something that they'll be grateful for in the future."
Champion cyclist, Dame Sarah Storey
"I feel Manchester Metropolitan's acquisition of the Mystics WBBL women's team is another step in the right direction for women's basketball. Being linked to the University and the scholars programme will be an invaluable recruiting tool for both Manchester Metropolitan and the women's team. Although in its infancy, the partnership will aim to grow not only the performance side but it will help drive participation in social leagues at the University and moving forward the University will be involved in the wider community delivering coaching in Manchester at secondary and primary schools."
Jeff Jones, Coach of Manchester Mystics Basketball Team
Partnerships with impact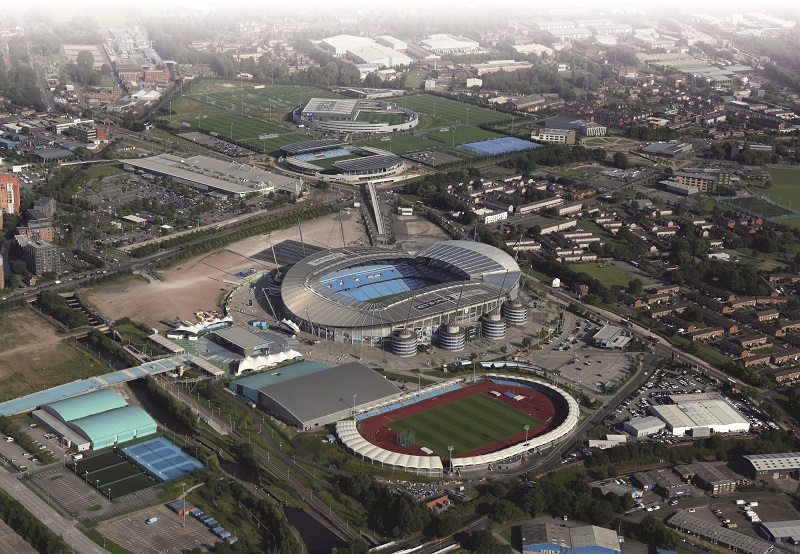 Manchester Metropolitan has a 10-year partnership with Manchester City FC that works to share expertise in education, corporate social responsibility, community relations, commercial knowledge and infrastructure development.
Last year, the partnership introduced the Manchester City Community Football Coaching degree that will develop graduates who are ready to undertake a career in community coaching at a Premier League club. The two-year foundation course is taught at the Etihad Campus and will offer a one-year top-up degree from 2019.
In addition, each year, a group of students from the University's Events Management course has exclusive access behind the scenes at the Manchester City Women's Football Club (MCWFC) to experience first-hand the build up to, and delivery of their match day events. Players from Manchester Metropolitan University's Women's team also get the chance take part in a training session led by MCWFC and University coaching staff have the opportunity to observe Manchester City Women's training sessions.
The University also holds a longstanding partnership with British Para-Swimming and this year signed a Memorandum of Understanding that will enhance opportunities for student athletes and help drive forward the University sport initiative to develop sports education and research.
Manchester was recently selected by Swim England, the national governing body for swimming, to one of five national swimming performance centres. Manchester Metropolitan will work in partnership with the centre, along with the City of Manchester Aquatics Swim Team and Manchester City Council to further the opportunity for talented young swimmers to stay in the sport while continuing their education.