Worker bees
One of the greatest gifts you can give is your time. On top of their lectures, deadlines and part-time jobs, students at Manchester Metropolitan University still find the time to volunteer. In a city buzzing with activity – consider the bustling arts and culture scene, the number of sporting attractions on offer, the thriving and diverse communities, and the endless work of Manchester's charities – opportunities are not limited.
Ask Ellie Ryan, a third year Human Resource Management student, what she does in her spare time and you would be amazed that she has any around her studies, her work and caring for her four-year-old daughter.
Despite that, she finds the time to volunteer at ChildLine every week.
The charity helps children and young people 24 hours a day, every day of the year, and switchboard volunteers, like Ryan, are the first point of contact for a child when they call ChildLine before they're put through to a counsellor. The most important criteria is a warm, calm and reassuring voice, and speaking with Ryan, it is clear she is perfect for the role.
"Going home feeling like I've really helped somebody who's in need and have helped make a difference is the most enjoyable thing about volunteering," Ryan explained.
"It's so flexible and fits in around my life and family. At first, my motives were not entirely altruistic – I thought it would look good on my CV. But I realised I was actually helping and making a difference. Without volunteers, ChildLine would not be able to have a switchboard or the counsellors that they have."
ChildLine provided over 295,000 counselling sessions with children and young people last year, with callers talking about their own concerns or concerns they had for another child or young person.
"Warmth and reassurance can be the difference between a young person deciding to talk through their concerns with a counsellor or hanging up and never talking to anyone," said ChildLine.
"That's why our switchboard volunteers are so important."
Ryan's experience helped her secure a position as Befriending Co-Ordinator at Making Space, a national charity that provides health and social care services for adults with mental health conditions, learning disabilities, dementia and their carers.
"Volunteering is what you make of it, and you can gain a lot more than you could imagine," said Ryan.
The Students' Union is at the heart of volunteering at Manchester Metropolitan. It works with local and national charities to find students volunteering opportunities, whatever their interests and skills.
Helen Moore Start, Volunteering Coordinator at The Students' Union, is just one of the dedicated expert volunteering staff on campus.
"We work closely with students to find out their interests and try to match them to organisations that they'll thrive in, and our students always do so well and make great impressions," she said. "With over 2,000 student volunteers a year giving their time, we are working on several projects to give the volunteers the recognition they deserve. This year, we will be holding more events, workshops and socials, and are working towards a recognition scheme where students can log hours. These projects intend to inspire, motivate and empower students to continue on their volunteer journeys and keep developing personally and professionally."
One organisation that has been particularly grateful for Manchester Metropolitan student volunteers is ReachOut, a mentoring charity working with young people in disadvantaged communities. The charity has had 26 volunteers from Manchester Metropolitan this year.
The charity uses one-to-one mentoring with positive role models to raise aspirations and help disadvantaged young people grow in character and attainment, and team activities to promote leadership, trust and responsibility.
ReachOut's Volunteer Officer, Davvy Cheema, explained how integral students are to the charity.
"It's been fantastic working with Manchester Metropolitan," Cheema said. "We've had 26 students from the University volunteering with us in mentoring roles this year and they've made a real impact in their local communities.
"Together they've provided an astounding 491 hours of one-to-one additional support to young people across Manchester, helping them to raise their Maths and English attainment, as well as develop their confidence and improve their behaviour."
Volunteering is symbiotic – helping both the organisation and the volunteer.
Cheema added: "By volunteering at ReachOut, the student volunteers also saw a massive benefit to themselves, improving their own personal development. It's great to hear – from the volunteers themselves – that their time with us has helped them improve their soft skills and prepared them for the workplace.
"Most importantly, it's great to hear that the students have also really enjoyed volunteering with us."
ReachOut volunteer and second year Biology student, Jeronee Jennycloss, 21, said: "My experience has shown me the power of help and guidance, no matter how small it may be, for children who may not receive guidance from elsewhere.
"It's been eye-opening, especially the conversations with mentees. I enjoy finding out about their interests, their aspirations and how their days have been - the conversations also highlight the struggles that mentees face. This has helped me to find creative ways to encourage them to develop their character and academic confidence.
"Seeing my mentee grow in academic confidence has been so rewarding."
And, it's not just traditional charities our students contribute to. Milk & Honey is a little café with a big vision. Run by St Peter's House – the chaplaincy to Oxford Road's universities and colleges – the baristas, bakers and servers are all volunteers.
"Volunteering is about becoming part of something bigger than yourself, about knowing that you're contributing to a place where good things happen."
Since opening in February, the café has welcomed 20 volunteers from Manchester Metropolitan, teaching the students a different type of skillset.
"We teach our volunteers barista and kitchen skills, which sets them up really well when seeking paid work," explained Hannah Skinner, a chaplaincy team member.
"It's also a great place for our volunteers to grow a sense of community and belonging on campus.
"Volunteering is about becoming part of something bigger than yourself, about knowing that you're contributing to a place where good things happen. It's also fun – people enjoy coming back every week."
As a registered charity, any profit made at Milk & Honey is reinvested back into the chaplaincy's wider work. St Peter's House recently opened a purpose-built Wholeness Studio – a peaceful place on the bustling campus where students are able to come along to enjoy yoga, mindful living courses, massage therapy and more.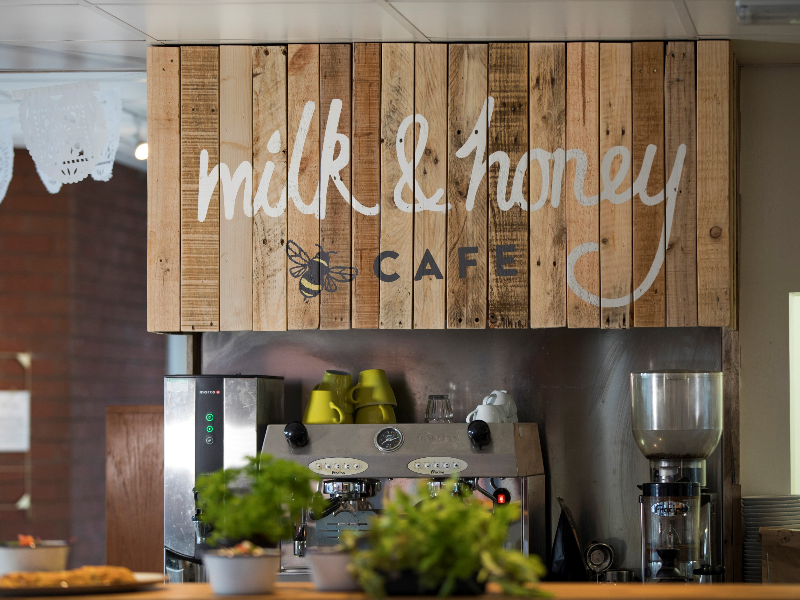 Manchester's charities are not the only organisations to benefit from Manchester Metropolitan's student volunteers.
The city's vast assortment of museums and galleries welcome a host of visitors every day and volunteers help them navigate the collections.
Sally MacDonald, Director at the Science and Industry Museum in Manchester, said: "Student volunteers are a crucial part of our volunteer base at the Science and Industry Museum.
"Volunteering allows organisations to do so much more, and volunteers bring all of their own life skills and experience with them – this is an invaluable contribution to society, and brings real benefits to the city."
Peter Boyle, Volunteer Manager at the Museum, added: "As well as the benefits to the individual in terms of boosting their confidence, or getting some work experience, it's also a great way for people to meet new friends from all walks of life. Some of our short-term roles are perfect for students, and these can easily fit around lectures and study time. From our large events and festivals, to our smaller exhibitions and welcome team, we couldn't do what we do without the invaluable support of our fabulous volunteers."
Volunteering is also a great way to get to know the city and its people – especially for students that are just arriving in Manchester – or in the case of Obada Al-Hariri, new to the country.
Al-Hariri, a second-year Project Management student, dedicates four hours a week to Healthwatch Manchester, which gathers public and patients' experiences of using local health and social care services, including services like GPs, pharmacists, hospitals, dentists, care homes and community-based care.
"As a new United Kingdom resident, I'm interested in becoming a part of the local community, and getting a different view of the people and country," said Al-Hariri.
"Volunteering lets me meet people from all walks of life.
"It's also helped me boost my career prospects – it gives me a range of useful skills which only come from insightful real-world experience. I've found it's the best way to learn more and boost my English language."
There are so many reasons people become involved in volunteering – to help others, to boost their employability, to get to know a place, for fun – and with endless possibilities and opportunities, there's something for everyone.