MetNews
University unveils the School of Digital Arts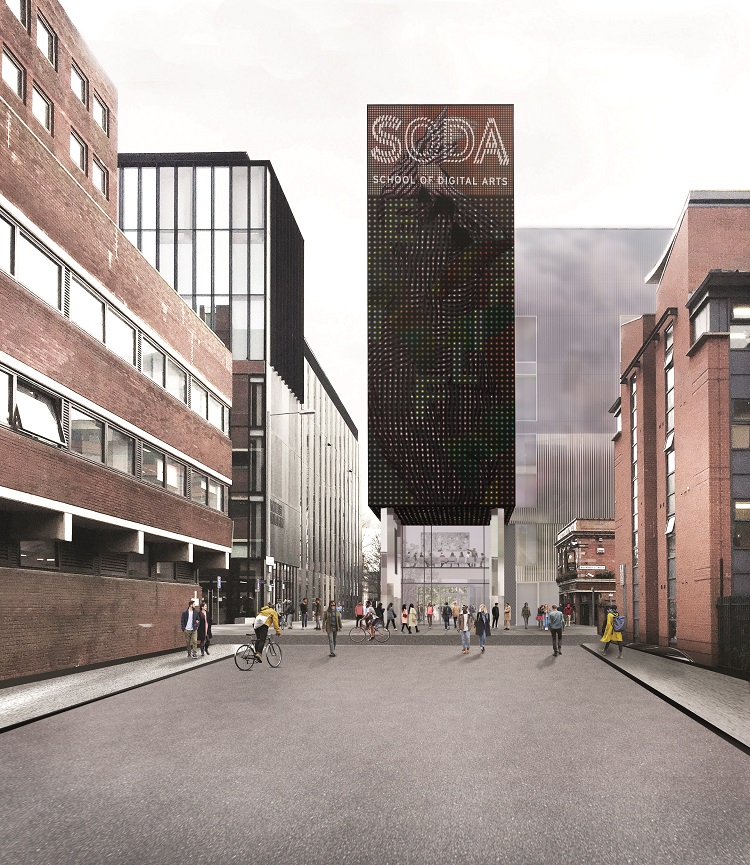 Manchester Metropolitan University's groundbreaking new home for creative digital storytelling will be known as the School of Digital Arts (SODA).
SODA is an interdisciplinary school that will bring under one roof, for the first time in UK higher education, art and design with technology and computing.
University Chancellor Lord Mandelson launched the SODA brand and website at a special event at Manchester Metropolitan on September 27.
Previously known as the International Screen School, SODA is a £35m investment into workspaces, networks, teaching and research that will help plug the growing digital skills gap. SODA will open its doors in 2021, producing over 1,000 graduates annually with expertise in creative and digital disciplines including film, animation, UX design, photography, games design, AI and more, often working on live projects with industry partners.
Lord Mandelson said: "This bold new project responds to the real and urgent need for highly skilled workers to support our burgeoning creative and digital industries. SODA is true to Manchester Metropolitan's history and ambitious vision for the future, combining traditional storytelling methods and ideas with cutting-edge technology to meet the needs of a rapidly evolving digital economy."
Vice-Chancellor Professor Malcolm Press said: "Our new School of Digital Arts will drive the next generation of creative talent, meeting the demands of the growing digital economy both regionally, nationally and internationally. We believe that there is nothing in the UK that matches the school in terms of scale, vision and ambition."
SODA will be designed by Feilden Clegg Bradley Studios – the same practice behind the University's award-winning Benzie building. It will sit next to Manchester School of Art, extending Manchester Metropolitan's city centre campus.
Manchester Fuel Cell Innovation Centre opened by University Chancellor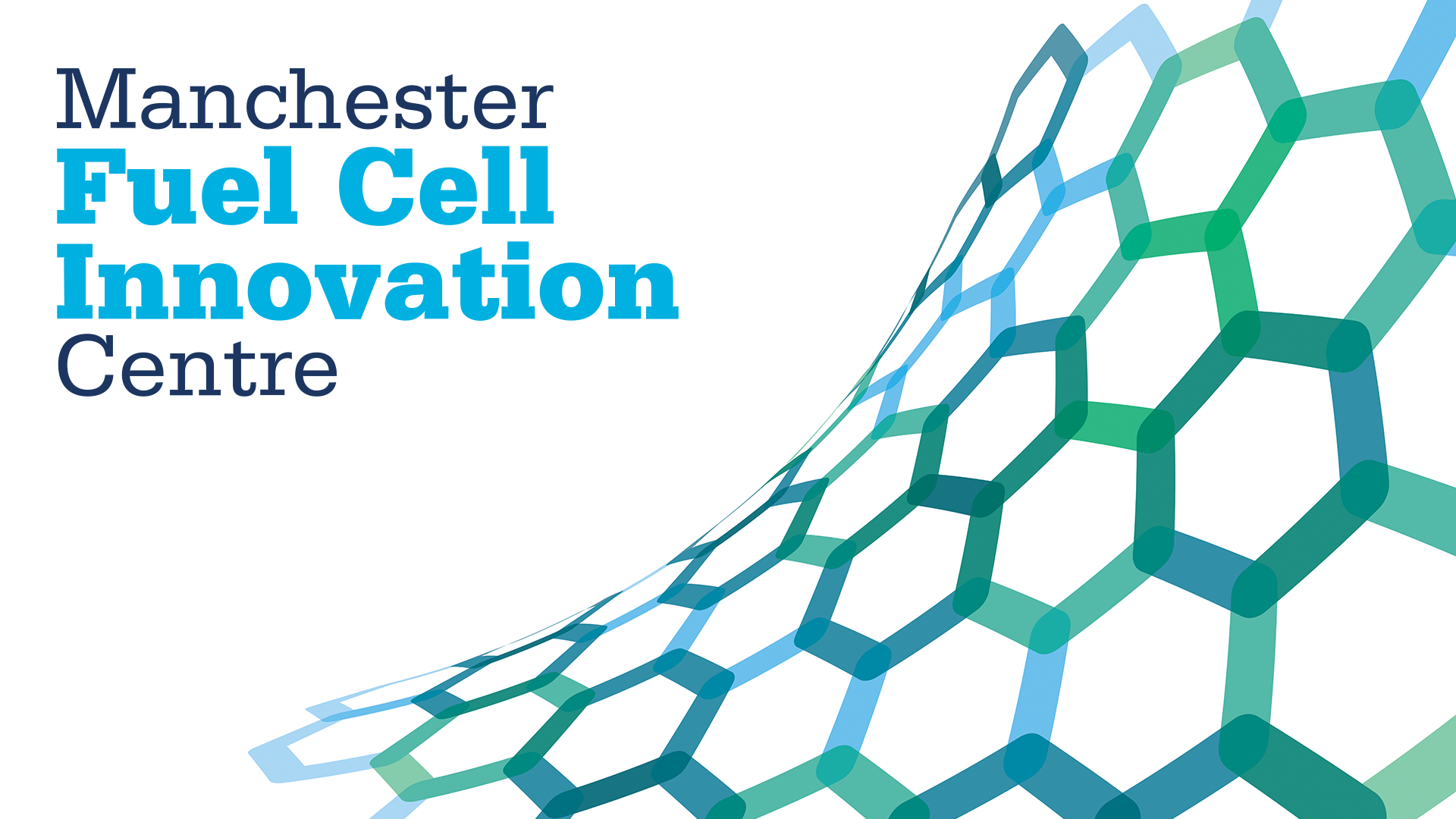 The Manchester Fuel Cell Innovation Centre (MFCIC) – a £4.1m facility dedicated to developing new sources of green, emission-free energy and making it available to as many people as possible – has officially opened at Manchester Metropolitan University.
The MFCIC will be at the forefront of hydrogen and fuel cell technology, which creates sustainable electrical energy through a chemical reaction between hydrogen and oxygen – with water as the only by-product.
The technology could power homes, offices, factories, cars and public transport, making them more efficient and not dependent on the main power grid. Fuel cells have higher efficiency than diesel or gas engines, and operate silently and the only waste product at point of use is heat and water.
They can be used to store energy efficiently, which other forms of renewable energy currently struggle to do. Researchers at MFCIC will share their expertise and £2.5m of dedicated specialist equipment with small and medium-sized enterprises across Greater Manchester – training them in this new technology so they can discover and utilise its commercial and environmental benefits.
The centre was opened by University Chancellor Lord Mandelson.
He said: "Decarbonising our industries and creating a sustainable infrastructure is key to modernising the UK economy.
"This new centre at Manchester Metropolitan University will provide Greater Manchester with vital skills and tools in fuel cell technology, so that the region can play a significant role in the UK's drive towards clean, renewable power."
Professor Malcolm Press, Vice-Chancellor of Manchester Metropolitan University, said: "The Manchester Fuel Cell Innovation Centre will be a regional hub for research innovation and economic growth in the fuel cell technology sector. "This is crucial both environmentally and economically for the region, as the UK focuses on increasing its use of renewable energy and lowering emissions."
GM first to establish dedicated mental health support for students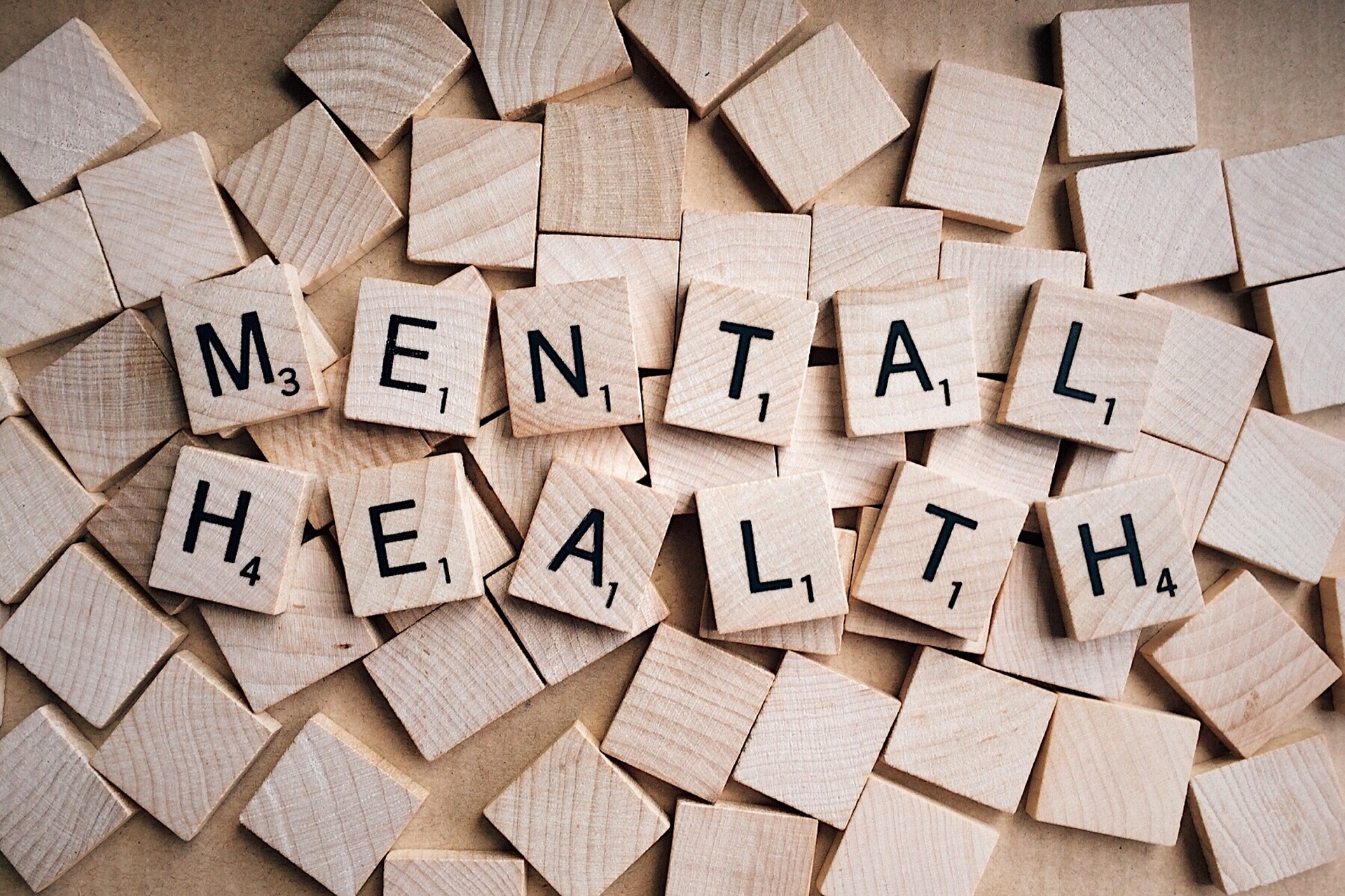 Greater Manchester will be the first place in the country to establish a dedicated centre to help support higher education students with mental health needs thanks to a new partnership between the region's four universities and the Greater Manchester Health and Social Care Partnership.
One in five 16-24-year-olds experience depression or anxiety. The transition to university can be a tough time, with many young people living away from home, family and friends for the first time.
The new service will offer innovative and accessible support and treatments, looking at digital technology such as virtual clinics, to university students experiencing mental health issues, for example eating disorders and severe depression.
The service will transform mental health provision for university students in Greater Manchester by making sure that it's easier to get referred, regardless of where someone studies or lives and that young people are supported with the transition to university.
Students are at the heart of everything we do at Manchester Metropolitan and ensuring their health and wellbeing is a priority
Students will also be able to keep the same GP throughout their student career with the roll-out of a Greater Manchester university-student GP passport.
The new centre will open in the academic year 2019/20.
Dr Sandeep Ranote, consultant child and adolescent psychiatrist and children's mental health lead for Greater Manchester, said: "It's time to treat mental health with the same importance as physical health.
"Good emotional health is the foundation for future wellbeing. Developing a dedicated mental health service that provides support from 'prevention to prescription' enables us to create the campuses of tomorrow."
Professor Malcolm Press, Vice-Chancellor of Manchester Metropolitan University, said: "Students are at the heart of everything we do at Manchester Metropolitan and ensuring their health and wellbeing is a priority. This new centre will play a vital role in addressing the growing issues of mental health problems among young people.
"I am delighted Manchester Metropolitan can be an important member of this partnership between the Greater Manchester universities and the Greater Manchester Health and Social Care Partnership – and believe it will provide a model for others to follow."
Poverty and social media can increase loneliness in youngsters
Poverty and social media can increase loneliness in youngsters to make them feel awkward and anxious, new research shows.
The new study into young people's experiences – a collaborative partnership between Manchester Metropolitan University's Centre for Childhood, Youth and Community, and 42nd Street, a Manchester-based mental health charity for young people – reveals a mixture of factors that can influence and affect youth loneliness.
These include: feeling isolated or different, particularly for LGBT youth; pressures from social media; a break-up in the family or the difficult transition from childhood to teenager. It is hoped the findings will help young people and those working with them to reduce problematic loneliness and isolation.
The pioneering project has provided new insights into understanding the experiences of loneliness amongst young people in Manchester and led to researchers presenting their findings in Parliament.
Dr James Duggan, Research Fellow in the School of Childhood, Youth and Education Studies at Manchester Metropolitan University, said: "There are so many definitions, interpretations and understandings of loneliness. It is subjective and something that is perceived and felt, rather than simply a description or the experience of being alone.
"We wanted to establish a clearer picture."
The co-researchers identified that factors such as being new to a place or being different, the pressure and constraints of social media and the transition from childhood to being a teenager can create vulnerability to isolation and loneliness.
Business incubator Innospace recognised as start-up hotspot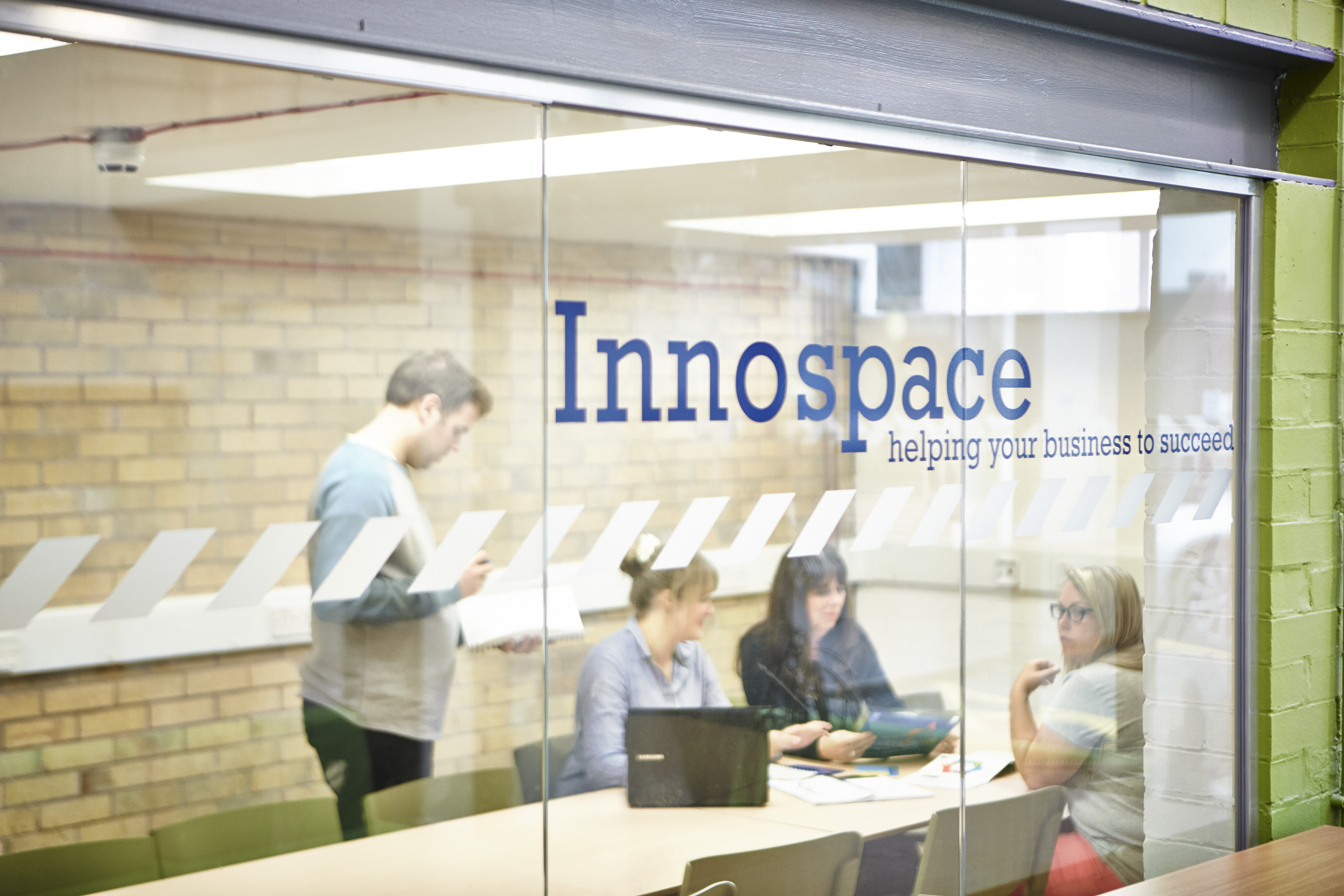 Manchester Metropolitan's business incubator, Innospace, is responsible for over half of the jobs created by university-based incubators across Greater Manchester, Liverpool and Lancaster, according to new analysis from Deloitte.
The business advisory firm revealed that university business incubators in the North West are a hotbed of activity for technology, media and telecoms (TMT) startups.
Between March 2017 and April 2018, the incubators were responsible for supporting more than 300 TMT start-ups, including one-person operations, microcompanies and small firms and have helped to create over 600 jobs for the region.
Innospace is Manchester Metropolitan's enterprise flagship, offering a complete package of city-centre starter office space, business support and events, giving students, graduates and staff the opportunity to make headway with their ideas and businesses.
The new research shows that Innospace was responsible for more than 46% of these businesses supported by university incubators and 51% of the jobs created, with firms at the incubator hiring 313 employees.
Louise Kenworthy, Innospace Manager, said: "Since Innospace launched in 2007 we have supported more than 500 businesses, helping to drive innovation, boost the economy and create jobs. Incubators are vital to creating a thriving and diverse business ecosystem, providing entrepreneurs who have the drive and ideas with access to space, expertise and facilities to make their dreams a reality."
New cyber security scheme revealed
A £6 million cyber security scheme that will protect Greater Manchester's small and medium-sized companies against malicious computer attacks has been launched.
Cyber attacks pose a £860m risk to the region's businesses each year, as estimated by the Lloyds City Risk Register, and with Greater Manchester's digital aspirations continuing to grow, digital security becomes ever more important.
To combat the cyber threats, universities in the region, led by Manchester Metropolitan University with the universities of Lancaster, Manchester and Salford, have joined forces in an initiative known as the GM Cyber Foundry, which will apply research in cyber security to create new products and services for SMEs.
Through the work of the Cyber Foundry, our world-leading universities are giving startups and SMEs the freedom they need to create and innovate
It is vitally important for the region to protect its vibrant digital and creative sector, which generates more than £3bn in economic output each year, and to ensure it can operate securely.
Mayor of Greater Manchester, Andy Burnham, said: "Through the work of the Cyber Foundry, our world-leading universities are giving start-ups and SMEs the freedom they need to create and innovate, but within digital environments that are safe and secure from cyber criminals."
Manchester Metropolitan Vice- Chancellor Professor Malcolm Press said: "Universities have an important part to play in ensuring SMEs can thrive by transferring cutting-edge technology, research and bespoke products directly to those who need it.
"Our strong relationships with business in the city-region, partnered with quality research in this area, ensure that Manchester Metropolitan is ideally placed to lead on this important initiative."
See the 'A game of cat and mouse' feature for more.
Retail expert gives evidence to 'future of high streets' inquiry
A retail expert from Manchester Metropolitan University's Institute of Place Management has given evidence to the Parliamentary inquiry into the future of Britain's high streets.
Cathy Parker, Professor of Marketing and Retail Enterprise, explained how those responsible for shopping areas need to understand their local conditions in order to decide if a particular intervention is going to work.
Professor Parker said: "The major points I made were that business rates need reforming, town centre planning policy needs to put town centres first, and this power must not be whittled away through amendments to the National Planning Policy Framework.
"We need standardised indicators of high street performance to be collected and shared, stronger place leadership is needed – and decision-makers need much more support on the ground.
"Finally we need town centres and high streets to be on the agenda at the highest levels of government, all the time – not just periodically 'reviewed' then forgotten about again."
Honorary graduates receive awards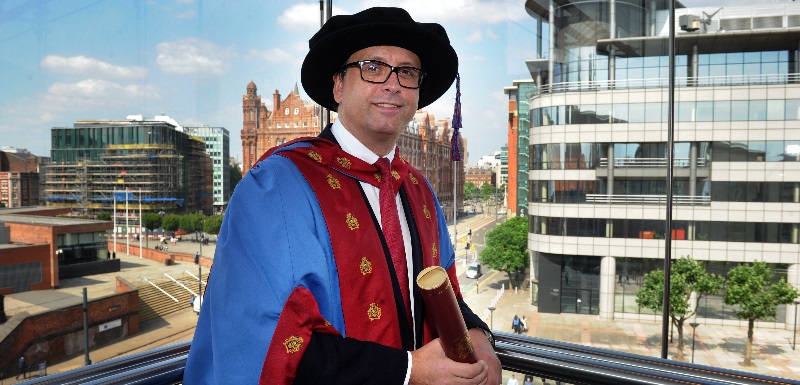 Leading figures from the world of business, culture, science and technology were awarded honorary degrees by Manchester Metropolitan University in recognition of their achievements.
Honorary degrees were conferred on Paul Hudson, Joyce Hytner OBE, Professor Sir David Melville and Howard Simms, who have all made major contributions to the academic work of the University or who have earned distinction for services to their sector.
The four recipients were presented with their honorary doctorates during Manchester Metropolitan's graduation ceremonies, which took place in the Bridgewater Hall in July.
Paul Hudson (pictured), CEO of Novartis Pharmaceuticals, was awarded an honorary Doctor of Business Administration (DBA) for his contribution to the global medical pharmaceutical industry.
Joyce Hytner OBE, Founder and Director of Act IV, received a Doctor of Arts (DArt) in recognition of her significant contribution to the arts and culture community, and her invaluable support of the Manchester International Festival.
Professor Sir David Melville, academic physicist, educationalist and public servant, was awarded a Doctor of Science (DSc) in recognition of his significant contribution to the Higher Education sector and to the development of Manchester Metropolitan University.
Howard Simms, co-founder and director of the mobile technology group Apadmi, was presented with an honorary Doctor of Technology (DTech) in recognition of his significant contribution to enterprise and the development of innovative technologies.
Poet Dr Helen Mort named Royal Society of Literature Fellow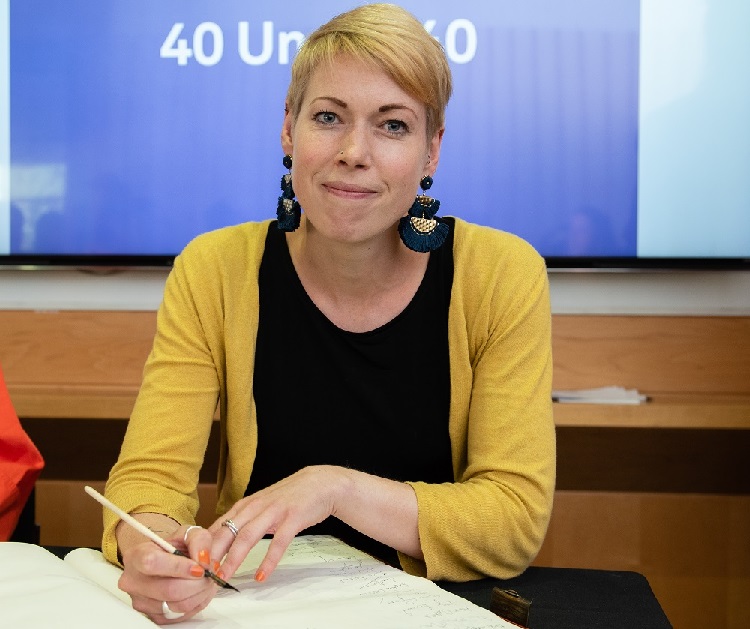 University poet Dr Helen Mort has been named a Fellow of the Royal Society of Literature, an achievement she described as "the greatest honour of my writing career".
Dr Mort, Lecturer in Creative Writing at Manchester Metropolitan University's Manchester Writing School, is one of RSL's new '40 under 40' intake – a new initiative for 2018 to celebrate the UK's best young writers.
She joins an illustrious list of the most distinguished authors of contemporary literature, including JK Rowling, Margaret Atwood and Hilary Mantel, and two of the University's own writers – Professor Carol Ann Duffy DBE (inducted 1999) and Professor Michael Symmons Roberts (2014).
To achieve RSL Fellowship – a unique lifetime literary honour – writers must have produced at least two works of outstanding literary merit. They must also be nominated by two existing Fellows, and be elected at a secret ballot of Vice-Presidents and Council.
Dr Mort said: "To be appointed a Fellow of the Royal Society of Literature is the greatest honour of my writing career – it's extremely inspiring to be recognised by such a prestigious society alongside so many authors I admire."
University tapestry on show at Tate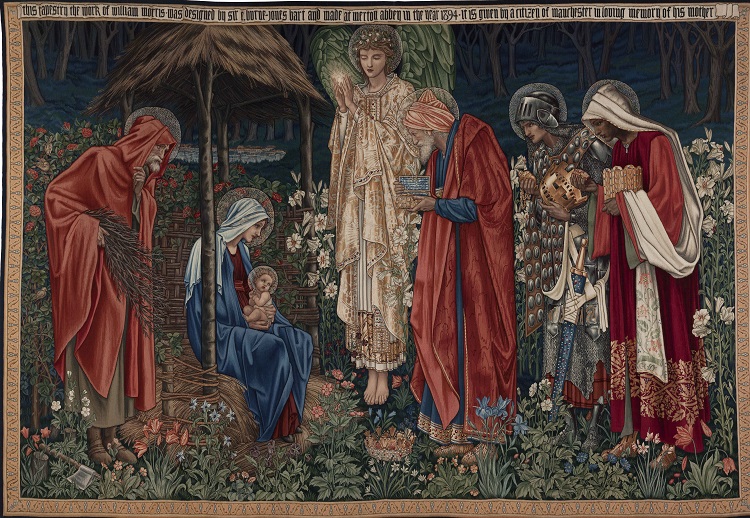 A tapestry held by Manchester Metropolitan's Special Collections is part of a major new exhibition at the Tate.
Adoration of the Magi, designed by Edward Burne-Jones features in the new exhibition of the Pre-Raphaelite artist's work at Tate Britain, which is open now until February 2019.
The tapestry is considered to be one of Special Collections' most important objects, depicting the Biblical story of the Three Kings being guided to the birthplace of Jesus by the star of Bethlehem.
It is the third version of a tapestry produced by Morris & Co – the decorative arts company of William Morris, Burne-Jones and other pioneers of the Arts and Crafts movement.
Originally commissioned in 1886 for an Oxford University chapel, the design was based on a large watercolour Burne-Jones had recently completed for the new Birmingham Municipal Gallery.
It was later reproduced for the Manchester calico printer William Simpson in 1894, who was on the board of the Municipal School of Art (now Manchester School of Art). Simpson gifted the tapestry to the School of Art's new Arts and Crafts Museum in 1895 and it has remained part of the Special Collections' Arts and Crafts Collection ever since.
Janneke Geene, Special Collections Manager, said: "It is a fantastic achievement for Special Collections and Manchester Metropolitan to have such a prominent piece in such an internationally significant exhibition."
Elite student athletes join sport scholarship programme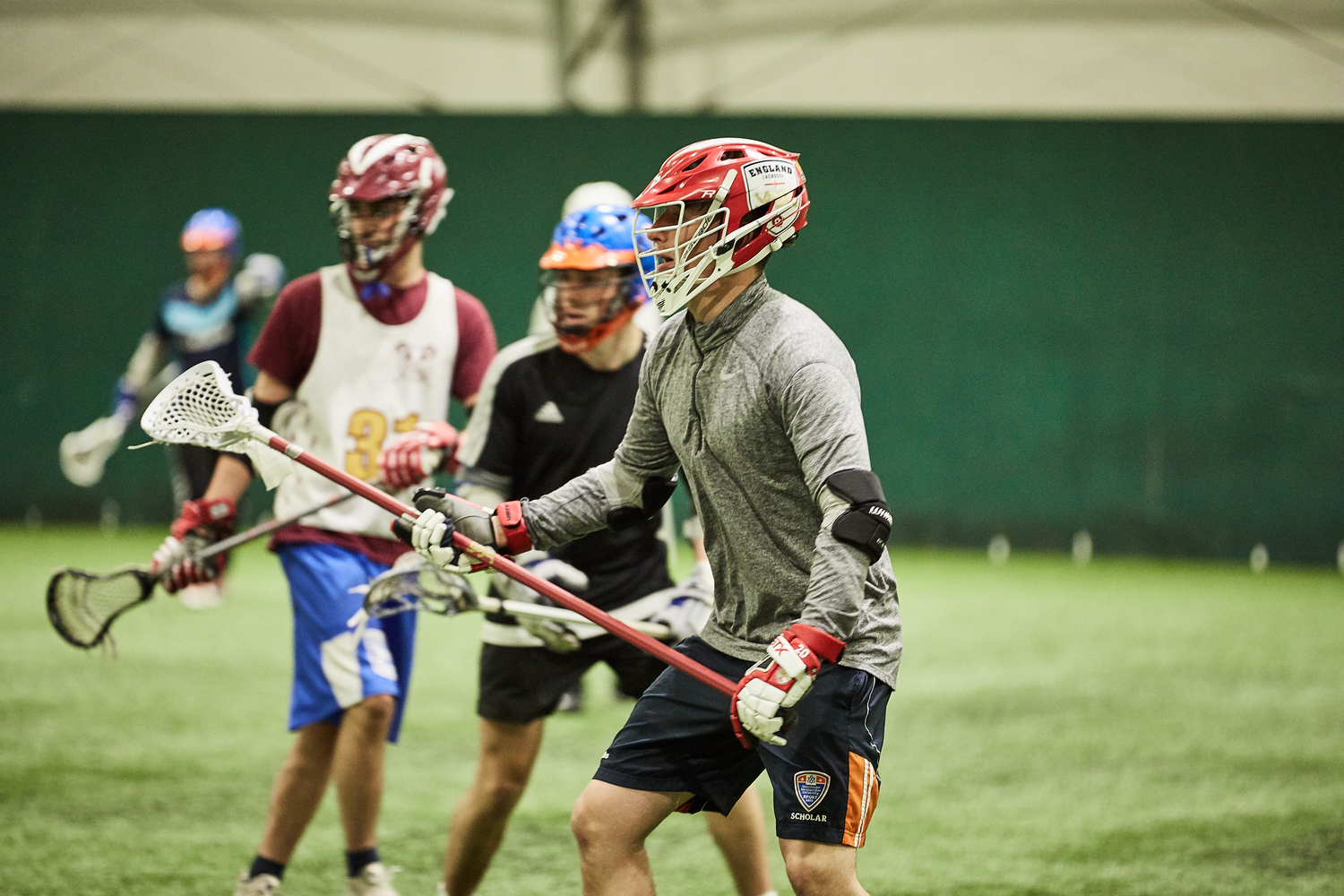 A new generation of elite student athletes has been selected by MMU Sport for its growing Sport Scholar excellence programme.
The 54 scholars for 2018-19 will receive an enviable package of support to help them excel both in the lecture theatre and sporting arena.
The bespoke scholarship package – which includes nutrition, physiotherapy, strength and conditioning as well as financial support towards tuition fees – attracted hundreds of applications from athletes around the world. The students are all looking to develop both their academic and athletic potential with Manchester Metropolitan.
With world-class facilities at the University and on its doorstep, such as the National Cycling Centre and Manchester Aquatics Centre, the student athletes can tap into some of the UK's best sporting set-ups.
Callum Jones, MMU Sport Performance Officer, said: "It's extremely exciting to see the level of student athletes that we attract to Manchester Metropolitan through our scholarship programme. "It's also great to have sport scholars studying in each of the University's faculties again."
University welcomes next cohort of sporting directors
Manchester Metropolitan University's pioneering sporting director course has welcomed the latest cohort of students to enrol on the programme.
This year, Match of the Day 2 and BBC Radio 5 live Sport presenter Mark Chapman (pictured) and Everton coach and legendary former striker Duncan Ferguson are among the group, studying to qualify for one of the most important and respected roles in the industry.
Now in its fifth year, the Master of Sport Directorship (MSD) gives sports and business professionals the chance to gain knowledge in the executive and strategic development of leading sports organisations. It equips leaders to bridge the gap between the boardroom and the playing field, to prepare them for the role of sporting director.
The MSD has gone from strength to strength in the four years since it was launched
The 2018 line-up also features Liverpool's head of football projects and scouting operations David Woodfine, head of sport science at Manchester City FC Sam Erith, and Scott Guyett, head of sport science at Crystal Palace FC.
Clare Wheatley and Paul Metheringham, general managers of Arsenal Women and Liverpool FC Women, are also among the group, along with Hamish McKnight, Team GB's ski and snowboarding head coach.
Dr Sara Ward, who heads the MSD at Manchester Metropolitan University, said: "The MSD has gone from strength to strength in the four years since it was launched, creating an influential network of professionals equipped with the skills and knowledge for top level roles within sports organisations."
The MSD was pioneered by Manchester Metropolitan's Business School in 2014 and is the first degree of its kind in the UK. The two-year programme focuses on sports governance and best practice, leadership, innovation and change, and personal development. The course also attracted professional sports and business people from as far afield as South Africa, the USA, Dubai, New Zealand and Germany.