Songwriting is my playground
Ask Guy Garvey what it means to be a Visiting Professor of Songwriting at Manchester Metropolitan University and he conjures up the kind of left-field, yet evocative answer that shows why he's considered among our most gifted, living lyricists.
"I keep thinking about Indiana Jones when he came back from raiding tombs in that really nice tweed number with the elbow patches," he laughed.
The Elbow frontman is not someone who gives in to self-promotion easily – he chuckles again when he recalls, tongue-in-cheek, urging his bandmates to call him 'master of arresting imagery' when a Guardian critic referred to him in such august terms.
Yet for a songwriter whose mantelpiece must buckle under the weight of awards – two Ivor Novellos and a Mercury Music Prize among them – he is still clearly touched by his most recent accolade at Manchester Metropolitan. "It's a lovely thing, a great honour," he told Met Magazine over a cup of tea in his south London studio, where he is laying down the vocals for Elbow's eighth studio album, due next autumn.
Surrounded by guitars, keyboards, a recording booth, notepads bulging with ideas for songs and the running order for the next record pinned on the wall, this is Garvey in his natural environment.
"Songwriting is my playground, it always has been. It's the most childlike happiness I feel when on the inside of a good song.
"So to be asked to pass on what I've learned and to explore a bit further with some new young songwriters, poets or writers of any kind – I'm just really looking forward to it. It's going to be fun."
Podcast: An exclusive interview with Guy Garvey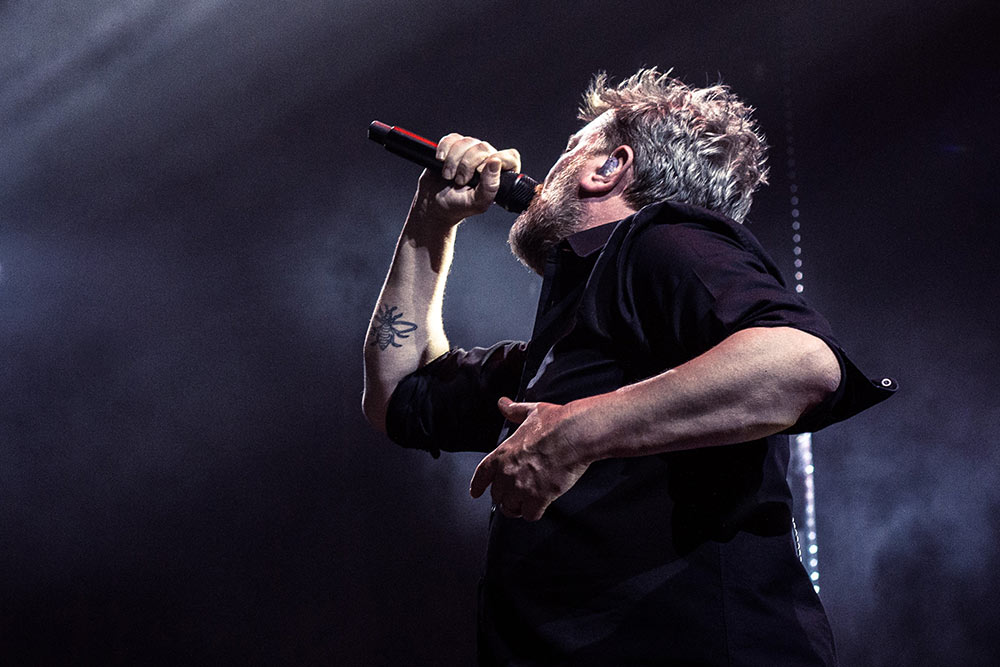 University history
It is the latest chapter in a long love affair with Manchester Metropolitan, the University in his native city with creativity at its very core. Garvey was awarded an honorary doctorate by the University in 2012 ("That was great, I wore my Granddad's trenchcoat and my Dad was very proud") and returned a year later to open the new Benzie Building – home to Manchester School of Art.
Though he did not attend university himself, he is clearly enamoured by what it represents – and the impact a community of makers, thinkers and doers has on a city so close to his heart. So, when a conversation with his friend Dr Adam O'Riordan, poet and Academic Director of Manchester Writing School, and Professor Carol Ann Duffy, Poet Laureate and the school's Creative Director, turned to him teaching at Manchester Metropolitan, he jumped at the chance.
"If you think about what I have chosen to do, it's to be in a room with a bunch of people and no boundaries, no clear direction, to go and discover," he explained. "That's the happiest I am – when I'm in the room with the band and we can go anywhere we want sonically.
"Campuses are buzzing with that. I remember attending a couple of lectures with my friend John who studied Film and Literature at Warwick, and I was like 'oh I would thrive in this environment. I'd do really well here and I'd love it'.
"One of the things I love about Manchester most is this fresh influx of big brains every year, always around the time when the summer is turning cold. I've written countless poems about Manchester's student body arriving."
Previous cohorts of first-years may have even found themselves being reassured by Garvey when they made their first nervous forays into the city. "When I lived on Great Bridgewater Street I'd loiter near the junction in case people needed directions, or to try to reassure a parent in passing that their son or daughter is going to be very happy in Manchester. It keeps the city's heart beating. So it's a lovely thing to be part of."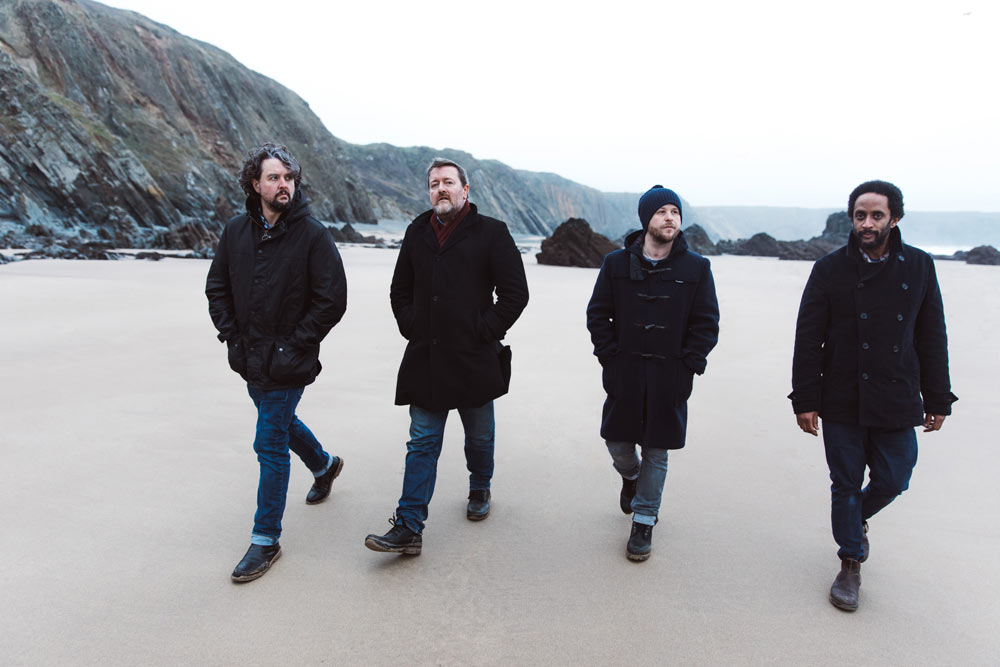 Child of Manchester
Though he lives and works in London these days, Garvey is very much a child of Manchester. Born in Bury, he and his friends formed Elbow at a local sixth form college in the early nineties.
Since then, the band's astronomic ascent has included performing on Glastonbury's Pyramid Stage in 2011 and at the London 2012 Olympics closing ceremony – all while he was still a resident of the region. He is effusive about Manchester's mutually supportive creative community of artists, musicians and writers – epitomised by the acclaimed Manchester Writing School where Garvey will be based, home to a clutch of award-winning authors, poets and scriptwriters.
"I've made many attempts to show off what Manchester is great at," he said. "I'm immensely proud to be from there and immensely grateful to be given the life I have by the city and the people in it.
"Once that city gets behind you and is proud of you, there's nothing you can't do. We really felt that. Everywhere from Piccadilly Records to the Manchester Evening News and local club promoters putting you on before touring bands [supported us] and we cut our teeth that way.
"I remember Mani (bass player in the Stone Roses) making a very public show of bowing in front of Pete our bass player, at something Factory Records were doing. The kudos was like jungle drums throughout the town and suddenly it was like wow, we can do this."
So what can Manchester Metropolitan students expect from their new visiting professor – other than a tweed jacket with dubious elbow patches? "First of all I've got to get to know what everybody wants out of it," Garvey said.
Songs are poems set to music at their very best
As part of his new role, he will be leading songwriting masterclasses with MA Creative Writing students – and the Elbow frontman understands this may well attract students whose main passion is for writing poetry or longer stories. He is clearly in awe of the creative luminaries he will be rubbing shoulders with at the Writing School.
"The power of poetry is something that's not lost on me. Carol Ann [Duffy] has got a great job, hasn't she? When I read her poem 'Achilles' in the paper when David Beckham hurt his ankle before the 2010 World Cup I was gushing with tears. It was so touching."
But, he says, there are common facets to all forms of writing that he is itching to pass on to the next generation of budding lyricists.
Indeed, Garvey bursts into life when asked to expand on the theory of songwriting. Each point he makes is illuminated by a story involving an influence or hero – from Dylan to Bowie, from Tom Waits to pioneering early 80s postrock band Talk Talk. Students are sure to learn a thing or two.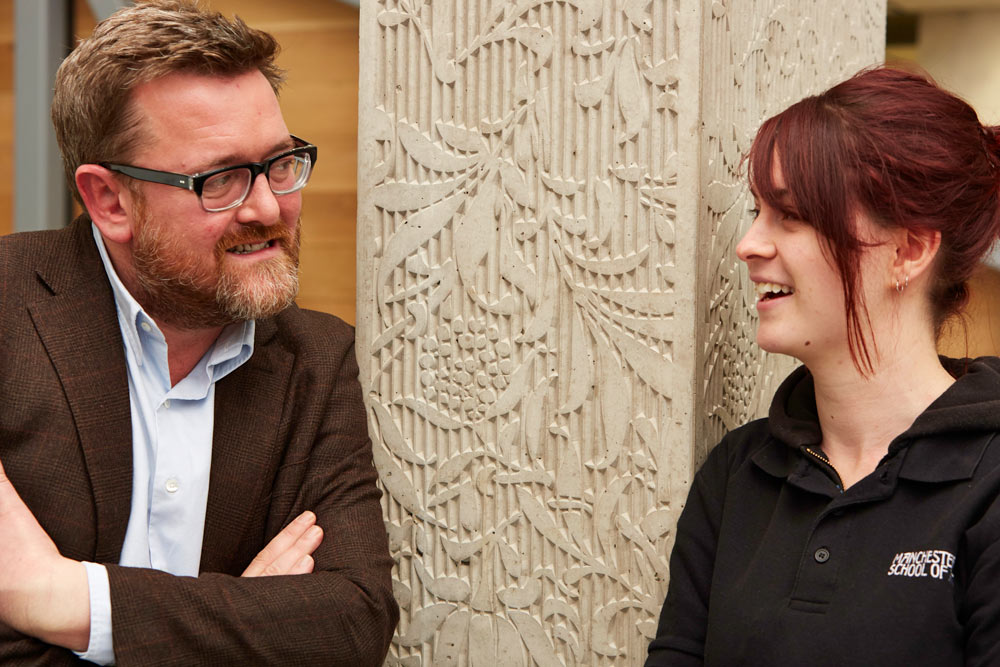 "Songs are poems set to music at their very best," Garvey explained. But he added they could also be viewed as Bob Dylan did in his speech accepting the Nobel Prize for literature. In his speech Dylan pored over the themes of three books in precise and exacting detail – All Quiet on the Western Front, The Odyssey and Moby Dick – explaining how they influence his music alongside his interpretation of injustice he sees in the world.
Garvey said: "Then he says something along the lines of: 'But they don't have to mean something. They just have to sound good.' So [even] Dylan says – songs just have to sound good.
"I'm always flattered when someone has said I've written poetry, but it is a different thing. If you set out to write a song words-first, it will become a very specific kind of song. The best way to get something fluid, and that you want to wear next to your heart when you sing it, is to write the words completely fresh alongside the music.
"But it's just using different tools to achieve the same effect. You want to provoke a reaction in the audience. I was very flattered to receive a postcard from Alan Bennett and in it he said – 'it must be really satisfying to have people sing your words back to you'. I thought: 'Oh! you don't have that moment!' If you love words, which of course Bennett does, you don't get an audience singing your words to you. It's an intensely private thing to write books and poetry. Songwriting is, pretty quickly, something shared."
Songs as poetry
Still, Garvey is convinced the writing lessons he can share will be of merit to his new students. "I do think [songwriting] has lessons for people who are writing poetry or literature of any kind. Because there is a mindset, a way to access your own work ethic. The most valuable I can be to the students I meet is passing on wisdom I've received and dispelling myths."
He cites writers block as one such example. "If you entertain writers block as an entity you give it Frankensteinian proportions and make it a real threat. If you dismiss it as a myth, it'll never bother you again."
I'll be getting an awful lot out of this – apart from yet another excuse to visit my favourite city on Earth
The raw passion Garvey transmits when talking about songwriting is perhaps what will prove most inspiring for his students – the sheer joy of putting words to paper even before seeing them performed.
"The fun you can have on your own with writing is really appealing to me. What goes on in this room is the most fun I ever have." He must be having a blast at the moment. He and his Elbow bandmates have just returned from an intensive writing week in Hamburg and Garvey is now ensconced in the studio with a computer full of tunes to mould the words around.
"I'll sit and sing ideas and throw different themes at it. Sometimes a song will have four or five completely different vocal lines before I settle on one," he said.
The mission for the new Elbow record – the first since 2017's Little Fictions – is much the same those previous. "We want something that's striking, detailed and complex. Something that leaves you somewhere other than where it found you. That's what the best music does for me," Garvey said.
I have no doubt that some of the people in the room are going to go on to write for a living – Manchester is the perfect city for that.
The natural final question is what a musician of huge commercial and critical stature is likely to get out of this new role. With Garvey though, it should be obvious by now. A chance to return home and play in Manchester's creative playground once more – and share his love of songwriting with others.
"I'll be getting an awful lot out of this – apart from yet another excuse to visit my favourite city on Earth. I miss the extractor vent on the side of the Midland Hotel that blows chip fat into your face at 9am. That level of detail makes Manchester my home. I miss it an awful lot and it's going to be great
to be there, and not only that, but to be part of it again. Success will be to be part of something in
Manchester.
"You can teach writing like you can teach art. You can point to other examples to inspire people and try to remove the doubts and make people feel relaxed about doing it.
"[But] the fact is, if you want to be a songwriter, you already are one. That's the way you've
got to think about it. It means that songs touch you enough for you to dedicate yourself to it. So it's
your province. It's your corner of the garden and it's yours to tend if you want to.
"I have no doubt that some of the people in the room are going to go on to write for a living – Manchester is the perfect city for that."