Achieving their dreams
The great Olympian Jesse Owens once said: "We all have dreams. But in order to make dreams come into reality, it takes an awful lot of determination, dedication, selfdiscipline, and effort."
Being one of the UK's largest, Manchester Metropolitan University has 38,000 students who are looking to achieve their dreams.
They bring with them the very traits that Owens put such emphasis on – determination, dedication, self-discipline and effort. The University then delivers exceptional teaching facilities, specialist equipment, research centres, industry links and experts to help our students achieve success.
Whether inside the University or outside in the real world, students at Manchester Metropolitan make an impact. Met Magazine met a few of those students who are achieving their dreams.
Design the future
Elen Parry isn't just graduating from Manchester School of Art with a degree in 3D Design, but a whole host of awards and experiences.
As part of her final project, Parry designed HeX Earbuds, an accessible hearing aid designed to enhance and protect hearing and prevent hearing loss.
After taking her design to the University's Degree Show, she was asked to attend the New Designers exhibition in London where she was announced as the Design Council's 'Number 1 Top Pick'.
"It was a massive surprise and honour to be the number one," said Parry. "I can't imagine what it must be like to live with a medical device that you have to use every single day, so I wanted to make something that was essential for those with hearing loss, but also to those without any hearing impairment."
In her placement term, she got the opportunity to work in PrintCity – a new education and innovation centre specialising in 3D printing and digital manufacturing, based in the Shed, home of Manchester Metropolitan University's Digital Innovation initiative.
Following the success of her placement, she was hired to work there part-time during her studies and won the regional stage of the Student Employee of the Year competition.
Her time working at PrintCity has allowed her to achieve many things, the biggest being the design lead on a project to design and print prosthetic arms for children under five.
She has also been appointed as an Autodesk Student Ambassador for the UK – she was then selected by the company to represent the UK at the Design Slam competition in Copenhagen. Parry and another engineer from Imperial College London won the challenge to design and build a commercial spacecraft for 50 people.
Parry said: "Following my passion to learn more about CAD was the best thing I ever did – I can't thank the team over in the Shed enough. The Digital Innovations team at the University work really hard to get everyone involved and want to make things happen. The multi-disciplinary aspect is amazing – I've been introduced to so many people in the industry which has led to all of these incredible opportunities.
"My main aim as a designer is to create improved situations and my projects here are allowing me to do that. The facilities at PrintCity are amazing and really allow us to push the boundaries of 3D design."
Parry has now been granted an Autodesk Women in Leadership Scholarship to study the new Masters in Industrial Digitalisation, which she started at the University in September.
"Elen's ability to fearlessly grapple with a complex activity, such as digital manufacturing
is what lead to her being awarded the Autodesk Women in Leadership Scholarship.

It's Elen's innate adaptability that is exactly what is required in the future of work –
as we move to mass customisation, advanced robotics and additive manufacturing being
commonplace across all industries. It will be the ability to adapt that will allow students to flourish. I have no doubt that Elen is a future leader of manufacturing and technology.

Mike Westlake, Global Education Strategy Manager, Autodesk
An entrepreneur is born
When Haydar-Ali Ismail came to Manchester from France in 2010, he couldn't speak a word of English, never mind dream that he would one day have a university degree and his own business.
"I had no goals or ideas of what I wanted to do, I was visually impaired, didn't know if I was ever going to master the language and had no idea how to express myself," he said.
"I finally managed my GCSEs and went on to study business, which although my writing skills were still not up to scratch, I suddenly found something I had an interest in and started looking for universities.
"I started at Manchester Metropolitan in 2015 and the first year was difficult – I had mastered the language, but I had gone from a college for the blind to a mainstream university, where I didn't know how accessible the material would be for me.
"The staff all accepted my condition, realised I couldn't be treated as a normal student and always went one step further to look at what I needed to give me the best chance to succeed."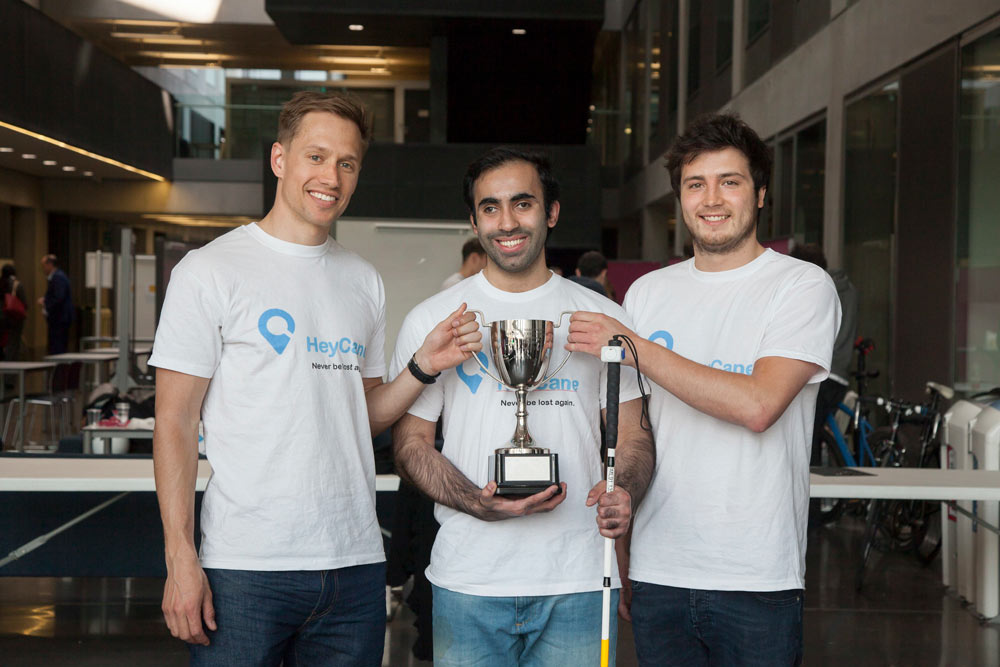 Ismail was part of the Young Enterprise team at the University, where as part of his course he was required to start up a business and run it for one year.
He took the opportunity to make a product to help him in his everyday life. He invented Hey Cane – a tracking device that can be attached to canes used by people with visual impairments, allowing the user to find their cane by accessing an app on their phone.
His idea led him to be nominated for an Institute of Enterprise and Entrepreneurs award and at the ceremony in the Houses of Parliament, he walked away with the Enterprising Learner of the Year.
"My cane is very important to me; I can't get independently from A to B without it. Sometimes I have issues finding my cane when I put it down, so I went back to my old college to complete some market research and found that over 75% of students wanted a product to locate their cane.
"It felt really good to win the award and it spurred me on to continue to develop my product, and since graduating in the summer all my concentration has been on this. Being at the University helped me gain a lot of connections in the industry and I have used those contacts to work on Hey Cane to make it an all-in-one, more reliable device using advanced technology."
Dream job
Starting university in 2014 with no idea which career path she'd take, Emma Davies would never believe that she would walk straight out of Manchester Metropolitan with her dream job.
In 2017, Davies graduated with a first class honours degree in Creative Multimedia, where work experience opportunities with the BBC shaped her passion to become a UX/UI designer.
"Emma came to our attention when we were collaborating with Manchester Metropolitan University on the CityVerve Project, during which she clearly displayed a natural ability in
the field of user experience and some fantastic ideas.

Kevin Moss – Commercial Manager – Sparta Digital
Her final project saw her design the app 'Buskify'. It would prove to be a piece of work to land her dream job.
"My idea for Buskify came from me doing a lot of research into the history of Manchester's iconic music scene. I wanted to create something relevant to the city, but also new, and after living here for three years I realised how many buskers and small bar performers could benefit from an 'unheard musicians' platform," Davies said.
"At my degree show in the School of Art last year, I displayed Buskify, which is where Sparta saw my app and decided to hire me as a UX/UI designer, meaning I went into my dream job straight after graduation."
Sparta nominated Davies' work for a Little Chip student award. She won for her 'creative and technical ingenuity that offers a real service to buskers'. "Winning proved to me that all of my hard work and studying has been acknowledged in a professional environment and has given me something I can be proud of which will help me with any future opportunities," Davies said.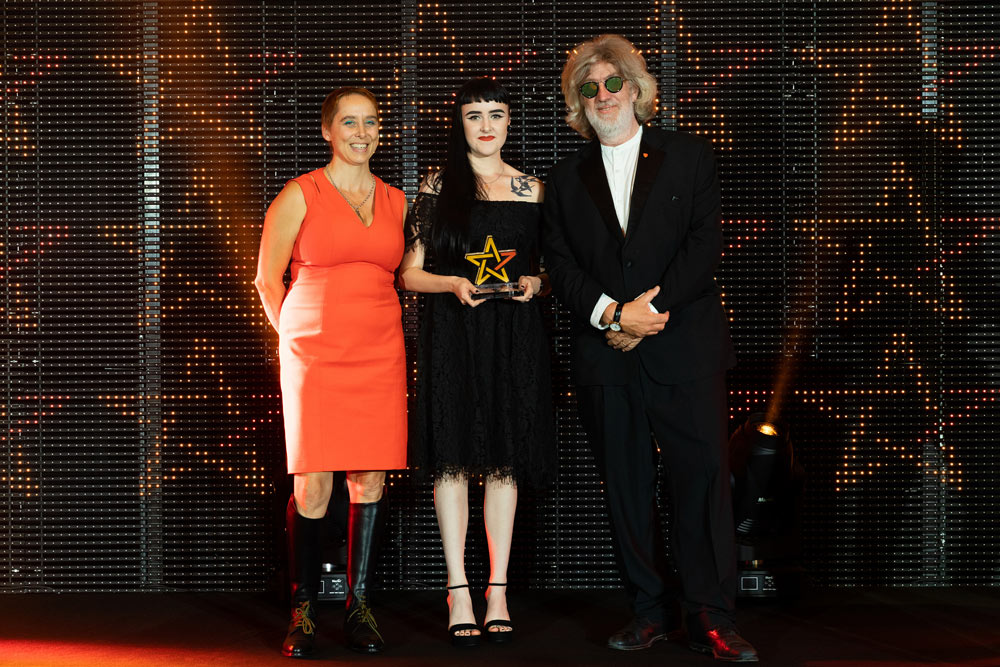 "Since working at Sparta I have designed apps on projects for CityVerve, Manchester City Council, Manchester Christmas Markets, and for companies such as TfGM and Manchester Science Park. This has been an achievement in itself, as I never thought I would have progressed so far since starting university with no idea of what I wanted to do.
"The best part of the University experience was definitely the collaborations and work experience opportunities it gave me. The real-life experience really helped me to develop the skills I now use every day in my job."
Another student who impressed professionals with his final project was Creative Multimedia student Billy White.
"For my final project I expanded my interests in 360 degree technology to create the Virtual Reality Bicycle Simulator. I wanted to create an experiential journey for people, so the simulator was created to allow people to circle around Manchester on a bike," White said.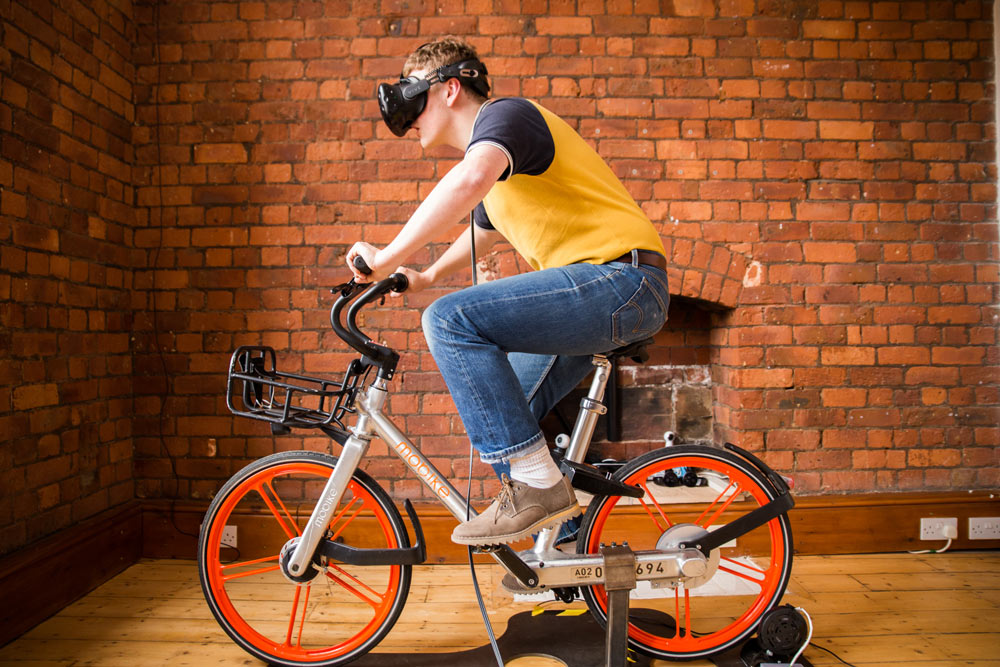 "I reached out to Clicks and Links to help me take it further technically and by the time the Degree Show came around we had developed a machine where people could become immersed in the real world, travelling around Manchester on a bike, where their input on the machine had an actual impact on their experience."
"We became aware of Billy from our CityVerve partners TfGM who highlighted work he had been doing towards a VR Bike. Working with our team on taking the VR Bike to the next stage highlighted Billy's creativity and enthusiasm, alongside his personability. As a result we decided to offer him a permanent job. We submitted the VR Bike for the prestigious Big Chip Innovation award which we were pleased to win and was a great credit to Billy and Manchester Metropolitan University."

Vin Sumner, CEO of Clicks and Links
Royal approval
Growing up in care, Saeed Atcha never believed his time at University would come. But in 2014, inspired by the Manchester Metropolitan's "grand buildings" he always saw from Mancunian Way, he arrived ready and raring to start his PR and Marketing degree.
"I'd never thought about coming to university, but reflecting on it now education is the best route when you're at a disadvantage. I instantly felt welcome when I came to the University open day," he said.
Atcha came to university already having set up his own magazine and charity, Xplode Magazine – it came after he got fed up with negative stereotypes of young people in the media and Xplode was created as a way to showcase all the great things young people are doing.
From a group of seven friends at the start-up, the charity now has around 40 volunteers and 50,000 readers across the region and is solely led by young people.
At the same time as completing a full-time degree, Atcha used the Xplode platform for influencing national change and became an Expert Advisor on the Government's Full-Time Social Action Review. At 19-years-old he became the youngest charity Chief Executive in the UK at the time.
"The magazine is a vehicle for skills development in young people to give them a head start and opportunities that they may not have had," Atcha said.
"We also train young people with employability skills, who then go into schools and teach their peers. So far the group have trained 2,500 people, with 63% going directly into employment and citing Xplode as a direct result."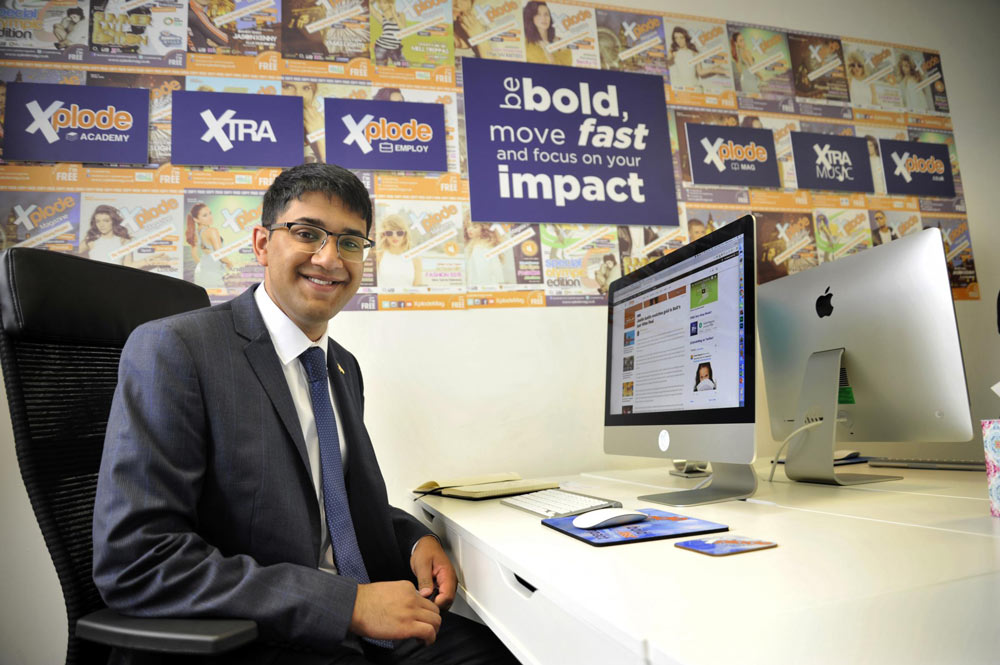 As well as his own charity, Atcha is a trustee of Young Manchester and has served HRH the Prince of Wales as a Trustee of Step up to Serve, both promoting social action.
But that isn't the only connection he has had with the Royals. In 2016, Atcha was honoured with the Queen's Award for Voluntary Service, the highest award a voluntary group can receive in the UK.
He received a certificate signed by The Queen and an exclusive commemorative crystal, presented by Her Majesty's representative in Greater Manchester, Lord Lieutenant Warren J. Smith. The Lord Lieutenant then nominated him to attend the wedding of Prince Harry and Meghan Markle in May this year.
For the last three years, Atcha has been awarded 'Young Person of the Year' in The Bolton News and Bury Times Business Awards and in his second year of university was awarded the Point of Light award from David Cameron for his "tireless dedication" to Xplode.
Atcha said: "I don't actually see myself as successful, just someone who wants to help others and I will do that in as many ways as I can. I'd say my real proud moments are when I see the impact I've had, people I've supported and the recognition I've received. I still have as much motivation now at 22-years-old as I did when I was 15 setting up Xplode."
Atcha graduated from the University in 2017, and as an alumnus, he came back to support the University's First Generation scheme – a scholarship that focuses on supporting those from backgrounds who do not usually enter higher education to access University, and to succeed once here.
"When I heard about the First Generation scheme, set up especially for people that come from backgrounds like me, I felt like I had to come back to support and encourage those potential students.
"The First Generation scheme is so important for people like myself as it engages those that never thought University would be possible. Community engagement is at the forefront of getting those from backgrounds that don't usually enter higher education into university and Manchester Met is doing the best possible job at that."
Atcha returned to the University in September to complete a Masters in Public Relations.
Ground-breaking research
With a passion for wildlife and environmental protection, Samuel Rowley-Neale came to the University in 2012 to complete a Masters in Environmental Management and Sustainable Development, but has since helped Manchester Metropolitan become a leader in renewable energy research.
On finishing his degree, he continued to work as an employee of Manchester Metropolitan, where he successfully aided the University in becoming the greenest in the UK.
Rowley-Neale came up with, and successfully carried out, several carbon reduction programmes with the environment team, such as the student switch-off scheme to encourage students to cut 10% from their energy usage and pop swap, a pop-up clothing and book exchange to promote zero waste.
The experience then led him to work as part of the environment team at Monash University in Melbourne – Australia, at the time considered the greenest university in the world (2014) – before coming back and completing a PhD in electrochemistry, looking at storage and implementation of renewable energies.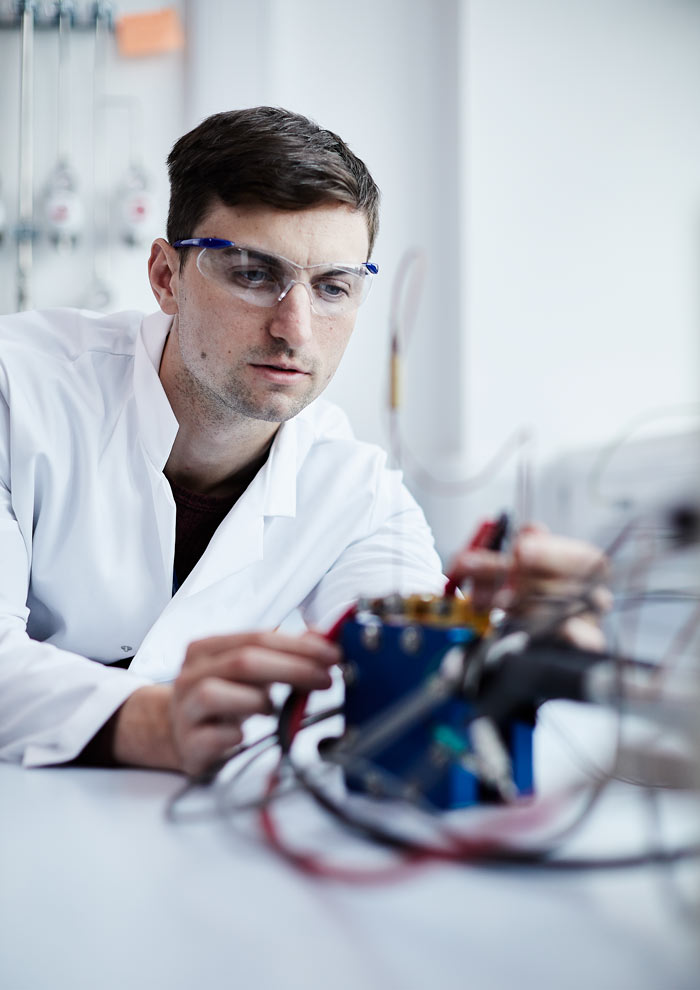 Rowley-Neale published ten academic papers, one of these being chosen for the front cover of the first issue of a Royal Society of Chemistry journal. He also published two book chapters and finished the PhD six months early.
"I really valued the time that lecturers and researchers gave me as a student," he said. "They really gave me the tools needed to succeed and I was given all of these amazing opportunities.
"I was really proud to be part of the team that helped the University to become the greenest university in the UK. My experiences within this certainly gave me the skills I needed to go over to work in Australia. At Monash University my job was to manage the grey fleet (the proportion of work vehicles used for work purposes), and my time with Manchester Metropolitan's environment team allowed me to go over there with fresh ideas and make a difference."