A decade of writing talent
Manchester is a city of literature. It is home to renowned authors such us Elizabeth Gaskell and Anthony Burgess and the new generation of burgeoning talent that can be found within The Manchester Writing School at Manchester Metropolitan University.
And through the Manchester Writing Competition the University also looks to give future stars of literature and poetry the boost their fledgling careers need.
About to enjoy their 10th anniversary, the awards were established in 2008 by Professor Carol Ann Duffy DBE, Creative Director of the Manchester Writing School and the UK's Poet Laureate. The internationally renowned awards, which offer a £10,000 prize in both fiction and poetry, promote the work of emerging writers and support their practice.
The prize's ten-year anniversary features a panel of "all star" judges, including the original poetry line-up from 2008 and novelist Alison Moore, a previous finalist of the Manchester Fiction Prize. Moore went on to judge 2013's competition and be shortlisted for the Man Booker Prize.
Previous winners of prizes have included Helen Mort, who went on to become an academic in The Writing School. Dr Mort, who was recently awarded a Fellowship of the Royal Society of Literature, scooped the Young Poet Prize in 2008.
In an interview with the University's student magazine, aAh!, Dr Mort said: "It gave me the confidence to apply for a residency at The Wordsworth Trust which, in turn, gave me the time and support to work on my first collection Division Street. Winning a prize like the Manchester Writing Competition has such a crucial knock-on effect."
Last year's winners reinforce Dr Mort's view of the boost the award can give. Romalyn Ante was joint winner of the Poetry prize with Laura Webb. Ante said: "The prize has put me out there – in the 'world of poetry'. Winning helped me realise that I deserved to be heard and that I could contribute, as a writer, to the culture of UK poetry."
And last year's fiction prize winner Sakinah Hofler, a writer based in Cincinnati, Ohio, said: "The prize has done so much for me. This is my first published story. While I've had poetry published in the past and a few flash pieces broadcast on the radio, I've never had a story picked up. This story had been rejected at eleven places before winning this prize. So, yes – definitely affirmation."
On the following pages you can read Ante's poem Nightingale Pledge, which is about her (and Filipino nurses') experiences in the UK and Webb's poem The Coincidence, which is based on the painting The Cholmondeley Ladies which is in Tate Britain.
You can also read Hofler's winning short story which vividly describes a shooting in a fried chicken shack. The 10th anniversary Manchester Writing Competition is now closed for entries. The award ceremony will take place in February 2019.
Note: quotes used with kind permission of aAh! magazine, the official student magazine of Manchester Metropolitan University.
Romalyn Ante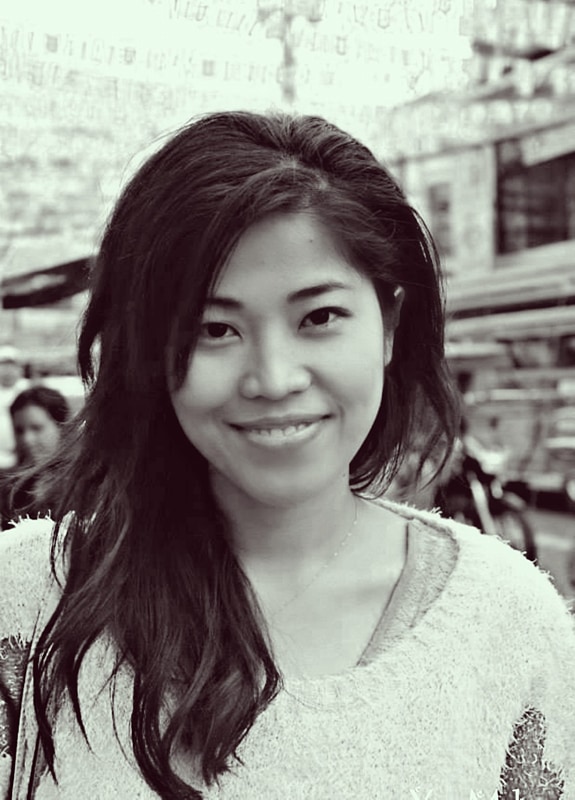 Romalyn Ante grew up in the Philippines and moved to the UK in 2005. Her debut poetry pamphlet is Rice & Rain. She is a Jerwood/Arvon mentee 2017-2018. She is Commended in the Battered Moons Poetry Competition and received Creative Future Literary Awards for Poetry in 2017. As a recipient of the Artists' International Development Fund, she travelled back to the Philippines in November 2017 to write about culture, identity, and reconnections, and to talk about her craft at De La Salle University, Manila.
Nightingale Pledge
(after Nightingale Pledge)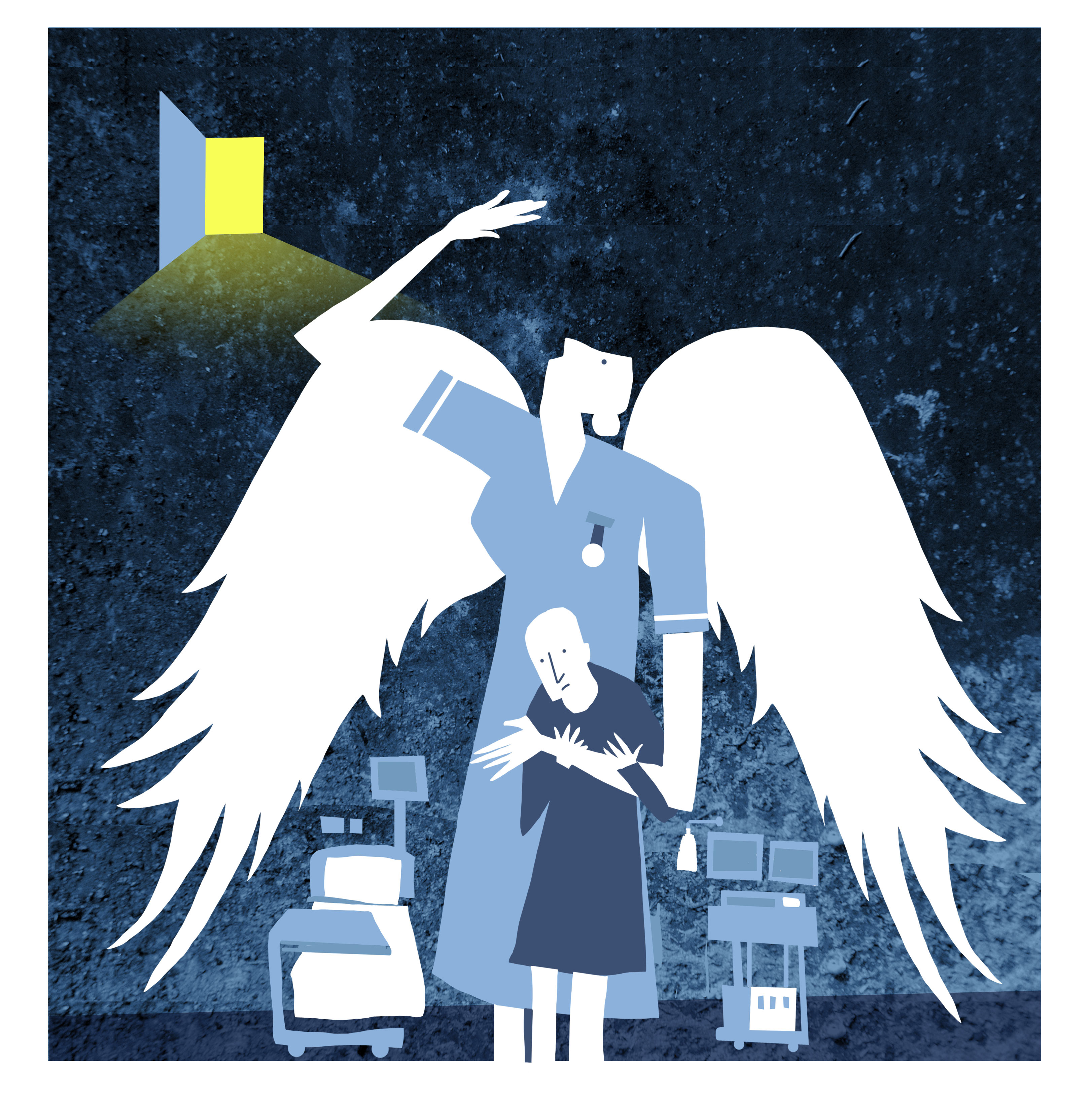 Before God and those assembled here, I pledge:
I will check the screen tracing your heart rhythm –
the beep steady as a bird's call from the shadows.
I will tie your gown, so faithfully strong
it won't show your bare back, your leaf-like keloid.
Only filtered air will stroke your unwashed hair.
I will carry out to the best of my ability
my nocturnal duties – the warm Horlicks,
the call bell, the ajar door. I will devote
my midnight listening to you hum a song –
something that lessens the weight of my eyelids.
I will attend to the sound of your bare feet
as they touch the sticky floor. In the morning
I will explain what the cylindrical bottles are for;
without a word, you'll unbend your arm to me.
My fingertip will search for the strongest vein.
I will not do anything evil. The defib pads
will fly out of the metal drawer, I will slap them
on your chest: one on the right, below the clavicle,
the other on the left, just under the armpit.
I will be the first one to greet you, Welcome back.
Even if I know you'd rather go. I will not reveal
the story of your life, how your daughter left
when she learned of your diagnosis.
I will devote my hours listening to things
you do not say. I will maintain the prestige
of my profession, but release a wild laugh
when I find you pretend choking
on your egg-white tablets
so I will pat your back.
Sakinah Hofler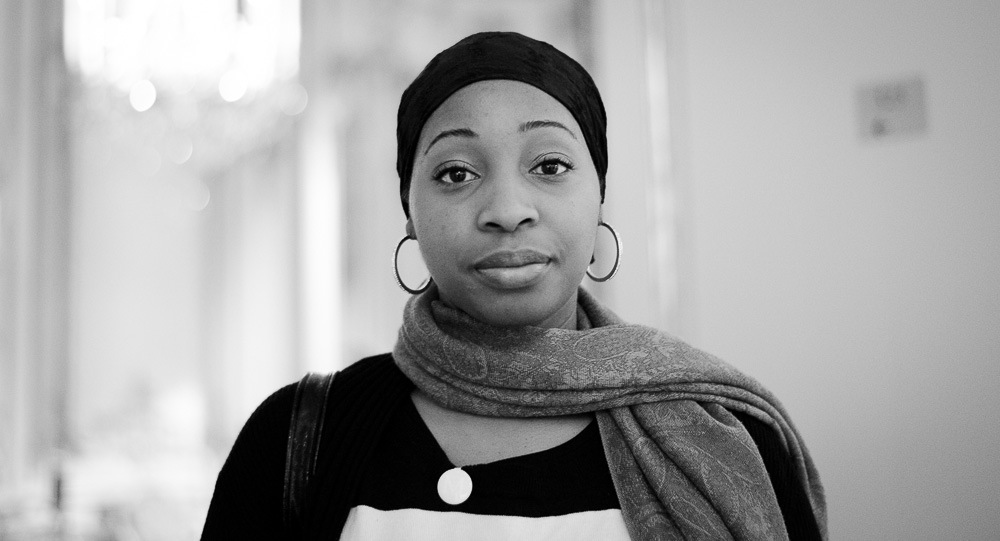 Sakinah Hofler is a PhD candidate at the University of Cincinnati, where she is a Yates Fellow. In 2016, she was shortlisted for the Manchester Poetry Prize. She received her MFA from Florida State University, where she was a recipient of the Kingsbury Fellowship. Her work has appeared in Hayden's Ferry Review, Eunoia Review and Counterexample Poetics. A former chemical and quality engineer, she now spends her time teaching and writing fiction, screenplays and poetry.
even the kids know better
In a part of the city long abandoned by those with the funds to do so, five bullets fly through the front window of Clinton's Fried Chicken and Pizza. Four of those bullets miss the chicken shack's customers, while the fifth pierces the upper chest cavity of a NJ Transit bus driver named Jefferson, who'd been next in line, trying to decide between #1 (six wings, fries, and a soda) and #3 (2-piece breast and thigh, fries, and a soda). He thinks he has been struck by a baseball bat then feels the burn of a fireball ping ponging around in his chest. He collapses. Before his pain ramps up, he's able to take in his surroundings. A few crinkly fries so close, he could lick them. A scatter of soiled napkins. Two teenage girls curled in fetal balls, their hands over their ears, their clothing glittering from sprinkles of shattered glass, their screams like a broken chorus – long and high interspersed with dog-like yips. He looks above them at the gaping hole that had been a window. A light rain has started to fall on the city streets. Rain, rain, be gone, his toddler Riley often sings, fudging the lyrics to "Rain, Rain, Go Away." But of course, the rain continues, defying human command.
One of the teenagers scrambles toward him. She's dressed in a baggy, midriff top, a thick gold belly ring tugs at the skin beneath her navel. His heartrate quickens. He understands he has been shot, and that the shooter could be anyone, including this girl. His pain gathers, intensifies, explodes. He does not know the bullet has fractured his scapula, fractured several ribs, ripped through the pleural lining of his left lung, perforated his liver, fractured his T-8 and T-9 thoracic vertebrae before transecting his spinal cord. He only knows a roaring blaze rips its way through his chest, that it hurts to breathe, and that the beef chunks of the White Castle burgers he consumed hours ago now want to come out the same way they'd gone in.
The girl leans over him. Her face has been abused by a different type of attack – her lips are bloodied and swollen, the skin around her left eye bruised and discolored. "Mister," she whispers. "Jesus." She pulls a phone from her pocket and swipes the shattered screen several times before turning around and screaming, "One of y'all motherfuckers need to call 9-1-1."
Gold doorknockers dangle from her ears, the kind that spell out a name, but Jefferson can only make out the last three letters, -i-n-a, -ina, which could stand for Christina, Amina, Tina. He stares at her, sensing he knows the answer to this riddle.
"They're calling," says the girl. "I'm gonna get help. On my word, I'll be right back."
When the girl runs out the store, Jefferson swallows, attempting to control his breathing, keep his lunch down, and somehow alleviate the waves of pain. There had been a man in line ahead of him, where had he gone? The other teenage girl remains in a tight ball, her screams dampened down to whimpers. In his periphery, he spots a third teenage girl crouching behind a baby carriage. His mind wholly rejects the idea the Lord created a mother who uses her own baby as a protective shield. In fact, he believes the Lord would not have wakened him at 5 a.m. this morning to have him drive the #25 bus up and down Springfield Avenue, have him break up a fistfight, allow him to let three people who couldn't afford the $1.60 bus fare to ride on his dime, let Donna at White Castle pleasure him then hook him up with extra sliders only to have him die on the overbleached floor of this chicken shack.
Katrina runs onto the damp city street without first checking to see if the shooter has cleared out or if he's looping back around to come for her again. The block is unusually quiet for an early summer evening, but she finds people – a couple ducking between parked cars, a man lying flat on his stomach on the lawn of a shuttered house, and several people running away from the chicken shack.
Katrina screams, "Help!" though she knows they won't. Normally, she believes in time waiting for her. When she chooses to attend school, she never hurries to class; her detention slips pile up in her locker. Her current foster mother has given up trying to enforce a curfew so the girl returns to the house when she feels like it though she often shows up to a deadbolted door. But she understands that for the bus driver, time is cold cash, a straight-up stack of Benjamins, gold.
Cars speed pass, their drivers oblivious to the pop-pops that had rung out only moments before. She runs up to a rusted car stopped at a light and bangs on the window. The driver, a sunken-faced woman with a headscarf wrapped tightly around her head, presses down on her door lock.
"We need some help," says Katrina. "Please."
The driver shakes her head and takes off, running the red light. Katrina contemplates how the woman must see her: twilight, strange girl, troubled city. She, too, would not roll down the window for herself; in fact, if she were that woman she'd have a gun on her, in hand, aware, ready, because you never know how life might end up. She wants to tell the woman and everyone else she's sorry, that she didn't know she would be the cause of their bad days. She'd just gotten her #3 meal-to- go from the cashier with the thick Egyptian accent (popcorn chicken, fries, a can of Coke) when she happened to glance outside and see William hanging out the passenger side of a black car, gun in hand. The two locked eyes. She barely had time to duck and yell "Drive-by" before he started shooting.
Back in the chicken shack, Latonya bounces her howling baby girl on her hip, and Sharmet lies on a ball on her side, silent tears dripping off her face. Katrina doesn't tell them they know the shooter, instead, she leans over the counter to where the two men who had been in line sit huddled on the floor next to the cashier. None dare meet her eye. She asks if any of them have called.
The cashier nods without looking up. "Cops say they're on their way."
The bus driver lies on the floor, his head crooked to the right, his chest shudders as it rises and falls, his blood a thick, dark carpet beneath him. She doesn't want it to touch her, but she also knows what it's like to be alone when something terrible happens. Fragments from long ago of an aunt sitting her down on a bench at Penn Station, saying I'll be right back, her aunt's red coat as the automatic doors closed behind her, a handful of stolen buttery popcorn, running, sneaking on bus after bus to glimpse that red coat, hunching, a stranger's hand wrapped around hers, a soft voice telling her she's going to be all right.
Katrina strokes his hand. It doesn't feel like a hand that has nearly yanked an arm out of its socket; this is not a hand that has slapped the shit out of anyone. She closes her hand around his, wishing she could travel somewhere in the Middle East and cover her face with a veil so no one would ever see her for who she is. She has seen the Sandals commercial many times and wants to have the time of her life splashing around in an infinite pool on some random island. Nearly every Sunday, her foster mother returns from Atlantic City grumbling about the money she lost and how she'll make it up next weekend, and Katrina so badly wants to go with her, to see what it's like to gamble a life away and maybe, for once, win a new one.
Both Katrina and Jefferson perk up at the sound of sirens. Both are filled with insane disappointment as the squad car rushes by the store to some other emergency. After all, this is Newark. This happens.
Jefferson feels his hand being squeezed, feels himself being tugged away from that beckoning blackhole of unconsciousness he'd been drifting into. The fire in his chest has subsided and he tastes sour meat bits in his mouth: both he recognizes as bad signs.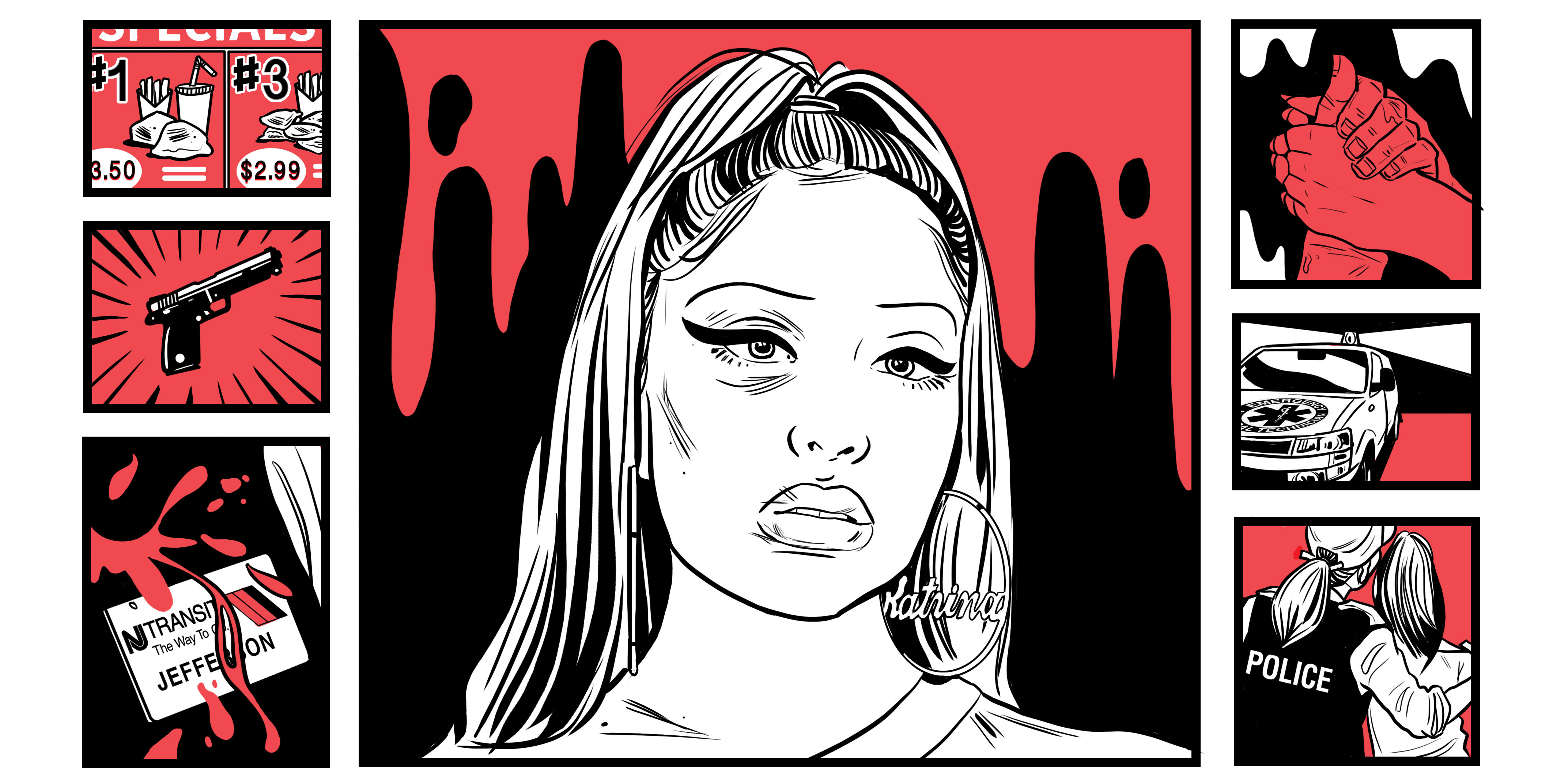 Through a gray fog, he sees the girl sitting beside him smile, and he thinks, with absolute certainty, he knows her. He digs for a name, can't find it, but unearths a memory of that pseudo smile. This could be the girl from five or six years ago that, after a double shift, he'd found hiding behind the double seater during his final walkthrough. When he asked the girl her name, her address, her home number, her parents' names, she'd fake-smiled and answered every question with I'm hungry. This could be the girl whose hand he remembers holding, who smelled of urine and unclean. He had contemplated calling child services or the police. But he'd seen how the state liked to sever families, and he had firsthand experience with how the police treated people who looked like him, even when people like him needed help. He figured she'd talk after she ate and brought her to the apartment he shared with his wife two blocks away. Without complaint, Beverly fixed the girl a plate of mac and cheese and meatloaf, and then the two of them retreated to the bedroom to discuss their options. "Child Services" was Beverly's verdict, but it didn't matter because when they emerged, both the girl and the plate were gone, and the front door to their apartment stood open. They went to the police. An officer with green eyes glared suspiciously at Jefferson while he recounted the encounter and Jefferson glared at the officer when the officer asked why Jefferson opted to bring her to his house instead of to the station. The officer eventually left them alone with four notebooks of the missing ("Everyone's trying to get out of here," the officer grunted. "Even the kids know better"), but none of the photos were of that little girl.
On the floor of the chicken shack, Jefferson moves his lips yet only a gurgling sound emerges.
Katrina squeezes his hand, ignoring the damp stickiness spreading through the seat of her jeans. She notices a glint in his eyes, one of maybe joy, maybe recognition. She does her best to smile and tries to remember the fleeting males of her life, some good, some bad; but her memory is a slippery slope with too many nooks that will cause her to tumble into an abyss of ceaseless grief so she turns away, focusing on the sounds of the receding rain and the occasional whimpers and whispers of those around them.
Jefferson's eyes lock on something beyond her – perhaps Sharmet, perhaps the drizzle – and they do not close again.
Katrina raises his limp hand to her mouth and kisses the back of it like she has seen in the movies. She will tell the responding officer who questions her she knows the shooter, but later, at the station, after her foster mother takes her into the bathroom and reminds her not to bring trouble into the house and that "snitches get stitches," she will change her story. Her friends will offer various theories naming everyone and no one because they, too, understand retaliation. She will not tell the detectives in the interrogation room about the fight she'd gotten into earlier that day with William. She'd been walking with Sharmet and Latonya up Hawthorne Avenue when they spotted William smoking on his porch. The two had slept together on more than one occasion (fucked the shit out of her, he bragged to his friends; made sweet love, she told hers), and she'd been pregnant once (not mines, he said), but the only remaining evidence there'd been something between the two was a pit of anger than ran long and deep. He told her to take her ragamuffin broke ass off his block. She called him all the names she'd been saving up for him: Momma's boy, a pussy, a little bitch that likes it in the ass, a small dick nigga.
It might not have escalated had his mother not stormed out the house and demanded that they get off her property and leave her son alone. The girl will not understand until much later in life why she became so angry with this woman. She will not tell the detectives that she and her friends hung around and hid, waiting until William left, then pounded on the front door, telling William's mother to bring her ass outside. She will not tell them she threw the first punch, nor that Sharmet and Latonya joined in on the stomping of his mother, or that when his sister ran out the house, they beat the shit out of her, too. Katrina has had to fight her entire life; she is an expert. For her, it is just another day.
A responding officer with the name L. Sanchez embroidered in her uniform pries Katrina's hand away from Jefferson's. Sanchez pulls Katrina outside of the chicken shack and sternly tells her to let the EMTs do their important work. Other people on the block start to reveal themselves: reenacting, arguing. Sanchez guides Katrina to the patrol car where she hurriedly spreads a blanket across the back seat. Katrina plops down on the curb, waving a hand in front of her stinging eyes.
"Oh hon," says Sanchez. The officer digs around the front seat then reemerges with a pack of Kleenex. She sits on the wet curb next to Katrina and gives her an awkward side hug. "We're going to need a statement from you. We'll ask you a few tough questions, but then we'll call your parents so that they can take you home."
Katrina thinks of returning to her foster mother's house, of sharing a room with seven other kids, of the cold meals, of the fighting, of it all. But as these things go, there will never be the right time nor place for her story. She leans on the officer, balling up tissue after tissue, and tells the William story for the first and last time.
Laura Webb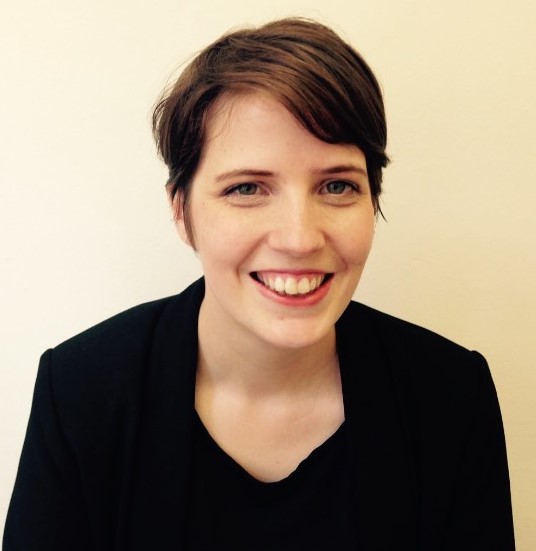 Laura Webb was born in Birkenhead in 1985. Her first poetry collection Pickles has just been published by Templar Poetry. In 2006 she won the Blackwell Publishing/The Reader magazine 'How to Write a Poem' competition. She completed an MA in Creative Writing (Poetry) at the University of Manchester's Centre for New Writing and a PhD on contemporary poetry at Sheffield University. Among other places, she has had poems published in CAST: The Poetry Business Book of New Contemporary Poets, Best Friends Forever, Poetry Ireland Review, The Manchester Review, Magma, Poems in Which, Poetry Wales, Stand, and The Rialto. She lives and works in London.
The Coincidence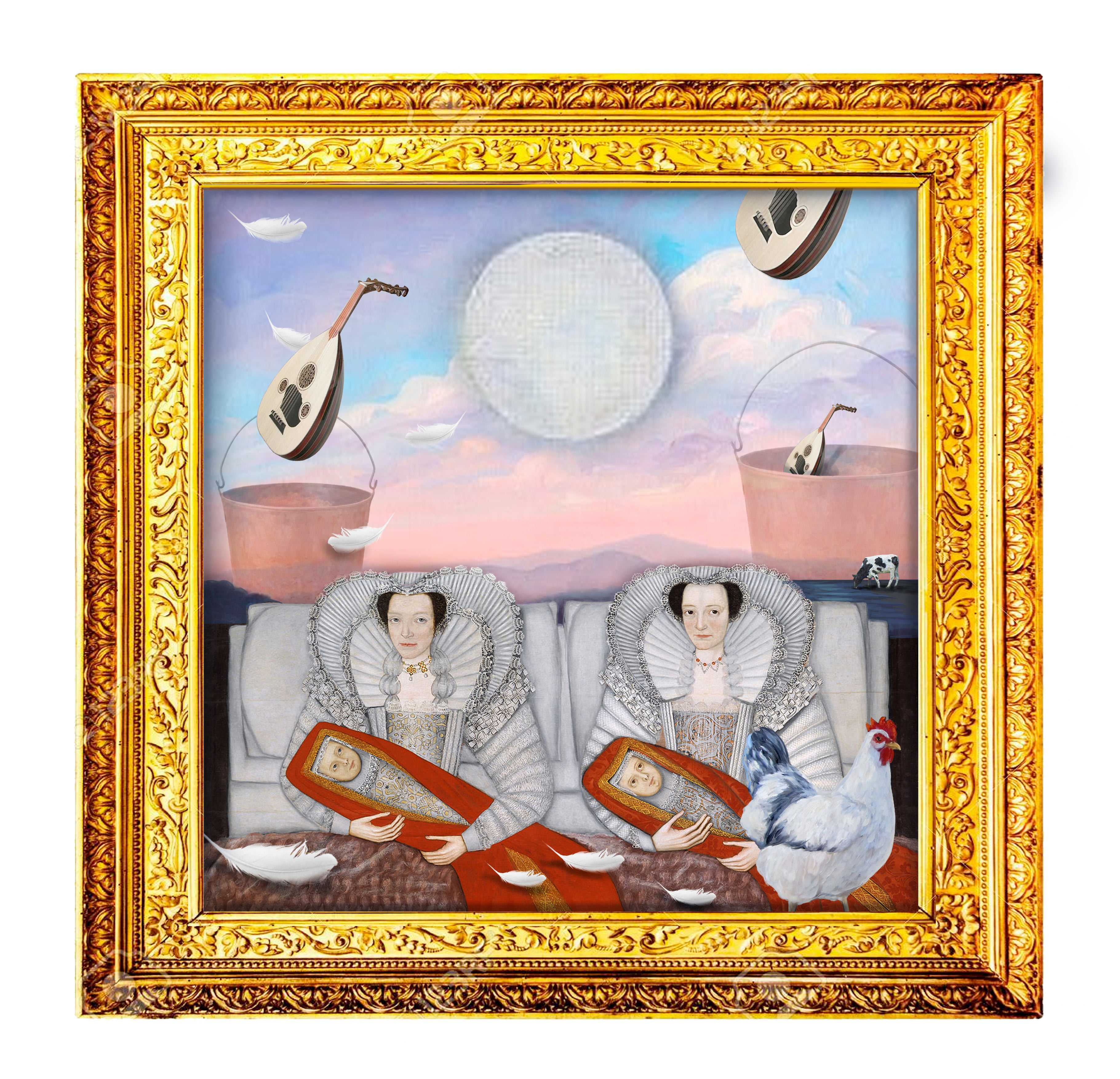 Based on the painting The Cholmondeley Ladies (artist unknown, c. 1600-1610) in Tate Britain
Sister 1: Have you noticed how the sky outside is coming apart in pieces?
Sister 2: I have, sister. Have you heeded how, whilst it hints at holding many moons, it offers none?
Sister 1: Exactly that. And how when water falls it falls in clusters, so you never catch a drop alone? And how no one ever gives us a reason for these things?
Sister 2: A friend told me that at the ends of the country they collect the rain in massive buckets they call oceans.
Sister 1: And what happens next, sister? Sister 2: Cows come and drink from them, it pleases them.
Sister 1: It sounds pleasing, sister.
Both laugh
Sister 1: Isn't it terrible to think, sister, that sometimes heavy things fall on people, and break them?
Sister 2: Beyond terrible, sister.
Sister 1: Like musical instruments. Maybe even lutes.
Sister 2: What makes you say that, sister? Sister 1: I was just thinking of terrible ways to die, sister.
Sister 2: Like an allergy to feathers in a henhouse?
Sister 1: Exactly, sister.
Sister 2: Or choking on your fingernail as you bite it?
Sister 1: Precisely so.
Sister 2: Why do you think we have hands, sister?
Sister 1: I imagine it is to better love each other, sister.
Sister 2: My fingers bend backwards and forwards, sister. Further than I think they ought.
Sister 1: Further evidence, sister, if any was wanted.
Sister 2: Quite, sister.