The special one
Nestled away on the third floor of the Sir Kenneth Green Library is the Special Collections gallery and reading room.
As unassuming as it appears from the outside, visitors are soon greeted with a treasure trove of jawdropping books, prints and objects that have been collected over the last 165 years.
Its collections are central to the artistic culture of teaching and research at Manchester Metropolitan University, going right back to the establishment of Manchester School of Art.
Everything contained within the Special Collections can be accessed, many of the collections without an appointment and the Special Collections Gallery has a programme of exhibitions relating to the collections throughout the year.
With its mesmerising variety of objects, Special Collections is indispensable for University students, teaching staff and researchers who access their materials every day.
Teaching and learning
Students from the BA (Hons) Illustration with Animation course visit the gallery as part of an 'experimental books' project using the Artists' Books collection as a source for initial research.
Sharon Scholey, Senior Lecturer in Illustration with Animation, said: "Louise Clennell (Education and Outreach Officer at Special Collections) selects various items from the Artists' Book Collection that steer away from the traditional book but tell a narrative either through the material it uses or its structure.
"It's easy for us to look and talk about the subject over things we see on the internet, but it's not until we go over and see and hold the actual objects relating to the project that the students can actually understand and envisage what they're going to do.
"I've worked at the University for a while, recognising the important opportunity Special Collections offers our students. I think it's imperative for students to not only see the artist's work, but to be able to handle the objects."
Zine collection
Students from the BA (Hons) Fashion Design and Technology course at Manchester Fashion Institute also delve into Special Collections for inspiration on their zine project.
They aim to find a different platform to communicate ideas and messages rather than just on the catwalk and develop a zine on something they are passionate about in the fashion industry.
A zine is a small-circulation self-published work of original or appropriated texts and images, usually reproduced via photocopier.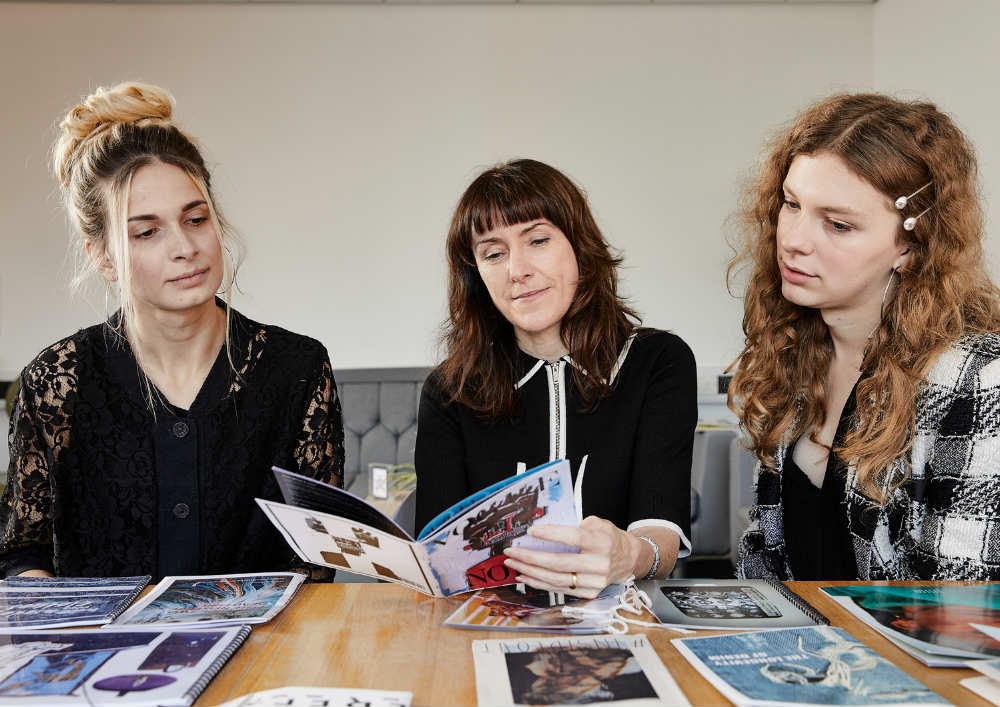 Special Collections has its very own zine collection, which was developed further in 2016, the team putting a call-out for artists to send their zines to add to the collections.
Paula Wren, Senior Lecturer in Fashion Design, said: "Going to Special Collections allows our students to be inspired by different types of art. It allows them to step away from the traditional classroom setting to go and see something different.
"After visiting Special Collections, it often opens students' minds to different ideas. They're then free to go away to create whatever they want and always produce some amazing pieces of work."
Inspiring students
For Rowanne Seward, a Fashion Design student who created a book on gender in fashion, Special Collections was an eye opener.
"Special Collections is incredible – one of the best things we have in this University," she said.
"A lot of the time old items get lost and forgotten about and without the Special Collections, these items wouldn't have had the opportunity to go on display and be used as an inspiration for us as students.
"The Special Collections library inspired my project as it showed so many different ways that something can be considered art."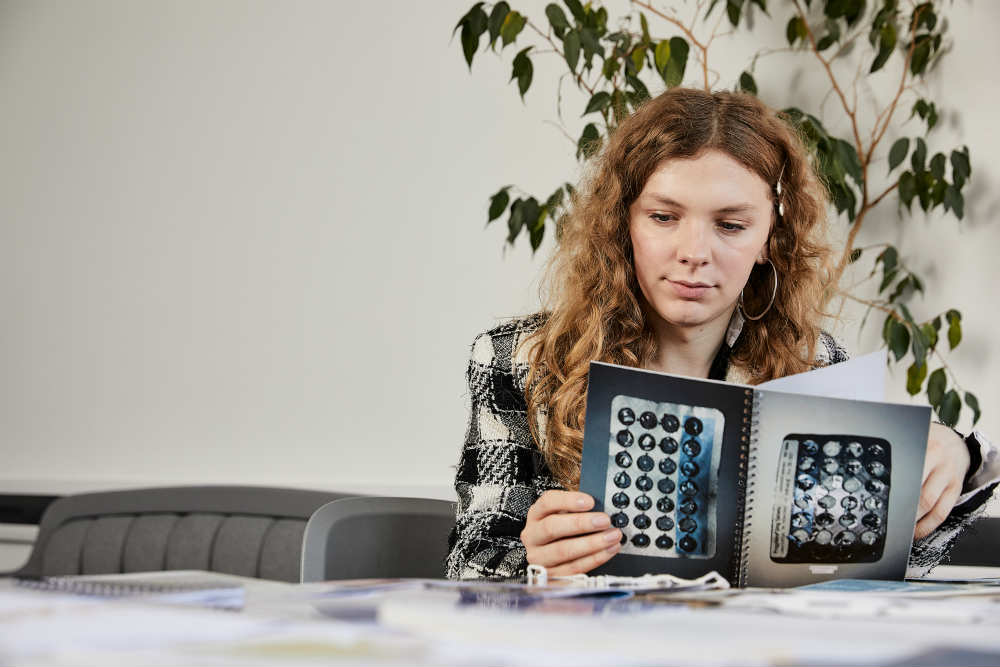 After the project, Rowanne visited the Special Collections library again. She discovered the Westwood collection – a collection covering Vivienne Westwood's infamous punk era.
"It blew my mind – I can't believe our University has such collections. For a fashion reference point, you can't fault it."
Powering research
Dr Richard Brook, Reader in Architecture, has authored six books on Manchester's modernist architectural heritage, thanks to the 300,000 picture slides in the Special Collections archive that once belonged to the Manchester School of Art and the Manchester School of Architecture.
"Special Collections is quite unique in the way it represents all visual culture," he said. "There are artefacts here that are still to be mined. I've been able to do a certain amount in my field, but I'm always conscious when I'm here how much other material is available that scholars should be looking at. The capacity that is here that can contribute to the research agenda is huge."
Most recently, Dr Brook has been conducting research using the collection of historic Manchester architectural practice Cruickshank and Seward.
"There aren't many places nationally that receive and hold this type of architectural historical material. Certainly in the North, institutions don't tend to hold onto architectural drawings and models because they're notoriously cumbersome."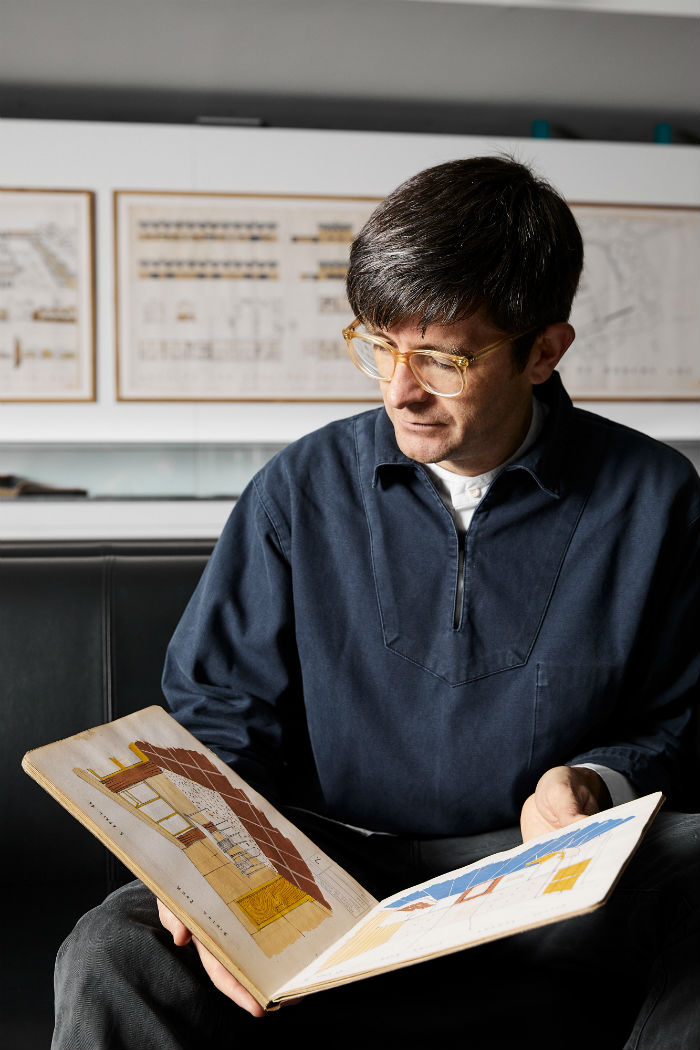 Dr Brook has come to know the architectural holdings so well that he has started adding to them.
While interviewing Gordon Hodkinson, who formerly worked for Cruickshank and Seward, he was offered a goldmine of drawings spanning back to when Hodkinson studied at Manchester School of Architecture in the late 1940s.
"From what I've seen in other archives, there are not many collections of a full set of student work from the 1940s and 50s. So I more or less directly put the work in my boot, phoned Jeremy (Parrett, Special Collections' archivist), and drove straight here to drop it off."
That work – a key historical record from a time of transition in post-war British architecture – has now formed a new exhibition 'Drawing the Modern: The work of Gordon Hodkinson and postwar architectural education in Manchester' in the Special Collections Gallery, alongside journals and books from the University library and existing artefacts from the archives.
To complete this virtuous learning circle, Dr Brook brings first-year BA (Hons) Architecture students over to see the exhibition to inspire them for their future studies.
"The value of Special Collections is in recognising and understanding that this may not be someone who is celebrated for their fame, but their narrative together with the other material means we're able to tell a really rich story about an important period in history," said Dr Brook.
"It's the next big museum of Manchester, and it's really important to let people know what is here."
Informing practice
For Kristin Marshall, now Programme Leader and Senior Lecturer in Animation at Manchester School of Art, a chance discovery in Special Collections transformed her research and practice.
She found a Victorian album of lepidochromy (pressed butterflies) from the Sir Harry Page Collection, containing dozens of immaculately conserved wingspans with reimagined painted bodies.
At the end of the book, she found a funeral card. Lifting one side of the funeral card she discovered a final butterfly on its underside.
"For me, this was very much about an experience. And that experience completely transformed everything," she said.
Fascinated by the subject of the funeral card, 'Mrs John H. Risley' from 'Akeley Rectory' and the notion that she was the "last butterfly" in the collection, Marshall researched the family and uses their stories and the book itself to create responses in animation installation.
"I started to refer to it as 'the moment' and it became pivotal to how I was presenting work."
For her, the very nature of Special Collections made this possible. "In other archives where I've worked, you request objects that are brought to you. What strikes me with Special Collections is that we have direct access to the materials and can browse. That is tantalising."
This means of engaging with archival material to extract powerful personal stories as a launching point for work is one that Marshall is keen to impress on her students.
This year, she has written a second-year module for Animation students to find a story from within Special Collections, the North West Film Archive and Manchester Museum, and turn it into an animated film.
She said: "There are treasures here that are untapped. There is potential you could find something of historic or artistic importance. But the most important thing is the discovery in terms of a journey and your own personal realisation. It is special. It's very appropriately named."
A Flutter of Birds
A renewed focus on the work of sculptor Mitzi Cunliffe has led to interest in a little known sculpture from the Special Collections.
The American born sculptor who lived in Manchester from 1949–1962 is best known for creating the iconic BAFTA award mask trophy, which she designed in her Didsbury studio in 1955.
A number of public sculptures by her can still be seen in Manchester today.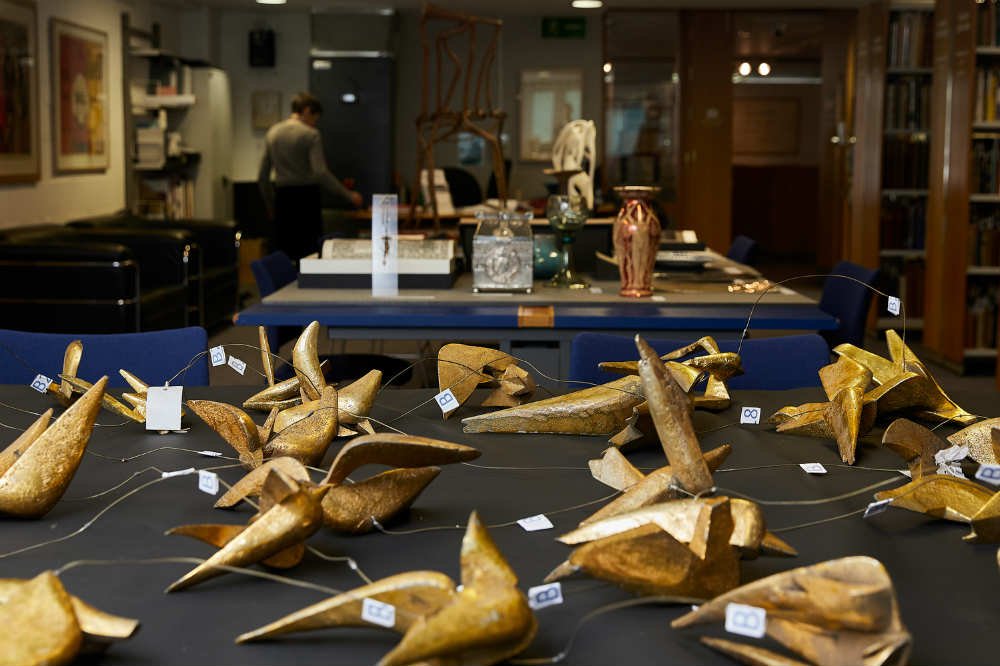 Her A Flutter of Birds work – a monumental hanging sculpture of over a dozen cast-metal birds – had previously been known to Cunliffe experts only by its existence in photographs dating to the 1960s.
But a celebration of her life and career to mark her centenary in 2018 organised by the Manchester Modernist Society and the Twentieth Century Society North West Group led to it being discovered by researchers.
Centenary celebrations have included the unveiling in June of a blue plaque at her Didsbury house and garage studio, and a talk 'An American in Manchester' at the Whitworth Art Gallery, which owns a textile by her.
Special Collections curator Stephanie Boydell informed Howard Smith from the Twentieth Century Society, who had spearheaded the local campaign for Cunliffe to be recognised, that A Flutter of Birds was in our collections – which he and other Cunliffe researchers were unaware of.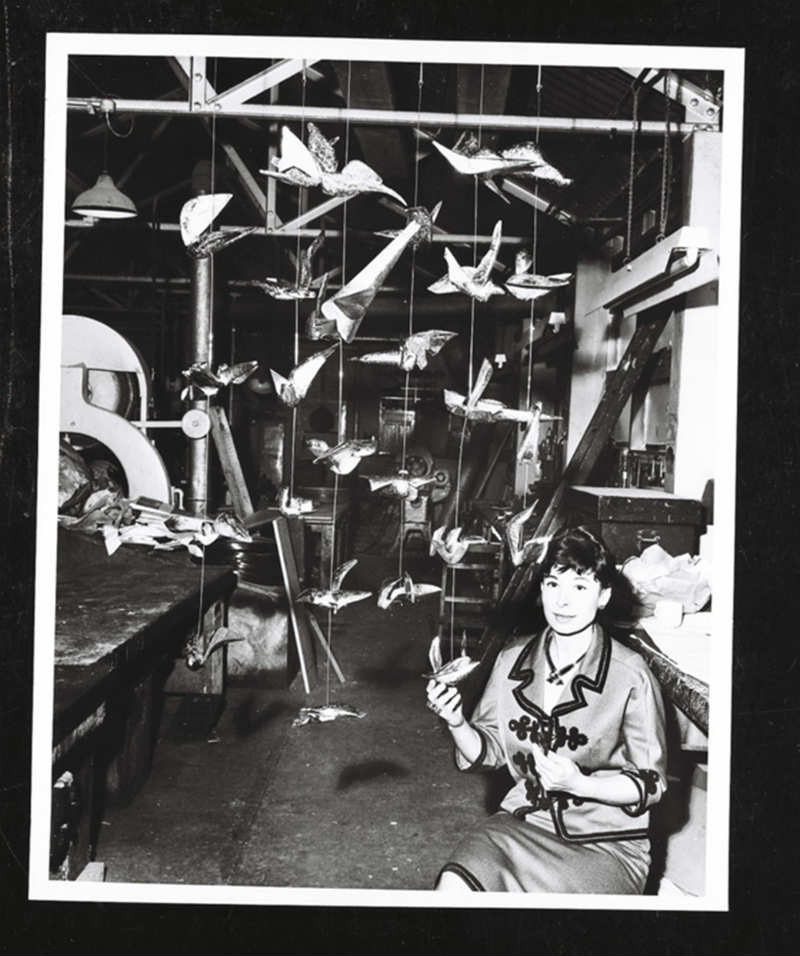 Cunliffe's daughter Antonia Cunliffe Davis and researcher Professor Ann Sumner were contacted to establish more information about the piece's history, which Sumner then covered in her talk at the Whitworth, introduced by Manchester Metropolitan University Vice-Chancellor Professor Malcolm Press.
Sumner, art historian and Head of Cultural Engagement at the University of Leeds, has been researching Cunliffe for some years, curating an exhibition in Leeds in 2016 on her sculptures of the 1950s.
A Flutter of Birds was made around 1961/62 while Cunliffe was still living in Manchester, at about the same time that she created the fibreglass cladding sculpture Cosmos 1 for the student halls of residence in Fallowfield.