News |
Monday, 15th April 2019
Spinning research to boost astronaut muscle strength for space travel
Project can also support healthcare back on Earth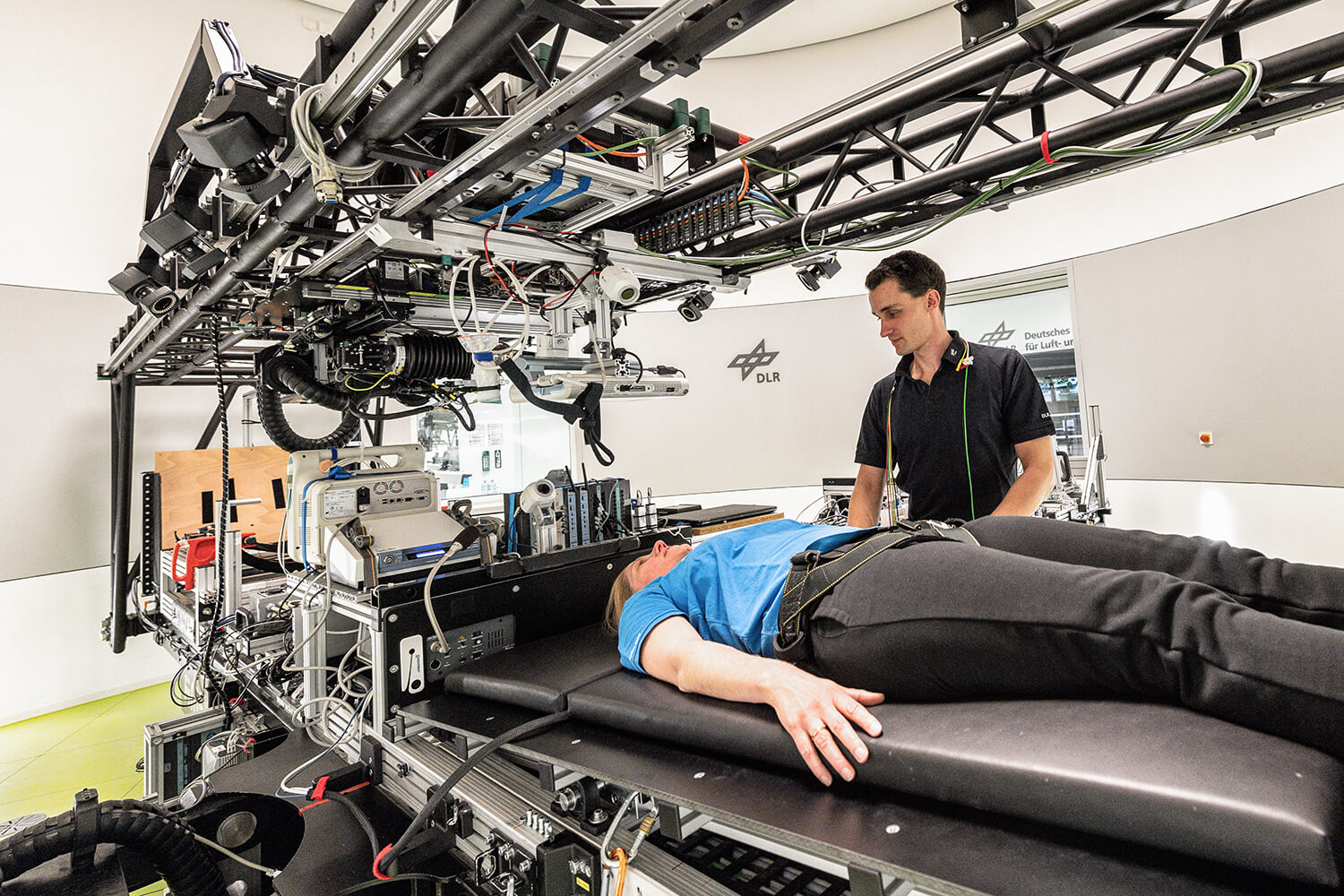 Artificial gravity from centrifuge spinning could hold the key to keeping astronauts' muscles strong for long-term space flight – and with benefits for healthcare back on Earth.
New research will investigate whether spinning people in a centrifuge maintains the integrity of nerves as well as muscle fibres, boosting future missions to the Moon or Mars.
Maintaining strong muscles is key to good health but is especially hard in space where there is no gravity.
Additionally, patients who face long hospital stays with limited movement can experience similar muscle weakness.
Journey to Mars
Led by Manchester Metropolitan University, the research is supported by the UK Space Agency, the European Space Agency (ESA), the National Aeronautics and Space Administration (NASA) and the German Aerospace Center (DLR).
Science Minister Chris Skidmore said: "By learning about how to tackle muscle wasting in astronauts who experience zero gravity in space, this pioneering research hopes to lessen the impact on future spaceflights, something which will be particularly important if we ever send humans on the long journey to Mars.
"It has benefits on Earth too, helping the thousands of patients who develop muscle weakness from lengthy stays in a hospital bed.
"We will need to embrace new technology like this to meet the needs of our ageing society, which is why through our modern Industrial Strategy, this Government is giving the biggest boost to R&D funding in UK history."
WATCH: The centrifuge in action
Muscle mass
The size and strength of an astronaut's muscles can reduce by 20 per cent in as short a period as 20 days of a space mission, such as on board the International Space Station (ISS).
When astronauts return to Earth, they must spend time rebuilding the size and strength of their muscles as part of their post-spaceflight physical rehabilitation.
The project aims to show how artificial gravity could slow – and perhaps even stop – this muscle weakness.
It is led by Professor Hans Degens and colleagues from Manchester Metropolitan's research centre for Musculoskeletal Science and Sports Medicine.
Professor Degens said: "Artificial gravity could help astronauts to maintain muscle mass in space and help back here on Earth too by preventing severe muscle degeneration in hospitalised patients.
"Currently astronauts have to exercise for up to 2.5 hours every day, take nutrient supplements, and keep high protein diets to maintain muscle mass while they are in space. Despite this, severe muscle deterioration still occurs.
"One day, astronauts might have a daily quick spin in a centrifuge on the ISS rather than spend hours on gym equipment in space. For hospital patients it could greatly improve their recovery during rehabilitation and after they leave."
WATCH: British astronaut Tim Peake training aboard the International Space Station
In a spin
When astronauts return to Earth, they must spend time rebuilding the size and strength of their muscles as part of their post-spaceflight physical rehabilitation.
The Manchester Metropolitan team will perform biochemical analyses and functional tests in volunteers who will have experienced 60 days of bed rest, designed to mimic the conditions of space travel.
It is part of a wider joint study taking place at the DLR Institute of Aerospace Medicine, in Cologne, into the effect of prolonged bed rest, known as AGBRESA (Artificial Gravity Bed Rest Study). In total, 12 female and 12 male volunteers are taking part.
Some participants will be spun for 30 minutes each day to experience artificial gravity using the short-arm centrifuge at the DLR Institute of Aerospace Medicine, which is also used for the development of more effective astronaut training. It allows participants to be spun around while still lying down.
Healthcare
Professor Richard Greene, Pro-Vice-Chancellor for Research and Knowledge Exchange at Manchester Metropolitan, said: "This novel approach to muscle maintenance is precisely the kind of high-quality applied research that Manchester Metropolitan University is known for. It has the clear potential to improve the health of astronauts and by so doing aid space exploration.
"Astronauts lose muscle mass whilst they are in space but so do patients during extended periods of bed rest so I'm interested to see what this exciting research might also do for them."