News |
Friday, 14th June 2019
University partners with Santander to support student ambitions
Funding for student scholarships, start-up business ideas and employability programmes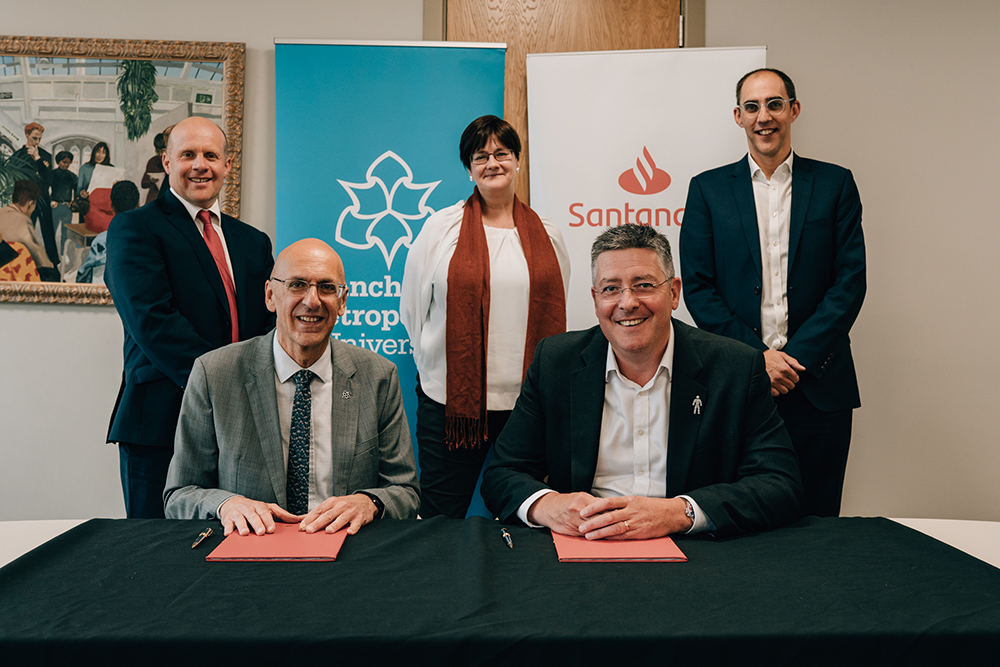 Manchester Metropolitan University and Santander have signed a new three-year partnership agreement that will provide, among other support, scholarships to enable students of the University to enhance their leadership skills and graduate employability.
The agreement was signed by the Vice-Chancellor of Manchester Metropolitan University, Professor Malcolm Press, and Matt Hutnell, Director of Santander Universities in the UK, at a ceremony held within the University's campus. The event was also attended by senior members of the University and representatives from Santander.
Through this new partnership, Santander will fund a variety of initiatives including supporting the University in its 'First Generation' programme, a scheme which supports students from the Greater Manchester area, whose parents did not attend university, to enhance their employability and further success.
Santander's financial support will also enable Manchester Metropolitan University students to develop their entrepreneurial skills through start-up grants. The best student and graduate business ideas from the Business Start Up Boot Camp and pitching competition will also be awarded six months' free incubation space at Innospace, the University's entrepreneurship unit. In addition, the support will provide a programme of inspirational 'Be Your Own Boss' events to encourage more students and graduates to start their own business.
Partnership
Professor Malcolm Press, Vice-Chancellor of Manchester Metropolitan University, said: "We're delighted to partner with Santander and together we will support ambitions by opening up access to higher education. Santander's support will help to make a real impact on students by nurturing the entrepreneurs of tomorrow, creating new scholarships, and kick-starting careers.
"Through the partnership we will deliver scholarships to students on our First Generation programme, provide start-up grants to student and graduate businesses through our incubation unit Innospace, and partner with SMEs in the region to provide paid internships for graduates from disadvantaged backgrounds."
Matt Hutnell, Director, Santander Universities UK, said: "We are delighted to welcome Manchester Metropolitan University to the Santander Universities network. We are committed to supporting Higher Education institutions as well as local communities across the UK. Through this new partnership we will be able to collaborate to not only help students at Manchester Metropolitan University thrive, but ensure our mutual projects can deliver real economic and social benefits to the wider community as well."
Santander Universities was launched by Santander in 1996 with the primary aim for universities to share goals of internationalisation, transfer of knowledge and fostering of entrepreneurial skills. This new agreement marks the 85th partnership for Santander Universities in the UK. The Bank has established partnerships with over 1,200 universities in 20 countries.