News |
Tuesday, 16th July 2019
Manchester Metropolitan named as one of the UK's greenest universities
Ranked second in this year's People and Planet university league table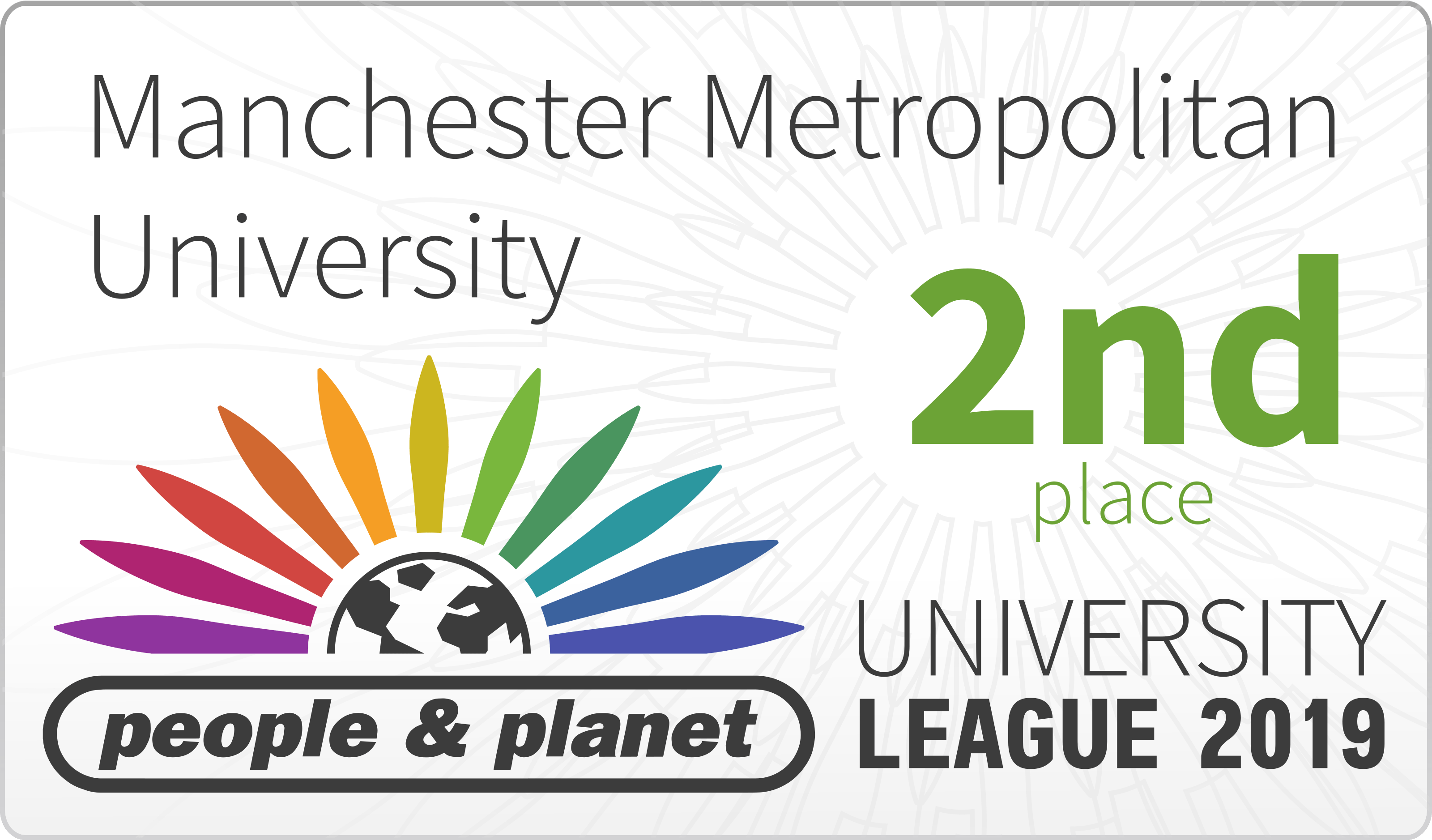 Manchester Metropolitan has once again been named as one of the UK's greenest universities, ranked second in this year's People and Planet university league table.
It continues the University's recent success and is recognition of the ongoing work to cut carbon emissions, increase recycling and embed carbon literacy in the curriculum.
Manchester Metropolitan has now maintained a top three position for the past six league tables.
The People and Planet university league, published today in The Guardian (July 16), is the only comprehensive and independent league table of all UK universities ranked by environmental and ethical performance.
Manchester Metropolitan has increased its score by 2.3% from 77.6% to 79.9% since the last time the league table was released in 2017, demonstrating improved performance at Manchester Met and in the sector.
One key improvement saw the University sign up to Electronics Watch, a collaboration of public sector organisations working to create an ethical IT supply chain.
This is in addition to continuing to significantly reduce water and energy use, improve recycling rates and ensure sustainability is embedded within the formal and informal curriculum.
Manchester Metropolitan Vice-Chancellor Professor Malcolm Press said: "Climate change is one of the greatest challenges faced by the world and we as a University recognise the importance of creating a sustainable society.
"Manchester Metropolitan is working to tackle the issues, whether it is developing next generation green energy in our Manchester Fuel Cell Innovation Centre, providing students with the skills and knowledge to rise up to climate challenges, or creating a zero-carbon campus.
"We're delighted to once again be ranked in the top three in the UK: testament to the dedication of our staff and students."
Helena Tinker, Head of Environmental Sustainability at Manchester Metropolitan, added: "I am thrilled that we've improved our performance over the last two years. It is our students and the young people of Manchester who are currently leading the debate on climate change, challenging the University to continue to reduce our carbon emissions. The University's staff and students have played a huge part in supporting this journey so far. However, there is still a lot to do as we transition to zero carbon."
Some of the key highlights for Manchester Metropolitan:
This year, 22 student Carbon Literacy Trainers trained just over 300 of their peers, taking the University to a total of 863 carbon literate students and graduates
Became a certified Carbon Literate Organisation in May
Reduced carbon emissions by 41% since 2005
Committed to becoming zero carbon by 2038, being a pioneer organisation in the Zero Carbon Manchester Framework
Piloted a new tool known as SKA on the 6GMS building to help ensure buildings are refurbished sustainably. The University is one of the first higher education organisations to achieve a 'silver' award in the North West
60% of the University's vehicle fleet is low emission (mixture of hybrid and fully electric)
Removed single-use plastic straws and cutlery from campus catering outlets
Reaccreditation to NUS Responsible Futures Award, demonstrating the commitment to embedding Education for Sustainable Development within the curriculum
Recycled 50.6% of waste in 2017/18, with zero waste going to landfill
Installed 550 solar photovoltaic panels on the Brooks building, making a total of 1,554 solar photovoltaic panels across the campus
Opened Manchester Fuel Cell Innovation Centre, leading the way in harnessing renewable energy
The student-led enterprise MetMUnch has engaged with over 75,000 people on sustainable food and nutrition over the last eight years
For more information on the University's performance in 2017/18, see the Environmental Sustainability Statement.