News |
Wednesday, 24th July 2019
Performance poet SuAndi OBE awarded honorary Doctorate of Arts
Manchester-born writer recognised for her significant contribution to art and culture, particularly to the black arts sector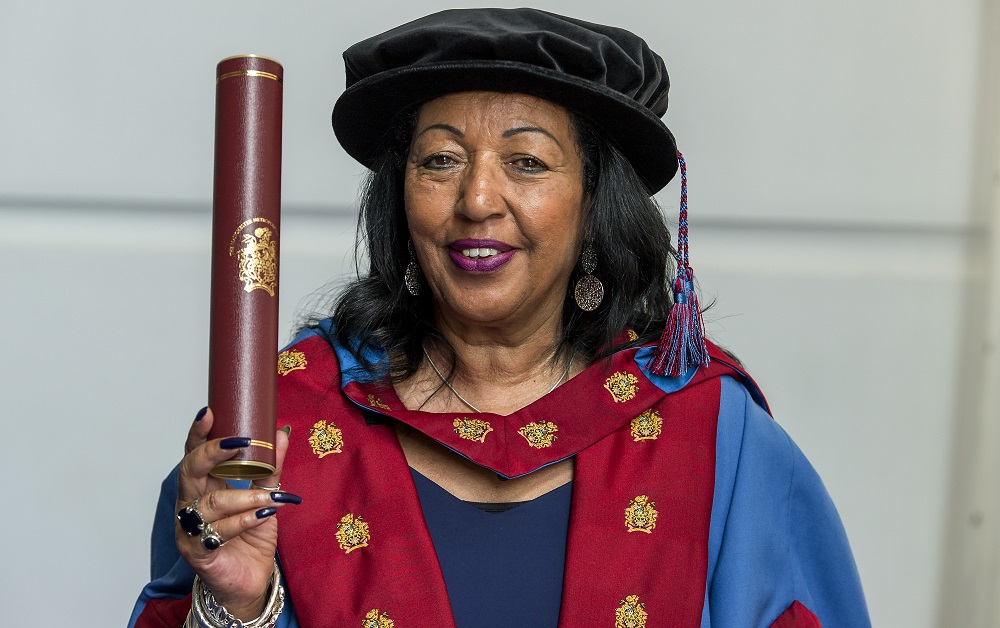 Performance poet and librettist SuAndi OBE has been awarded an honorary Doctorate of Arts (DArt) for her significant contribution to art and culture, in particular to the black arts sector and within the North West.
Born in Hulme in Manchester, SuAndi has written and performed her poetry internationally for over 30 years, alongside a role as the freelance Cultural Director of the National Black Arts Alliance.
Her acclaimed poetry collections include Style (1990), Nearly Forty (1994), There Will Be No Tears (1996) and I Love the Blackness of my People (2003), and her libretto Mary Seacole opened in the West End and toured Britain in 2000. She was awarded an OBE for her contributions to the black arts sector in 1999.
Her work is recognised within the North West for raising the profile of black artists, and since 2001 she has coordinated the regional celebration of Black History Month.
She received the honorary doctorate at a graduation ceremony in Manchester's Bridgewater Hall on Tuesday July 23.
Support of others
She urged graduates to remember that "nothing you achieve is without the support of other people."
She said: "For me, it begins with every member of the National Black Arts Alliance and the work we have done across all the art forms. Across Manchester, nationally, top brass directors, city councillors, regular struggling artists who have never refused to give me their time and I hope I have always reciprocated."
She continued: "We stand here on the shoulders of so many others. Parents and siblings if you are lucky to have them, teachers, lecturers and people from shopkeepers to roadsweepers, they all enable us to move forward in our lives. Those who fought in the First and Second World War, enslaved Africans, all our ancestors, the Suffragettes. The list is endless."
Concluding her remarks, she said: "My last words are for all the sisters in this room. Remember this: well behaved women rarely make history. I hope you all make history tomorrow, and I thank you for giving me this memory today."
SuAndi's poetry has also appeared in various magazines and anthologies, and their performances recorded and broadcast. Her libretto The Calling was written for BBC Philharmonic in 2005. She has received The Windrush Inspirational Award (2003), a NESTA Dreamtime Award (2005) and a Winston Churchill Fellowship (1996).
She said: "While it would be easy to say I've been very lucky, I understand that the actor Stephen Graham said to Jodie Comer, when she used luck to describe her career success, and I paraphrase, he said - that is so working class to deny the hard work and talent of her craft. Personally speaking, even when nervous as hell, I never let anybody tell me no."
She was presented to receive the honour by Dr Rachel Dickinson, Principal Lecturer in English at Manchester Metropolitan.
Well behaved women rarely make history. I hope you all make history tomorrow, and I thank you for giving me this memory today.
Introducing SuAndi, she said: "I have the honour to present SuAndi OBE, poet, artist, performer, activist and champion.
"It was clear from the beginning [of her career] that her work is about building community, and that she will not be tied down to one form, one art, one way.
"Through her work, key themes emerge. Speaking if not shouting for the unheard. Celebrating the unseen and questioning the accepted histories, of particular focus the lives of women and the experience of black Britain."