Video |
Tuesday, 19th November 2019
Swimmers celebrate medal haul at BUCS Short Course Championships
Sports scholars return home with five wins and fifth place overall
Swimmers at Manchester Metropolitan University have won five medals at this year's British Universities and Colleges Sport (BUCS) Short Course Swimming Championships.
Sports Scholar and Sport and Exercise Science student Katie Matts won two gold medals in the 400m individual medley and 200m breaststroke and a bronze medal in the 200m individual medley.
Earlier this year, Matts became British champion at the British Summer Championships, receiving a gold medal in the 100m and 200m breaststroke.
The Stockport Metro swimmer also attended the World University Games in Naples in July.
Matts said: "I was very pleased with my early season performances at the BUCS Short Course Championships over the weekend. It was my first full competition of the new season and it was nice to come away with two gold medals as well as making a few other finals.
"It's always a busy meet and probably the only one where you have to swim back to back finals with only a few minutes in between – so it's a good test.
"My training before the competition went really well ­– I have been away in Miami for an early-season camp with the Loughborough National Centre and been working really hard since I have been back at Stockport Metro.
"I have a couple more competitions before Christmas with the Swim England Winter Championships in Sheffield and another in Amsterdam. This should give me an indication of where I am before the Olympic Trials in April 2020."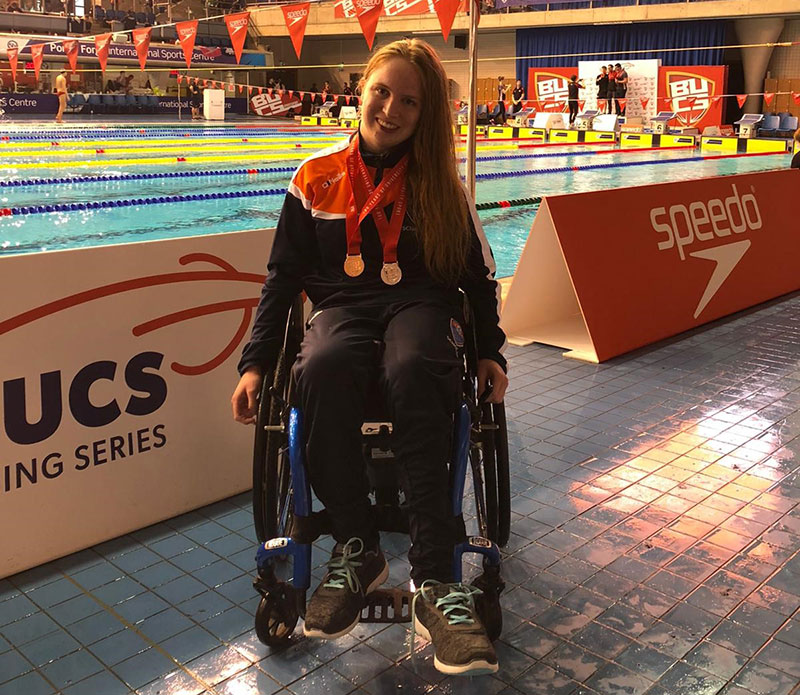 Para-swimmer and sport scholar Ella Cooper-Holmes also brought home a silver medal in the 100m breaststroke and bronze in the 100m backstroke.
Cooper-Holmes was awarded a place on the University's scholarship programme after her success at the competition last year.
Other scholars Neil Wylie and Emily Peck were also finalists in this year's competition, where Manchester Met came fifth overall out of 45 university teams taking part.
The three-day competition took place at Ponds Forge International Sports Centre in Sheffield from November 15 to 17.
You can find out more about our sports scholarship here.