News |
Monday, 16th December 2013
Every IVF scientist trained at MMU
Only clinical provider to the NHS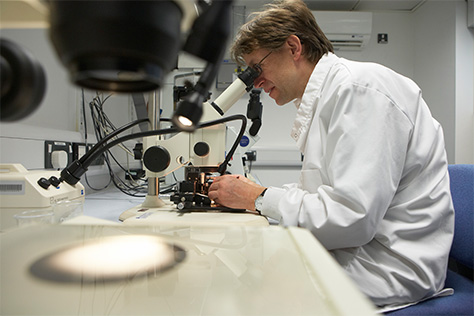 EVERY new reproductive scientist trained in the UK to help start pregnancy through IVF treatment will have been taught at Manchester Metropolitan University.
The University has been named as the official NHS partner and the only centre for teaching clinical cellular scientists, who will learn on the job while studying for an NHS-accredited master's degree.
All reproductive scientists will be trained through the official cellular scientists' programme and the trainees will have to pass the three-year Scientist Training Programme (STP) to earn the MSc.
So the next generation of IVF-nurtured babies – 1 in 50 births in the country – will have been done by a clinical embryologist who trained at MMU.
National centre
Dr Michael Carroll, lecturer in Reproductive Science and academic lead for the reproductive science discipline, helped secure the bid which was led by Carol Ainley, head of Health Science.
"We're in it for the long haul," Dr Carroll said.
"We're the only place in the UK to have this training – most of the future babies born by IVF in the UK will have been done by the hands of an MMU-trained scientists and all of the new scientists will have come from MMU.
"We have a track record of delivering programmes like this and are experts in this field. We have close collaboration with NHS departments and with clinical colleagues who will be teaching on it."
Partnerships
MMU will be working closely with St Mary's Hospital Department of Reproductive Medicine, part of Central Manchester University Hospitals NHS Trust, thanks to partnerships established through the Manchester Academy for Healthcare Scientist Education.
Students, who will already have degrees from bachelor up to PhD, train for three years within their own NHS trust and spend block training every year at MMU - taking one of three paths as a cellular scientist: reproductive science, cytopathology and histopathology.
The MSc was awarded to MMU in July after an application process to Health Education England, which subsequently accredited the course, while the National School of Healthcare Science devised the curriculum.
Professor Daniel Brison, clinical lead for the MSc and Scientific Director at St Mary's Hospital, said the academic and clinical training will 'complement each other'.
'Number one'
He added: "Manchester has been the number one STP training centre for a number of years now.
"It is a big advance in the training as they'll have knowledge of other areas as well as reproductive. The NHS wanted scientists with a broader knowledge and this will do that."