News |
Thursday, 18th December 2014
MMU rises significantly in UK research rankings
200 researchers 'world leading' or 'internationally excellent'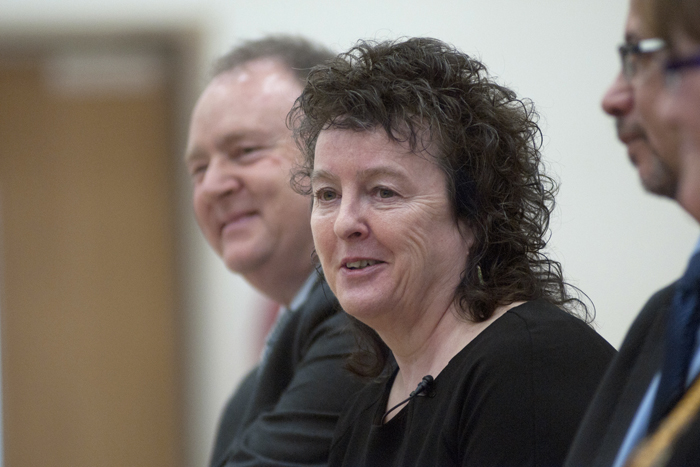 MANCHESTER Metropolitan University has risen significantly in the UK research rankings with more than 200 researchers rated 'world leading' or 'internationally excellent'.
The Research Excellence Framework (REF) results published today (Thurs) rank 154 UK higher education institutions according to the quality, breadth and impact of their research and knowledge exchange.
MMU research rises 12 places in the overall quality rankings and is 53rd in the power rankings, which are an aggregate of volume and quality of research.
Assessments were made of the University's research in health, environmental sciences, computer sciences and informatics, engineering, business and management, social policy and social work, art and design, sociology, education, English, history, philosophy and music, drama, dance and performing arts.
Ambitious plans
Sixty per cent of the outputs were graded 'world leading' or 'internationally excellent' with a 70 percent rise in the number of MMU researchers attaining the standard since the last assessment in 2008.
Vice-Chancellor Professor John Brooks, who recently stated MMU's ambition to become a Top 50 research university, expressed his delight at the progress.
"In a fiercely competitive exercise, we've managed to improve our research quality significantly. Almost all areas of research have improved and I congratulate our academic departments on a very impressive achievement that continues momentum towards meeting the aims of our Academic Vision."
World-class areas were notably, Art and Design, ranked 6th out of 84 UK institutions, and Health (12th of 94). English Language and Literature achieved MMU's highest individual points rating. Education and Sociology also performed excellently.
Impact on economy and society
Included in the assessment were more than 40 case studies that evidence the impact of MMU research on the economy, society, culture, public policy and quality of life.
Of these, 85% were graded 'world leading' or 'internationally excellent' and include work on life-saving diagnostic devices, global policy work to cut carbon emissions in aviation, EU equality law and award-winning exhibitions that have attracted visitors from all over the world.
Added Professor Brooks: "It is particularly pleasing that we have performed so well in demonstrating the economic and societal impact of our research."
For more information about MMU's REF, see http://www2.mmu.ac.uk/research/ref/
Read more about how MMU Research is making an impact in our annual brochure Research Matters.