News |
Tuesday, 22nd November 2016
University makes top three in UK green league again
People and Planet sustainability ranking success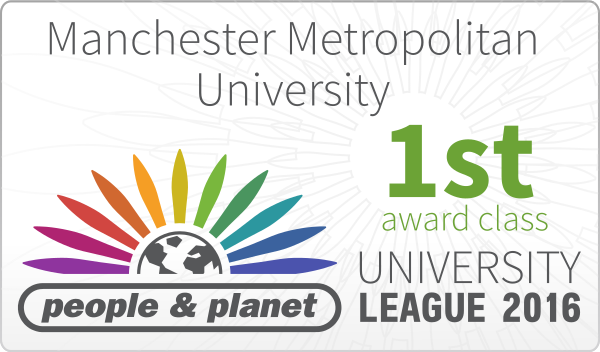 MANCHESTER Metropolitan has once again been ranked as one of the greenest universities in the UK.
The University is third out of all UK universities in the People and Planet 2016 table, published today in The Guardian.
This means that Manchester Metropolitan has maintained a top three position since 2013, testament to its continued drive to embed sustainability across the University.
The People and Planet University League is the only comprehensive and independent league table of UK universities that ranks institutions by environmental and ethical performance.
Vice-Chancellor Professor Malcolm Press said: "We are delighted to have once again maintained our position in the top tier of UK universities for commitment to sustainability and the green agenda.
"The People and Planet University League ranking is a wonderful affirmation of the hard work that goes into ensuring that we embed sustainability across everything we do at Manchester Metropolitan: from LED lighting to University-wide recycling; self-cleaning glass to combined heat and power networks in our buildings. Our position shows that the University continues to grow its delivery and breadth to be a top performer in this field.
"We also encourage our students to think globally and to tackle the major environmental issues that the world currently faces across the breadth of our courses."
From humble beginnings
In 2007, success in environmental sustainability and ethical performance was low at Manchester Metropolitan. The University was 91st in the People and Planet University League, formerly known as the Green League.
By 2013, it was ranked 1st.
Since the appointment of an Environmental Manager, the University has become a leading and award-winning sustainable institution, its policies reflecting the wishes of its students. Now, 42% of waste is reused or recycled and the total carbon emissions has been cut by 23% since 2005, helping towards a 50% reduction target set for 2020. New schemes such as Give It, Don't Bin It help students to donate leftover food, clothing or books when they move out of student accommodation.
In 2013, the University achieved international recognition in the Environmental Association for Universities and Colleges' Green Gown Awards, picking up the Continuous Improvement: Institutional Change for Sustainability award, and has just been placed second for Sustainability Reporting in the 2016 awards. Manchester Metropolitan was ranked the number one university for ethical and environmental performance in 2013 and has retained a top three position in the People and Planet University League for four consecutive years. It is also the first UK university to achieve the International Environmental Management System ISO14001:2015.
Dr John Hindley, Assistant Director, Estates Management and Sustainability, said: "Sustaining this level of performance, in a highly competitive sector for awards and accolades in sustainability, is fantastic news for Manchester Metropolitan University.
"Our result, which benchmarks sustainability performance across many themes, shows that we continue to grow our reputation as a leading sustainable University. I am very proud to be a part of this success, which is achieved with the help of colleagues and a supportive University leadership."
About People and Planet
After a sector-wide review of the University League, some key changes were made to the way universities were audited this year. Universities were ranked based on information publically displayed on their corporate websites and from information published within the Higher Education Statistics Agency Estates Management Record (EMR) data set.
People and Planet audited and assessed a wide range of information including policy and procedures, workers' rights and ethical investment, sustainability education and engagement, carbon management, waste and recycling, energy sources, and carbon and water reduction.
The University was assessed as 100% in Environmental Policy, Sustainability Staff, Auditing and Environmental Management Systems, and Education.
Hannah Smith, People and Planet Co-director Research and Campaigns, said: "Manchester Metropolitan University has once again retained its top three status in the People and Planet University League, an achievement to celebrate proudly.
"The sustainable development we urgently need provides an opportunity for culture shift, one that takes a long-term view – Manchester Metropolitan has laid a foundation for sustainability with robust strategy, transparency and a well-resourced team. This enables them to meet impressive targets in waste reduction or campus carbon management.
"By then bringing an understanding of environmental sustainability into the curriculum, Manchester Metropolitan is meeting the call for a university that enables our students and future communities to meet climate and social justice issues, with solutions."
How we fared
See how Manchester Metropolitan fared and take a look at the People and Planet league table here.
If you would like to find out more about environmental sustainability at Manchester Metropolitan, visit mmu.ac.uk/environment and register for the monthly Let's Make a Sustainable Planet newsfeed.