News |
Monday, 13th February 2017
Hate Crime reporting centres at Manchester Met
Let's End Hate Crime Together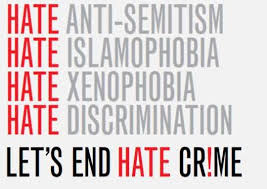 Staff and students have a right to feel safe, and Universities should be free from any form of discrimination or hate crime. We now have two hate crime reporting centres on campus.
What is Hate Crime?
Hate crime is any crime that is targeted at a person, or a person's property, because of hostility or prejudice in relation to:
disability
race or ethnicity
religion or belief
sexual orientation
transgender identity
alternative sub-culture hate crime
Hate crimes and incidents come in many different forms, and may not necessarily be physical violence. Someone using offensive language towards you, or harassing you, is also a crime.
When and why should you report it?
Even if you might just want to shrug it off and forget about it, if a hate crime happens to you or you witness it happening to someone else, it is important that you report it.
By reporting hate crimes when they happen, the police can investigate and stop it from getting worse, for you or someone else. They can also use that information to better understand the level of hate crime in your local area and improve how they respond to it.
How should you report it?
Hate crime in any form is wrong and should be reported at the earliest opportunity. You can provide as much or as little personal information as you wish. With your details an incident can be investigated fully and you can get the support you need however, without your details the report will be used for monitoring purposes.
There are lots of ways that you can report a hate crime:
Directly to the Police. Call 999 if it is an emergency or you are in danger. Otherwise, call 101 at any other time or visit your local police station.
Online. If you do not wish to report a hate crime directly to the police, you can report it online at www.report-it.org.uk
On campus. We have two hate crime reporting centres on campus, whereby trained staff can report a hate crime on your behalf and also provide you with advice and support. Our reporting centres are at The Union MMU Advice Centre and Birley Student Living reception.
Off campus. Manchester Student Homes are also a third party hate crime reporting centre and are based in Fallowfield.
You can also contact Manchester Met's Counselling, Health and Wellbeing team if you have been affected by, or left distressed after, witnessing a hate crime.