News |
Tuesday, 2nd May 2017
Manchester Metropolitan University achieve Gold status in the Disability Standard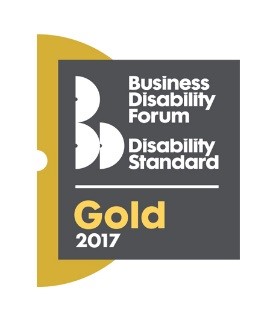 Manchester Metropolitan University has become the first university to achieve the Gold status in the Business Disability Forum's (BDF) Disability Standard.
In an evaluation under the world-renowned management tool, which assessed the University's approach to disabled students and employees, Manchester Metropolitan became one of just five organisations to have achieved the highest rating of Gold.
The Disability Standard uses a thorough set of 10 criteria to evaluate performance across every aspect of an organisation and is the only tool to put such an emphasis on the whole organisation. Only companies scoring more than 90% in the Standard achieve a Gold rating. Manchester Metropolitan achieved an overall score of 92%.
Jean-Noel Ezingeard, Deputy Vice-Chancellor and Chair of the Diversity & Equal Opportunities Committee, said: "The award is result of a tremendous amount of work from the Equality & Diversity team, our Disabled Staff Forum, Equality & Diversity Champions and colleagues across the University that have worked very hard to deliver the environment that's been recognised by the award. Beyond the badge, this is also a celebration of our positive culture toward Equality and Diversity –something we are all proud of."
The BDF provided the University with an evaluation report, which benchmarked the current work on disability and identified further actions that will help to further improve inclusion, recognising the organisational benefits for the University's work, not just on disability. These actions will be incorporated into the University's new Equality and Diversity Strategy Action Plan so that there is clear accountability for their delivery.
Angela Matthews, Senior Disability Consultant at Business Disability Forum, added: "Our congratulations go to Manchester Metropolitan University on their wonderful score, which was earned through very hard work by all involved. The strength of the University's inclusive practices is in its keen proactivity in reviewing its performance and seeking the options of employees and students. We hope that their achievement inspires and encourages good practice among other universities and institutions of learning."
The University would like to extend our thanks to all those who were involved with the submission. The fantastic result reflects the commitment and tremendous effort of our colleagues in sustaining Manchester Metropolitan University's disability confidence and now becoming a sector-leading disability-smart organisation.