News |
Thursday, 1st June 2017
Heroes of heart, sonnets of sorrow and a city of creativity
Our latest Met Magazine features exclusive interviews, inspiration and more from our campus and beyond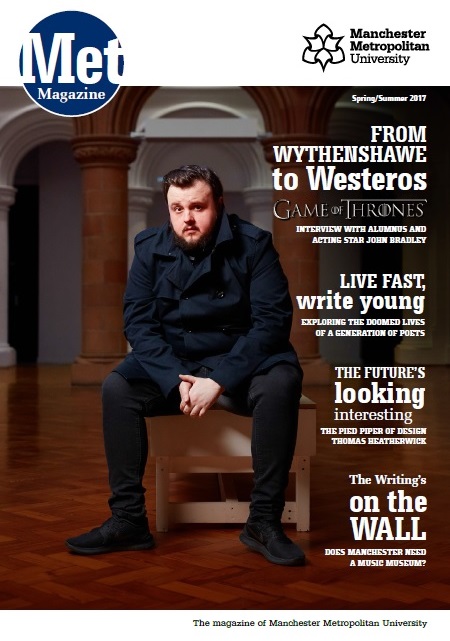 Packed with news, features, interviews and more from across our University and beyond, the latest issue of Met Magazine is available now.
As always, our spring/summer edition showcases some of the cutting-edge research and achievements of our staff, students and alumni, alongside some fantastic stories and articles you won't find anywhere else, including:
From Wythenshawe to Westeros
We talk exclusively to John Bradley, star of HBO's Game of Thrones, about his time at the University and what it is to be a part of one of TV's most talked-about shows.
How fake news changed the world
Following Professor of Crowd Science Keith Still's appearance at the centre of the Trump inauguration debate, we explore the problems, pitfalls and possible future of 'fake news'.
Celebrating our writing talent
A generation of 'doomed' poets through the eyes of Professor Michael Symmons Roberts, alongside a showcase of stories and poems from the 2017 Manchester Writing Competition.
Making the future a reality
How the vast potential of virtual and augmented reality is being threatened by a serious skills gap in the UK – and how our academics and students are tackling it head on.
Manchester: City of pride and innovation
Former council chief Howard Bernstein, UKFast CEO Lawrence Jones, Professor Sharon Handley and MIF's John McGrath discuss Manchester's rich past and bright future.
You'll also find an interview with leading designer Thomas Heatherwick, fascinating research around the effects of ageing, discussion on our city's need for a music museum and so much more…
Read the new-look Met Magazine online now at: mmu.ac.uk/metmagazine