News |
Friday, 16th June 2017
Computer games student scoops award for virtual reality healthcare lab
Ben Sinclair wins student prize at Big Chip digital awards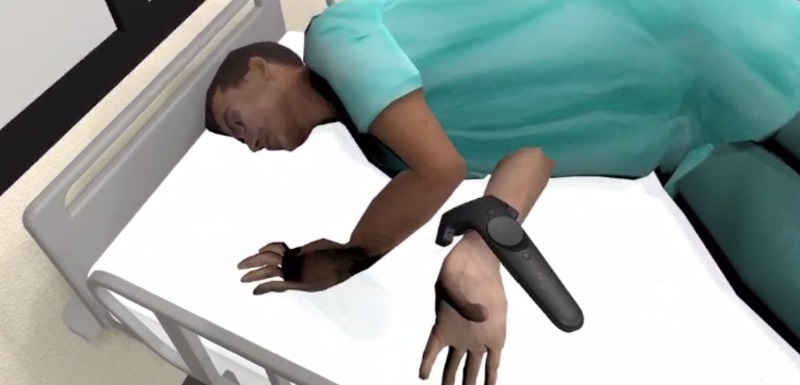 A student has won a prestigious local digital award for his work creating a virtual reality environment to help nursing and social care students.
Ben Sinclair, a third year computer games technology student, won the Little Chip Student Award at the Big Chip Awards 2017 organised by Manchester Digital.
For his final year project he has been recreating a real life simulation lab in the Brooks Building on Manchester Metropolitan University's Birley Campus in the virtual reality scenario - complete with treatable patients, working sink and reflections in a mirror.
The brief came from Leah Greene, Senior Lecturer in Simulation-Based Education, to explore a gap in the market dominated by expensive niche software found usually just in hospitals.
Enthralled by the technology
Ben said: "This project began with my passion for virtual reality.
"Ever since the first time I tried on a virtual reality headset, I was enthralled by the creative and immersive nature of the technology.
"Meeting Leah Greene and technician Phillip Chandler from the nursing department, as well as my tutor Huw Lloyd, allowed me to take the project to the next level by exploring VR in education and other non-entertainment fields.
"The project shows the power of VR throughout a range of industries as well as the power of cross faculty cooperation."
Ben is out of the country and his award was collected by his tutor, Huw Lloyd, Senior Lecturer in Computer Games Technology.
Real contribution to faculty
Mr Lloyd said: "Ben developed a detailed and immersive virtual reality simulation for healthcare training.
"He has made a real contribution towards the Faculty of Health, Psychology and Social Care's ground-breaking research into simulation-based education by applying his skills in cutting-edge game development and VR technologies.
"Ben took the lead throughout in shaping his project, and his nomination for the Little Chip award is richly deserved."
Second student is finalist
A second student, Craig Harley, was a nominated finalist in the same category.
His supervisor, Lecturer Dr Anthony Kleerekoper, said: "Craig has produced an excellent mobile app allowing users to explore the connections between Premier League footballers.
"This is fundamentally a challenging task requiring a complex graph search, but Craig has made use of advanced technologies to make this search real-time.
"He has worked extremely hard, going far beyond the original specification, and his shortlisting for the Little Chip Award reflects the high-quality of his work."
Read more about Ben and Leah's VR project in the latest edition of the University's Met Magazine: https://www2.mmu.ac.uk/metmagazine/