News |
Wednesday, 12th July 2017
Marketing graduate travels and blogs way across globe in search of happiness
Les Latchman wins coveted 'Unternship' with communications agency Golin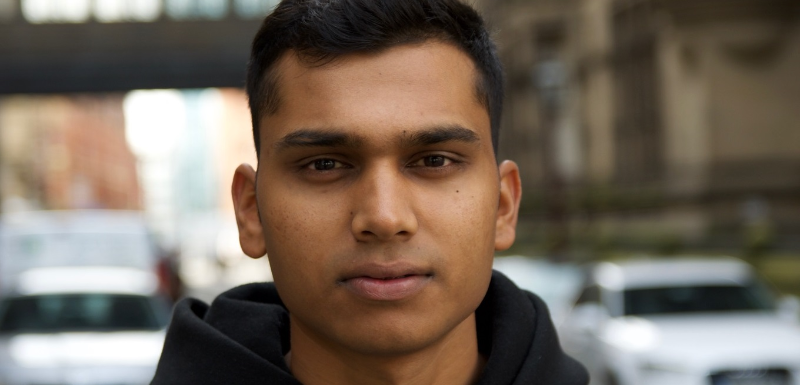 A marketing management graduate from Manchester Metropolitan University is to enjoy a once-in-a-lifetime trip to exotic Central America and blissful Nordic nations ­– as a job.
Les Latchman won a competition launched by international communications agency Golin's London office to find a lucky intern to explore the world with an envy-inducing 'Unternship'.
The 23-year-old, a three-time junior world karate champion who hails from Birmingham, will be blogging, Tweeting and taking photographs on his two-month adventure to visit the countries considered the most contented in the world.
Les said: "It's an unlikely internship that pays you not to come to work.
"With my flights booked and bags packed, I'm about to embark on an epic and insightful journey through the world's happiest countries.
"A few months ago while pulling all-nighters in the library, it's fair to say I could never have pictured this.
"I was working hard for my degree finals at Manchester Metropolitan University.
"However, I must thank my ability to successfully procrastinate for allowing me to stumble upon this incredible opportunity while endlessly scrolling through Facebook on one of those many all-nighters.
"Stuck in the increasingly common graduate dilemma of either diving straight into the exciting world of work, or dropping everything and going travelling — the Golin Unternship quite literally provided the best of both worlds."
Starting on July 11, Les will climb the most challenging mountains and kayak through fjords in Norway, watch the migration of endangered humpback whales in Costa Rica, connect with complete strangers in Denmark, volunteer in Costa Rica and learn Spanish and surfing Costa Rica and Colombia.
He will embrace the five actions for improved happiness as identified by the UK government. These include being active, taking notice, connecting, giving back and keep learning.
Les said: "My final idea revolved around the topic of happiness. I aim to spend my Untern adventure discovering and trying to understand the art of happiness in the world's statistically happiest countries.
"Thus my idea was born, during my Untern adventure I'm going to travel to two of the top countries on the UN report – Norway and Denmark and two of the top countries on the Happy Planet Index – Costa Rica and Colombia.
"I'll delve deep into the heart of each unique culture, then I will compare and contrast my experiences to provide first-hand insight."
Les' tutor, Jeff McCarthy, a Senior Lecturer at Manchester Metropolitan University, said: "We are absolutely delighted Leslie has achieved this success with Golin.
"He is a real credit to himself, Manchester Metropolitan and his family.
"He has totally committed to achieving his previously untapped potential - the sheer quality of his work has resulted in him shaping University teaching.
"He has really applied his passion for travel, culture and learning.
"Les always conducts himself with integrity too. He is the embodiment of going from strength to strength.
"I'm sure he'll be making many of us wish we were travelling with him. We can't wait to hear more about his travels through his blog and how he gets on with Golin with his paid internship."
Follow Les' adventures via his blog at golin.com/uk/unternship or via his Twitter account @GolinUntern or his personal Instagram account @LeslieAlfonso