News |
Tuesday, 25th July 2017
New electric cars to help the University cut carbon emissions
Part of a growing green fleet at Manchester Metropolitan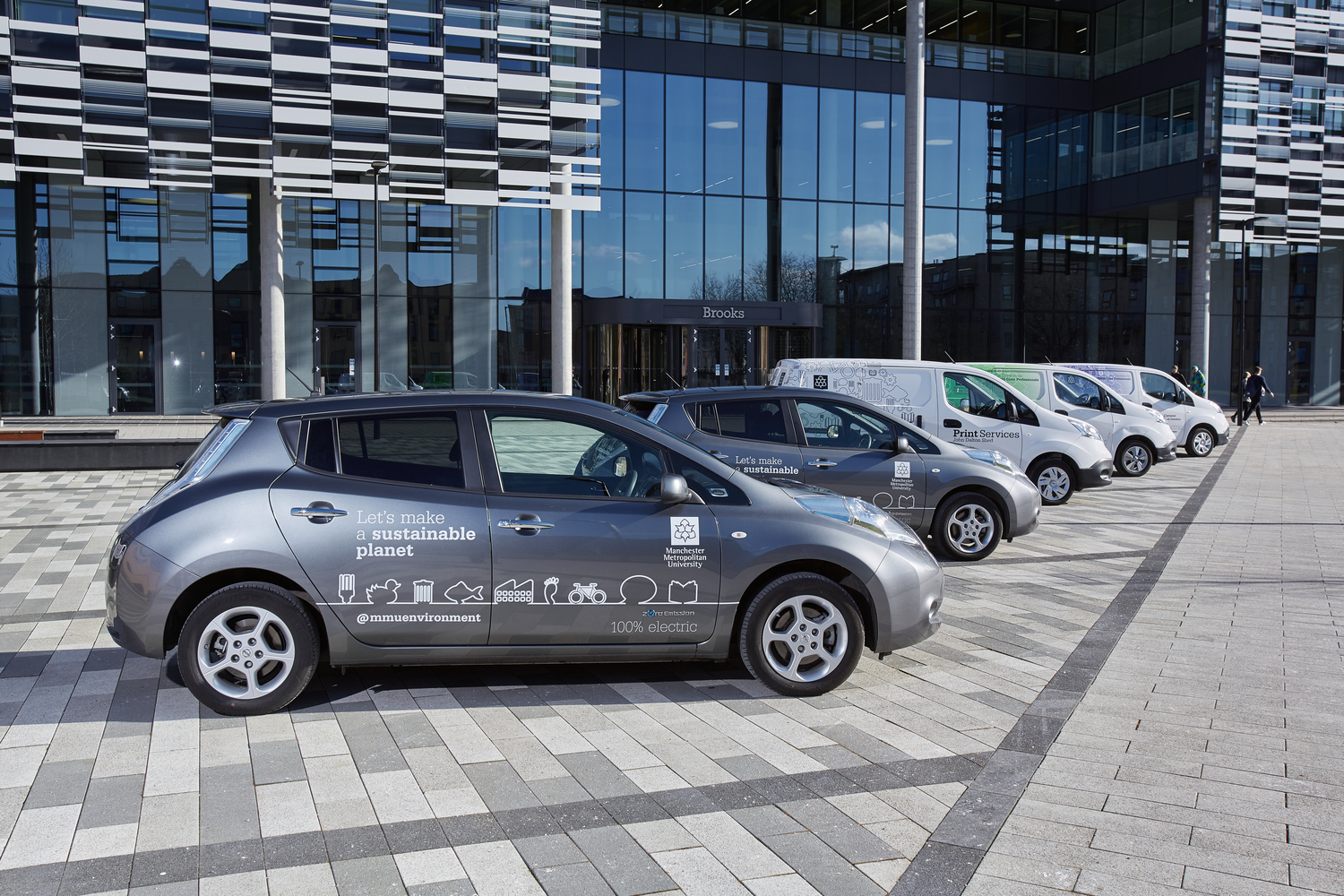 Manchester Metropolitan University is cutting carbon emissions by using electric-powered vehicles for its staff car share scheme.
The University has added two 30KW electric cars to the share scheme, allowing more staff to opt for a low-carbon option for business journeys and leave their cars at home.
This is in addition to the fleet of electric vehicles already in use at Manchester Met for its facilities teams and the mail deliveries taking place by electric bikes. There are also 36 electric car charging points across the University campus.
The new vehicles are part of the Triangulum project, funded by the European Commission, which sees Manchester City Council working with Manchester Metropolitan and the University of Manchester (UoM) to transform their vehicle fleets and make significant energy savings, while demonstrating the power of the new innovations to help create economic growth.
Going green
Manchester, Eindhoven and Stavanger are all taking part in the scheme, which runs until 2020.
Dr John Hindley, Assistant Director of Estates Management and Sustainability at Manchester Met, said: "We're committed to reducing our carbon footprint and becoming ever more sustainable as a University. We're now able to provide staff with the option of leaving their own vehicles at home to use an electric car for business journeys, in addition to the fleet of electric cars already in use. Our electric car charging points make this possible but also help to encourage more people to consider electric cars with the charging points open for community use."
Many mail deliveries at Manchester Met are now made by electric bike, a process made simpler thanks to the recent Wilmslow Road Cycleway scheme, which makes cycling safer and easier along Oxford Road.
Sustainable
Meanwhile, electric cargo bikes have been made available to local businesses on a free trial, with the UoM's IT services department already having taken advantage of this offer in addition to UoM changing seven of its diesel operational services vans for electric vehicles.
Data gathered from usage of the electric vehicles and e-bikes is being used to develop to a greater understanding of mobility in the city.
The Leader of Manchester City Council, Sir Richard Leese, said: "Manchester needs to generate growth and create more jobs, but we need to do that in a way that is environmentally sustainable. Using new disruptive technologies and sharing knowledge is the most effective way to achieve that - and being a 'smart city' is Manchester's future."

Triangulum is a project funded by the European Commission to demonstrate cutting edge smart city technologies and roll them out across the world.
To view a short film about the project's work in the Corridor Manchester innovation district, go to http://triangulum-project.eu/.
The city is working with Manchester Metropolitan University and the University of Manchester, Siemens, Clicks and Links Ltd and European collaborators to demonstrate how 'smart green growth' can reduce carbon emissions while boosting the economy. €9m is being invested in Manchester through the project.