News |
Thursday, 27th July 2017
First Master of Sport Directorship graduates collect their degrees
Preparing the new generation of sport industry executives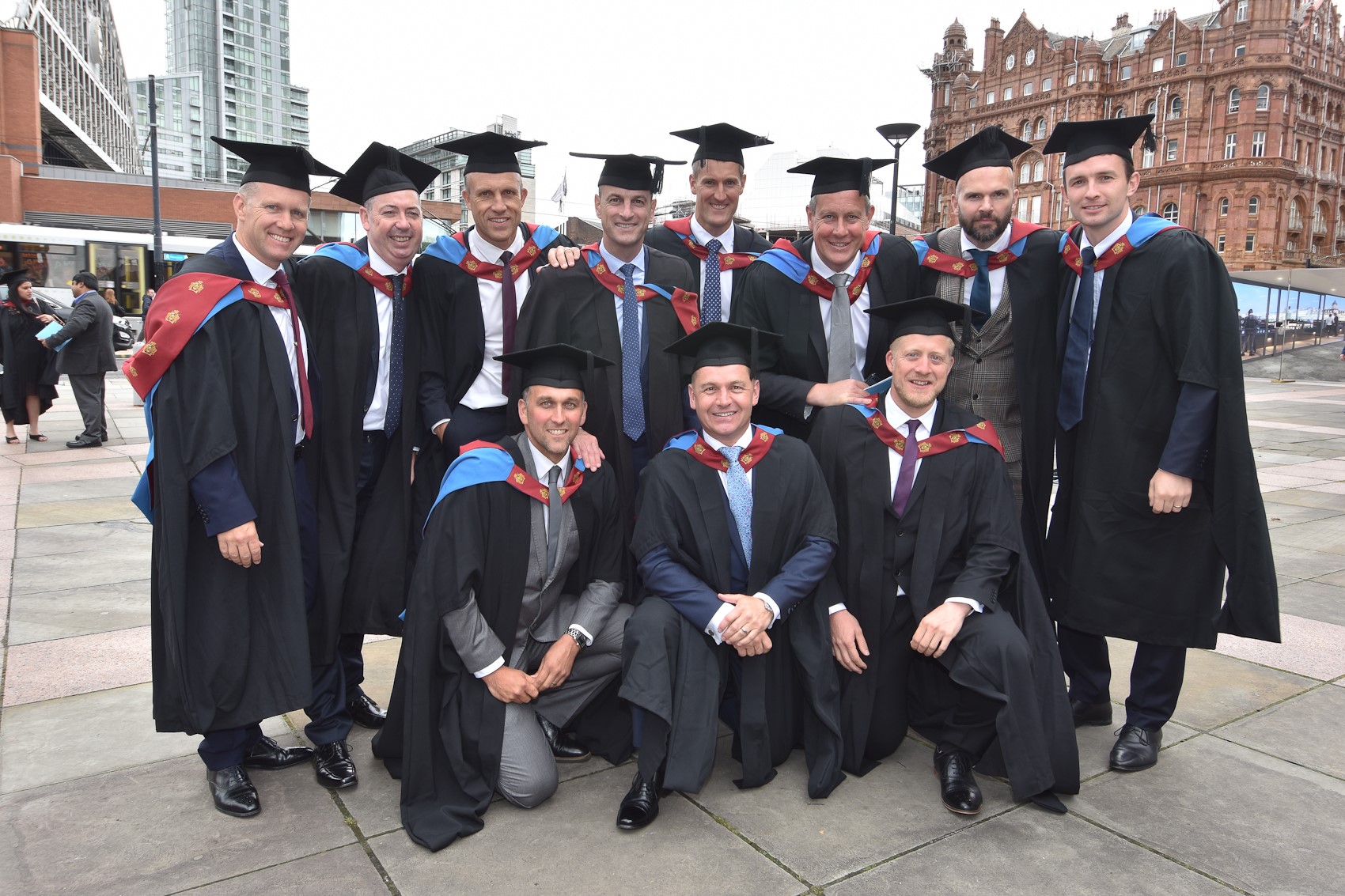 The first graduates from Manchester Metropolitan's Master of Sport Directorship course have proudly received their degrees.
The elite programme ­– the first of its kind in the UK and the world's only academically validated masters-level sporting director course ­– prepares professionals and executives for a career as a sport industry leader, helping to bridge the gap between the playing field and boardroom.
The graduates are the first to have officially completed the two-year programme.
They include former England cricketer and current Warwickshire CCC Sport Director Ashley Giles, former England women's football international Becky Easton, Michael Appleton, assistant manager of Leicester City FC, and Steve Round, Aston Villa FC Technical Director.
Influential role
Sport director is quickly becoming one of the most influential roles in sport. The Master of Sport Directorship has been running at Manchester Metropolitan since 2014, with the fourth cohort due to arrive in September.
Dr Sara Ward, MBA and Executive Programmes Director, said: "We are incredibly proud to see our first Master of Sport Directorship cohort graduate from Manchester Metropolitan. Many congratulations to all of them.
"They are already making an impact in the sport industry, occupying key executive roles across a range of sports, and putting the invaluable insight from the course into practice.
"We look forward to welcoming more students to the Master of Sport Directorship programme as they start to make the successful transition into sport directors and executives, which are increasingly integral roles to the success of sport organisations."
Leading course
Focusing on sports governance and best practice, leadership, innovation and change, personal development, and with contributions from some of the sport industry's most respected figures, the postgraduate course has attracted professional sports and business people from around the world.
It is widely seen as one of the most direct routes to the relatively new role of sport director.
The University recently announced two women's scholarships worth £9,000 for the programme to increase female representation at board level in sport.
For more information on the Master of Sport Directorship, log on to: http://www2.mmu.ac.uk/business-school/study/professional/master-of-sport-directorship/.