News |
Monday, 7th August 2017
Computer models help safely launch lifeboats in rough seas
Research project in line for prestigious engineering award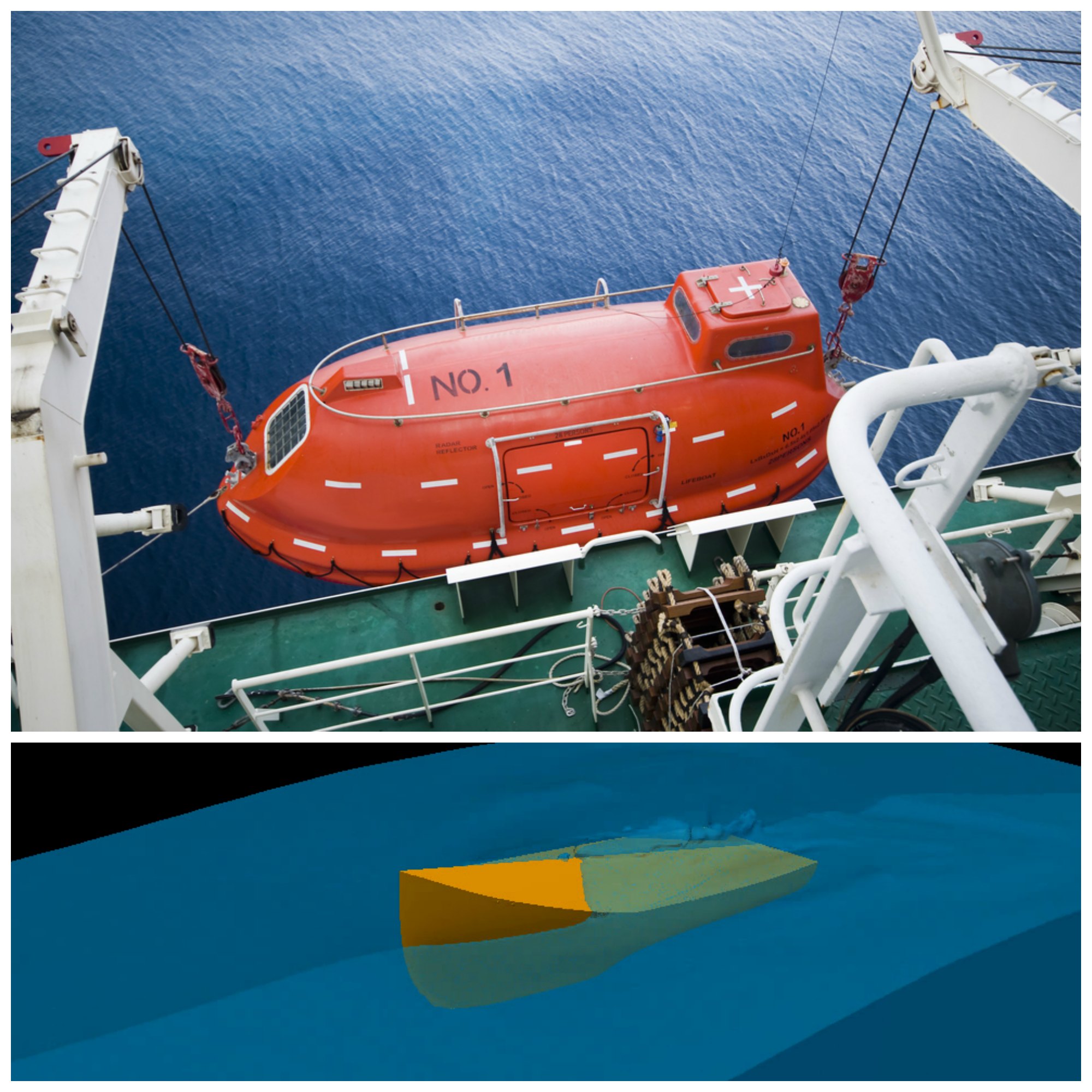 A project to better understand how to safely launch and retrieve lifeboats from bigger ships has been shortlisted for a prestigious engineering award.
The £1.2m research uses advanced computer modelling to predict the motion of two different bodies – small and large ships – when in close proximity in high seas.
The Computational Fluid Dynamics modelling tool is essential to identify and reduce the risk of collision and unacceptable motions during marine launch and recovery operations, both civil and military.
It is also needed for early testing of new concepts and systems for such operations to identify suitability and safety issues.
Accurate and efficient
The Manchester Met-initiated and EPSRC-funded project has now been shortlisted for the Collaborate to Innovate award, in the competition organised by The Engineer magazine.
The project, which has just passed the half-way mark of its three-year funding, is run by the University's Centre for Mathematical Modelling and Flow Analysis (CMMFA). The academics are Dr Ling Qian, Dr Zhihua Ma, Prof Derek Causon and Prof Clive Mingham.
Dr Qian, Principal Investigator at Manchester Met and research group leader, said: "I'm delighted that the project has been shortlisted for such a prestigious award. Scientifically, an accurate and efficient modelling of the flow problem involving violent motion of water waves and its interaction with two floating bodies in relative and potentially arbitrary motions is a very challenging task and a number of novel CFD techniques need to be developed and implemented within the project.
"These can only be achieved by research teams working together in a truly collaborative environment where each partner brings a unique set of skills and contributions to the project."
Collaboration
Keith Miller, Head of School of Computing, Mathematics and Digital Technology, added: "The CMMFA has been carrying out leading edge research in computational fluid dynamics modelling of water waves and their impacts on offshore and marine structures, including novel wave energy converters, for the last 20 years.
"The group has been continuously funded through a succession of grants and contracts primarily through EPSRC. The selection of the project for the prestigious award is a testimony of the quality and collaborative nature of their research."
The industry-inspired project, titled 'A Zonal CFD Approach for Fully Nonlinear Simulations of Two Vessels in Launch and Recovery Operations', is a collaboration between three UK universities – Manchester Metropolitan, Plymouth and City – and five industrial partners: BAE Systems; RNLI; ESI Group; Zenotech Ltd; and System Engineering and Assessment Ltd.
Shortlisted entries are under eight categories including 'Transportation', 'Safety & Security' and 'Academic Innovator'. They will be judged by an industry panel with winners announced at a ceremony in London in September.