News |
Thursday, 31st August 2017
Record numbers of students and staff march with Pride
Celebrating and supporting the LGBT community at the Manchester Pride Parade 2017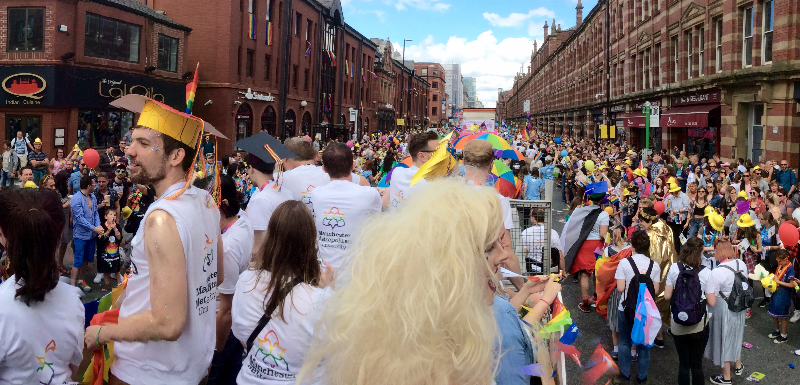 For the fifth year in a row, Manchester Met staff and students took part in the Manchester Pride parade to celebrate diversity and show support for the LGBT community.
Every August bank holiday weekend tens of thousands of people visit Manchester's world famous Gay Village in a vibrant display of solidarity and celebration. Manchester Pride, a registered charity, campaigns for equality and challenges discrimination; creates opportunity for engagement and participation; and celebrates lesbian, gay, bisexual and transgender (LGBT) life in the UK.
There were many events during the four days of festivities, including live music from Pixie Lott, Ultra Nate, Louisa Johnson and Faithless, and culminating with a moving candlelit vigil in memory of those lost to the HIV virus. One of the highlights of the weekend was the iconic parade.
Andy Harmon, Chair of the LGBT Society and Computer Science student, said: "This year more students took part than ever before either by taking part in the parade or by helping decorate and design our float. Pride at its core is about all LGBT+ communities coming together and honouring the people and events that got us the rights we have today as LGBT+ people. It's incredibly important that the University continues to reach out and celebrate the diverse student community we have at Manchester Met."
The parade was held on Saturday 26 August, starting at Liverpool Road and finishing next to Manchester Gay village. The parade was held on Saturday 26 August, starting at Liverpool Road and finishing next to Manchester Gay village. This year's theme was 'Class of 2017: The Graduation Parade', focusing on the importance of education in ending inequality. Tens of thousands of spectators were able to enjoy more than 3,000 brightly dressed parade participants, either on the floats or walking, as they marched their way through the streets of Manchester city centre
Andy Pilkington, International Immigration & Welfare Officer, explained: "The best part of organising the Pride Parade entry for Manchester Met was getting to work with so many different people within the university to create something that celebrates who we are, both individually and as an institution. Everyone worked so hard on every aspect of the entry including the float, aesthetic, marketing, publicity and social media. And to see that all come together on the day of the parade, celebrating unity and diversity whilst marching and floating proudly in our Manchester Met t-shirts, was a brilliant thing to see. Roll on next year!"
If you are interested in helping with the University's Pride Parade entry for 2018, please register your interest with the Equality and Diversity team at equalities@mmu.ac.uk
You can find out more about what the LGBT society here.