News |
Friday, 29th September 2017
What's On This Week: Oct 2nd – Oct 8th 2017
There are lots of fantastic student events taking place across our campuses next week!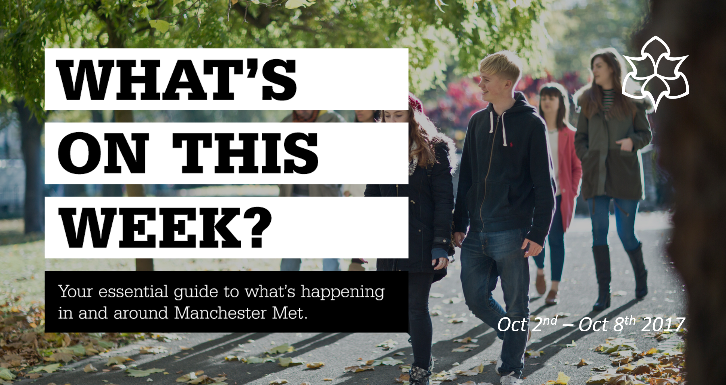 Manchester
When: various times and locations across campus.
Join the Learner Development & Disability Services team around campus celebrating the positivity of dyslexia throughout National Dyslexia Awareness Week.
When: Monday, 2nd October - 2pm-3pm at Geoffrey Manton.
Find out all the hints and tips on how to really make your CV stand out!
Take Back Manchester Festival 2017
When: Saturday, 30th Sept – Wednesday 4th Oct - various times and locations across Manchester.
Head down to the Take Back Manchester festival and learn more about the politics of austerity, racism and war with the aim of finding an alternative that works for everyone.
Globalisation, Nationalism and Devolution: Promoting localism in an interconnected world
When: Thursday, 5th Oct - 5pm-7.30pm in the Business School.
Learn about the conflicting claims of globalisation and nationalisation in this thought provoking lecture.
Use your LinkedIn to kick-start your career
When: Friday, 6th Oct - 1pm-2pm in John Dalton.
Get business Social Media savvy with this fantastic LinkedIn advice session.
When: various days, times and locations.
G‌‌‌‌‌‌et Autumn body ready with free sports, activities and fitness classes every week.
Cheshire
When: Wednesday, 4th Oct - 1pm-4pm in the Delaney building.
Get to the top of the class and improve the way you write at a university level with this informative 5-week course.
When: Thursday, 5th Oct - 7.30pm at the Axis Arts Theatre.
Come down and experience the internationally acclaimed Imitating the Dog's production of 'Nocturnes'.
Get in touch
Are you a student hosting an event on the Manchester or Cheshire campus? We want to hear from you! Please contact us via studentcomms@mmu.ac.uk