News |
Monday, 23rd October 2017
Science communication expert to create climate change engagement 'infrastructure'
Dr Sam Illingworth is part of the Climate Consortium project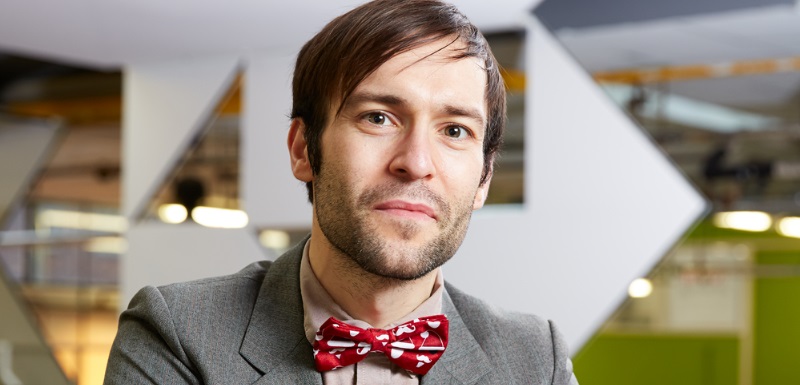 An expert in science communication at Manchester Metropolitan University is helping realise a national 'infrastructure' to deliver high impact public engagement with climate change.
Dr Sam Illingworth, Senior Lecturer in Science Communication, is one of the co-investigators on the Natural Environment Research Council-funded Climate Consortium project.
He is part of an academic team that will work closely with non-academic partners and organisations to evaluate the existing climate communications knowledge base.
The project team, which spans the length and breadth of the UK, aims to get a clearer sense of 'who is doing what' on climate change communication and to debate the most effective strategies and techniques for engaging the public with climate change.
Fantastic opportunity
Dr Illingworth said: "This is a fantastic opportunity to work with a truly interdisciplinary team on investigating a public engagement issue that is of national importance: how do we communicate climate change effectively to a diverse group of audiences?
"I am delighted to be involved in this project, and look forward to helping the team better understand the current UK capacity for communicating climate change, and what we need to do to ensure that all voices are being listened to and acted upon."
There are a growing number of people, organisations and institutions involved in the theory and practice of public engagement, and the level of interest and enthusiasm for communicating climate change is greater than ever before.
Resource for learning and campaigns
Climate Consortium recognises that the science of communicating climate change is just as important as climate science, and will be developing a resource that can act as the basis for student learning, doctoral training, and practitioner campaigns, all drawing from the best available evidence base on effective public engagement.
Climate Consortium is one of six public engagement capacity-building projects starting in October 2017, which form part of NERC's long-term plan to build strong engagement between members of the UK public and environmental science research and researchers.
Evaluate the knowledge base
Dr Harriett Richardson, NCAS Communications Manager and the project manager for Climate Consortium said: "We were inspired by the Intergovernmental Panel on Climate Change and decided to bring together leading experts on public engagement to evaluate the climate communication knowledge base. I'm delighted to be working with such a diverse and knowledgeable team and to be developing resources that will enable others to generate urgent public support for tackling the threat of climate change."
Besides Manchester Metropolitan University, the Climate Consortium team comprises members from the Priestley International Centre for Climate at the University of Leeds, Climate Outreach, the Royal Meteorological Society, climate change charity 10:10, Cardiff University, the National Centre for Earth Observation and the British Antarctic Survey.