News |
Monday, 11th December 2017
Students raise £1.3m for charity through donations
Unwanted goods collected from student accommodation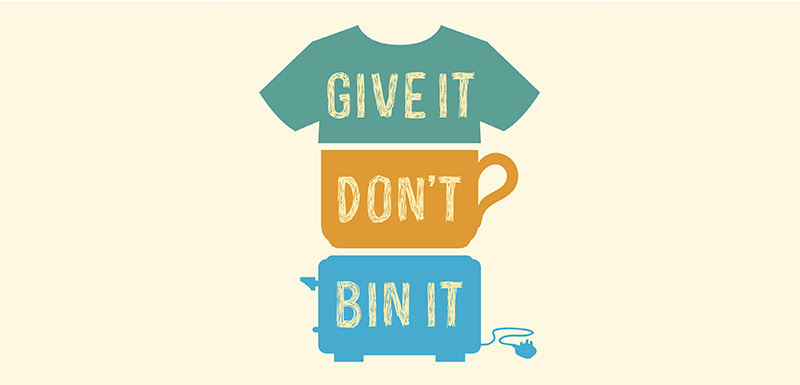 Students have raised as much as £1.3 million by donating unwanted items over the last six years to support the British Heart Foundation.
The donations form part of the 'Give It, Don't Bin It' initiative where student residents donate their goods when they leave halls or other accommodation. They are encouraged to donate unwanted items such as clothes, shoes, books, handbags, furniture, working electrical goods and unopened food items.
The aim is to make reusing and donating as easy as putting items into a general waste or recycling bin. In 2017 alone, donations received as part of the campaign could have raised as much as £318,000.
The 'Give It, Don't Bin It' campaign was set up by Manchester Metropolitan University in 2008 as a pilot campaign at the end of term, aiming to encourage students living in Cambridge halls of residence to donate their unwanted items. In its first year, approximately 1.8 tonnes of unwanted items were donated to charity.
Joining forces
It now forms a partnership between Manchester Metropolitan, the University of Manchester, Manchester City Council and Manchester Student Homes. It represents the equivalent of almost 80,000 students who live in central and South Manchester.
John Hindley, Assistant Director of Estates Management and Sustainability at Manchester Metropolitan University, said: "We are incredibly proud that the Manchester partnership has worked so successfully together to encourage more and more students in Manchester to donate their items year on year, which is estimated to have raised well over a million pounds in support of the British Heart Foundation since 2012.
"From humble beginnings when Give It Don't Bin It was established at Manchester Metropolitan in 2008, we are delighted that the campaign has gone from strength to strength; demonstrating that effective partnerships, where multiple agencies act together, can have such a huge impact."
The partnership has also won a CIWM (Chartered Institute for Waste Management) award in the Best Reuse and Waste Prevention category for 2017 and representatives from the campaign were recently invited to the House of Lords for recognition of the success of the campaign.
Making a difference
Simon Gillespie, Chief Executive of the British Heart Foundation, said: "Thank you and congratulations on this remarkable achievement by the Manchester Partnership. The generous donations and amazing volunteering has supported vital life-saving research, including 58 projects across the city, into devastating and often life-threatening heart and circulatory diseases that affect seven million people in the UK and hundreds of millions globally."
Manchester City Council's Executive Member for Neighbourhoods, Councillor Nigel Murphy, said: "The Give It, Don't Bin It campaign ensures that every year, thousands of items are reused and recycled, instead of being needlessly thrown away. Thanks to the efforts of the partners involved and the enthusiastic support of volunteers, more and more students are showing pride in the area they live in and helping us to make south Manchester a cleaner, brighter place – while also raising significant amounts of money for the British Heart Foundation."