News |
Tuesday, 16th January 2018
Bag yourself £100 and design a Library tote bag
Calling all School of Art students!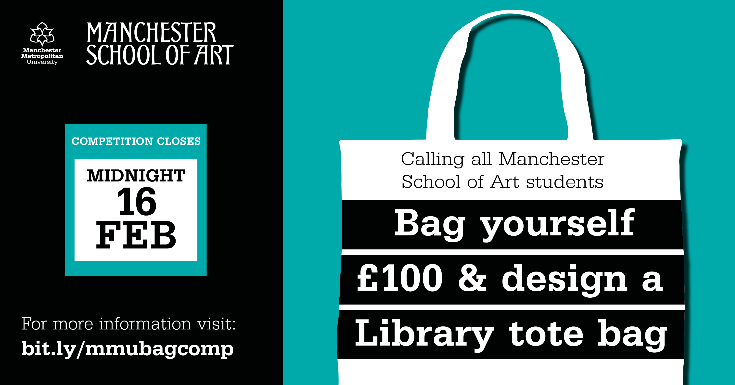 The Library are running an exciting competition to find a stand-out design to feature on a new canvas tote bag.
As part of the University's commitment to environmental sustainability and listening to the student voice, the Library will be introducing reusable tote bags for students and staff to purchase and use.
The competition is open to all current Manchester School of Art students and there is £100 (on your Met Card) up for grabs for the winning design, as well as the chance to see your work being used across campus!
What you design is completely up to you, maybe you wish to take inspiration from your own experience? However, it should be recognisable to others as representing the University's Library. Full details of the brief and specification can be found below.
Competition closes at midnight on Friday, 16th February, so get your creative juices flowing! All the entries will be reviewed by a panel, which will include Malcolm Garrett, a renowned graphic designer and notable Manchester School of Art alumnus.
Professor Garrett founded the innovative graphic design group Assorted iMaGes while still at the School of Art in 1977 and created landmark designs for Buzzcocks, Duran Duran and Simple Minds. He is now Creative Director at the design consultancy Images&Co and is a Founder and Joint Artistic Director of the Design Manchester festival. You can visit his exhibition at our Special Collections Gallery in the All Saints Library.
If you have any further questions about the competition or wish to submit your design, please email library@mmu.ac.uk with the subject field 'Library Bag Competition'. Best of luck!
Full brief
Create a tote bag design which Manchester Metropolitan University students and staff will want to buy and use
The design should reflect the University's Library, but take inspiration from your own experience and stay true to your own style
Include 'Manchester Metropolitan University Library', 'Mcr Met Library' or the University's logo and 'Library' in the design - logos can be provided on request
The design must be one colour and will be printed on an undyed cotton tote bag
Image size should be 28cm x 28cm and will sit on a 38cm x 43cm tote bag
Entries will be judged on their originality, design and that it has accurately met the brief
Your design may be adapted in line with print requirements and University brand guidelines
The winning design will be promoted throughout the University and the tote bag will be sold in the University Library
Please include your name, student ID number, course and year of study when submitting your design. If you have a social media profile that we can tag you in, please include this also.
Artwork specifications
Size: Art must be 100-percent of the size to be reproduced
Graphic Applications: Adobe Photoshop CS3, Adobe Illustrator CS3
Files accepted: PDF, TIFF, EPS, AI, PSD
Please ensure that all fonts are converted to outlines to eliminate the likelihood that we do not have the fonts used in your artwork, or embed them in the file
In submitting your entry you assign the artwork to us for use and hand over any right to use the design for any other purpose. Although there is a £100 prize for the winner of the competition, there is no further financial arrangements involved for the continued use of the design by the University.