News |
Tuesday, 6th February 2018
Click It, Fill It, Win It: the National Student Survey 2018
Final year undergraduate students – reflect on your student experience for a chance to win one of 120 amazing prizes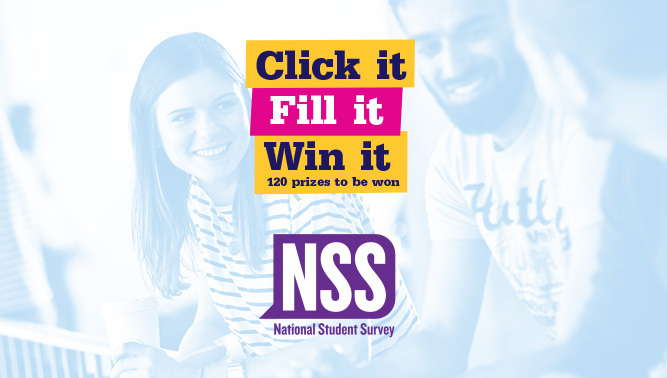 The University has launched its Click It, Fill It, Win It campaign to promote the National Student Survey (NSS).
This annual survey gives eligible final year undergraduate students the opportunity to reflect on their experience at the University and provide feedback about their course.
Filled in online, the survey - being managed by market research company Ipsos MORI for all higher education providers in the UK - is quick and easy to complete, and all the responses are anonymous.
Alongside other forms of student feedback, the NSS will help inform the future student learning experience and will help prospective students make the right choices of where and what to study.
For more on the survey and how to complete it, see our dedicated NSS information page.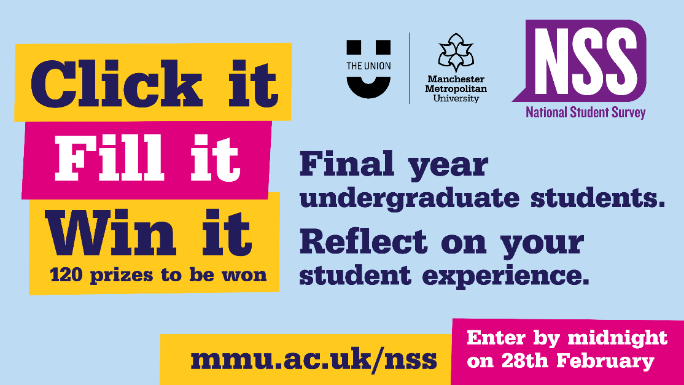 The Manchester Metropolitan NSS prize draw is open to all eligible final year undergraduate students (who opt in through the National Student Survey website) until midnight on Wednesday 28 February 2018.
The prizes up for grabs are:
20 x Graduation Photography Packages (value £90)
50 x Graduation Gowns (value £45)
50 x £50 High Street Shopping Vouchers