News |
Wednesday, 21st March 2018
Graphic Design student wins the Library bag competition
The new canvas tote bag will be available in the summer term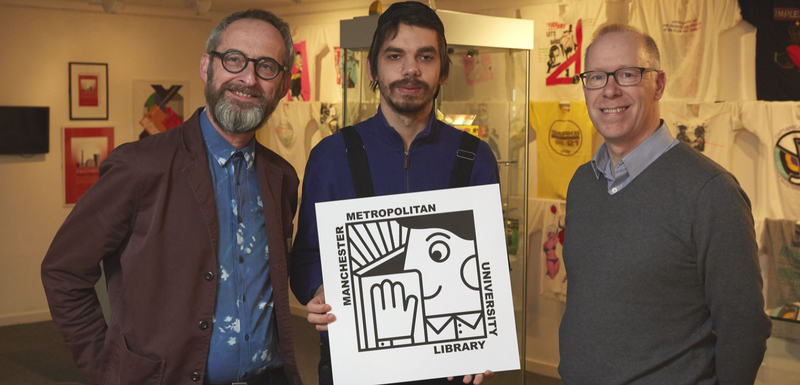 As part of the University's commitment to environmental sustainability and listening to the student voice, the Library will be introducing reusable tote bags for students and staff to purchase and use.
During January and February, Manchester School of Art students were invited to enter a creative design to feature on a new canvas tote bag and win £100.
The winning design
Congratulations to second year Graphic Design student, Waldemar Stepien, who was selected as the winner for his bold and inventive design.
Waldemar's graphic impressed the judges for creatively responding to the brief to design a bag that reflects the University Library. Judge Malcolm Garrett said: "This is my favourite illustrated entry. I like the corner of the book aligning with the person's nose – their nose is literally in a book."
Joe McCullagh, Head of Design at Manchester School of Art, was impressed with the quality of entries: "It was very difficult making a decision as all of the entries were thoughtful and really responded well to the brief. They highlight and illustrate extremely well our great, lovely, cherished Library. The winning design was bold and graphic, humorous and engaging. It puts over the lovely feeling of being happily lost in a book."
The new bag will be available in the Library in the summer term.
"We've really enjoyed working with the School of Art on this competition", said Deputy University Librarian Paul Everitt. "I've been so impressed by all of the entries and the talent of Manchester Metropolitan students. I look forward to seeing our bag all over Manchester!"
Thank you to all the students who entered and you can see more entries on the Library's Instagram page.