News |
Wednesday, 21st March 2018
National Student Survey 2018: Prize winners announced
Thanks to over 4,300 students who have already completed the survey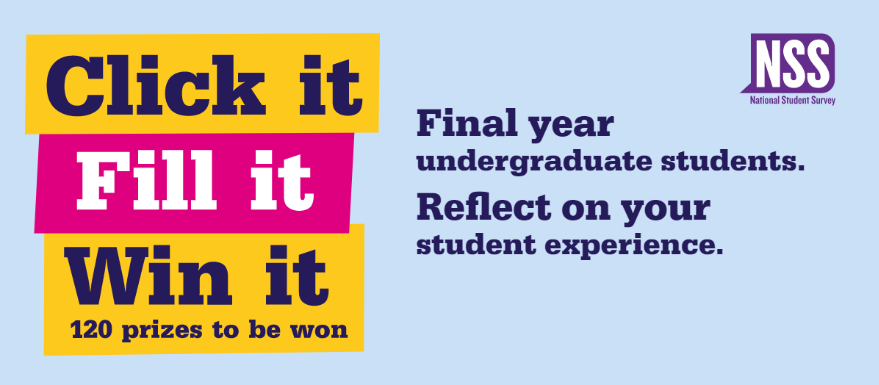 Each year, the National Student Survey (NSS) gives our final year undergraduate students the opportunity to reflect on their experience at Manchester Metropolitan and provide feedback about their course.
As part of the University's 'Click it. Fill it. Win it.' NSS promotional campaign, eligible students had a chance to be entered into our prize draw to win one of 120 great prizes.
The prizes up for grabs were:
20 x Graduation Photography Packages (value £90)
50 x Graduation Gowns (value £45)
50 x £50 High Street Shopping Vouchers
The prize draw closed at midnight on Wednesday, 28th February and we are pleased to announce the winners below.
The lucky winners can collect their prize at 11.30am on Thursday, 22nd March in the Business School 1.22 or by contacting Sarah.Starkey@mmu.ac.uk.
Although the prize draw is closed, eligible students can still reflect on their experience at Manchester Metropolitan by completing the NSS, which is open until Monday, 30th April 2018.
You can find out more and complete the survey here.
NSS 2018 Prize Winners
Graduation Photography Packages:
Alexander Peter Holliday
Amanda Jia Yun Chua
Beatriz Fiel
Bethany Haigh
Billy Hume
Giuseppe Veloce
Habib Mohamed
Ieva Ruzgyte
James Thomas Yeomans
Jennifer Buckle
Laura Recsetar
Lewis Morgan
Lucy Alice Tallis
Mary Smith
Megan Hirst
Megan Walker
Mica Rose Howard
Noorullah Shakerullah
Sian Matthews
Xenia Myriantheos
Graduation Gowns:
Aamir Khan
Alisha Bhairon
Anderson Lo
BJ Mones
Callum Birchall
Christopher King
Daniel Ashmore
Dean Thomas Williams
Dominic William Brewer
Dwight Johns
Elan Clayforth
Ella Slaney
Emily Jayne Atherton
Gabriella Francesca O'Neill
Gemma Ilse Robinson
Georgia Beth Jones
Hamza Yusuf
Hanna Mulugeta
Harisah Begum
Harry Ormerod
Hayley Guyler
Helen Bates
Jan Yaqub
Jane-Ann Meah
Jenny Le
Jessica Crampton
Joe Curtis
Josh Thompson
Jun Huan Zhao
Kamala Queeley
Katie Henderson
Lucy Derbyshire
Lydia Alexandra Jayne Vennart
Mehvish Haroon Baig
Michael Moroz
Natalie Vaughan
Oliver Newman
Rabbia Tul-Zohra
Rebecca James
Rumena Begum
Sabrina Begum
Sam Bindloss
Sara Hussain
Scott Richardson
Sean Simpson
Sehr Hussain
Shannon Collins
Sozy Ahmed
Zaynah Ahmed
High Street Shopping Vouchers:
Aileen Bolton
Alexander John Jones-Wright
Alexandra Longden
Alice Houghton
Amelia Lea
Amy Jane Smith
Angharad Jayne Brideaux
Bailey Mark Shooter
Campbell Bishop
Conor Hand
Daniel Baker
Danielle Rogers
Dayle Whittaker
Dean Burns
Eleanor Nurse
Elleanor Goodall
Ellie Ryles
Emma Cholmondeley
Emma Jennifer Wilson
Faye Cragon
George Newsome
George Samuel Turner
Hannah Mandy Butterfield
Jakub Holubek
Javairia Latif
Joash Riley
Joshua Jon Williams
Joshua Mark Ellis
Kathryn Antonia Bell
Laura Bilgin
Lucy McManus
Lucy Hanna Dutton
Madeleine Louise Botting
Mathusha Easwaran
Matthew Towers
Matthew Nicholson
Matthew William Clarke
Muhammad Bilaal Hussain
Nabilla Florisa Syabani
Niamh Burke
Ophelia Mercedes Phelps
Rachael Devine
Rebecca Paige Burns
Rizwana Azam
Sabrina Khawaja
Sara Amiri-Hartley
Shaunogh Butcher
Thomas Moran
Tina Ann Ranson
Yasmin Kiely