News |
Wednesday, 28th March 2018
National Student Survey 2018: Meet the prize winners
Thanks to all students who reflected on their experience and completed the survey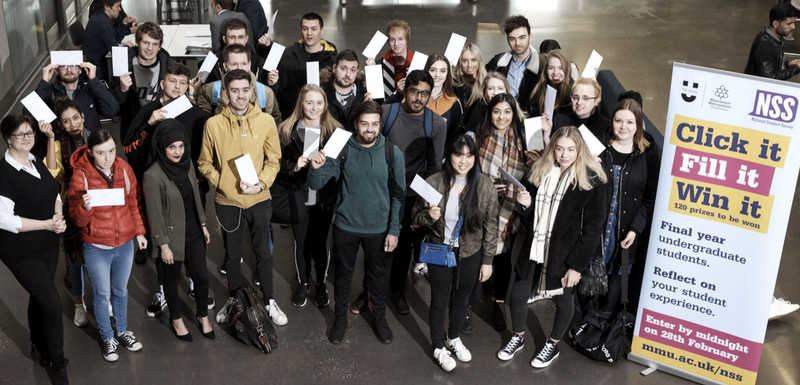 Last week, 120 final year undergraduate students collected their prizes for sharing their views about their student experience by completing the National Student Survey (NSS).
The prize draw formed part of the University's 'Click it. Fill it. Win it.' NSS promotional campaign and a host of fantastic prizes were given to the lucky winners including; graduation photography packages, high street shopping vouchers and graduation gowns.
Fashion student, Gemma Robinson, was very happy to win a graduation gown:
"I was absolutely made up to win the prize and I think it's really important that we fill out these surveys. A lot of students complain, but nothing can be done unless we give our feedback."
Architecture student, Joe Curtis added:
"I wanted to give my feedback on my course because I have seen an improvement since I have been here and it's good to see that the comments are taken on board and we are listened to. The survey gives students the chance to give honest and non-biased answers to make an improvement."
This year, over 4,300 eligible students took the time to share their views during the NSS campaign period, which ended on Wednesday, 28th February.
Professor Helen Laville, Pro-Vice-Chancellor for Education, was delighted with the result:
"A huge thank you to the thousands of students who completed the NSS. We really are grateful for the time students spent filling in the survey and providing valuable feedback, especially at such a busy time of year."
Although the prize draw is closed, eligible students can still reflect on their experience at Manchester Metropolitan by completing the NSS until Monday, 30th April 2018.
You can find out more and complete the survey here.