News |
Friday, 18th May 2018
Athena Swan bronze award presented to University
Promoting gender equality in higher education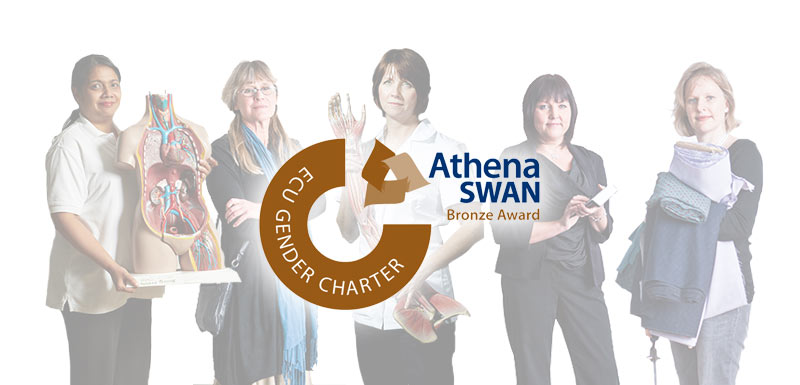 Manchester Metropolitan University has been awarded the institutional Athena SWAN Bronze award in recognition of its commitment to gender equality.
The Equality Challenge Unit's Athena SWAN Charter was established in 2005 to encourage and recognise commitment to advancing the careers of women in science, technology, engineering, maths and medicine (STEMM) employment in higher education and research.
In 2015, the charter was expanded to address gender equality more broadly, and not just barriers to progression that affect women, and to recognise work undertaken in arts, humanities, social sciences, business and law, in professional and support roles, and for trans staff and students.
The University became a member of the Athena SWAN Charter in 2009 and has since worked hard to support more women in STEMM.
Equality
Professor Jean-Noel Ezingeard, Deputy Vice-Chancellor and chair of the University's Diversity and Equality Committee, said: "I am delighted with this achievement. Promoting gender equality in career opportunities is vital to our success as a University, and the award recognises our commitment to this. It wouldn't have been achievable without the dedication of staff across the University who continue to engage with, promote, and advance E&D at all levels in the workplace. "
Manchester Metropolitan submitted the application in November 2017, developed by the SAT which spreads across 10 academic departments.
To obtain the bronze award, the team reflected on its current practices in generating opportunities and how it aims to deliver improvements.
In the application, the team highlighted the University's successes: ranked fourth in the sector on the Stonewall Workplace Equality Index and climbing 125 places to 41st overall in the Top 100 Employers list.
It also discussed the University's strategic framework that shows its close relationship with the city, with business, the community and academic peers – locally, nationally and internationally – to generate opportunities, and enable students and colleagues to make an impact.
Further progress
The SAT also held focus groups to explore how men and women experience flexible working arrangements, parental leave, perceptions of working patterns, new promotional procedures for Reader and Professor, and change management and performance culture. As part of the University's priorities through the Athena SWAN charter, a suite of new family-friendly policies have recently been launched on the HR webpages, influenced directly by the consultation held with staff.
Stuart McKenna, Equality and Diversity Manager at the University, added: "Manchester Metropolitan has already seen signs of increased awareness of issues around gender equality – the University performs well against national averages on female staff in traditionally male-dominated areas, but through our analysis in this submission, we are committed to improving further.
"The Faculty of Business and Law has also developed a new series of specialised interviews with female academics, to highlight their research, called 'Expert Women Series 2017'.
"The University commits to continuing to strive for full equality, and over the next few years will have particular emphasis on technical services. To do this, the SWAN board has ensured funding for a new role of Technical Services Development Manager, to develop a mechanism to attract more women into the profession and support those already working in technical roles to progress further."