News |
Thursday, 31st May 2018
Consul General of China helps launch University scholarship
Students to study at Nanjing University of Aeronautics and Astronautics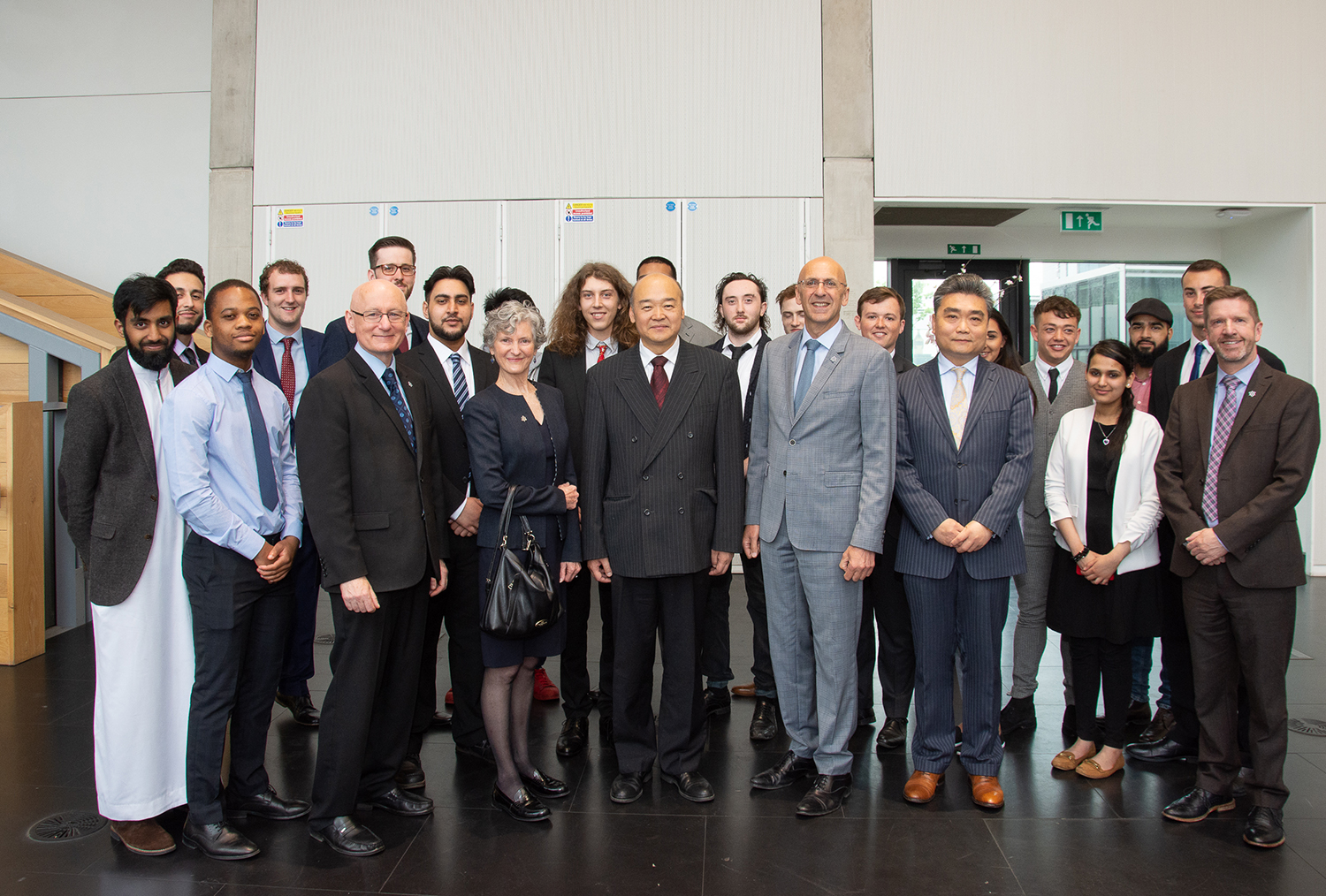 Manchester Metropolitan University welcomed the Consul General Dr Sun Dali of the Consulate General of the People's Republic of China in Manchester to mark the launch of a scholarship programme for students to study at Nanjing University of Aeronautics and Astronautics (NUAA).

Consul General Dr Sun Dali, consular staff and representation from the China-Britain Business Council attended a special lunch and ceremony at the University's Manchester School of Art on May 25.

The occasion marked the send-off of 19 final year Manchester Metropolitan Engineering and Computer Science students to Nanjing to undertake a four-week engineering training programme – and showcased the University's digital and creative expertise.

The celebration was also recognition of the growing partnership between Manchester Metropolitan and China: more students are visiting the country and learning Mandarin, and University researchers have published 100 joint papers with 72 Chinese institutions since 2014.
Global partnerships
The students are in receipt of a Manchester Metropolitan scholarship that covers the cost of tuition and accommodation at NUAA, as well as a £700 travel grant.

Professor Malcolm Press, Vice-Chancellor of Manchester Metropolitan, said: "It was a pleasure and great honour to welcome the Consul General to the University for the celebrations.

"We're very keen to build our relationships in China and they continue to grow in strength."

Professor Jennifer Watling, Pro-Vice-Chancellor for International at Manchester Metropolitan, said: "We were thrilled to welcome the Consul General to the University, which is testament to the increased profile of Manchester Metropolitan in the wider international higher education sector and, in particular, China.

"Our students will act as ambassadors for the University and learn alongside their counterparts in China.

"China is a key player in global higher education and technological innovation. Our growing partnerships stand to benefit research and teaching back here in Manchester."
Innovation
The Consul General was presented with two gifts by Vice-Chancellor Professor Malcolm Press, representing the University's leading work in writing, art and digital innovation: a 3D-printed sculpture, designed by Professor Keith Brown from Manchester School of Art; and a signed copy of Manchester Writing School's Professor Dame Carol Ann Duffy's "The Bees" – her first collection as Poet Laureate.

Closing the event, the Vice-Chancellor showcased the University's expertise in digital innovation and training. This included Print City, the new interdisciplinary 3D digital training centre for students, staff and external businesses; the innovative MSc in Industrial Digitalisation; and an introduction to the leading work in creative writing at the Manchester Writing School.