News |
Friday, 29th June 2018
Poet Helen Mort named Royal Society of Literature Fellow
She becomes the third University writer to be awarded the prestigious honour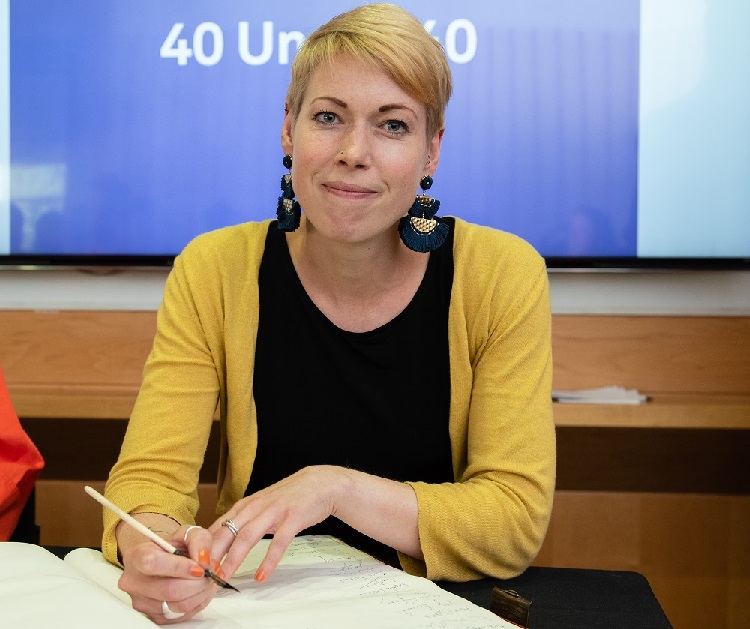 University poet Dr Helen Mort has been named a Fellow of the Royal Society of Literature, an achievement she described as "the greatest honour of my writing career".
Mort, Lecturer in Creative Writing at Manchester Metropolitan University's Manchester Writing School, is one of RSL's new '40 under 40' intake – a new initiative for 2018 to celebrate the UK's best young writers.
She joins an illustrious list of the most distinguished authors of contemporary literature, including JK Rowling, Margaret Atwood and Hilary Mantel, and two of the University's own writers – Professor Carol Ann Duffy DBE (inducted 1999) and Professor Michael Symmons Roberts (2014).
Unique lifetime honour
Founded in 1820, the RSL is Britain's national charity for the advancement of literature. It acts as a voice for the value of literature and encouraging and honouring great writers.
To achieve RSL Fellowship – a unique lifetime literary honour – writers must have produced at least two works of outstanding literary merit. They must also be nominated by two existing Fellows, and be elected at a secret ballot of Vice-Presidents and Council.
Every new Fellow is invited to sign the RSL's historic roll book using either Byron, T S Eliot or George Eliot's pen. – the latter added this year and the first time new Fellows can use a female author's pen. Mort opted to sign the book with George Eliot's pen.
'Extremely inspiring'
Mort said: "To be appointed a Fellow of the Royal Society of Literature is the greatest honour of my writing career - it's extremely inspiring to be recognised by such a prestigious society alongside so many authors I admire."
The '40 under 40' initiative aims to welcome a new generation of writers into the RSL. Of the 523 Fellows recognised before the new intake, the average age was 70 and only three were aged under 40 – making Mort's achievement even more impressive.
Others inducted include Everyday Sexism founder Laura Bates and Welcome to Lagos author Chibunda Onuzo. The induction event was attended by HRH The Duchess of Cornwall in her first appearance as the Society's new patron.
Recommendations of writers for 40 under 40 were assessed by a specially convened panel of Fellows, chaired by novelist Kamila Shamsie.
She said: "As someone who became an RSL Fellow a couple of years shy of my 40th birthday I know what a boost the Fellowship affords to younger writers. There is nothing quite like being recognised by other writers and asked to join their ranks."
More success
The Fellowship continues a glittering week for Mort, following hot on the heels of her success in the Northern Writers' Awards.
Organised by New Writing North, the awards support work-in-progress by writers across the North of England.
Dr Mort said: "I was thrilled to receive an Andrew Waterhouse Award for New Writing North for my poetry collection-in-progress 'Failsafe'. The award recognises writing with a strong sense of place and the natural environment, and that's something my work at Manchester Metropolitan is deeply connected to - we're a fantastic (and growing) centre for Place Writing."
Author Imtiaz Dharker, who is judging the 2018 Manchester Poetry Prize, was a judge for the Northern Writers' Awards.
She said: "Right from the first line of this collection of poems I found myself thinking, 'I wish I had written that', and it went on through line after line, poem after poem. From the Humber to Glasgow to the crooked spire to the territory of loneliness, these poems are fiercely alive and present in their chosen places."