News |
Wednesday, 25th July 2018
Leading educationalist awarded honorary Doctor of Science degree
Professor Sir David Melville is a former vice-chancellor, Manchester Metropolitan governor, government advisor and academic physicist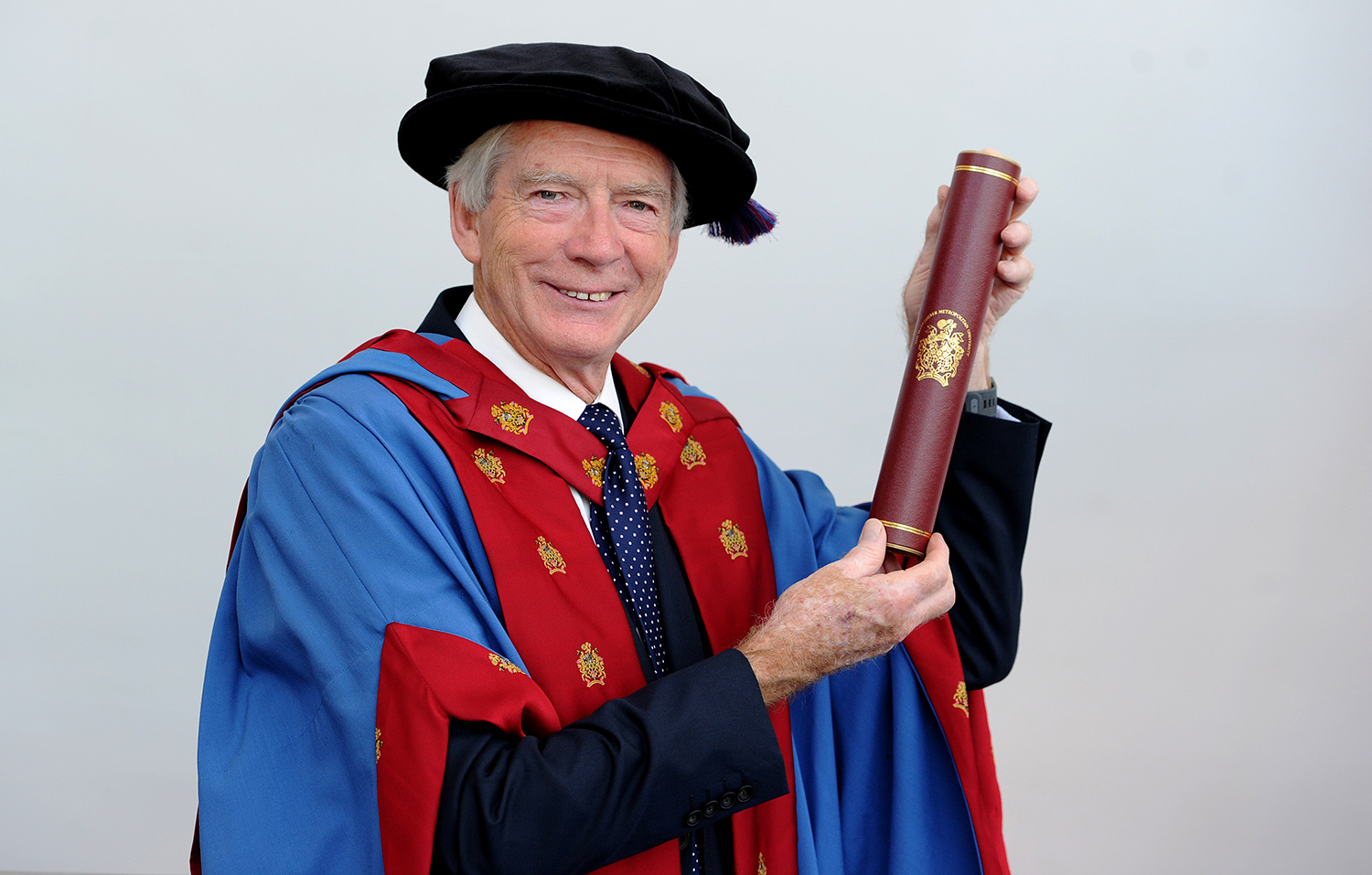 A leading educationalist has been awarded a Doctor of Science honorary degree by Manchester Metropolitan University.
Professor Sir David Melville is an academic physicist and leader for UK further and higher education, holding several senior roles within universities and the wider sector.
Additionally, Sir David has helped Manchester Metropolitan develop in his former position as University governor, which he held until 2017.
He was awarded the honorary doctorate on Wednesday by University Chancellor Lord Mandelson, in front of hundreds of beaming graduates. Speaking to graduates in the resplendent Bridgewater Hall, he implored them to seize the day in the face of an ever-changing world.
Be daring, be bold, be brave
Sir David said: "I was lucky enough to train as a scientist, which besides enabling me to work on fascinating projects, took me to some very interesting places around the world, enabling me to appreciate the value of other perspectives and cultures and teaching me the dangers of nationalism, isolationism and racial stereotyping.
"You face a much more uncertain future than I myself faced upon graduation. All the more important then that you leave university keen to seize the day: be challenging, be daring, be innovative, be bold and be brave."
Sir David's glittering career in higher education began when he graduated from Sheffield University, the first in his family to go to university, before studying Space Physics at Columbia University in New York on a NASA scholarship as part of the Apollo Moon Landing programme.
On returning to the UK, he spent 40 years developing education, which included roles as vice-chancellor at two universities: Middlesex, from 1991 to 1996, and Kent, from 2001 to 2007. Sir David was also Chief Executive of the Further Education Funding Council for England from 1996 to 2001.
He has taken part in major educational reviews, been an education advisor to successive government ministers and held posts in three government departments.
Congratulations
During his time at Kent, he also served on a number of external bodies: Chair of the Higher Education Statistics Agency, Chair of the University Vocational Awards Council, Chair of the Kent and Medway Learning and Skills Council, and Chair of Lifelong Learning UK.
Sir David was appointed a CBE in 2001 and a Knight Bachelor in 2007, in recognition of his services to higher and further education. He currently sits on a number of boards, including the Policy Connect think tank and the Faversham Society, and is Chair of Pearson Education Ltd, the UK Board of the world's largest education and education publishing company.
He congratulated graduates on their achievements and praised education as 'truly the oxygen of opportunity', adding: "As someone who never expected to go to university there has not been any period in my life when I have not felt the benefit of my university experience – and I hope that the same will hold for all of you.
"University certainly made me more confident and more reflective and more aware of the needs of others less fortunate; I also learned to be more critical of the status quo, more questioning of authority and it gave me a desire when presented with information to examine the evidence before accepting things for myself."
Michael Symmons Roberts, Professor of Poetry, introduced Sir David and took inspiration from a NASA competition to send poetry into space to compose a haiku.
He told the audience: "I can't help but think that Professor Melville would approve of this attempt to bring art and science together on the part of his former employer because he is not just a leading physicist, he is also a highly influential educationalist, an activist for social justice and widening participation.
"I'll finish by going back to those intergalatic haiku. NASA ended up putting 1,000 of them on a DVD which went up in the spacecraft. But I wondered if a haiku, that most concise poetic form, could encompass this remarkable and varied career. So here goes:
"How to bring justice to all?
"Throw the doors open!
"Now that is rocket science..."