News |
Thursday, 26th July 2018
Honorary degree awarded to mobile technology entrepreneur
Howard Simms, co-founder and director of Apadmi, receives Honorary Doctorate in Technology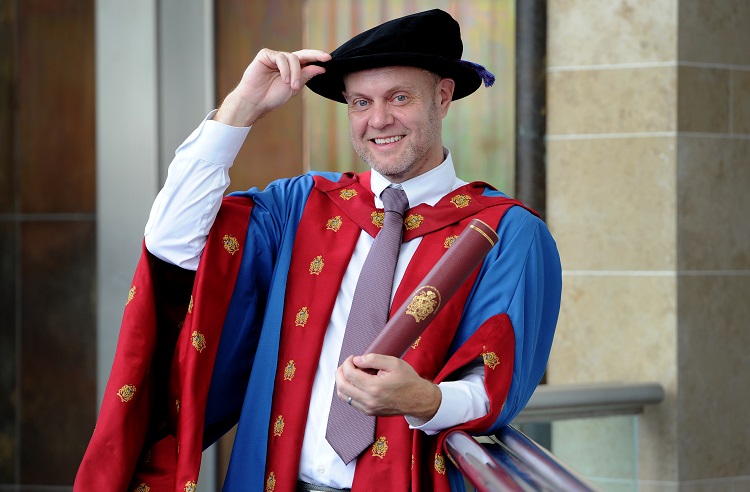 A mobile technology entrepreneur has received an Honorary Doctorate in Technology for his contribution to enterprise and development of innovative technologies.
Howard Simms is co-founder and director of mobile technology group Apadmi, based in Manchester, and CEO of their investment division Apadmi Ventures.
Since launching in 2009, Apadmi have developed award-winning apps for huge brands such as the BBC, NHS, X-Factor and Range Rover with over 35 million people downloading their products.
Simms is a passionate advocate of new technology enterprises, which led him to establish Apadmi Ventures in 2016 – a strategic partner and investor in scalable digital businesses that currently works with start-ups in sectors as diverse as property, ad-tech, dating and helicopter travel.
Inspiring future generations
He has sat on Manchester Metropolitan University's Degree Apprenticeship Advisory Board, speaking in Westminster and other events to inspire the next generation to learn digital skills.
Simms was presented with an honorary Doctor of Technology (DTech) degree at the graduation ceremony in Manchester's inspiring Bridgewater Hall on Thursday (July 26).
Accepting the award, Simms said: "This is such an amazing day and an incredibly proud moment to receive an honorary doctorate from such an esteemed university as Manchester Metropolitan. From my family and I, I'd like to say thank you for letting us come along to enjoy your big day, and also to the University for such an honour."
'Attitude is everything'
Speaking to the hundreds of gathered graduates, Simms reflected on the lessons he has learned through his illustrious career in business.
"You are lucky. You were born with a gift. You were born with a sharp brain. Please, use it well and never stop learning," he said.
"Please remember one thing - attitude is everything. It's so easy to criticise, moan and not do something. It is so much harder to be positive, proactive, flexible and creative. If you can be, you will go so much further.
"Never think you can't change. I watch, I learn and I evolve. I don't accept that I have got all the answers nor that I am the finished article. I take influences from the great people that I meet."
Since Apadmi's launch in 2009, Simms has been the driving force behind the recruitment and nurturing of a team that currently includes more than 150 people.
This is such an amazing day and an incredibly proud moment to receive an honorary doctorate from such an esteemed university as Manchester Metropolitan.
He has overseen delivery of popular mobile solutions for clients including 17 FTSE 250 companies and numerous start-ups. Apadmi's work has led to their recognition as Large Digital Agency of the Year 2016 and Winner of Best App 2017.
The tech entrepreneur is part of the Goldman Sachs 10,000 Small Businesses Ambassadors Programme for key individuals within the UK's fastest growing organisations, and sits on the advisory board of a division of the Manchester Growth Company, the Greater Manchester Steering Group, and the Manchester Tech Trust.
In his closing remarks, he urged women graduates and guests to break through the glass ceiling.
"For far too long the worlds of politics, business, sport and many others have been dominated by men," he said. "The world is ready for greater balance. More and more women are aspiring, taking on key roles, challenging pay structures, challenging perception and culture. This is great. We need ambitious, strong, powerful women."
Role model
Dr Rachel Dickinson, Principal Lecturer at Manchester Metropolitan University, presented Simms to receive the honorary degree.
She said: "Having all being good and respectful members of this celebration, I trust that we have all turned off our phones and so cannot immediately enjoy what Howard and his work have brought into our lives.
"Once the robes come off however, Howard's contributions shine out and display why through his significant contribution to enterprise and the development of innovative technologies he presents a worthy role model to Manchester Metropolitan University's students and staff."