News |
Wednesday, 21st November 2018
Preparing for the role of sporting director
Professional cricketers and ex-footballer share their journey to Manchester Metropolitan's Master of Sport Directorship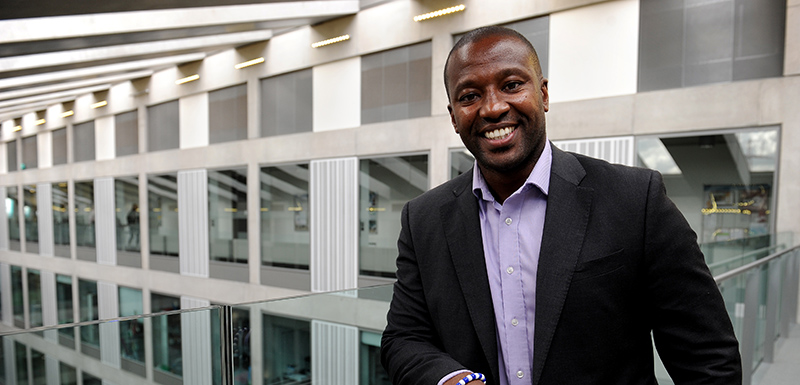 With a new cohort of students welcomed to Manchester Metropolitan's pioneering Master of Sport Directorship (MSD) programme earlier this year, three sports professionals have shared their experiences and reasons for enrolling.
Professional cricketers Paul Horton and Gary Wilson are already preparing for life after cricket, while ex-footballer and Guyana national team manager Michael Johnson is looking to the future and building on his professional qualifications.
Speaking to the Professional Cricketers' Association (PCA), Horton and Wilson both highlight the necessity of finding a career beyond the cricket field and finding a second career they enjoy.
Ireland wicketkeeper Wilson said: "For years I have flirted with the idea of doing something outside of cricket but I guess I have always wanted to put my eggs into the playing basket.
"I have been lucky enough to be in a couple of dressing rooms where I have been a leader and I have played some of my best cricket when I have been in that position so it's clearly something I enjoy."
While I am more than aware I am not going to walk out of playing cricket and into a director of cricket role, once I get a few years coaching under my belt it is something I would like to pursue. Having business and leadership knowledge, which this course will provide, will stand me in good stead for the future.
Now in its fifth year, Manchester Metropolitan's MSD gives sports and business professionals the chance to gain knowledge in the executive and strategic development of leading sports organisations. It equips leaders to bridge the gap between the boardroom and the playing field, to prepare them for the role of sporting director.
Speaking about his enrolment on the MSD, current Leicestershire cricketer Horton said: "A year ago I looked into it and then I decided I wasn't ready for it with family commitments and everything else but a year on I made my mind up that this course suited me better. It's all about timing and other cricketers have done the course as well, it really sits with my interests.
"Speaking to guys who have been on the course you go into different environments and learn. It benefits you as it gets you out of your comfort zone and this course will get Gary and myself out of our comfort zone.
"I think we're both looking forward to the different conversations within sport will as it will be really interesting and I'm sure there will be a cross over where we can share and help others."
The MSD was pioneered by Manchester Metropolitan's Business School in 2014 and is the first degree of its kind in the UK.
The two-year programme focuses on sports governance and best practice, leadership, innovation and change, personal development and unique to the course is the study of neuroscience and its application as a performance management tool.
Ex-Derby County and Birmingham City footballer Michael Johnson shared his journey to enrolling on the MSD with The Guardian.
Now managing the Guyana national team, Johnson is looking to build on the experience he has already gained by completing his UEFA pro licence.
He is currently writing a 10,000-word dissertation: "Understanding World Cup winners, European Cup winners, the culture and environment that enabled them to be successful".
Johnson told The Guardian he was excited for the 'life-changing' opportunity to manage a national football team.
Find out more about the MSD at Manchester Metropolitan University.