News |
Friday, 21st December 2018
#MadeAtMcrMet: Winning arts and minds
The Arts for Health research unit remains at the forefront of the UK's arts and health movement after 30 years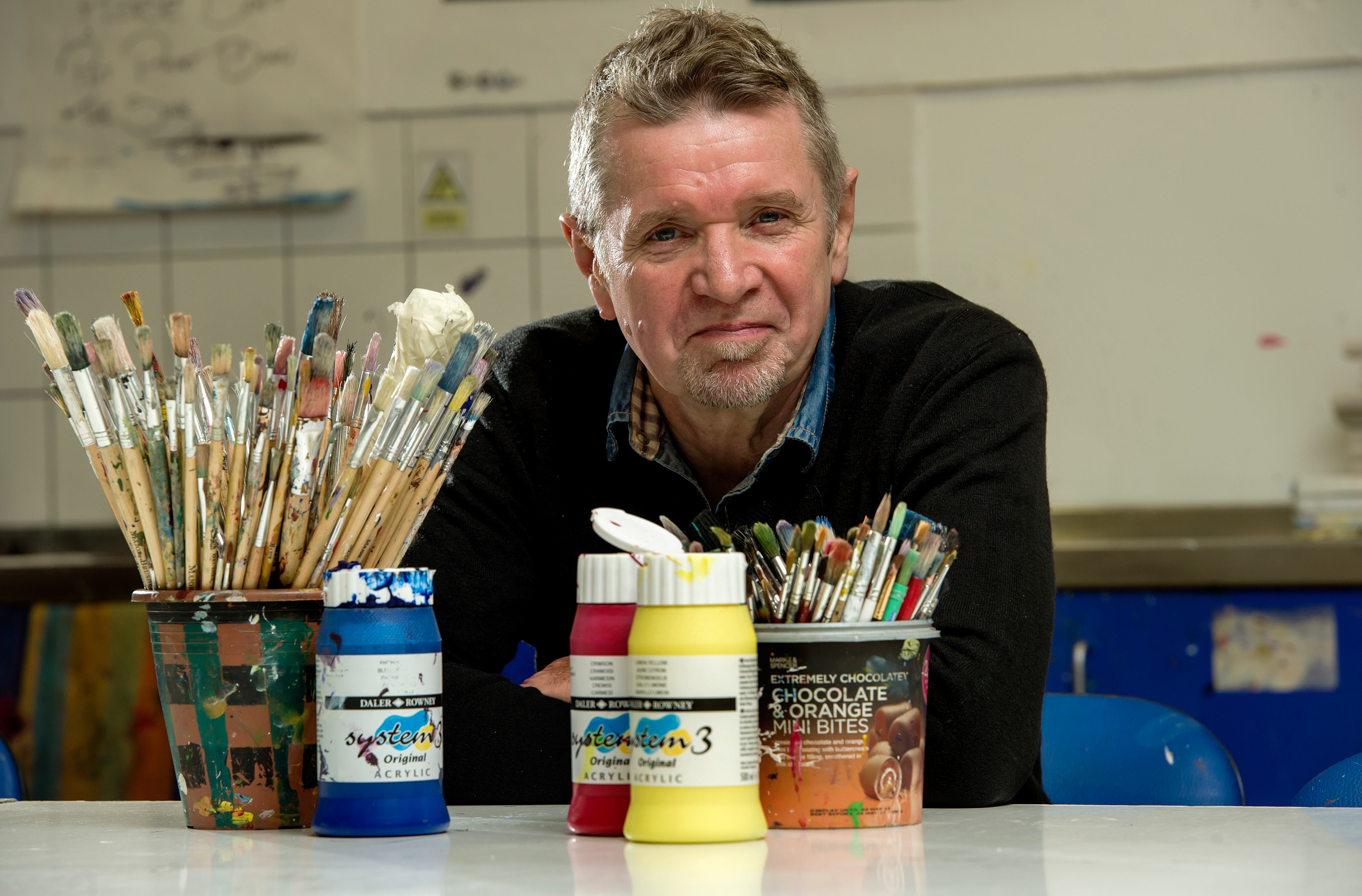 Find out more about #MadeAtUni and #MadeAtMcrMet
Paul Jordan teaches art classes at START in Salford, an arts and wellbeing charity that delivers mental health services.
Its corridors and stairwells are decorated by a colourful assortment of his large canvas paintings and intricate sculptures, as are the studios where he encourages new cohorts of budding artists to make their own work.
He is also establishing himself as a freelance painter and sculptor. But 15 years ago, he was in a very different place.
"My sister was diagnosed with terminal cancer, so I spiralled into depression. I found it very hard," the 63-year-old says.
He was referred to a clinical psychologist, who first broached the idea of attending art classes. "I'd done art as a kid, and I went to art college when I was 15 and did a few years. But with one thing and another I couldn't sustain it, because my parents weren't wealthy and I had to bring in some money," says Jordan.
Jordan was referred to START, who are contracted by Salford's clinical commissioning group to deliver mental health services that provide emotional wellbeing, recovery interventions and training opportunities through creative arts and horticultural programmes.
It means that clinicians can prescribe art as therapy for people diagnosed with depression or anxiety. START is one of the pioneering organisations born from Manchester's nascent arts for health movement, which also led to the establishment of the research-led Arts for Health at Manchester Metropolitan University.
Celebrating its 30th anniversary this year, it is the longest serving unit of its type in the country. With specialism in research, advocacy and development, Arts for Health works with Arts Council England, the Department of Health and a range of partners to better understand the impact of creativity, culture and the arts on health and wellbeing.
It supports organisations through academic research and evaluates the impact of their activities, providing evidence to support the government in understanding the value of arts health organisations. By proving the case for arts-based alternatives to traditional therapies, Arts for Health is helping to ensure that more people than ever before have access.
Jordan spoke to Met Magazine after leading an arts class with a small group of new members. They will be producing silk banners to cover an unsightly partition wall within the START offices.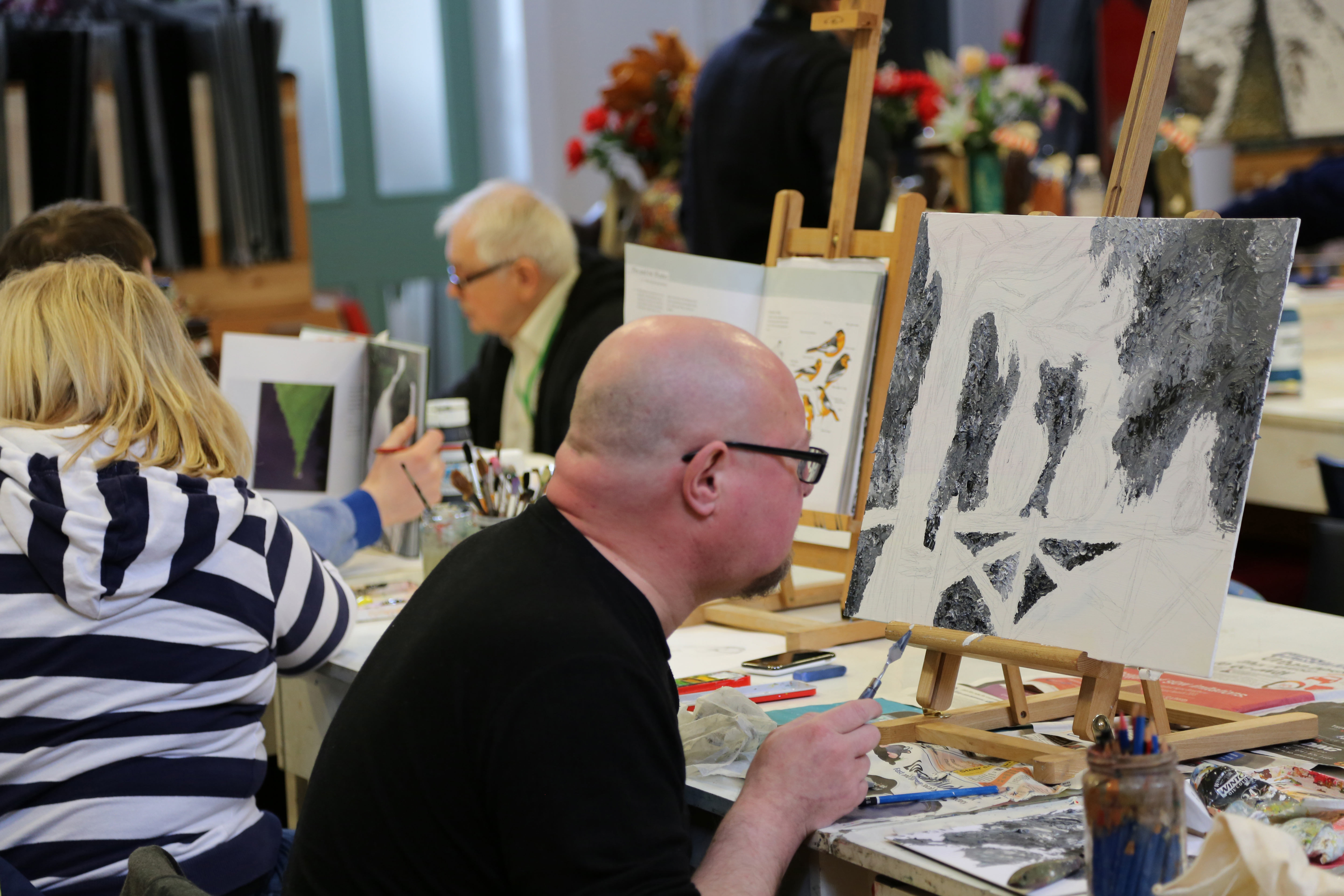 Elsewhere, a ceramics class is underway, and a group of older people are deep into a crochet session. Photography, textiles, woodwork and music programmes are also on offer, and new projects are in the pipeline specifically working with minority groups, older people, military veterans and dementia patients.
Jordan is clear about the transformative impact that START has had on his life. As well as improving his mental health, attending classes reignited his passion for art, inspiring him to enrol in art college and then university.
He has a first class honours degree in Visual Arts and is now proud to be in a position to help others.
"It's the best thing that ever happened to me," he adds. "If I didn't have START I think I would have been in a really bad place. The art gives you that mindfulness, where you're engaged in your work and nothing really matters…It's like a sanctuary against the ravages of depression and anxiety."
START an independent charity, is just one example of what can be achieved. It can trace its lineage back to 1977, when Peter Senior, who later set up Arts for Health at Manchester Metropolitan, established the Hospital Arts Team at St Mary's Hospital, Manchester.
That is still running as LIME, part of Manchester University NHS Foundation Trust, delivering creative projects within hospitals. In 1999, Manchester Metropolitan University hosted the first landmark international conference on arts and health, and the centre has led multiple research projects going back many decades to increase understanding and awareness among academics and policymakers.
Earlier this year, Manchester School of Art at Manchester Metropolitan hosted the public launch of a national report into the benefits of art on health and wellbeing. Commissioned by the All Party Parliamentary Group for Arts, Health and Wellbeing, the report – Creative Health: The Arts for Health and Wellbeing – concluded that the arts can help keep us well, aid our recovery and support longer lives better lived.
It added that art can also help to meet some of the significant challenges facing health and social care – namely ageing, long-term conditions, loneliness and mental health – and help save money in the health service and social care.
The report was by far the most comprehensive collation of evidence so far, aimed at putting a booster rocket under the cause of embedding arts provision within the health service. National politicians, practitioners and campaigners attended the launch, and the government is poised to make a response in the coming months.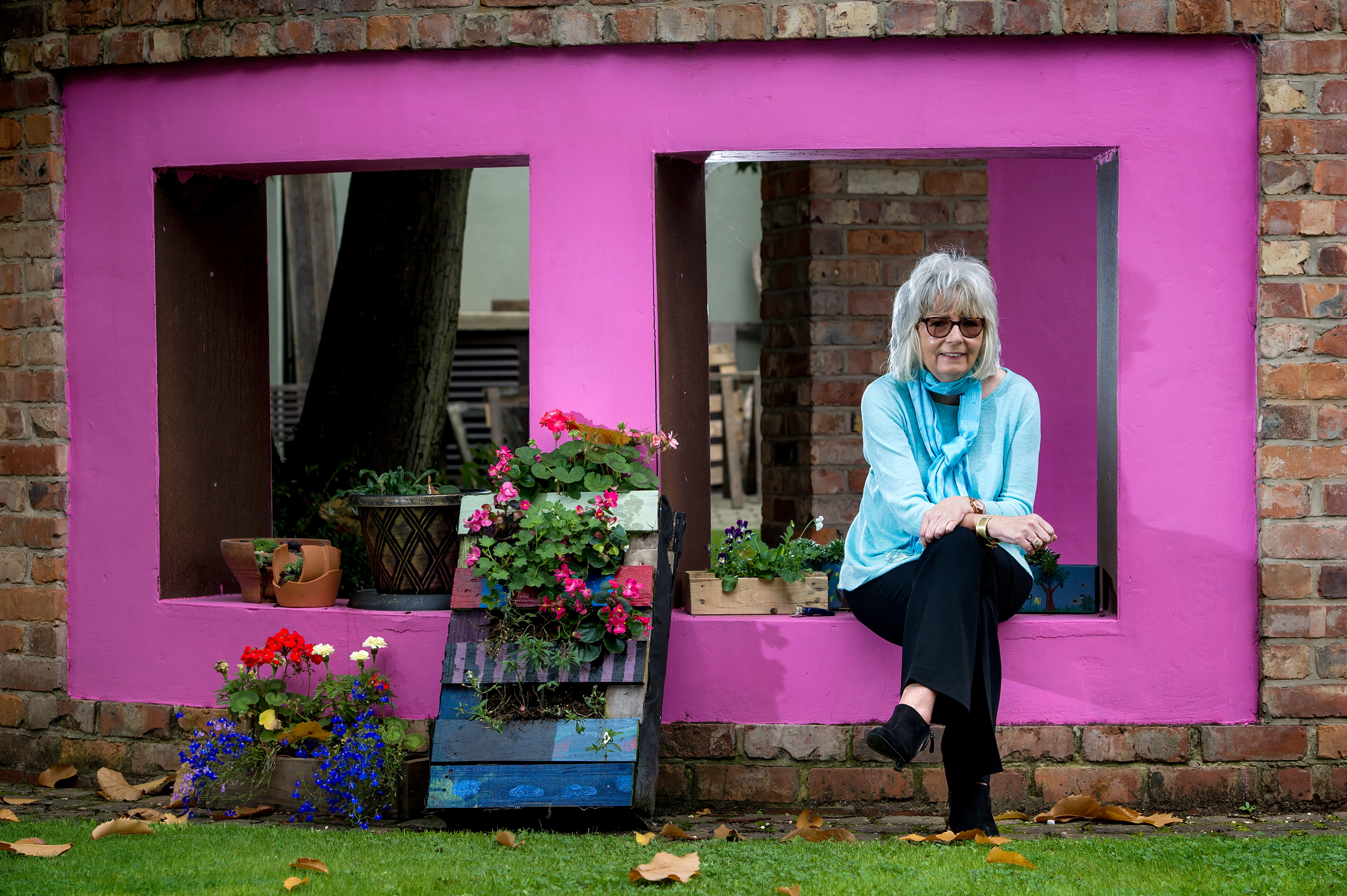 START Chief Executive Bernadette Conlon (pictured) is clear that the service can complement drug or talking therapies, but says it often goes further to give its users their confidence back and reduce social isolation.
A Manchester School of Art graduate, Conlon worked first with Dr Langley Brown, now Research Fellow at the Arts for Health unit, and then in hospital arts in Manchester, before initiating START in Salford as a charity and social enterprise in the early nineties and slowly building up its capacity.
"When we first set up our arts on prescription service back in 2006, there was a very long waiting list for talking therapies. Where you could wait 18 months for a talking therapy, we could see you in six weeks," she says.
"It was about supporting people who had been unwell and maybe not working for a long time, who had got very low in mood, and were very anxious or depressed. People might have been living in a tower block, they didn't go out, they didn't mix. The arts programme was designed to provide a welcoming environment that wasn't overtly medical or clinical.
"Coming here then spurs on the thought that maybe they could volunteer, go back to college, retrain as an artist, or go to work. Knowing they can carry on with art as a hobby is something that helps keep them well or keeps them functioning."
Clive Parkinson, current Director of the Arts for Health Unit at Manchester Metropolitan, previously worked for 15 years as a visual artist leading arts projects at a hospital for people with learning disabilities.
"All the evidence indicates that participation in the arts has an impact on multiple health outcomes, ranging from mobility, memory loss and mental health to de-medicalising problems which often have socio-economic causes," he says.
Parkinson has been directly involved in the development of another local organisation, Portraits of Recovery, which engages people affected by addiction in arts practice.
"Manchester was the birthplace of the arts and health movement, which fits with the radical history of the city," he adds.
Among many other recommendations, the APPG inquiry report suggests the establishment of a national strategic centre for arts, health, and wellbeing, the development of a cross-governmental strategy on the issue, and appointing designated individuals responsible for arts, health and wellbeing within NHS England, Public Health England and each CCG, NHS trust, local authority and health and wellbeing board.
Parkinson explains that while discussions are ongoing about the political response to these findings, with the culture secretary expected to reply on behalf of the government, Greater Manchester is again blazing a trail.
"There's a lot of talk about a 'national centre', and what this means is unclear, as is structure and funding," Parkinson explains. "What I am confident about is Arts for Health and Manchester's place in the bigger picture. Whatever the development, we remain ahead of the game and regarded as leaders in the field."
Following the devolution of the £6bn health and social care budget to Greater Manchester last year, the Greater Manchester Combined Authority signalled its intention to "position the strong inter-relationship between arts and individual and community health as one of the key foundations of building sustainable and resilient communities across Greater Manchester".
It went further, committing to the development of a programme of activity on arts in healthcare and social care, in social action on wellbeing, and to embed the approach in the commissioning of health and social care services in Greater Manchester.
But Parkinson has more ambitious, far-reaching plans.
"For me personally, the most interesting area is less about physiological sickness and disease, and more about marginalisation and injustice – so for example – people who are excluded from society because of mental ill health, homelessness, or disability, can be supported through arts-based interventions to find or rediscover their voice."
He is in the process of writing a new five-year strategy for the Arts for Health Unit at Manchester Metropolitan, the prologue for the next chapter of the movement's long journey.
He explains: "Arts for Health by its very nature is driven by research, yet focused very much in the real world. As such it offers a rich and diverse context to work in and inhabits a unique place in a movement, arguably at its very core.
"Being part of a university gives us a fertile community of new ideas to explore, but it's not just about making things big, but doing them exceptionally well – deeply – reflexively and offering a counter-blast to reductionist ways of exploring health and wellbeing."