News |
Friday, 18th January 2019
#MadeAtMcrMet: Spice Wars
The battle against former legal highs forced suppliers and users underground, but the war on Spice is far from over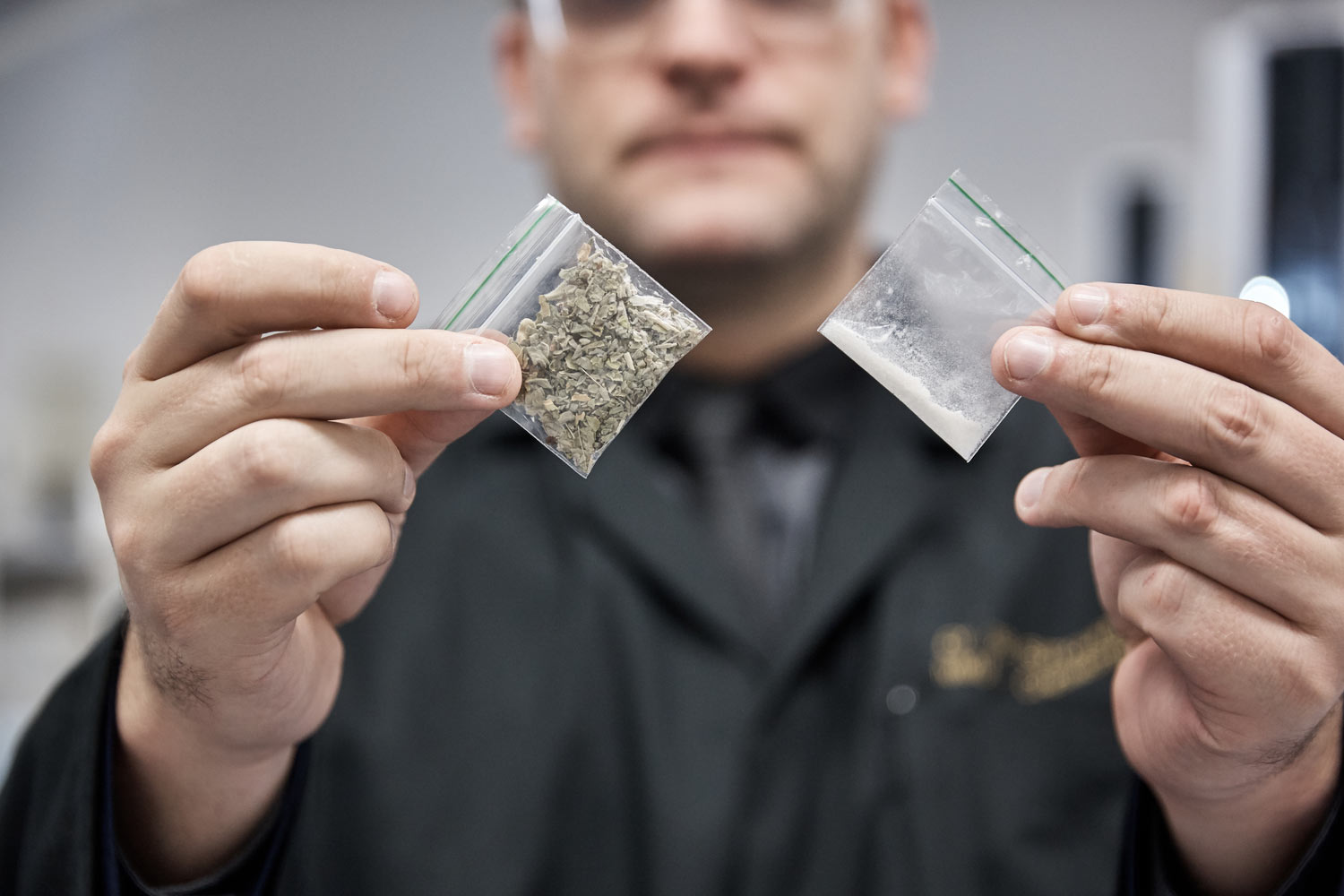 The shuffling figures have filled our screens and newspapers. Sensationalist headlines about zombies, epidemics and chaos have become the norm. However, this isn't some George A Romero film – this is a tragic reality of the now outlawed dangerous synthetic drug Spice.
The phenomenon is as captivating as it is concerning.
Previously regarded a problem largely at the margins of society, the laboratory-made narcotic burst into the public consciousness and the media's attention after some serious incidents in Manchester.
However, instead of Manchester being the problem, it is actually developing the solutions. The city is at the forefront of developing proactive action – and Manchester Metropolitan University is leading the way.
Dr Oliver Sutcliffe, Senior Lecturer in Psychopharmaceutical Chemistry, and Dr Rob Ralphs, a Reader in Criminology, are expanding our understanding of what is actually in these drugs as well as exploring the human effects – for both users and the professionals who have to deal with the fallout. Co-lead on this work is Dr Paul Gray, Senior Lecturer in Criminology. The research team is also part of the interdisciplinary Substance Use and Addictive Behaviours research group (SUAB).
The pioneering research being conducted at the University has raised awareness of both the composition and consequences of the drug in a way that has not been replicated anywhere else in Britain.
Misunderstanding, rumours, the use of a generic brand name and an inconsistency in both the product and in consumers' reactions to it have all clouded the perception of exactly what Spice is.
The raw powder replicates the effects of the main component of cannabis and is dissolved in a solvent before being sprayed or applied on to plant material and left to dry.
Doses of the 'smoking blend' mixture could be bought legitimately in so-called 'head shops' in colourful packaging.
But in response to mounting concerns about the increasing prevalence of these kind of substances, ministers banned legal highs in 2016 since when they have been known as New Psychoactive Substances (NPS).
Dr Ralphs had previously carried out work on mephedrone and explored both legal highs and clubbing, and Spice in a prison, leading to the establishment with Dr Sutcliffe of the Manchester Centre for the Study of Legal Highs, superseded by the MANDRAKE (MANchester DRug Analysis and Knowledge Exchange) project.
Their incisive research attracted the attention of Manchester City Council and the community safety partnership board. The team was commissioned to investigate and explain the NPS marketplace in the city in 2015 and recommissioned as the new legislation came into force in 2016.
Dr Ralphs says: "The Act has been widely criticised for being rushed through, and not being thought through, especially in terms of the unintended consequences of developing a more volatile street market for Spice. And there was no evaluation built in on how successful the legislation would be. One of our original recommendations was that we needed to re-commission research to look at the impact of the Act and Manchester did exactly that.
"Manchester is the only local authority in England or Wales that has the research leading right up to the introduction of the Act and the research 12 months on to look at the impact. Nobody else has that kind of data."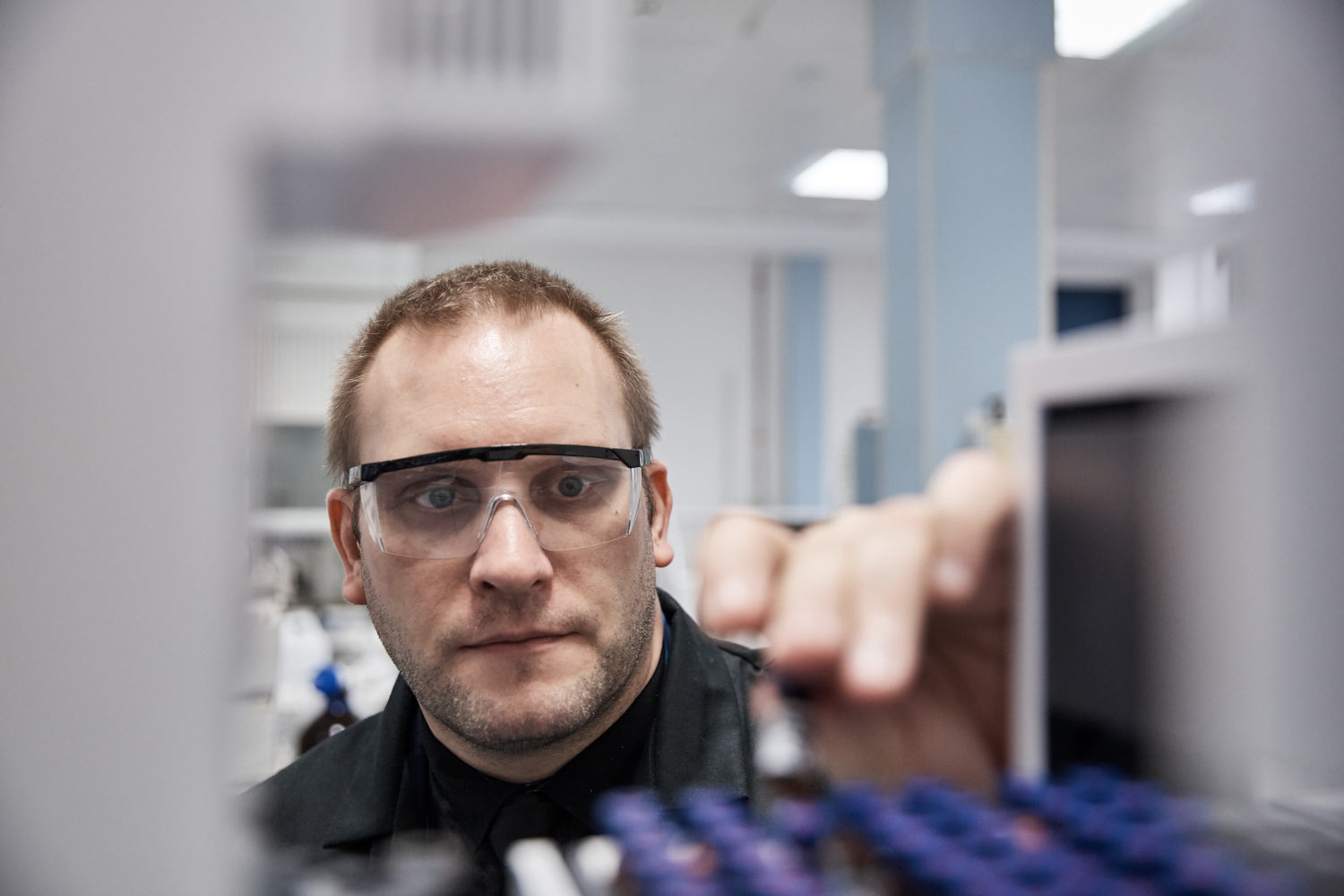 MANDRAKE's research helped the authorities to identify ways to develop training, support and awareness and to understand the content of Spice as it became more commonplace. It has helped to shape policy responses to the Spice question through close partnership working with Manchester City Council, the Greater Manchester Combined Authority (GMCA) and Greater Manchester Police (GMP). Tellingly, predictions made by the MANDRAKE team before the ban came true.
Dr Ralphs explains: "Once the Act came into force, we thought the purity would become more variable and the price would probably go up. Homeless people were warning that it would lead to more violence in the homeless community and it would lead to more acquisitive crime in the city centre.
"We predicted more adulteration of Spice that would lead to more harm to the users.
"The follow-on research moved beyond the original prevalence study," Dr Ralphs adds. "We built on that to investigate the prevalence within coroners' reports of deaths due to drug use, including synthetic cannabinoids and other NPS drugs."
This was part of the further work led by Dr Lucy Webb, Reader in Nursing at Manchester Metropolitan and also part of SUAB, to gain an insight into the impact of drug use in the community.
Dr Ralphs says: "The ban on legal highs meant that the Government would no longer be able to carry out test purchases of Spice. By incorporating the work done by Oliver, we were able to better understand the contents of the Spice products being used locally."
This work meant that MANDRAKE had some of the answers when headlines about 'Zombie Spice' users started to appear. People wanted to know what was making users 'freeze' and fall into a catatonic state, and Dr Sutcliffe was able to build those questions into his ongoing research.
"Even though the research was commissioned for Manchester, going forward, with the impetus of the Mayor of Greater Manchester and devolution, we proposed a Greater Manchester-wide Local Drug Information System, which would feed in intelligence – and a key part of that is knowing what's in these drugs."
Dr Ralphs' observations and research dovetails neatly with Dr Sutcliffe's work in the lab confirming chemical compositions.
Using specialist equipment, he has been testing confiscated Spice samples under an arrangement with GMP and Manchester City Council.
By identifying emerging drug trends, Dr Sutcliffe can share alerts with stakeholders including policymakers and frontline professionals. What started with mephedrone and Spice is already expanding into new areas of research, such as the heavily addictive opioid pain medication fentanyl.
Dr Sutcliffe and Dr Ralphs' work has forged a path for MANDRAKE as a think tank engaging in practical activities and research that informs teaching.
Dr Sutcliffe says: "My research was originally in mephedrone and it expanded to look at other New Psychoactive Substances, or legal highs, as they were."
He adds: "We originally set up the Manchester Centre for the Study of Legal Highs to combine humanities and sociological research with lab testing. Manchester Metropolitan was one of the first universities to have both of those capabilities on site and we have grown it organically. We rebranded as MANDRAKE to show we can investigate the wider impact of any substance that could be abused.
"We have focused on Spice and now we're also looking at things like fentanyl. That could expand potentially into other substances such as performance-enhancing drugs, or medication that might be being diverted to the recreational use market."
MANDRAKE supports harm reduction initiatives and is engaged in research linked to the rapid detection systems within custodial settings.
Strong links forged with GMCA and GMP and the ability to conduct research of the kind absent in the public sector means the University has become a leader in the field.
"The fact we have been so broad and the fact we have been able to cover both the humanities side and chemical side means that we are uniquely placed," Dr Sutcliffe adds. "Public authorities like Manchester City Council have realised the value of our work: that it is of high quality, and is respected."
"They need to be credited for making this kind of investment," Dr Ralphs adds. "Their response to NPS is based on solid, academic evidence and they have been quite innovative and willing to do something different.
Spice explained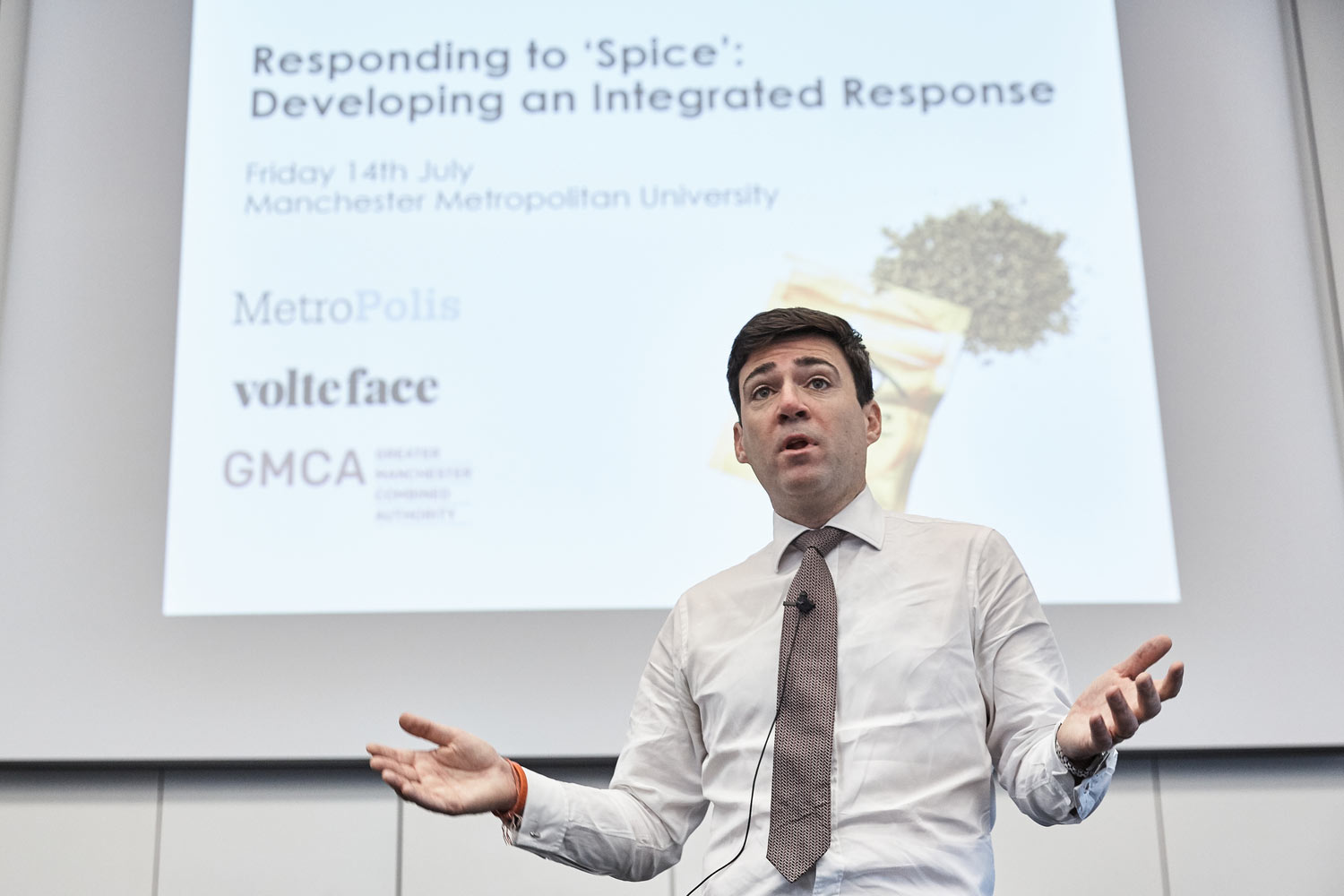 Efforts to understand the impact of Spice have been clouded by misunderstanding and rumour.
The name Spice is a generic description for a variety of similar substances sold under different brand names. Those products are inconsistent, as is the reaction of their consumers.
The raw powder replicates the effects of the main psychoactive component of cannabis (tetrahydrocannabinol or THC) and is dissolved in a solvent before being sprayed or applied on to plant material and left to dry.
Before the ban on Spice, colourful packages of the 'smoking blend' mixture could be bought legitimately in so-called 'head shops'.
In response to mounting concerns about the increasing prevalence and impact of these kind of substances, ministers banned legal highs in 2016. They are now categorised as New Psychoactive Substances.
Reflecting its emergence as the de-facto centre of Spice understanding, MANDRAKE organised a summit called Responding to Spice: Developing an Integrated Response, that was convened by the University's think tank MetroPolis and drug policy think tank Volteface.
The event brought together major players, including the Mayor of Greater Manchester Andy Burnham (pictured above), to discuss an integrated response to the problem of Spice, including developing ways to reduce the stigma and impact to users and communities.
Michael Taylor, Executive Director of the University's think tank, MetroPolis, says: "This shows Manchester Metropolitan at our best.
"The hard science that Oliver Sutcliffe provides, to support the social scientific rigour of Rob Ralphs, is a powerful combination indeed.
"To hear the Mayor commit to implement the recommendations from the conference reflects not only the urgency of this acute and complex social problem before us, but the possibilities of what we can achieve if we direct our efforts in a smart way."