News |
Monday, 21st January 2019
Manchester Metropolitan a top 25 UK employer for lesbian, gay, bi and trans staff
Featuring in Stonewall's Top 100 employer list for a third consecutive year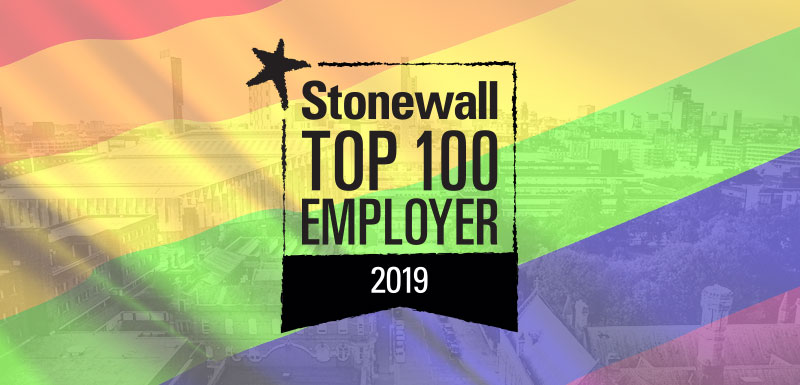 Manchester Metropolitan University has once again been named as one of the UK's most inclusive employers for lesbian, gay, bi and trans staff.

The University is ranked 22nd in the Stonewall Top 100 Employers list published today (January 21) – and for the first time it has been awarded Top Trans Inclusive Employer status.

It is the third consecutive year the University has featured in the Top 100 and is third among universities. The rankings require employers to demonstrate LGBT expertise in a range of employment areas.

The Top 100 features the best performing employers from Stonewall's Workplace Equality Index 2019, an annual audit of lesbian, gay, bi and trans inclusion by employers across workplaces, services and communities.
Diversity
Professor Jean-Noel Ezingeard, Deputy Vice-Chancellor of Manchester Metropolitan, said: "We are incredibly proud to once again feature as a Stonewall Top 100 employer, demonstrating our commitment to creating an open and inclusive University for all staff and students.

"The University is a wonderfully vibrant place to work and study. We will continue to celebrate and support the diversity we see at Manchester Metropolitan and across the wider city."

The Workplace Equality Index is voluntary and free to enter for any employer.

As part of the Index, staff can complete a feedback survey. This year, Stonewall received more than 92,000 responses to the staff survey, making it one of the largest national employment surveys in Britain, with 17,300 LGBT respondents.

All of the Top 100 are members of Stonewall's Diversity Champions programme which helps employers to embed LGBT inclusion across their workplaces, in their services and with the communities they are part of.
Trans inclusive
Each organisation must demonstrate its expertise in 10 areas of employment policy and practice, including networking groups, senior leadership, procurement and how well they have engaged with LGBT communities.

Stuart McKenna, Equality and Diversity Manager at Manchester Metropolitan, added: "We are particularly pleased that for the first year we have been acknowledged as a Top Trans Inclusive Employer. Recognising how difficult the past year has been for trans people, we are proud that the University has made a significant commitment to trans equality through a range of supporting initiatives."

Darren Towers, Stonewall's Executive Director, said: "Manchester Metropolitan and all those who have made this year's Top 100 Employers list are making a huge difference to workplaces, services and communities across the UK.

"LGBT-inclusive employers play a crucial role in changing society by using their power and influence to protect and support LGBT people. More than a third of LGBT staff – 35 per cent – still hide their identity at work for fear of discrimination; that has an impact on productivity, wellbeing and more, and shows we still have lots to do."