News |
Friday, 1st February 2019
Students enjoy inspirational careers talk from Game of Thrones star
Maisie Williams - Arya Stark in the hit show - discussed her 'creative connections' app, daisie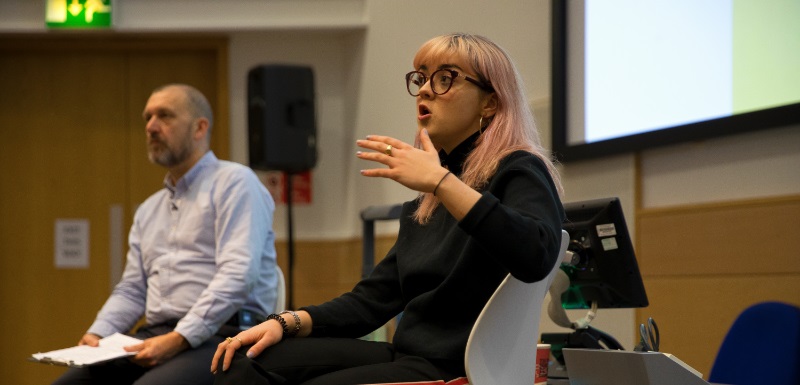 Game of Thrones star Maisie Williams discussed her acting life and her new creative connection-building app during an inspirational careers talk to students at Manchester Metropolitan University.
The actress, aged 21, who plays Arya Stark in the hit TV HBO fantasy drama, took part in two Q-and-A sessions on Wednesday with Michael Taylor, the University's External Relations Advisor, interviewing Maisie before the floor was opened up for questions.
Benefits of daisie app
Maisie spoke to an enthralled audience of young creative students not only about the daisie smartphone and web app she co-founded but about her upbringing and her career, and the challenges and opportunities for those in the wider performing arts fields.
Her 'creative collaboration' app enables professional and amateur actors, filmmakers, artists, animators, directors, producers, musicians and those with similar talents to build a portfolio of work, earn a reputation and collaborate on projects.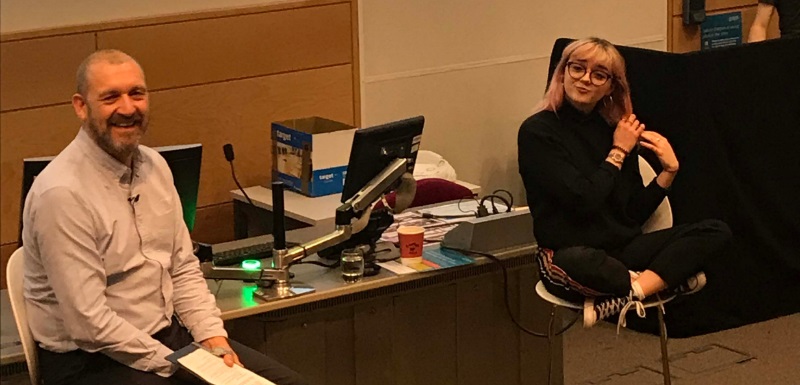 Speaking about her latest tech venture, Maisie said: "We created daisie with the hope of helping up-and-coming artists.
"People always say it's not what you know it's who you know and if you don't know anyone then that's kind of disheartening."
Maisie's advice: make connections
Maisie also gave advice to her contemporaries about making the most of their time in higher education: "Make connections with the people you're in university with now - help each other.
"University is the most exciting time of your life, use the resources you have here before it's too late.
"We are the future and we get to decide how this industry changes."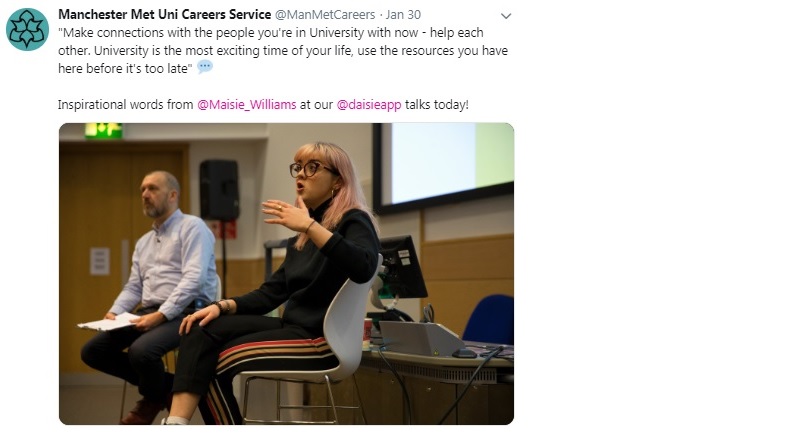 Due to the popularity of the sold-out first talk by students, Maisie agreed to attend a second talk later in the day in order to satisfy the student demand, meaning over 400 students were able to hear about daisie by its co-founder.
The event was arranged by the University Careers service and was targeted at students who aimed to go into the creative industries.
Raising students' aspirations
Graham Jackson, from the Careers and Employability service at the University said: "We were thrilled to welcome Maisie to campus.
"The daisie app is a fantastic way for our students to share all the incredible work that they're doing.
"We always aim to raise the aspirations of our students and we hope that hearing about Maisie's amazing career can get students excited about their futures too."
It is not the first time a Game of Thrones star has graced the Manchester Met campus. Actor John Bradley, who plays Samwell Tarly in the show, is an alumni of the University's Manchester School of Theatre.